Ninh Binh, Vietnam is not only a wonderful destination to breed goats but also is well-known for dishes made with goat meat. The goat meat is nutritious, fresh, firm, and luscious because the goat here is raised on rocky mountains instead of hills. Goat meat is healthy for everyone because it contains less fat and cholesterol than both beef and lamb. Ninh Binh mountain goat is a famous specialty that visitors can enjoy in a lot of big cuisine centers, such as Hanoi, Ha Long, Vung Tau, Sai Gon, etc. There are many dishes made with goat meat, including steamed goat meat, stir-fried goat meat, goat hotpot, grilled goat brisket, and raw goat meat with lemon. Among those dishes, Vietnamese raw goat meat with lemon recipe is considered as one of the simplest dishes because it is very easy to cook at home. Follow these steps carefully to create one of the healthy and delicious Vietnamese recipes.
Attractive Cuisine Of Ninh Binh – Vietnamese Raw Goat Meat With Lemon Recipe
Ingredients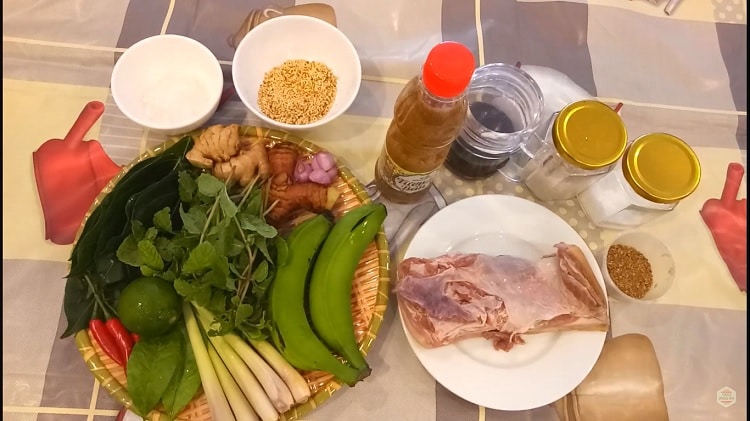 About 300gr of goat belly or boneless goat shank

Salt, fish sauce, monosodium glutamate, and sugar

Dried coriander seeds, roasted and pounded

Sesame seeds, roasted

Soya sauce (Tương bần)

Ginger and galangal

7-8 stalks of lemongrass

1 lemon fruit

2-3 chilies

A few shallots

2 green banana fruits

Basil leaves

Fig leaves

Lemon leaves
 Cooking Method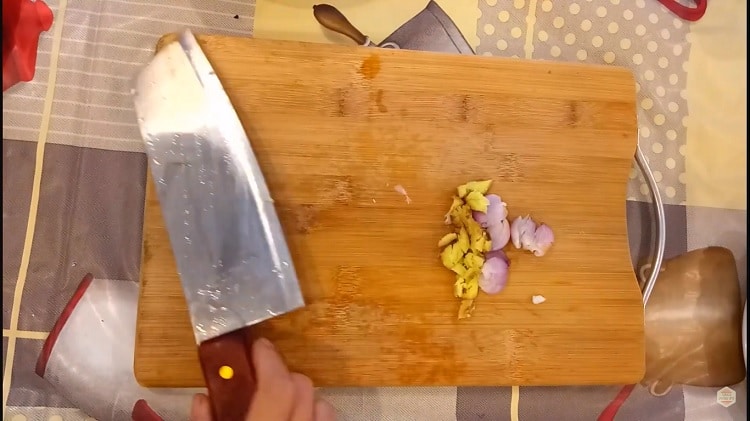 Crush some ginger and shallots and then chop them.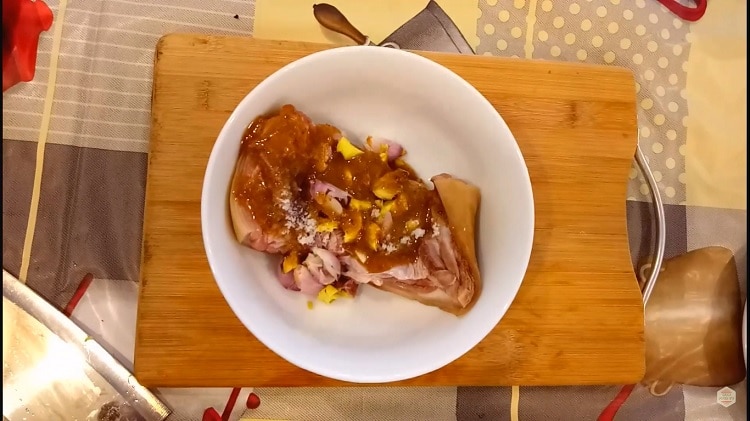 Marinate the goat meat with the chopped ginger and shallots, some salt, and soya sauce for 15 minutes.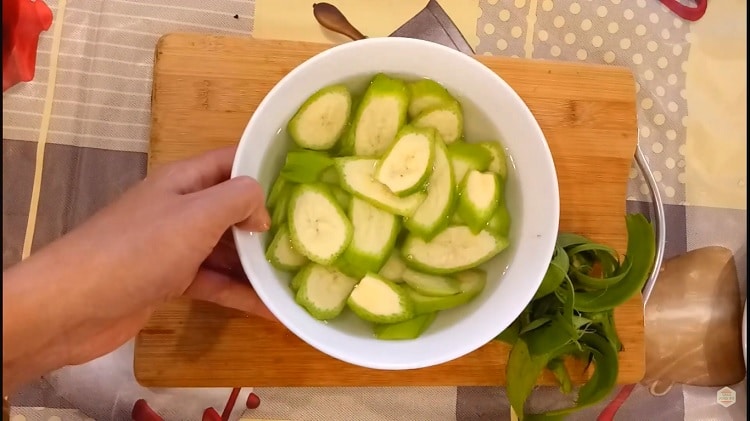 Peel the bananas and cut into thin slices. Soak them in a bowl of saltwater.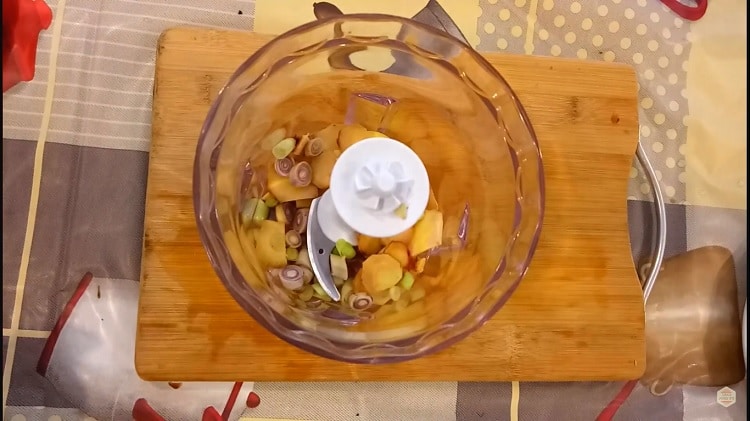 Peel the galangal and cut into slices. Cut 2-3 lemongrass stalks into pieces. Then put the galangal slices, lemongrass pieces, two slices of ginger, and a little water in a grinder and grind them until they are thoroughly blended. Then, squeeze out the juice.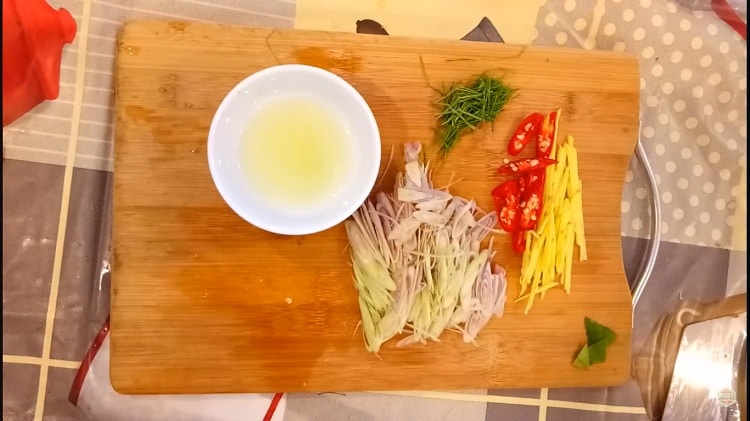 Cut some ginger and lemon leaves into thin threads. Slice the chilies and the rest of lemongrass stalks. Set aside.

Squeeze the juice out of the lemon.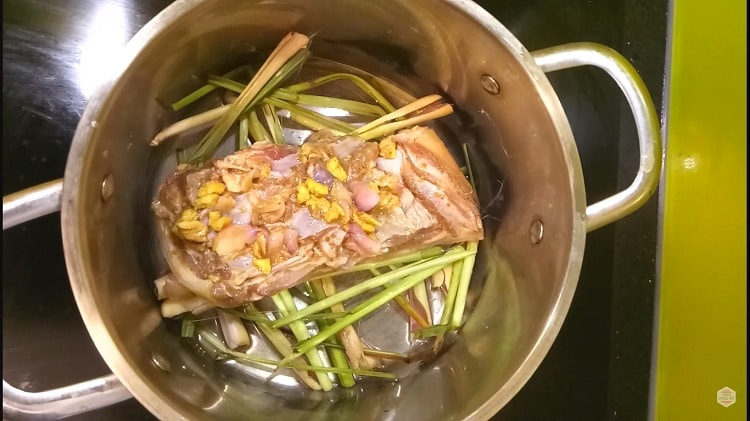 Take some of the outer layers of lemongrass stalks and put them in the bottom of a pot. Then, put the goat meat on the top and add some water to it. Turn on the heat and cook until it starts boiling. Reduce the heat and stew the meat for 15 minutes on low heat or until it is just medium-rare. 

Once done, remove the meat from the heat and let it cool.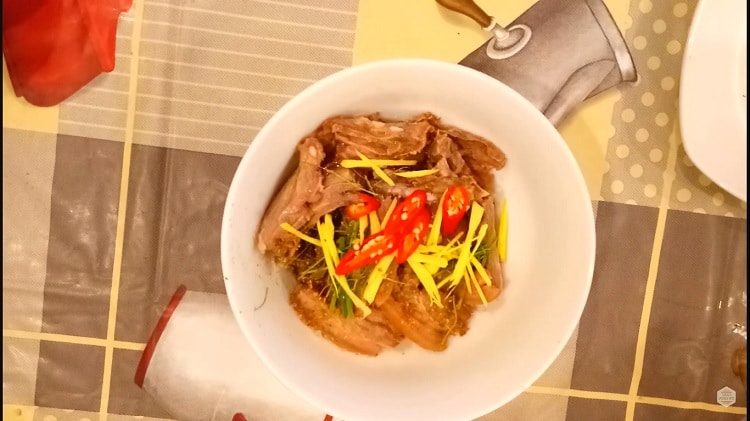 Slice the goat meat. Put these slices in a bowl and add a little each of coriander seeds, fish sauce, salt, and sugar, 1 tablespoon of the juice of galangal, lemongrass, and ginger, 1½ tablespoons of lemon juice, threads of ginger and lemon leaves, sliced chilies and lemongrass, and sesame seeds. Mix everything well.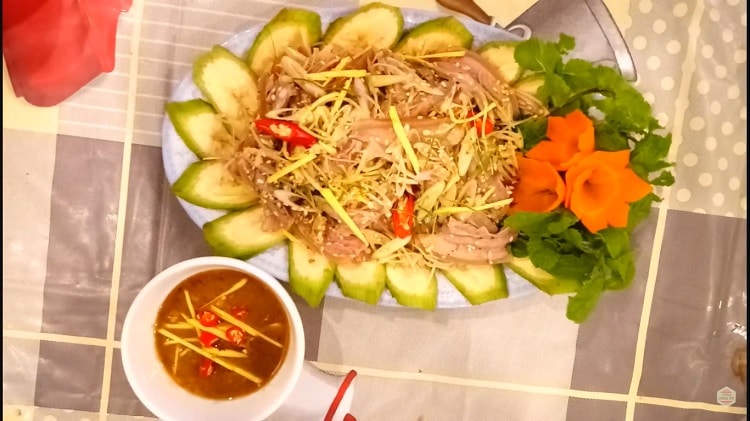 This raw goat meat with lemon recipe is served with fig and basil leaves, green banana, and soya sauce with some ginger threads and sliced chili. 
View more:
Vietnamese Grilled Goat Meat With Sa-Te Sauce Recipe
Vietnamese Sweet And Sour Octopus Stir-Fry Recipe
Now, it is time for you to consume this Vietnamese raw goat meat with lemon recipe. So, what do you think? It's really tasty, right? And if you have an opportunity to visit Vietnam, be sure that you will not skip this dish on your journey. Good luck on your trip.
By Mai Cao