Vietnamese crab red rice noodle soup recipe (Bánh đa cua) is a popular and healthy Vietnamese food recipe which is topped with many ingredients, such as fresh herbs, crab meat, piper lolot leaf wrapped pork balls (chả lá lốt), and grilled fish. For a long time, Haiphong people have been familiar with the presence of this tasty dish on their food list. You can also enjoy this delicious food even in Ho Chi Minh City and Hanoi, so try it when coming to these cities! Besides, you can easily prepare this dish at home. Follow these detailed steps below to make this dish for your family meal.
Vietnamese Crab Red Rice Noodle Soup Recipe – A Traditional Hai Phong Speciality
You Need To Prepare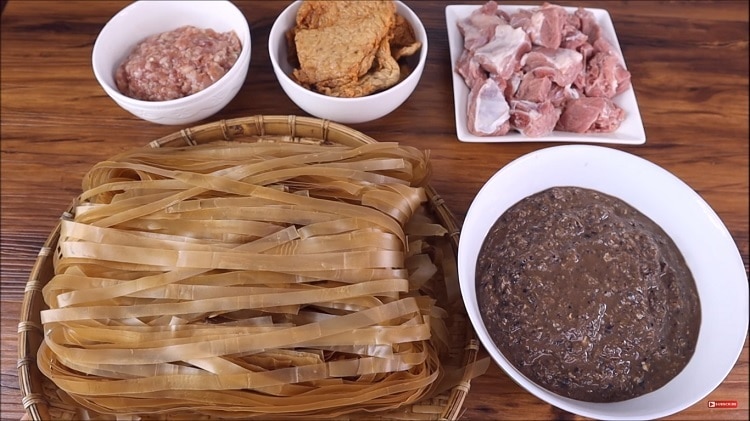 200gr of red rice noodles

600gr of

field crabs (cleaned, p

ulled off the crab shells, and ground)

500gr of raw pork ribs (cut into bite-sized pieces)

200gr of grilled fish

200gr of minced pork

50gr of piper lolot leaves

4 tomato fruits

5g of dried wood ear mushrooms (soak in water)

8-9 shallots

1 teaspoon of salt

2 tablespoons of sugar

2 tablespoons of seasoning powder

½ teaspoon of ground pepper

Fried shallots

Water spinach

, water mimosa, lettuce

Spring onions

A bunch of sawleaf and basil
 Recipe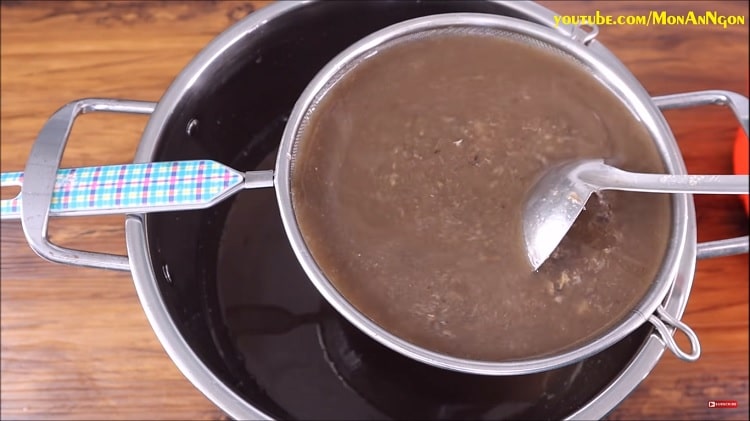 Pour 2.5L of water into a pot, add the

ground field crabs

to it, and stir. Take another pot and filter the crab by using a sieve to get crab extract liquid.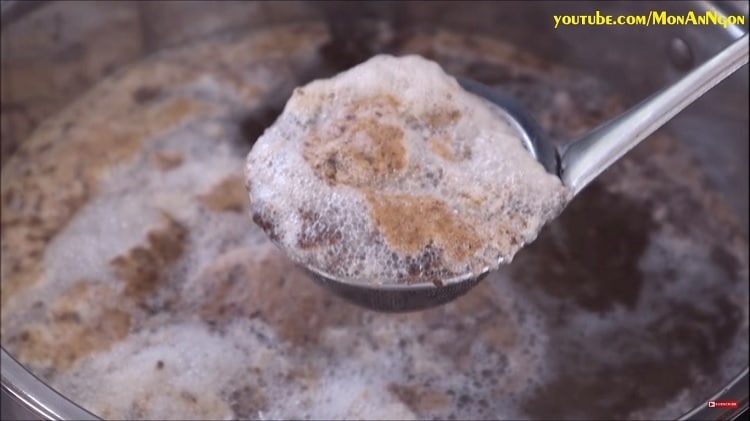 Add a little salt to the pot of crab water and cook over high heat (don't stir while cooking) until

the crab meat starts to float

. At this point, reduce the heat, take out the

crab meat

, and put it separately.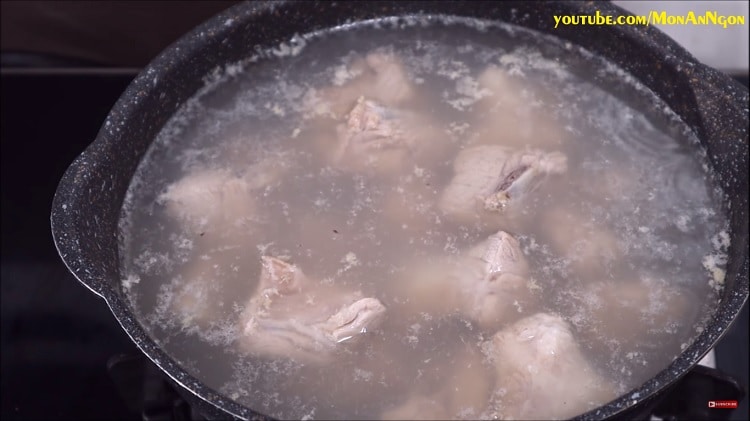 Wash the

pork rib pieces

and parboil in a pot of boiling water for one minute. Take them out and wash away the residues.
Put

the pork ribs

in the pot of crab water, and cook until it starts boiling, reduce the heat. Stew for about 1 hour.
Grill about 4-5 shallots and mince the rest. Rinse and

mince

the wood ear mushrooms. Wash the piper lolot leaves and let them dry.
Marinate the minced pork with minced wood ear mushrooms, a little minced shallot,

seasoning powder

,

and sugar, and mix wel

l.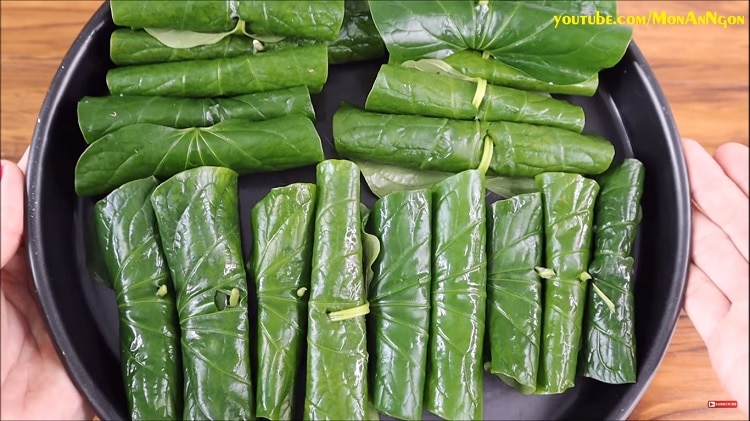 Place the piper lolot leaf shiny side down with its stem pointing towards your body. Take a small amount of the pork mixture, place it on the surface of the leaf and roll. Use the leaf stalk or a toothpick to help stabilize the rolls. This helps prevent the rolls from breaking out while frying. Continue rolling until you have used up all the filling

.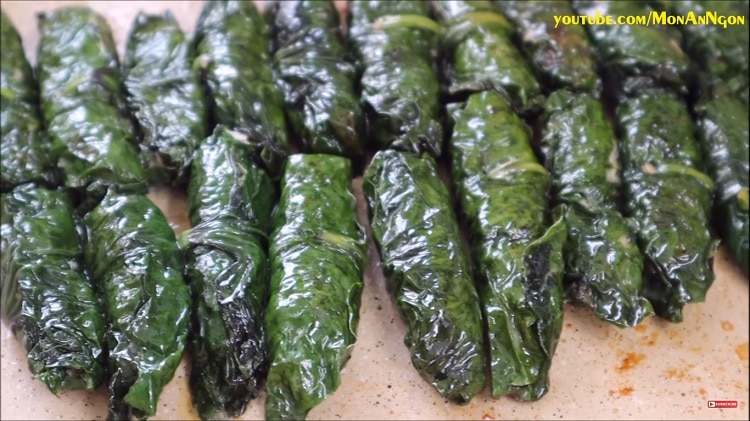 Heat up some cooking oil in a frying pan and fry the pork

rolls

on medium heat. Rotate the rolls, fry until the piper lolot leaves are slightly yellow, and transfer to a plate.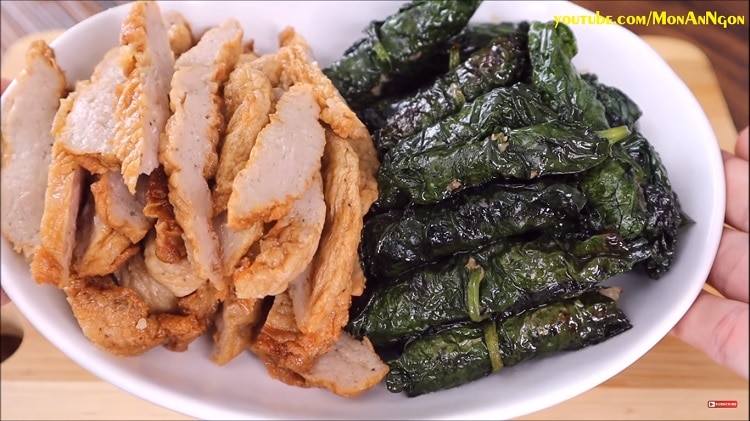 Slice the grilled fish into bite-sized pieces.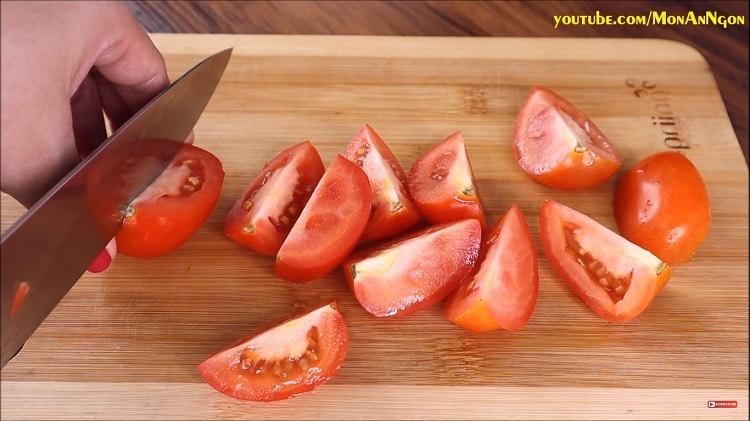 Chop each tomato into 4 pieces.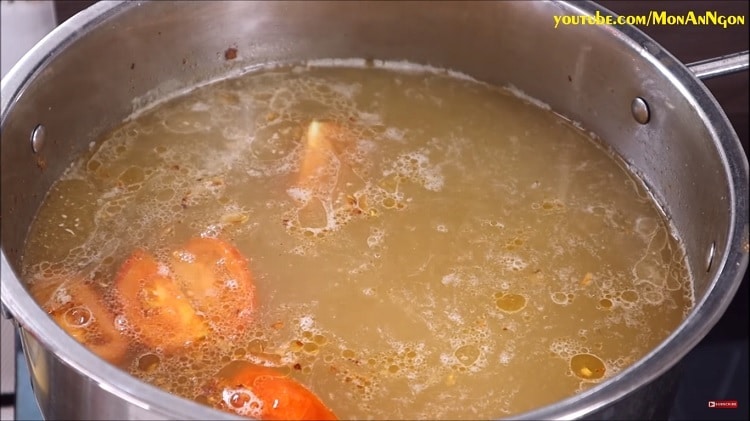 Heat about 1 tablespoon of cooking oil in a pan, put the minced shallots and sauté until fragrant. Add the chopped tomatoes to the pan and stir-fry for about two minutes. Pour the tomatoes into the soup

pot and add the rest of the seasoning, including sugar, salt, and

seasoning powder

. Add the grilled shallots to the pot, cook for another five minutes and taste.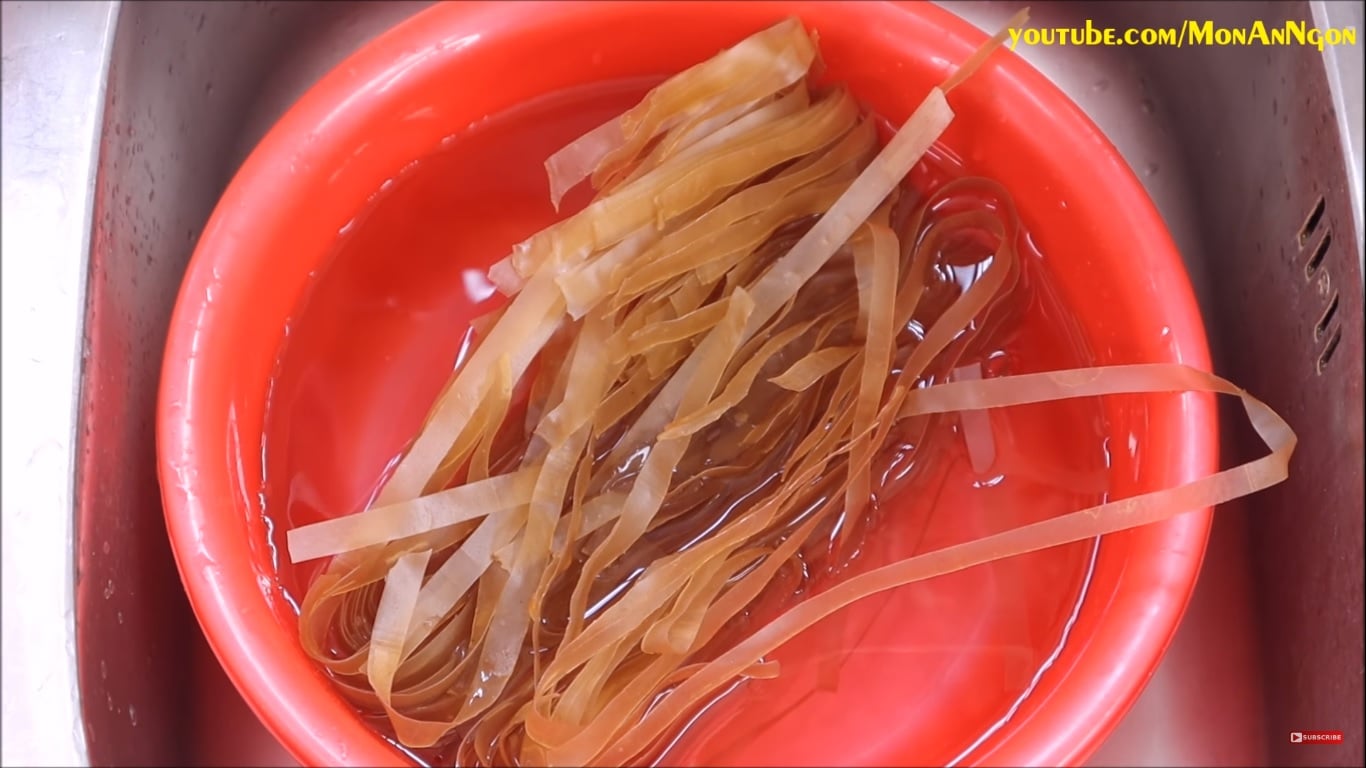 Soak the red rice noodles in a pot of water for 2-3 minutes.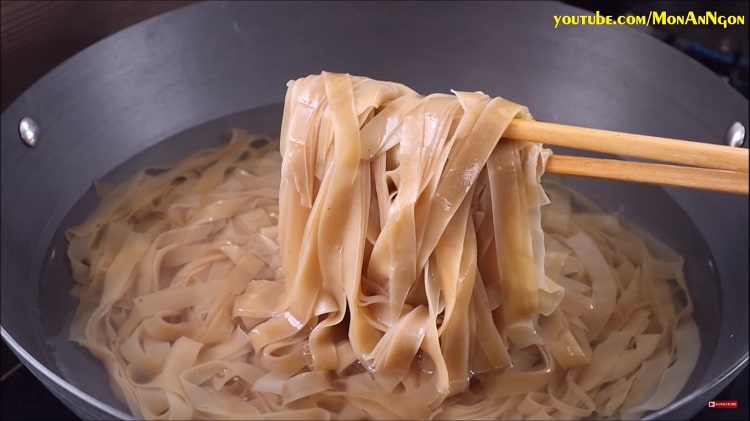 Boil a pan of water, parboil the noodles in the boiling water,

and quickly take out

.

Continue parboiling the water spinach and water mimosa in this pan of boiling water.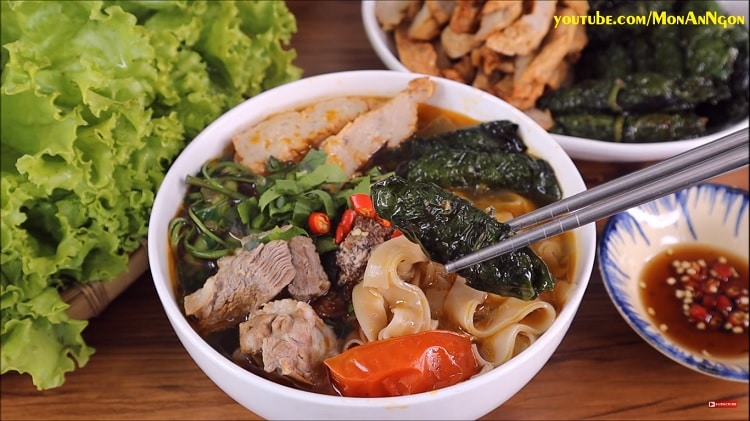 Serve by adding the red noodles to the bowl, garnish with water mimosa, morning glory, piper lolot leaf wrapped pork balls, pork ribs, grilled fish, crab broth, fried shallots, and chopped spring onions, basil, and sawleaf. Ladle the hot soup into the bowl and enjoy with the lettuce.
View more:
To sum up, in Vietnam, crab red rice noodle soup recipe is one of the delicious and amazing Vietnamese recipes that are popular with Vietnamese people in general and the foreigners in particular. If you have a chance to travel to Vietnam, you should enjoy it at least once; make sure that you won't be disappointed with this dish. 
By Mai Cao