Updated: 11/22/2019
Hanoi is famous for the casual yet not less luxurious and exquisite cuisine. Over time, the dishes of the capital of Vietnam is not only unlost but increasingly asserted its important place in the culture of Vietnamese culinary.
I. General Overview Of Food In Hanoi And Hanoi's Cuisine
1. Hanoi: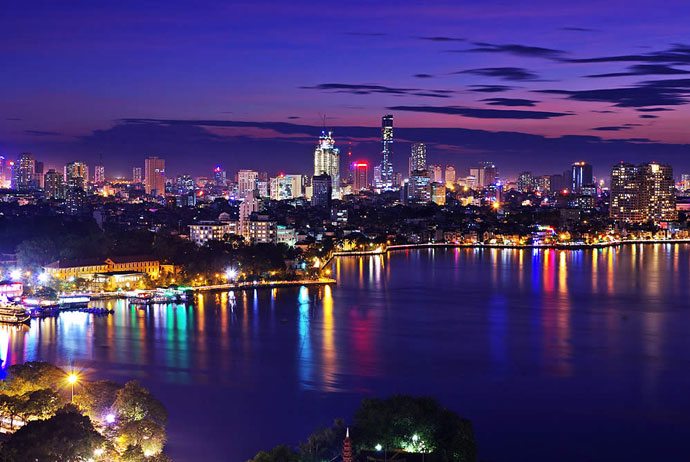 Hanoi is the capital of Vietnam from 1976 to the present, and it is the capital of North Vietnam since 1946 to before 1976. Hanoi is the largest city in Vietnam with an area of 3328.9 km2, and it is also the second largest region in population with 6,699,600 people (2011). Currently, Hanoi and Ho Chi Minh are special cities of Vietnam.
Hanoi is located between the fertile Red River delta, where it soon became the center of politics and religion since the beginning of the Vietnam's history. In 1010, Ly Cong Uan, the first king of the Ly Dynasty, decided to build a new capital in this area with the name "Thang Long". During the reign of the Ly, Tran, Le, Mac, Thang Long citadel is the trading and cultural center of the north Vietnam.
When the Tay Son and Nguyen took over the reign, the capital was moved to Hue and the name "Thang Long" turned into Hanoi since 1831 under the King Minh Mang. In 1902, Hanoi became the capital of the Indochinese Federation, constructed and replaned by the French government. Experienced two wars, Hanoi is the capital of North Vietnam and the whole country, and it has been holding this role till nowadays.
2. Hanoi Food And Cuisine: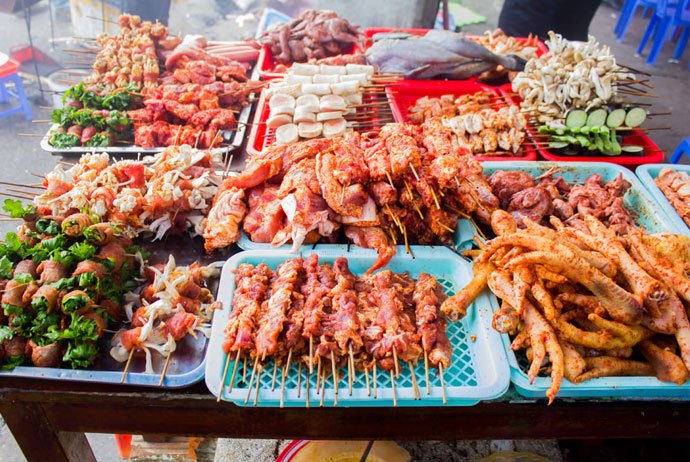 Hanoi is often seen as the focus of the cultural elite of the North and Vietnam. Hanoi has been the cultural center of the North Vietnam for centuries. In Hanoi, people can find and enjoy the cuisine of many other lands, but Hanoi cuisine has its own unique character. Hanoi has rich culinary traditions. Many of Vietnam's most famous dishes, such as Vietnamese noodle soup, fish pie, steamed rolled rice pancake, and green rice are believed to have been originated from Hanoi. Here are some of the best foods in Hanoi.
II. The Most Popular Food To Eat In Hanoi:
Despite of the diversity with the combination of East – West cuisine, Hanoi culinary sill remains in its traditional characters. Here are the best Hanoi traditional dishes which are famous, delicious, and have been existed for long.
1. Com Vong – Vong Green Rice: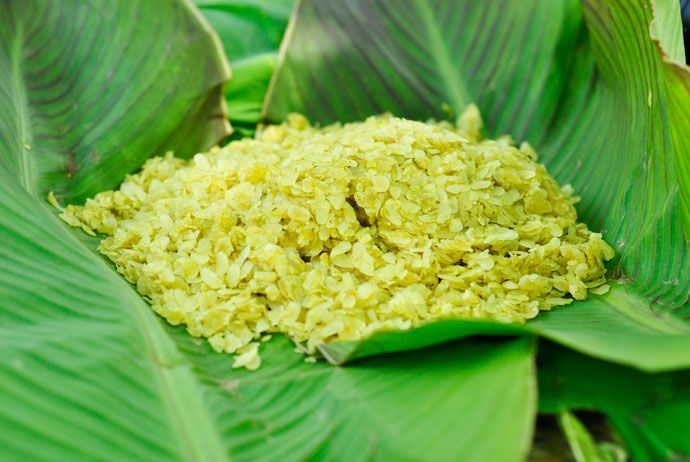 The first famous Hanoi food I want to mention in this article is Com Vong (green rice made in Vong village, Hanoi). Located in the west of the city, 7 km away from Hanoi, Vong village, under the Dich Vong commune, Tu Liem, now is Cau Giay district, is well-known for long because of its speciality – green rice. The name "Vong green rice" became the very own name for this Hanoi's food gift when the autumn comes. Vong green rice is flat green rice, made from young green sticky rice. Vong green rice is available in the autumn. It is usually served with ripe bananas and red Japanese persimmon.
2. Banh Cuon Thanh Tri – Thanh Tri Steamed Rolled Rice Pancake: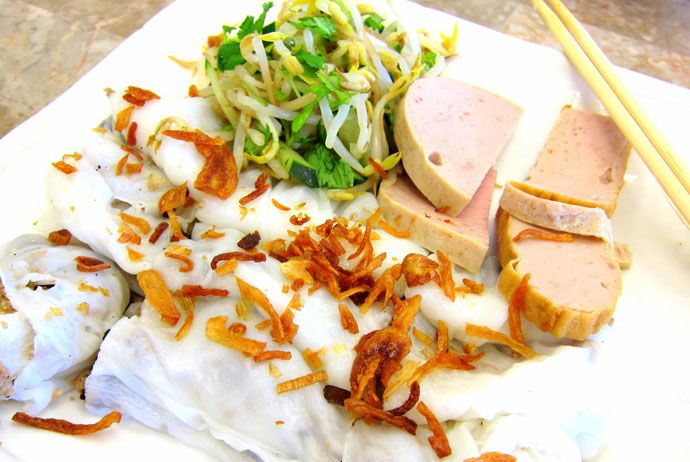 The ancient Thanh Tri village which stretches 3 kilometers along the Red River levee in the south of Hanoi has been famous for steamed rolled rice pancake for many years. The name "Banh cuon Thanh Tri" seems to have become the "brand" for this unique gift of Thanh Tri village people as well as those people who love Hanoi food. Steamed rolled rice pancake is made of rice, served with fried onion, fish sauce cleverly mixed with other types of spices, such as sticky rice vinegar, a few slices of fresh chilli, and some belostomatidae drops. It can be also served with cinnamon meat pie, salted shredded shrimp, or salted shredded meat steamed in a pot of hot water. This is also a tasty dish that this Hanoi food guide wants to introduce.
3. Banh Gio – Pyramidal Rice Dumpling: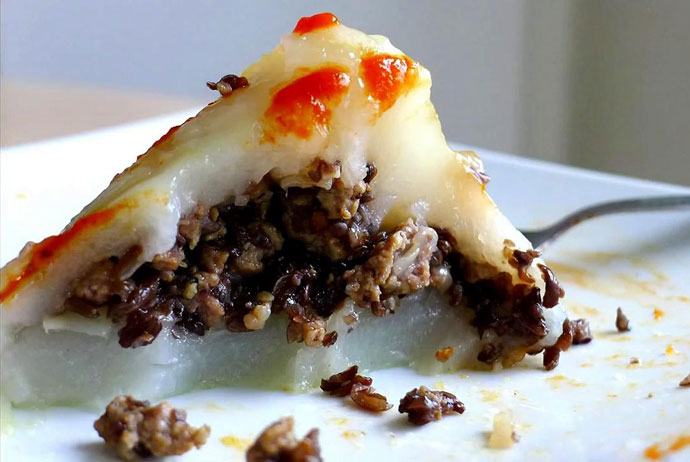 Pyramidal rice dumpling is a snack, a light meal for children baby as a lunch snack. It is usually eaten hot. Unlike Chung cake, pyramidal rice dumplings always have an only shape: it is pyramidal wrapped in banana leaf.
The leaves used to wrap pyramidal rice dumpling are thick banana leaves, not the aromatic banana leaves or pip banana leaves because they can make the cakes look gray. The stuffing of pyramidal rice dumpling is shredded meat, thoroughly sauteed with onions and grease, and mixed with julienned fungus.
4. Cha Ca La Vong – La Vong Grilled Fish Pie: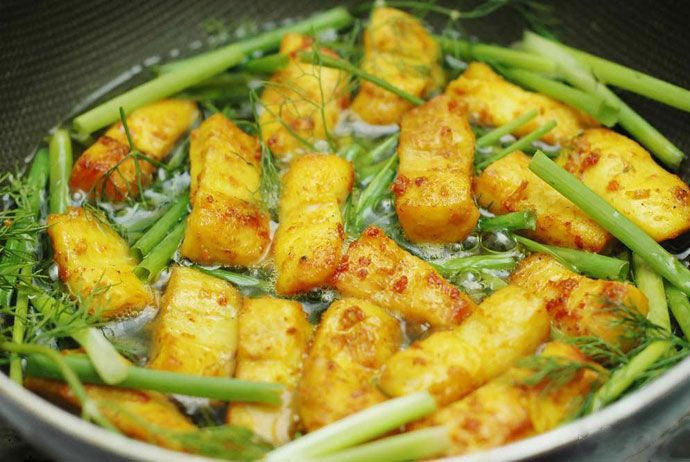 At the time of the French, Doan family in Hang Son Street, today is 14 Cha Ca Street, has created a dish that its reputation even changed the street names. Fish pie is made from bagridfae, or snakehead, catfish (but it will be less tastier) – sliced and marinated with the juice of galangal, turmeric, ferment, pepper, and fish sauce and grilled right on the dining table. Cha Ca La Vong should be served hot, accompanied with toasted rice pancake or vermicelli, roasted peanuts, cilantro, basils, cumin, fresh chopped small onions, and shrimp paste. This is also one of the best foods to eat in Hanoi visitors should try!
5. Pho Hanoi – Hanoi Noodle Soup: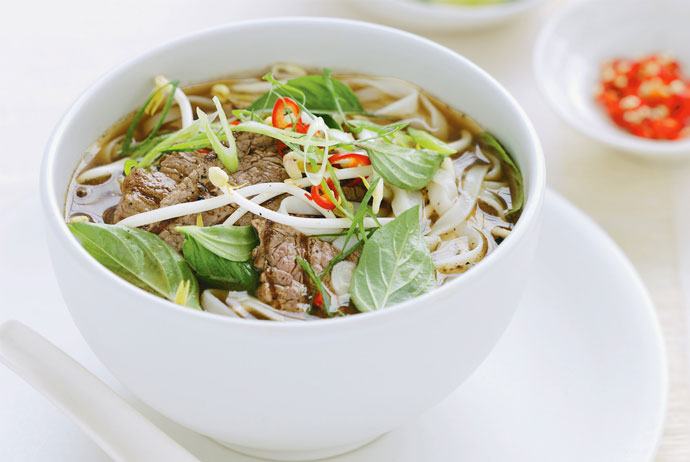 Pho is very popular in Vietnam, but Hanoi has its own unique way of processing this traditional dish. Hanoi noodle soup has sweet taste of beef bones, cooked meat to remain the softness. The broth is clear, and rice noodles are thin and soft. After being lightly heated, noodles are presented in the bowl, with thin slices of meat (pork, beef, chicken,…) with scallion and fresh vegetables. By time, a lot of emerging noodle soups appeared with different processing methods, such as stir fried noodles, fried noodles…
6. Bun Thang – Vermicelli And Chicken Soup: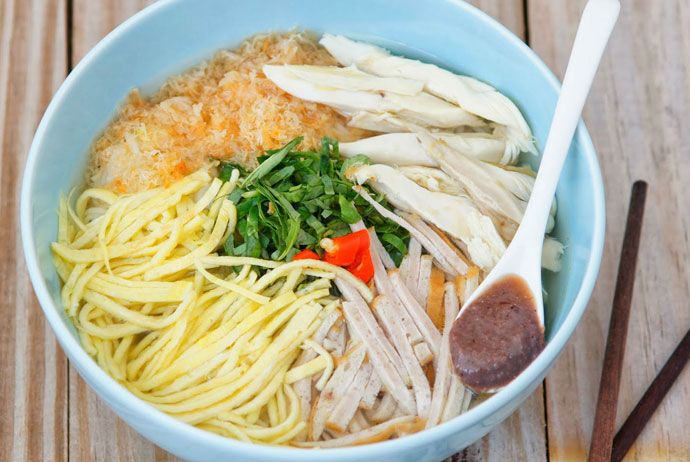 Making vermicelli and chicken soup is a sophisticated process, from the preparation to cooking. It is estimated to require 20 ingredients to make this special delicious dish. A bowl of Bun Thang contains small-thread vermicelli, laksa leaves, eryngium foetidum, thin fried egg, shredded boiled chicken breast, julienned meat pie, salted shredded shrimp and some slices of Chinese sausage. The soup served with Bun Thang is hot and clear broth. Bun Thang is often served with spices like vinegar, chilli, garlic, pepper, or shrimp paste. For a delicious pot of broth, cooks use chicken bones and dried squid (for fresh broth). An entire bowl of Bun Thang cannot come without pickled radish.
7. Bun Cha – Vietnamese Grilled Meat Vermicelli: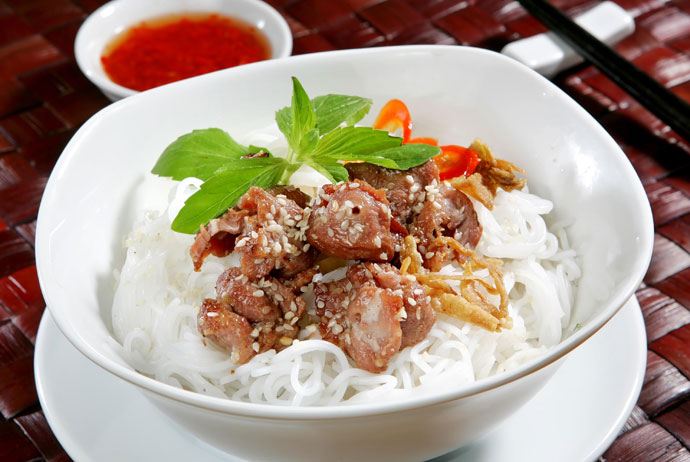 Bun Cha, or Vietnamese grilled meat vermicelli, often includes simultaneously two types of meat pies: Grilled chopped roll meat pie and pieces. Grilled chopped, rolled meat pies are made from finely chopped pig shoulder meat, rolled & marinated with salt, pepper, fish sauce 35 protein degrees, sugar, finely chopped dried onions, vegetable oil or washy fat. Depending on the freshness of the meat, after the meat mixed with spices, if it seems a little dry, add a little oil so that the meat easily bent when rolled into 2 finger- sized balls and then and pressed. If people prefer more sophisticated meat pies, wrap each pie in banana leaves before grilling them to avoid scorch pies and get them more fragrant.
8. Bun Nem – Spring Roll Vermicelli: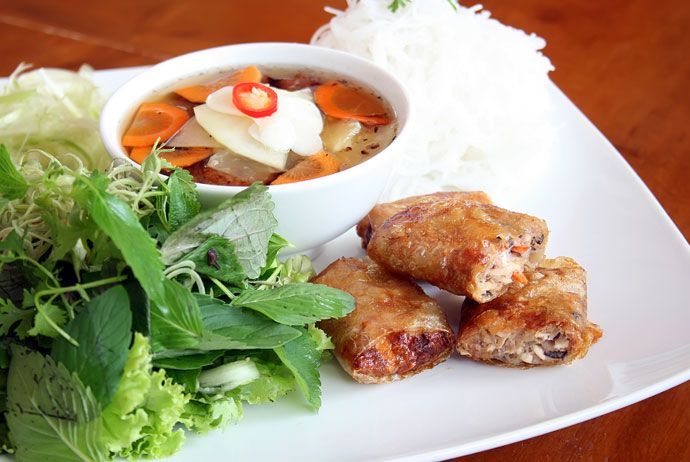 Spring roll vermicelli is a speciality of Hanoians. It includes vermicelli and spring rolls. This dish cannot go without a special sauce including fish sauce, vinegar, chilli, garlic, sugar, and pepper. Coming along with Bun Cha, Bun Nem is very preferred in Hanoi, especially in the holidays and festivals, and after banquets filled with meat and fatty foods.
9. Bun Bung – Colocasia Gigantean Vermicelli Soup: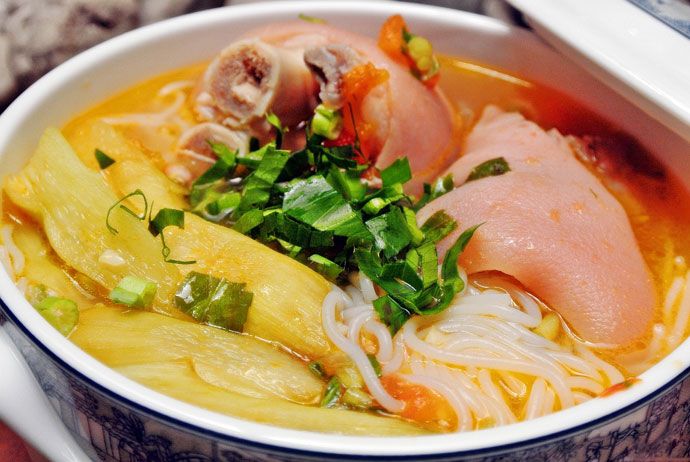 Bun Bung is a rustic dish of Hanoi and Thai Binh people. This dish consists of vermicelli and a special kind of broth. This broth is cooked with pork ribs, colocasia gigantean, washy fat, ferment, and other spices. In Thai Binh, people cook Bun Bung with banana flower.
10. Dau Phu Mo – Mo Tofu: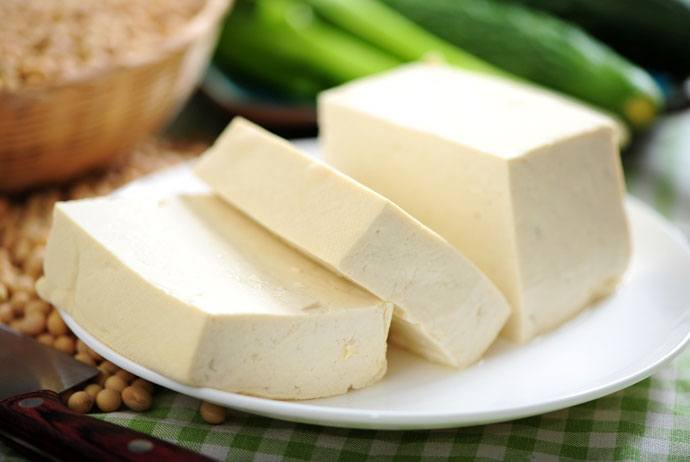 Tofu is a popular dish, made from soybeans. A traditional tofu is usually white, soft, weighs approximately half ounces (~ 0:05 kg), shaped in rectangular blocks with the size about 4 cm wide, 7 cm long, and 2 cm thick. Each locality in Vietnam has its own way of making tofu, but Dau Mo made in Mai Dong village, now in Hoang Mai district, Hanoi is considered the best.
Although tofu is made in Mai Dong village, this village is under Ke Mo region (including Hoang Mai, Thanh Mai, Bach Mai, Mai Dong, Mo Tao …). Therefore, it has been so-called "Mo tofu". The origin of this name is the same as the named "Mo eggplant" – a famous dish in Hanoi culinary (now lost). Mo eggplant was originally grown in Hoang Mai village – under Ke Mo and adjacent to Mai Dong village.
Mo tofu making process in Mai Dong village has been descended from generation to generation and spreaded out to all families in the village. Every family knows clearly the Mo tofu making process and in the past, lots of families lived thanks to this business.
11. Banh Tom Ho Tay – West Lake Crispy Shrimp Cake: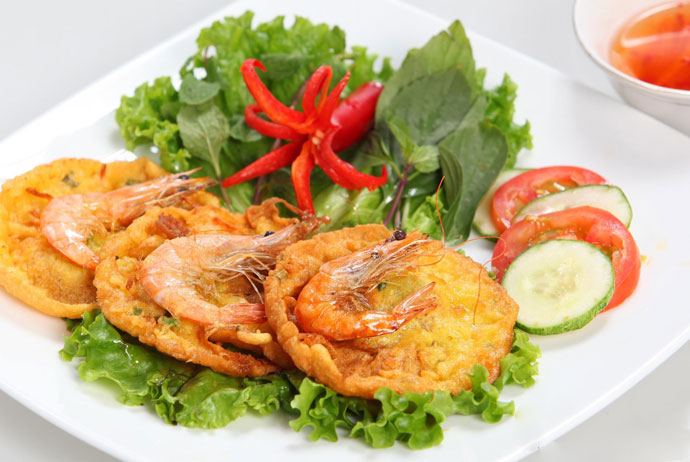 This is a famous dish in Ha Noi. Shrimp (freshwater) caught from West Lake wrapped in flour, fried in a hot pan with a lot of cooking oil until the cake becomes souffle, yellow, and spreads out mouth-watering aroma. Crispy shrimp cake will be taken out and gotten up to 2 collateral chopsticks on the pan to reduce oil stored inside the dish. West Lake crispy shrimp cake is usually served with sweet, sour, and pungent dipping sauce and veggie pickles (green papaya and carrot sliced thin and soaked into vinegar). Banh Tom Ho Tay can be also served with vermicelli and is perfect to served with beer.
12. Bun Oc Ho Tay – West Lake Snail Vermicelli: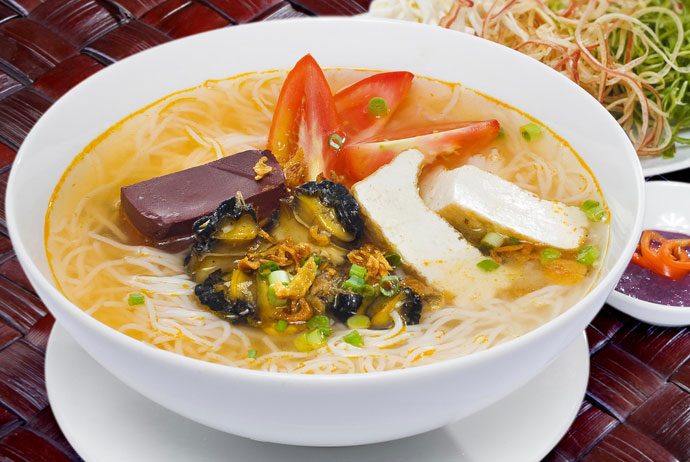 In the past, snails used for making this vermicelli soup always are the ones caught from West Lake, because there are many snails at the bottom of West Lake that people just need to wade into the lake for an hour to catch nearly one hundred fat and big snails. Now, there are not many snails as in the past in West Lake so yellow snails or snails to make this vermicelli soup are bought from many places.
Making Bun Oc Ho Tay is simply like the method used in everywhere else, meaning that snails will be boiled to get the meat, fry with cooking oil and spices. Snail broth cooked with tomatoes and spices will be poured into the vermicelli bowl. The broth should be also cooked with pork bone to get fresher taste. This is also one of the best food to eat in Hanoi people should not miss!
13. Tao Pho An Phu – An Phu Soybean Curd (Douhua):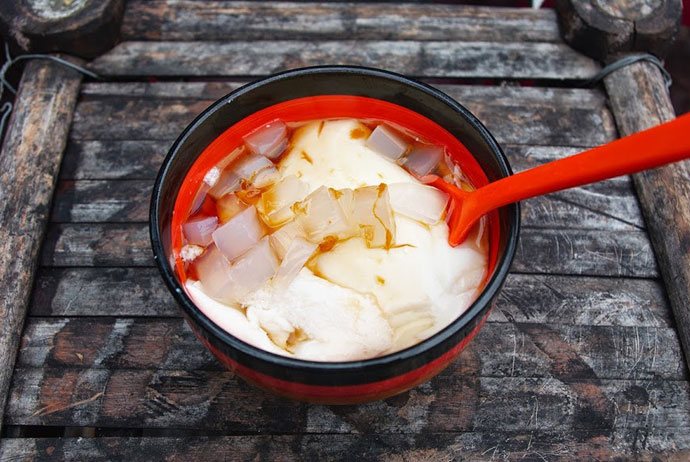 Soybean curd (douhua) is basically a rustic dish that is not only familiar, popular in Vietnam but also in many other Asian countries. In some countries, such as China, there are some places where people also eat rice with Douhua as a kind of soup. As a cool and fresh dish with the cooling effect, douhua is very suitable for people to enjoy in the summer. Made from soybeans so that Douhua itself has a very mild aroma, enchant eaters. Nevertheless, not many people know when this dish was born. We just know that in Vietnam, it originated from An Phu village (now is Nghia Do – Cau Giay). Over many years, the business of making and selling douhua, from the sideline, has become the main occupation of the people here. Today, tofu making and selling business is popular everywhere. This is also one of the best food in Hanoi visitors should try once!
14. Cha Ruoi – Nereididae Pie: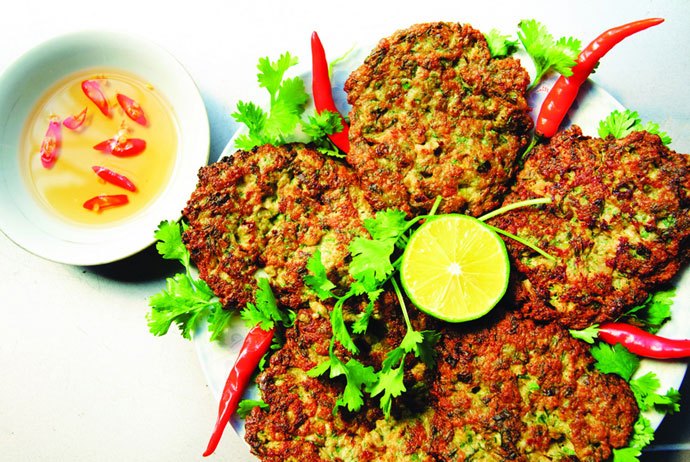 Nereididae pie, sometimes called egg nereididae pie, is one of the special fried pies in Vietnam. While this dish is relatively less common in some regions, including those places where this mollusc is living, it is relatively common in the cuisine of Hanoians. Ingredients for making this dish is very simple: nereididae, some pureed or chopped lean pork, eggs, citrus peel, scallion, cumin, some fresh crushed chillies mainly for the smell, not for a very spicy taste. Less commonly, sometimes people also add some lemon leaves or julienned piper lolot to increase the flavor of the dish.
15. Banh Te Phu Nhi – Phu Nhi Rice Cake: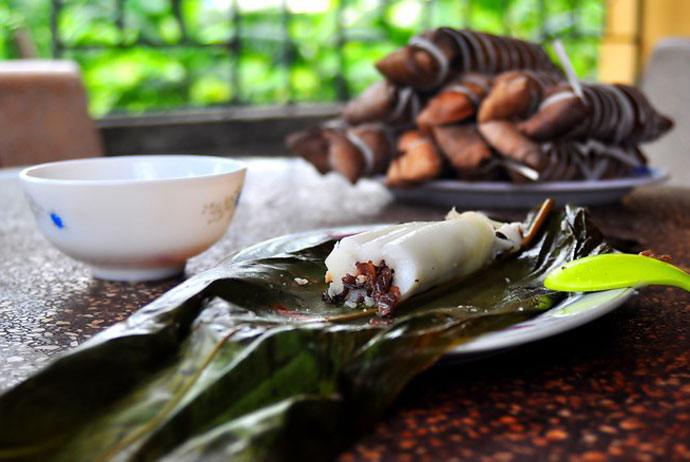 Phu Nhi rice cake is a delicious and cheap specialty made from rice, carefully wrapped by hands. This cake is famous for the delicious taste with agricultural raw ingredients, such as ordinary rice powder, fungus, scallions, dried onion, pork, wrapped in dong leaves and dried banana leaves. The cost of Phu Nhi rice cake is very cheap.
16. Banh Ran Luc Lac – Sweet Fried Cake: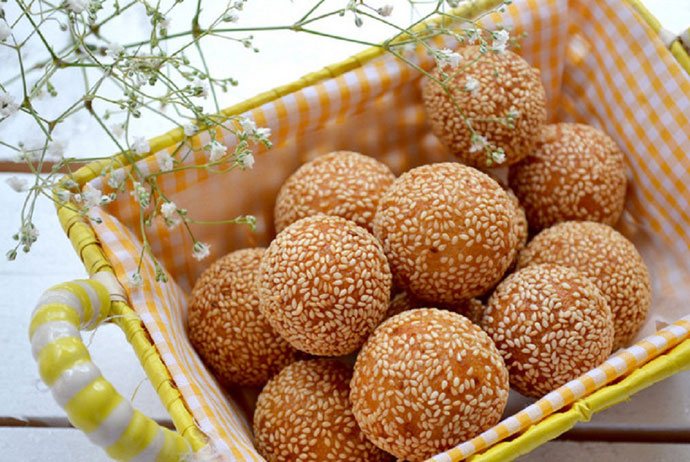 In Hanoi, there are many delicious fried cake eateries such as small ball fried cake at O Quan Chuong Street or savory fried cake, pastries on many other streets. However, Banh Ran Luc Lac brings about its own sapidity. This kind of fried cake is not only delicious but also strange because the bean ball stuffed inside separate from the crust.
The ingredients to make Banh Ran Luc Lac are not too picky. It just includes potatoes, glutinous flour, sugar, and white sesame. The stuffing of Banh Ran Luc Lac is made from green beans, sugar, wheat flour … When frying the cake, to get the cake rounded, people have to monitor the level of the fire and the frying time carefully.
17. Cha Nhai Khuong Thuong – Khuong Thuong Frog Pie: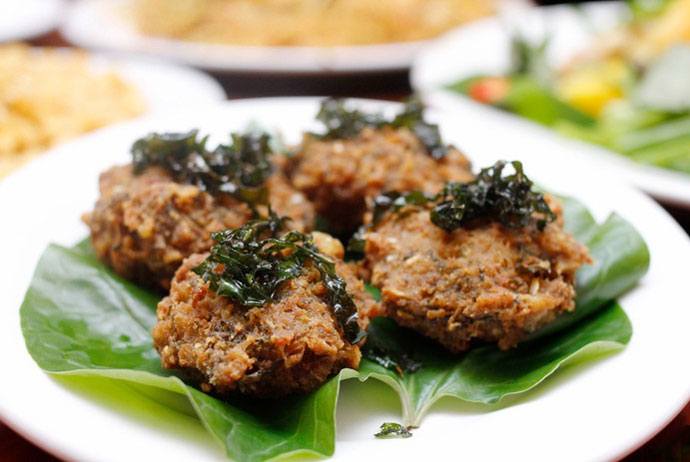 Frog pie is a rustic dish which was appeared in Trang An from many years ago. Many rural regions of the North also have this dish, but the way of making frog pie in Hanoi is the most exquisite and special.
Frog pie is the most sophisticated, and the most delicious dish made from frog. Frogs are not rare, and catching frogs is not difficult but requires strict time. Frog catchers have to work usually at night painstakingly. The frog catching career is very hard because people have to wade deeply in the mud, awake throughout the night, regardless of the wind or rain. What they get after all is a couple of frogs to make frog pie.
18. Gio Cha Uoc Le – Uoc Le Minced Meat Pie: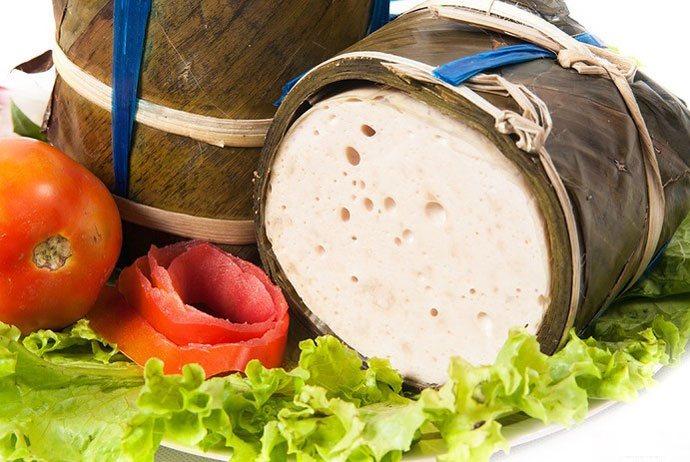 Minced meat pies are popular, accepted, and the name "Uoc Le" is also associated with meat pies. Making minced meat pies is famous for the picky requirements but anyone can do it. However, just the minced meat pies made by people living in Uoc Le village are tastiest, attracting many customers from everywhere throughout the country. Villagers pass the career secret in making meat pies. There are certain stages in making meat pies: choosing the pork, pounding, marinating with pepper and fish sauce, wrapping, and boiling. However, how to get the meat pie tastes sweet, fragrant, chewy, and crunchy when being moved to the mouth instead of friable podium, trash, or too insipid… is not well-known.
19. Nem Chua Lang Ve – Ve Village's Fermented Pork Roll: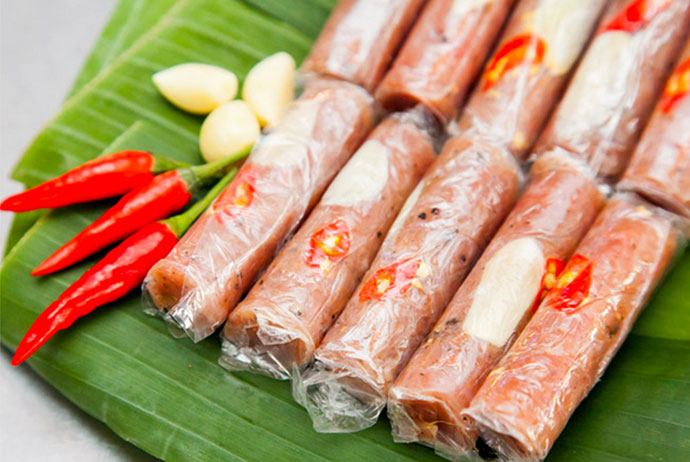 "Ve fermented pork roll" is referred to the sour meat pie made by people in the Ve village, Dong Ngac, Tu Liem district, Hanoi suburb. Immemorial, Ve's sour meat pie was famous throughout the capital, ranked in the top of the cheers and never "absenced" in the feast tray granted by the king to talented first doctoral candidates. Ve village's fermented pork roll is usually sour. The main ingredients to make fermented pork roll are fresh, just- slaughtered pork, with lard, tendons removed to get lean meat only.
20. Banh Giay Quan Ganh – Quan Ganh Sticky Rice Cake: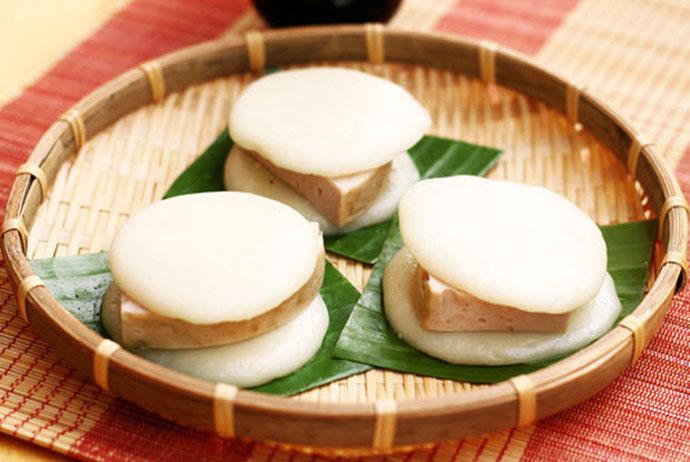 Quan Ganh sticky rice cake is a traditional speciality of the hundred-profession land – Ha Tay, now is a part of Hanoi. Famous for a long time, Quan Ganh village passed the sticky rice cake business from generation to generation, from people to people. The sticky rice cake in Quan Ganh is soft, glutinous, coming with tasty flavor from the sticky rice and the green color of banana leaves, the richness of green beans, pork mixed with other flavors that only people in Quan Ganh village can create that characteristic flavor. This is among the best food in Hanoi food guide people should try!
21. O Mai Hang Duong – Hang Duong Sugared Dry Fruits: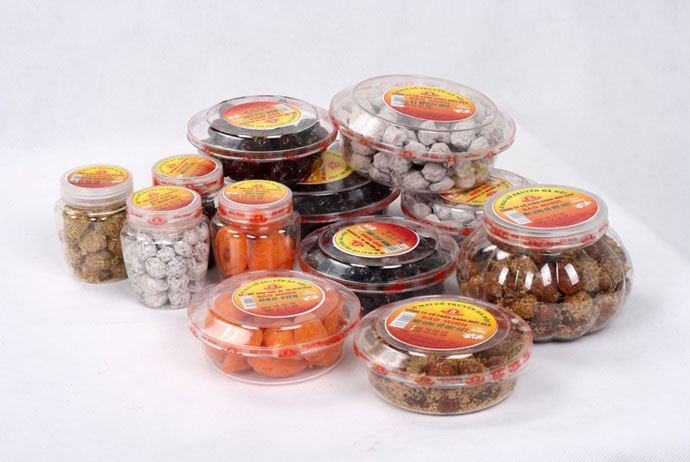 Hang Duong sugared/salted dry fruits is on the listed of tasty and cheap food to eat in Hanoi which visitors must try when they have chance to visit Hanoi and want to enjoy delicious food in Hanoi, to see all the flavor essence of the heaven and the earth converged in this casual and informal gift. O Mai, also known as Xi Muoi. It is a dish made from dried fruits and spices.
Each kind of O Mai has its own flavors. Apricots are most frequently used to make O Mai and the processing methods are also most abundant. Apricots can be dried, salted, removed seeds, or marinated with spicy ginger. The most traditional way to make O Mai is still dried fruits marinated with spicy ginger. Over time, O Mai is made from many kinds of fruits with different recipes. O Mai in Hanoi sold on Hang Duong Street is the best, so the name "O Mai Hang Duong" is recalled the most as a feature of Hanoi food guide.
22. Pho Cuon Ngu Xa – Ngu Xa Rolled Noodle: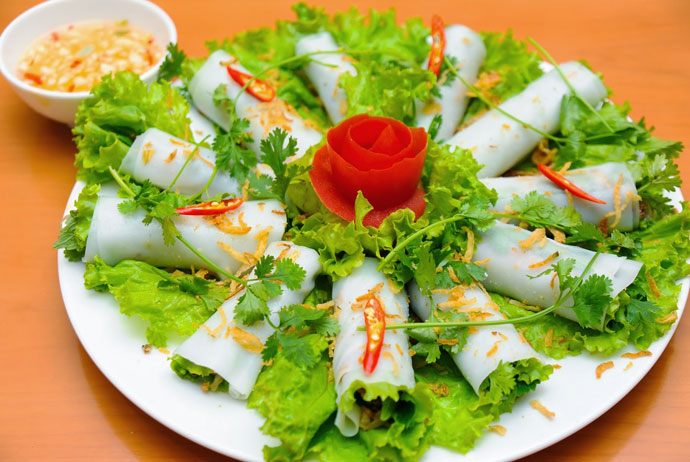 Rolled noodle has been listed in the list of food in Hanoi for nearly a decade, and referred to it is the rolled noodle in Ngu Xa village, located along Truc Bach lake, because this is where rolled noodle was born. Moderately, sliced noodle pieces will be rolled with fried beef and vegetables, served with sweet and sour sauce with some slices of fresh papaya. This dish is very light to eat and tastes delicious.