What are you planning for cooking today? We are going to suggest braised pork ribs with quail eggs recipe (Sườn rim trứng cút) which come from a lot of amazing Vietnamese recipes. Ribs are familiar foods and are also processed into many dishes such as sweet and sour pork ribs (sườn xào chua ngọt), grilled pork ribs (sườn nướng), simmered pork ribs (sườn rim), etc. but the braised pork ribs with quail eggs recipe is very simple but very delicious. This recipe is a traditional everyday Vietnamese dish which contains large chunks of pork ribs and boiled quail eggs slowly braised in coconut water. Serving with steamed rice on rainy days is perfect. Are you ready to make something new for your meal? Why don't you begin with one of the tasty Vietnamese recipes like this? This dish has numerous nutritious elements that are really necessary for our health. It is also quite simple for cooking.
Vietnamese Food – Braised Pork Ribs With Quail Eggs Recipe
What You Need To Prepare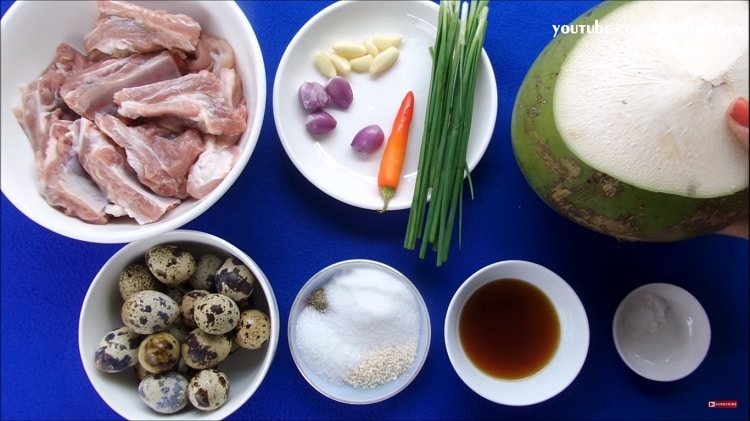 500g of pork ribs

Several shallots

A few garlic cloves

A chili pepper

Green onions

A fresh coconut fruit (use its water)

Salt

3 tablespoons of fish sauce

2 tablespoons of sugar

1 tablespoon of seasoning powder

1 tablespoon of MSG

Ground pepper

20 quail eggs
How To Make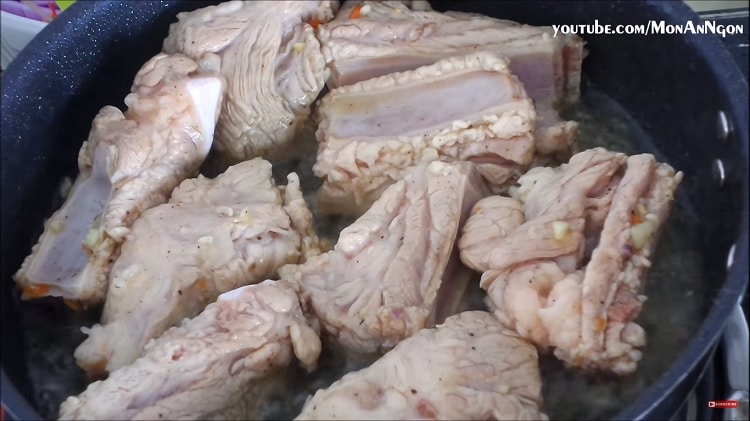 Clean well pork ribs and cut them into bite-sized pieces.

Then, blanche it with the boiling water,

bring it out and drain.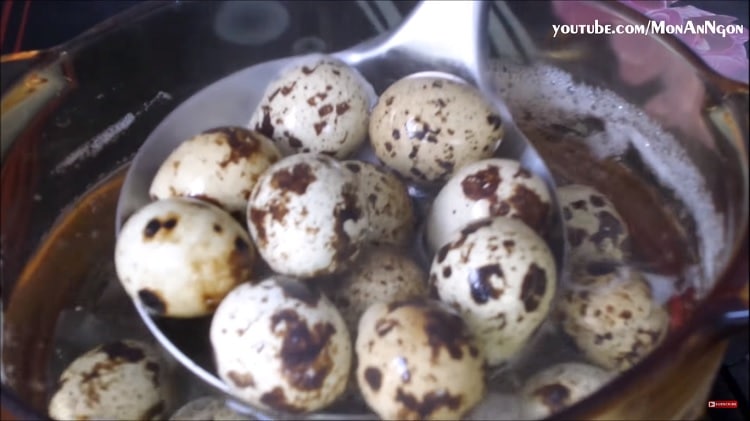 Put quail eggs in a pot and pour water into it. Boil until cooked.

Take them out,

put in a bowl of cold water, and then peel off the cover.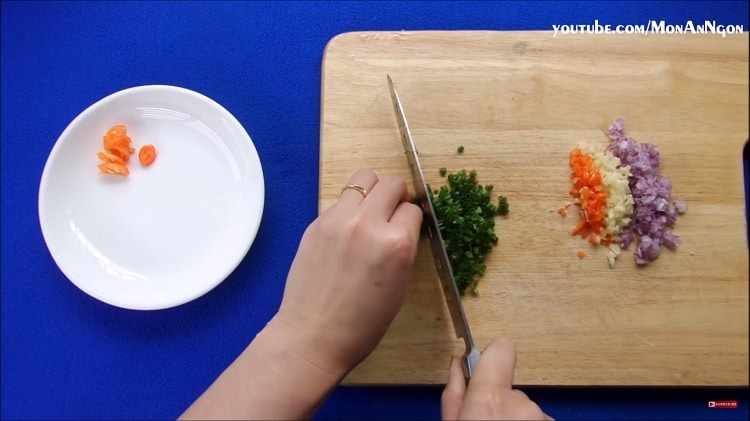 Mince the shallots and garlic cloves.

Slice the chili pepper into small slices, keep a few slices to decorate, and mince the rest.

Clean green onions and slice small.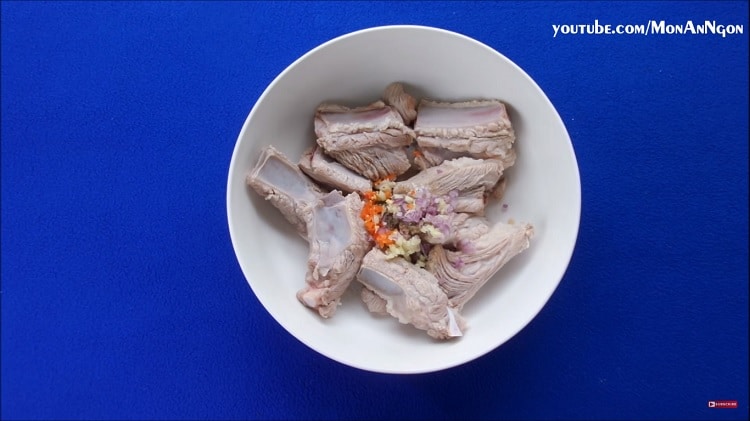 Marinate pork ribs with a little sugar, seasoning powder, MSG, fish sauce, and half of the minced chili pepper, shallots, and garlic. Mix well and marinate for about half an hour.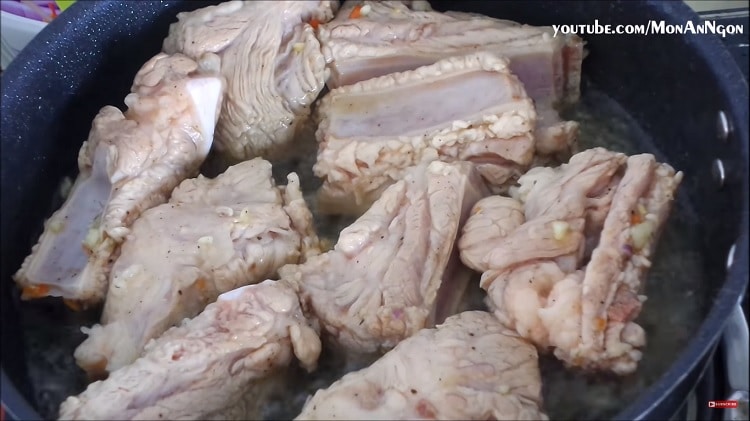 Heat 50ml of cooking oil in a pan and fry the ribs over high heat. Fry until the ribs are slightly golden.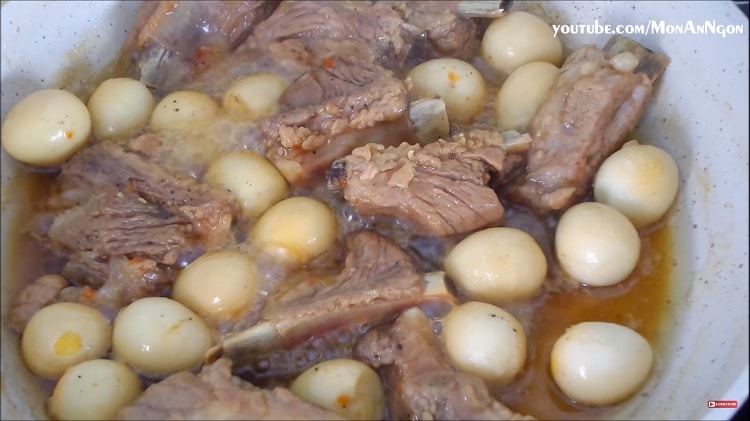 Put some cooking oil in another pan and add the rest of minced shallots, garlic, and chili pepper. Sauté until fragrant and add pork ribs to it. Stir well and pour coconut water into the pan. Cook until it starts boiling and then reduce the heat. Add fish sauce, sugar, and monosodium glutamate to the pan and finish off with quail eggs. Close the lid and continue cooking. Cook until tender and the liquid in the pan gets thick. Season again to suit your flavor.

Add a little sliced green onion and stir well.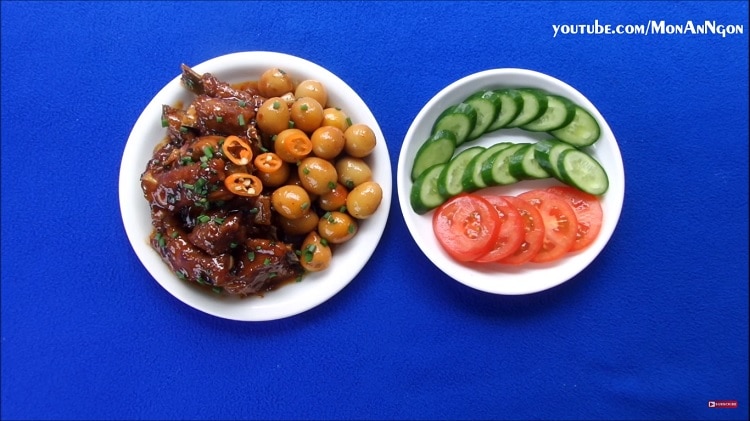 Scoop into a bowl and put some slices of pepper chili on top. You can serve this Vietnamese braised pork ribs with quail egg recipe with

sliced tomatoes and cucumbers, and hot rice.
View more:
How do you feel about this braised pork ribs with quail eggs recipe? It is easy and simple, right? I hope you will opt for this healthy dish for your family on the weekend. Thank you for reading!
By Mai Cao