Binh Hung Island Photos By Ha Ty
Vietnam is well-known and astonishing for the mix of cultural diversity and highlights which attract not only domestic visitors but also foreign tourists. Visiting Vietnam, adventure lovers will be amazed at the great winding mountain, verdant paddy fields, and beautiful rivers. Many places and attractions of Vietnam have emerged as popular destinations for domestic and international ecotourists; however, there are some sites in the military area that restrict the tourists and foreigners due to national security reasons. It is a reason why these following places still retain their own beauty that you can not find anywhere.
1. Binh Ba (Bình Ba) 
Binh Ba is a small island set within Cam Ranh Bay (Vịnh Cam Ranh), Khanh Hoa (Khánh Hòa) Province. This island with pristine beaches, white sand dunes, and blue water has not developed tourism; therefore, everything here is natural and unspoiled.
The most outstanding thing in Binh Ba is three famous beaches namely Bai Nom (Bãi Nôm), Bai Chuong (Bãi Chướng), and  Bai Nha Cu (Bãi Nhà Cũ). These beaches are beautiful, peaceful with white clean sand and blue water that reflect the blue sky.
Binh Ba has been known in some recent years; however, it limits the number of Vietnamese tourists and bans foreigners. Also, this island does not allow tourists to stay overnight. Visiting this island, you will have a chance to play many beach games like swimming, campfire, water polo, etc.
Binh Ba Island is also a paradise of fresh seafood. In the morning, the local market opens early and sells some fresh seafood such as lobsters, squid, fish, and oysters.
2. Binh Hung (Bình Hưng)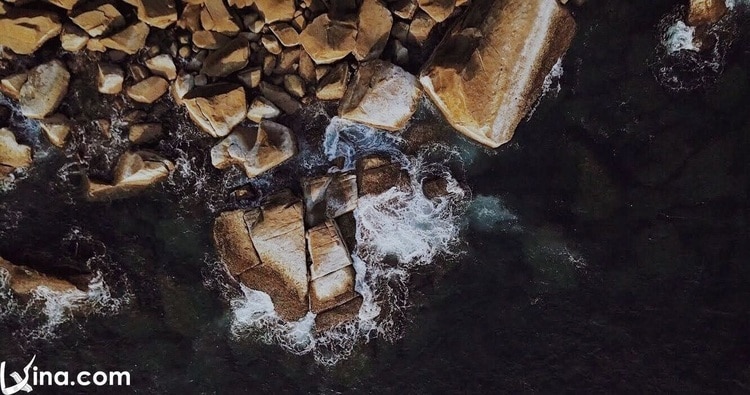 Binh Hung Island Photos By Ha Ty
Binh Hung is situated in Cam Binh (Cam Bình) Commune, Cam Ranh City and it is under the foot of Binh Tien – Vinh Hy (Bình Tiên – Vĩnh Hy) Beach. If you want to look for a primitive landscape to enjoy and admire the untouched beauty of nature, Binh Hung Island is a great option. However, keep in mind that Binh Hung opens for Vietnamese tourists only, not for foreigners.
If you are Vietnamese, you should feel lucky because you can take the tour to Binh Hung Island which is famous for its clean and clear water, and coral reef. To observe the oral of this island, you can ask the local to take you to Banana Beach (Bai Chuoi (Bãi Chuối)).
It is a great idea for you to explore the community culture of this island and visit the Lady Temple (Mieu Ba (Miếu Bà)), Nam Hai (Nam Hải) Temple and Binh Hung (Bình Hưng) Pagoda.
If you have a chance to explore Binh Hung, do not forget to come to the LightHouse on Little Rock which is the ideal place for watching the sunset or sunrise in Binh Hung Island.
3. Binh Lap (Bình Lập)
Binh Lap located in Cam Ranh, Khanh Hoa south of Central Vietnam is one of the most beautiful Vietnam destinations but not for foreign visitors. However, if you are Vietnamese, you can take the tour to Binh Lap and enjoy its pleasant weather and astonishing scenery. Summer and spring seasons are the best time to visit Binh Lap as the sea is clear and clean. Binh Lap is beautiful, peaceful and pristine with its refreshing salt-smelling air, sparkling blue water, tranquil shoreline, and white sand.
However, Binh Lap has not been known as a tourist destination. The first reason is that Binh Lap is the poorest village in the Cam Lap (Cam Lập) commune due to the isolated location and inaccessibility to business or tourist opportunities. Binh Lap is in the military area; therefore, foreigners are not allowed to go to this island, which is a second reason.
4. Binh Tien (Bình Tiên) 
Located 30km north-west of Phan Rang – Thap Cham (Phan Rang–Tháp Chàm) City, Binh Tien Beach is considered as the hidden pearl of Ninh Thuan (Ninh Thuận). Binh Tien remains the primitive and peaceful beauty as it has not developed infrastructure and tourism completely, and foreigners still are not allowed to come here.
However, if you are Vietnamese, coming to this beautiful place, you will be astonished at the calm sea, sandy beaches and rocks in strange shapes.
Nearby the Binh Tien Beach is a small fishing village where you can join in daily activities of fishermen like catching fish, conquering the sea and eating seafood.
Furthermore, you can also bring small tents and necessary items for the wonderful overnight camping. It is also great to visit the clean stream on Nui Chua Mountain.
5. Tho Chu (Thổ Chu)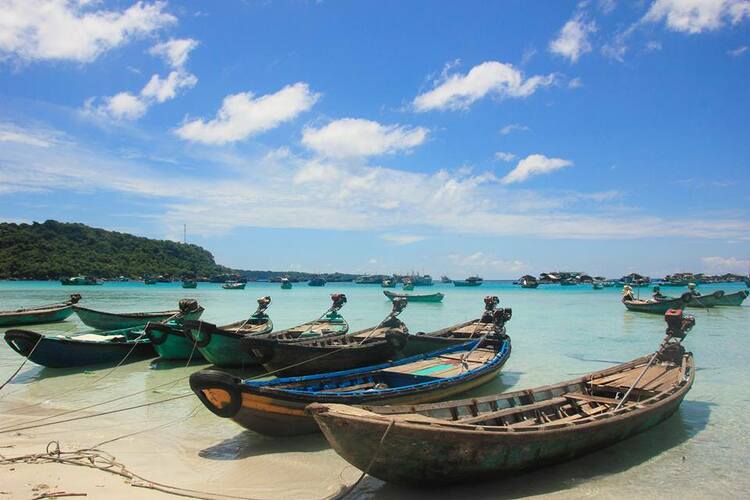 With the beautiful pristine beaches, friendly local fishermen and coconut trees, Tho Chu Island is one of the beautiful Vietnam destinations but not for foreign visitors.
In fact, Tho Chu archipelago located in Phu Quoc (Phú Quốc) District, Kien Giang (Kiên Giang) Province consists of many small islands including Hon Cao Cat (Hòn Cao Cát), Hon Cao (Hòn Cao), Hon Mo (Hòn Mô), Hon Nhan (Hòn Nhạn), Hon Keo Ngua (Hòn Keo Ngựa), Hon Nuoc (Hòn Nước), and Tho Chau (Thổ Châu).
Although Tho Chau has amazing beauty, it has not developed tourism or infrastructure. So, if you are backpackers, Tho Chu Island is a great option for you. Because of military reasons, tourism here is still limited.
If you are a Vietnamese backpackers, you can visit this island and enjoy many interesting activities here. For example, you can see the colorful coral forests under the water, go fishing, swimming or drinking coconut juice.
The local people are friendly. Visitors coming to this island love to fire on the beach, enjoy the seafood and hear the old fishermen telling heroic stories.
These beautiful attractions have not developed tourism; therefore, their beauty is not damaged. If you are Vietnamese, you should feel free to enjoy the relaxing and exciting tour to these places. Any questions can be left in the comment section, and we will answer them as soon as we can. If you like to know more about wonderful attractions and places in Vietnam, please do not hesitate to click here Vina.com.