Updated: 11/19/2019
Not to mention its most popular attractions, the coastal city Nha Trang boasts a lot of islands and beaches which are beautiful and still pristine. One of them is Binh Lap Island. Located in Tu Binh sea (Tử Bình) (including Binh Ba, Binh Lap, Binh Hung, Binh Tien), in Cam Ranh District, Binh Lap Island (Bình Lập) is less known to tourists because its location is almost separated from outside. It is called the "Maldives of Vietnam" because of the white sand beaches and clear blue waters. This island has sunny but cool and comfortable climate thanks to the sea wind that blows to the mainland.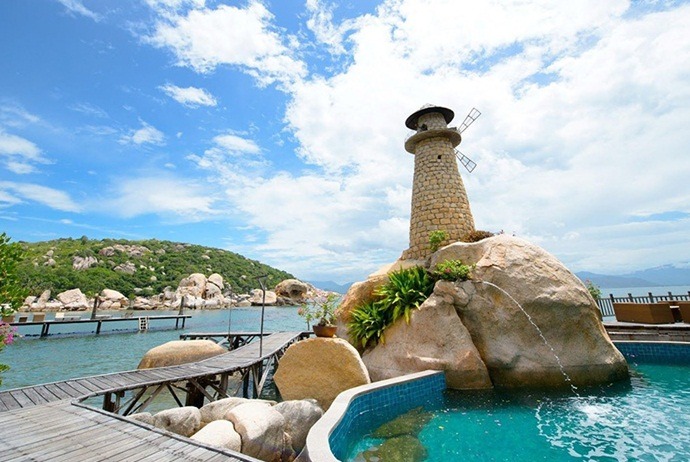 Source: journeyvietnam
Binh Lap is about 80 km away from the center of Nha Trang city and 50 km from Cam Ranh airport. Apart from breathe-taking landscape, this island also has resorts on the sea and beautiful coral reefs that are hidden under clear blue seawater.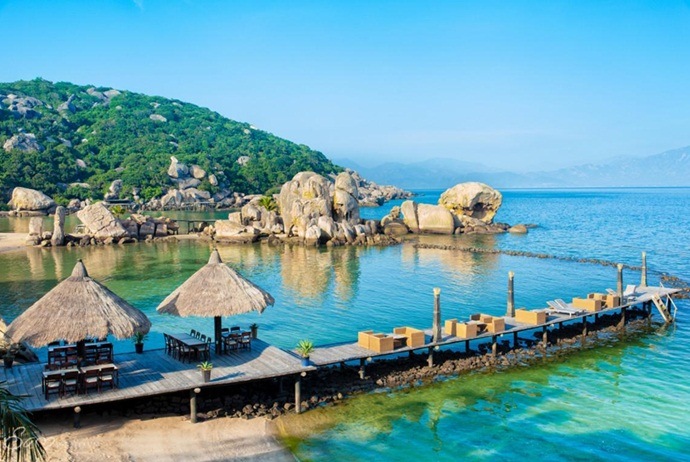 Source: steemkr
Binh Lap Island is considered one of "Four female musicians" painting of Khanh Hoa  (Khánh Hòa) province. It is commented as a quiet but charming girl. This feature is in contrast to the hustle and bustle of Nha Trang city. Coming to Binh Lap Island, visitors will surely be surprised at the nature's masterpiece. This island is untouched and not exploited significantly up to now. That is why you will feel like entering a totally different world upon visiting Binh Lap. Setting your feet on this island, you will be able to immerse yourself in the calm space with white sand, blue sea, and hospitable fishermen. All of them will make your vacation memorable.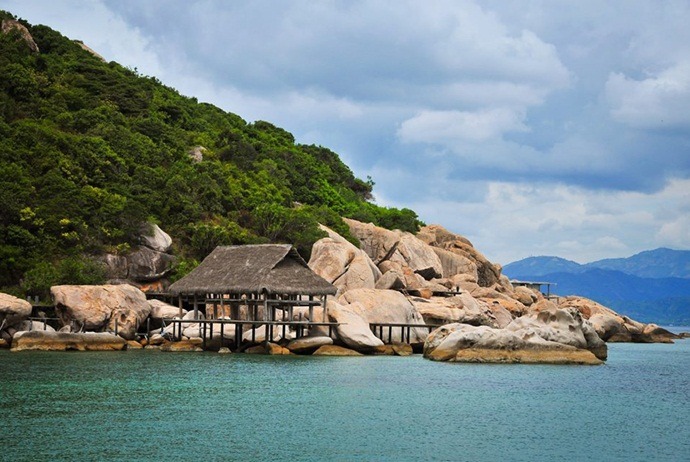 Source: foody

Traveling to Binh Lap does not cost too much money from you, but still brings to you almost absolute wilderness experience. Here are tips when traveling to Binh Lap Island that you should not miss.
What Is The Best Time To Visit Binh Lap Island?
You can travel to Binh Lap Island at any time of the year; however, you should avoid periods of heavy rain. Rains just last for 10 minutes on this island, so it is always dry. You had better avoid coming Binh Lap Island from September to December as it is the rainy season here. Nonetheless, due to being situated rather deeply in Cam Ranh Bay, Binh Lap is nearly never affected by storms.
Upon arrival in this "Little Maldives", you will have an opportunity to enjoy the stunning scenes of beautiful beaches here, namely Robinson Beach, Binh Chau beach (bãi Bình Châu), Con beach (bãi Cồn), Ngang Beach (Bãi Ngang), Lao Beach (Bãi Lao), etc. or visiting neighboring islands in order to have sightseeing.
You can travel this island in the Vietnam's holiday from 30/4 to 1/5. It is also ideal time for planning your fun trip. It is because during this holiday, famous tourist destinations such as Nha Trang, Con Dao (Côn Đảo) or Phu Quoc (Phú Quốc) are very crowded. Therefore, the choice of Binh Lap – an island which is still wild but has beautiful natural scenery – is a right choice.
How To Get To Binh Lap Island?
There are 3 ways to reach Binh Lap Island, you can refer to right below: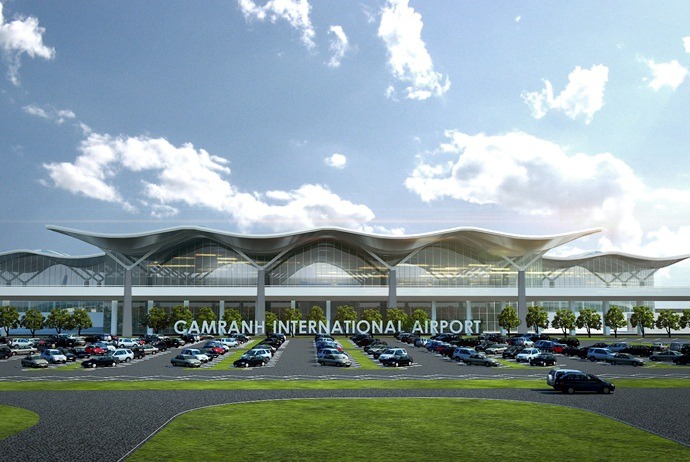 Source: govisitnhatrang
Depart from Cam Ranh Airport: With this choice, after you arrive at Cam Ranh airport, you can go through National Highway 1A to the DT702 and then go ahead to Vinh Hy Bay (Vịnh Vĩnh Hy). This road is about 40km long with the view covering Cam Ranh Bay. However, the National Highway 1A is quite crowded so that you need to pay extra attention if you choose to move by a motorbike.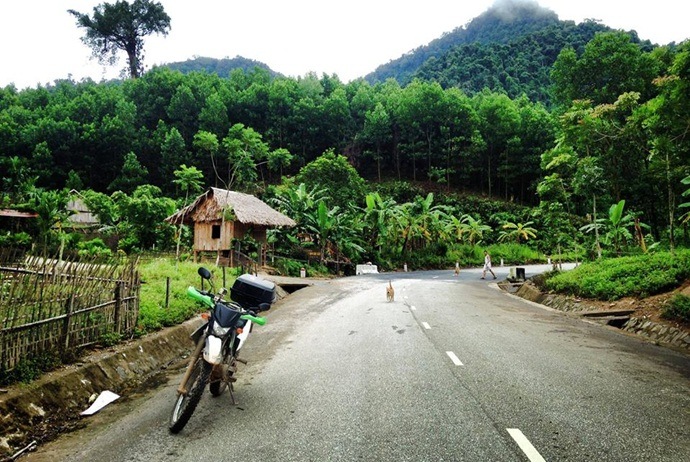 Source: vietnammotorbiketour
Depart from Phan Rang: From Phan Rang city, you move along National Highway 1A for about 40 km and then turn right towards Ngoc Suong (Ngọc Sương) resort. This route also has a lot of transportation so you should be careful when moving. However, this route embraces Nui Chua Mountain (Núi Chúa) and passes through Kien Kien stream (suối Kiền Kiền) which has beautiful scenery, so you can stop here and explore the romantic Kien Kien stream. This is a great way to contemplate the unfolding landscape of the sea, sky and mountain.
Source: booking
Coastal route from Phan Rang: With this route, you start from Phan Rang to pass through Nai lagoon and King Lagoon before heading to Nui Chua National Park (Vườn Quốc Gia Núi Chúa) on DT702 road. This is one of the most beautiful coastal roads in Vietnam that you should not skip. With the length of more than 65 km, you will be able to witness spectacular scenery with the mountains in one side and the sea in the other side. Before arriving at Binh Lap, you will pass through Rai cave (Hang Rái), Vinh Hy bay (Vịnh Vĩnh Hy), Nuoc Ngot stream (suối Nước Ngọt), Ba Ngoi port (Cảng Ba Ngòi), Kinh beach (bãi Kinh), Binh Tien village (Làng Bình Tiên), and many of amazing beaches. Because this route has a lot of ramps and vehicles are rare, you should check the gastro line before your departure if you choose to move by a motorbike.
You can rent motorbikes anywhere in Cam Ranh for about 100.000 – 120.000VND per day, remember to have an ID card and many places require deposits up to 1.000.000 before receiving the car. If you go in groups, you can rent a large room with a maximum capacity of 6 people in the villa.
Note: These routes do not have many gas stations, so be sure to check and fill the gas tank before leaving.
Where To Stay In Binh Lap Island?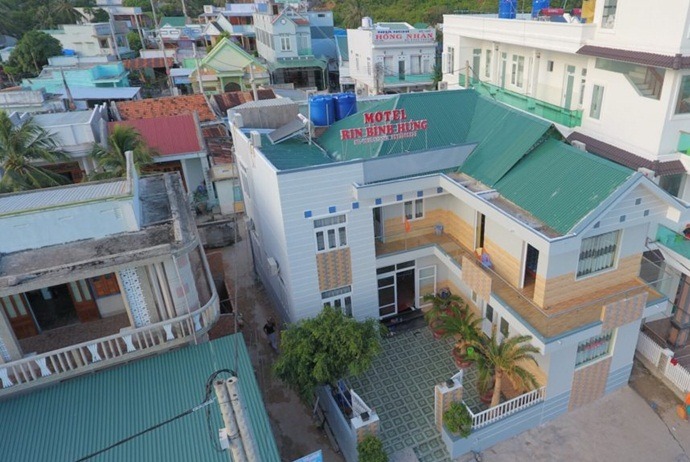 Source: binhhungtravel
Booking fees in Binh Lap Island are available at weekend rates from 450.000-600.000VND / night. On holiday occasions, booking reservations is often difficult, so you should refer the price and location of the chosen hotel and booking in advance.
What Are Attractions In Binh Lap Island?
Binh Lap Island is beautiful with golden sand, sunny roads, and colorful coral reefs. If you go to the island, do not miss the beautiful tourist attractions below:
Binh Chau Beach (Bãi Bình Châu)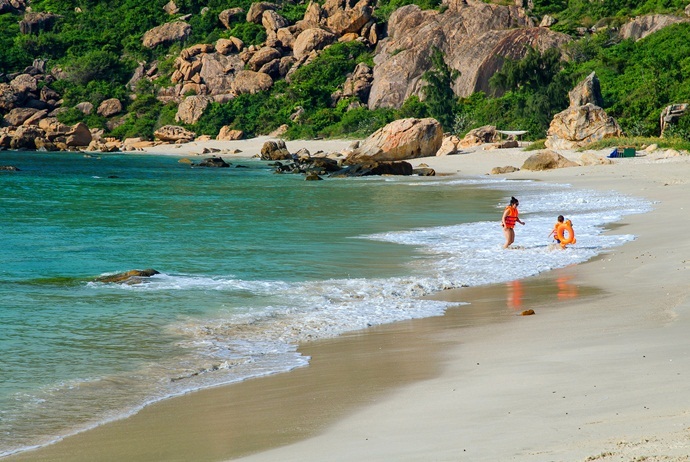 Source: toptentravel
Binh Chau Beach is one of the most attractive destinations on Binh Lap Island, located at the center of a luxury resort is Ngoc Suong Resort. Binh Chau beach is pristine with fine sand which is longer than 1 km with many colorful coral reefs.
Many people say that if you come to Binh Lap but do not visit Bình Châu, you cannot experience all the best in this island on this island.
Bai Ran Beach (Bãi Rạn)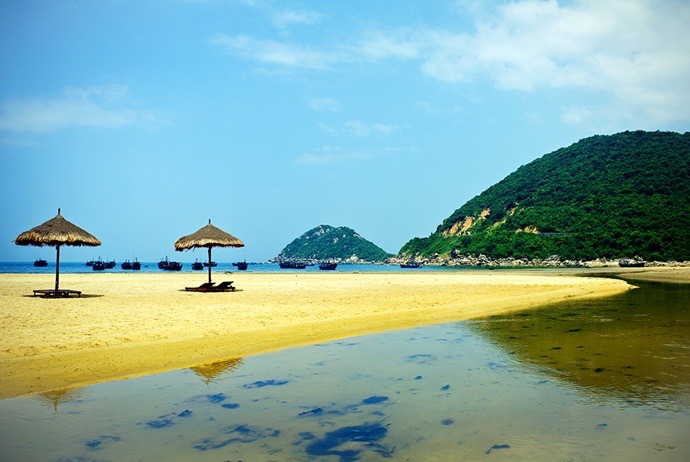 Source: queenannnhatrang
Bai Ran Beach is another attractive destination in Binh Lap. It is famous for its rich coral reefs. You can immerse yourself in the fresh water and watch the stars spread out in the sand. That must have been a great feeling.
Bai Lao Beach (Bãi Lao)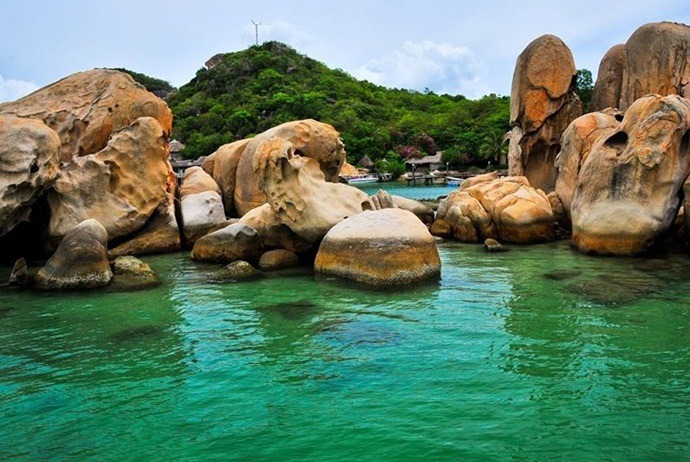 Source: viettimetravel
Bai Lao Beach is a very beautiful road in Binh Lap with blue sea, smooth waves, and beautiful scenery.
Bai Ngang Beach (Bãi Ngang)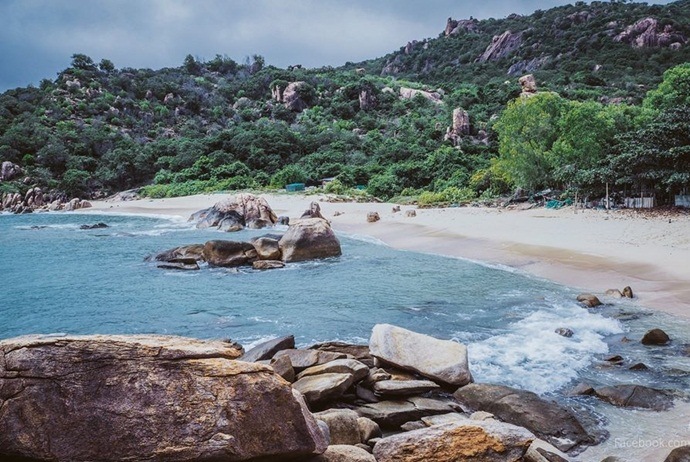 Source: vietnammoi
Bai Ngang Beach is a destination for swimmers in Binh Lap. When you arrive here, you will bathe in clear water and ride on the waves. This gives the feeling of gentle as the massage in the salon.
If you have enough time, do not miss visiting the small fishing villages which are close Sao Bien eco-tourism area. This place is nearly just for local people and tourists who get lost in the island. The first feeling when getting here is the coolness of sea breeze, no matter it is noon. There is a small, unbidden bay at the bottom of the village, which is not for swimming but anchoring small fishing boats. The wharf floating on clear seawater will make every tourist fall in love with this destination.
Check out: 18 Best Things to Do in Nha Trang – What to Do & Where
What To Eat In Binh Lap Island?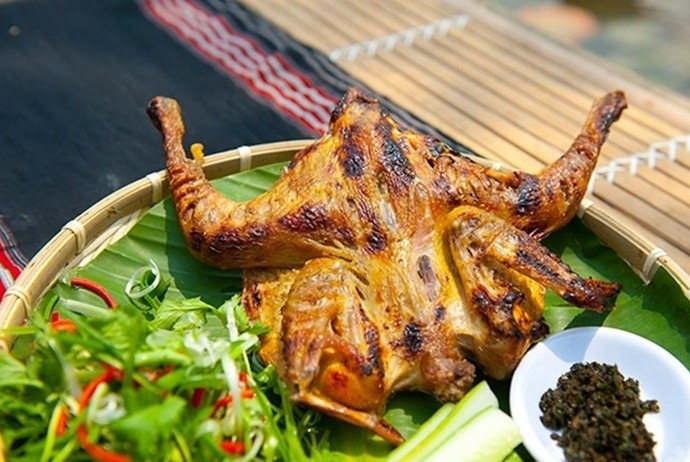 Source: sohatravel
Binh Lap cuisine is diversified with a variety of types of raw and fresh seafood caught by fishermen like squids, crabs, and fish. They will be immediately processed into baked foods at the seashore to serve you. This helps to preserve the original taste of seafood. In addition, you will also enjoy delicious food and specialties in Cam Ranh such as squid porridge, Grilled lobster, and baked and snails.
There is a surprising thing for tourists when visiting Binh Lap Island is the so-call "Ga Chi" (Gà-chỉ) dish ("chicken-pinpointing"). It name means that customers will be led to the area where chickens are living, then if the restaurant will process any chicken that customers pinpoint according to their needs. Most of restaurants in Binh Lap Island are located in Binh Chau and Bai Ngang beaches with many varied dishes. If possible, you can also enjoy more expensive dishes in restaurants belonged to resorts.
Besides, Binh Lap people are very friendly and close. They will be ready to share their home with tourists with just several thousands of Vietnamese dongs a day. Also, they are willing to take you with their regular trips to the sea for catching cuttlefish, echinoidea, fish in order to help you enjoy the most practical and memorable experiences.
Note that in Binh Lap, there are not markets and service shops for visitors to purchase gifts. However, you could order with the fishermen or your resorts to purchase local seafood. A tip is to contact directly to the locals on this island so you can buy fresh seafood with low price.
With our tips on traveling to Binh Lap Island in Nha Trang above, hope that you have prepared yourself the best to start your journey. If you have any questions, leave a comment below and we will respond as soon as possible.