Source: Nha Trang Travel Photos By Hieu HD
Binh Ba Island (Đảo Bình Ba) (Cam Ranh, Khanh Hoa (Khánh Hòa)) is one of the new and popular tourist destinations in Nha Trang that many travelers spend their holidays in. Binh Ba is a small island with an area of over 3 km2 in Cam Binh Commune, Cam Ranh City, Khanh Hoa Province. It is about 20km from the mainland of Cam Ranh Bay, Khanh Hoa province, 60 km from Ho Chi Minh City, and 390km from Nha Trang City. This relatively flat island has a height of 0.5m – 204m above the sea water level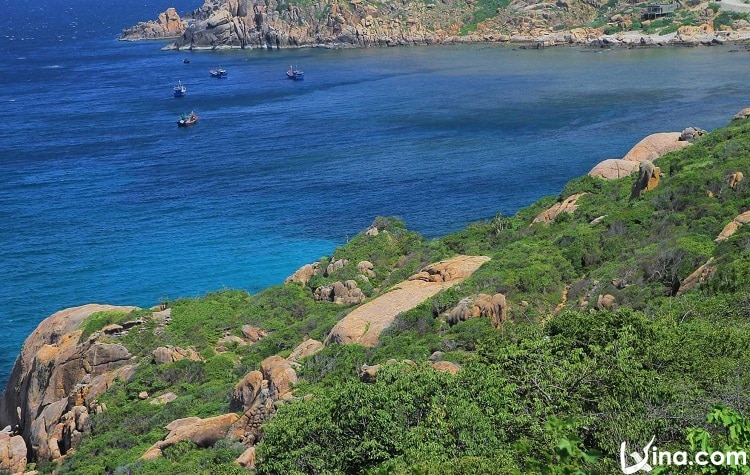 Source: Nha Trang Travel Photos By Hieu HD
Binh Ba Island is and considered the earliest dawn-getting place in Vietnam. It is a pristine island which is not affected much by tourism up to now.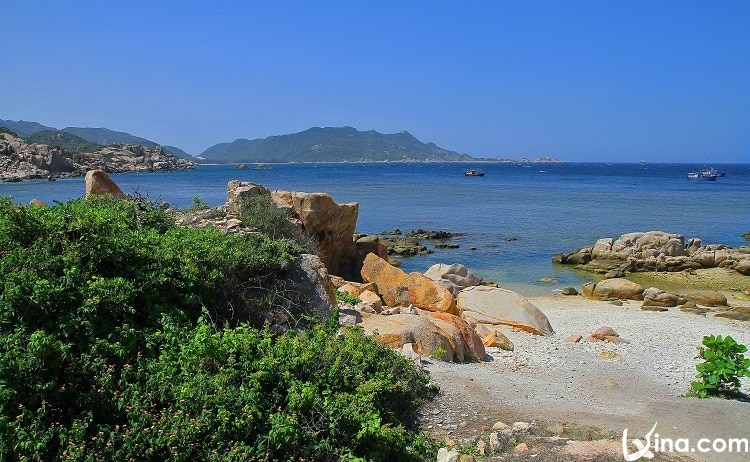 Source: Nha Trang Travel Photos By Hieu HD
In recent years, Binh Ba Island has become an attractive tourist destination for many tourists who want to stay quiet, away from the crowds. People in Binh Ba Island are very friendly and hospitable. Wishing you to have the most convenient trip, we would like to provide you with the answers of the most common questions of tourists about Binh Ba tourism:
1. Are There Any Special Notes When Visiting Binh Ba Island?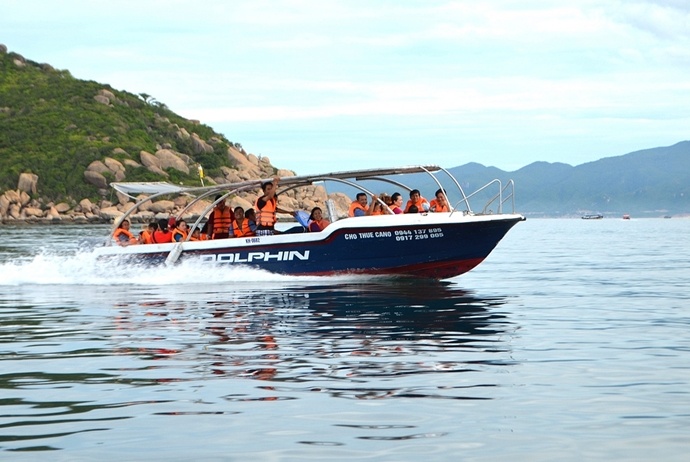 Source: handetour
Answer: Actually, this island serves for military purposes, so there are restrictions that prevent people outside from getting into it. Fortunately, these rules have been somehow loosened so far, but international tourists still cannot visit some areas of this island. Thus, to avoid being evicted from this island, you ought to avoid some forbidden zones here.
If you want to bring motorbikes, you need to take the boat of 9:00-1630 (Binh Ba-Cam Linh) and 7:30-13:30 (Cam Linh – Binh Ba) because these are licensed boat trips to motorcycles.
Don't skip: 18 Best Things to Do in Nha Trang – What to Do & Where
2. When Should You Visit Binh Ba Island To Enjoy Its Most Beautiful State?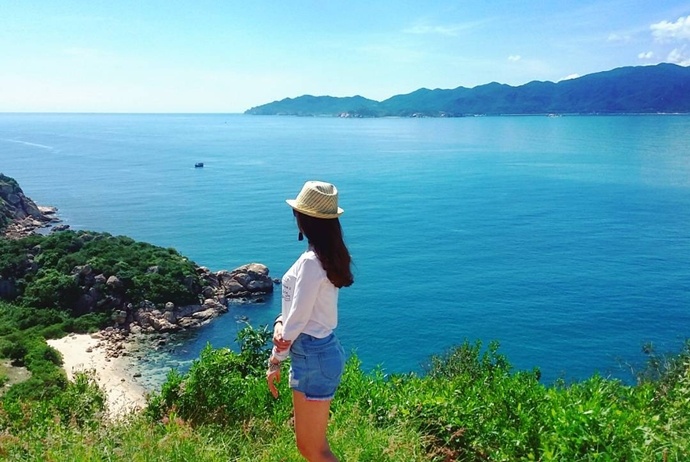 Source: kenhhomestay
Answer: You can travel to Binh Ba Island at any time of the year. However, the ideal time is from March to September. Note that you should go to Binh Ba Island on weekdays because the number of tourists is very high on holidays.
3. What Is The Best Way To Get To Binh Ba Island?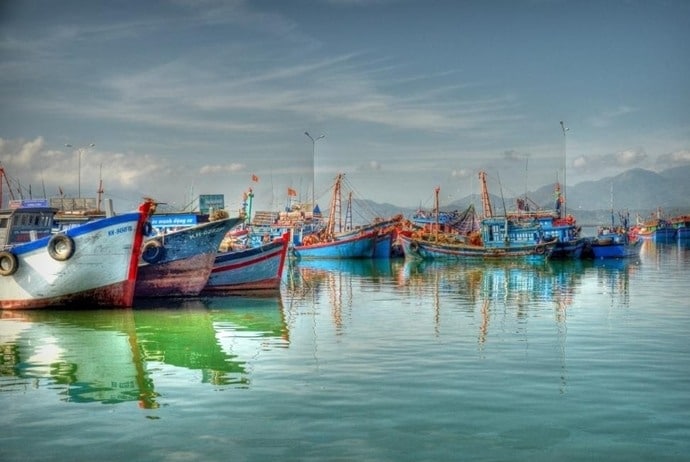 Source: kenhdulich
Answer: To go to Binh Ba Island, you need to move to Cam Ranh city. You can choose one of the appropriate vehicles such as aircraft, train or coach. When arriving in Cam Ranh, you need to get to Da Bac (Đá Bạc) Port and move to Binh Ba Island by boat.
There are 4 trips from Cam Ranh to Binh Ba Island (by canoes or boats) every day. The boat departs from Cam Ranh at 7:30-10:00-13:30-16:00, and from Binh Ba to Cam Ranh departs at 5:00 – 9:00 – 12:30 – 16:30.
Also read: 18 Must-See Nha Trang Attractions – What to See in Nha Trang
4. Where Can You Stay In Binh Ba Island?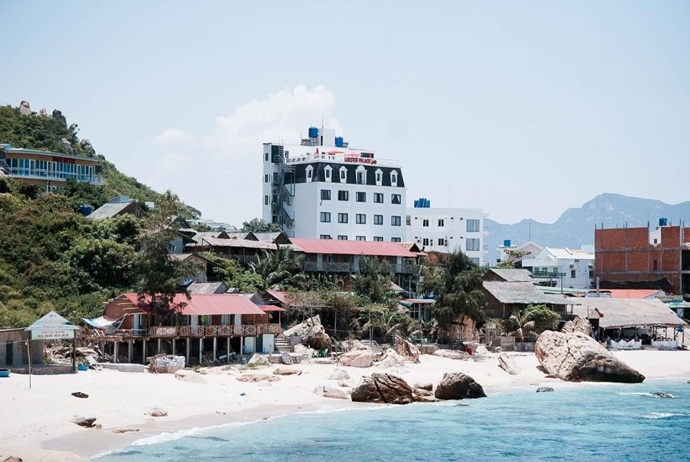 Source: tomhumpalace
Answer: A few years ago, there were not many guesthouse services in Binh Ba Island. Most of them were spontaneous guesthouses which are operating in the form of homestay. Currently, due to the large number of tourists visiting to the island, the guesthouses become more popular. However, it is best to consult some websites to compare the price and book room reservations in advance.
Check out: Top 15 Ideal Places for Camping in Vietnam
5. What Are Attractions In Binh Ba Island?
Answer: Being an uninhabited island, Binh Ba Island has many beautiful beaches with white sand, clear water that reflects blue sky. The nature on the island brings a sense of peace, relaxation, and is extremely suitable for rest. In particular, local people are very conscious of protecting their living environment. There are some activities that you can take part in when visiting Binh Ba Island in Cam Ranh, Nha Trang, Khanh Hoa. Here they are:
Watch the sunrise on Binh Ba island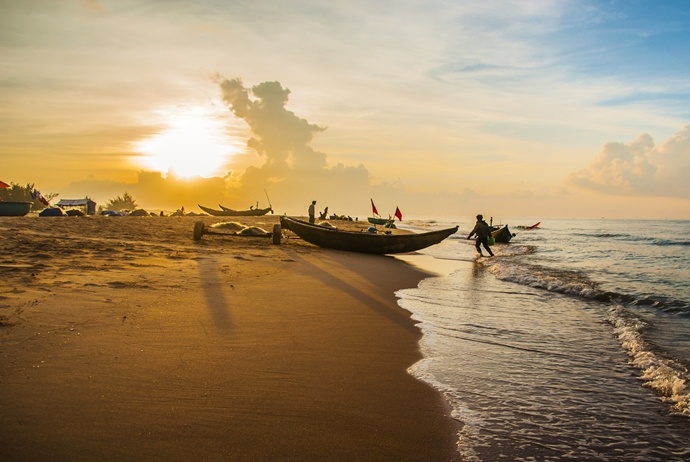 Source: tieudungplus

Going to Binh Ba Island, you should get up early to enjoy the beautiful and romantic sunrise. In addition, there are several historical relics of the war of fighting against France on the island. You can rent motorbikes to see the whole Binh Ba Island and Cam Ranh Bay (Vịnh Cam Ranh). Car rental fee rates from 100.000 to 120.000VND / day.
Go to the beach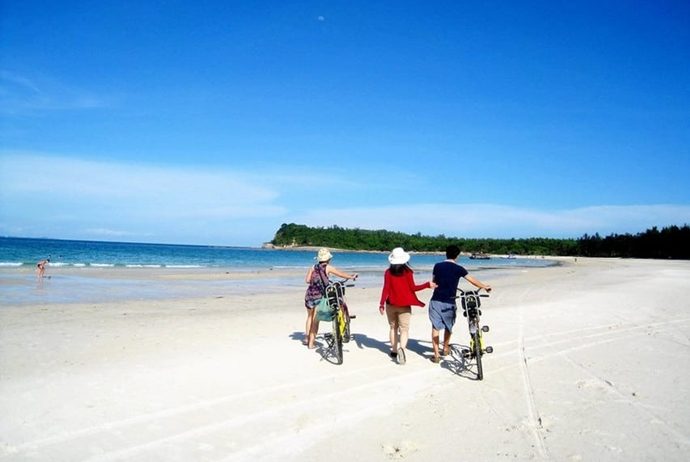 Source: dulichnhanhnhat
The most attractive tourist attractions on the island of Binh Ba that you should not overlook are three beautiful beaches.
Bai Chuong beach: Among these three beaches, Bai Nom beach (Bãi Nồm) is the most crowded beach because it is very clean and clear. The beach is quite deep, beautiful but has big waves. Few visitors come here because there are many coral dying that flows to the seashore, and the distance from here to the living area of local people is rather far (about 15 minutes of walking on foot). However, this is the earliest dawn-getting place on the island. You can go camping here to get up and enjoy the dawn.
There is a beach which is about 300 m away from the local market. This beach has white sand, blue water, many rocks, and is surrounded by cliffs and trees, thereby creating a poetic scene. This is the best place in Binh Ba Island for you to swim and watch the coral.
Besides, people often go to Bai Chuong beach (Bãi Chướng) to see the sunrise and contemplate coral reefs. Hon Co Island is beautiful but far away, so few people know it.
Dive and see coral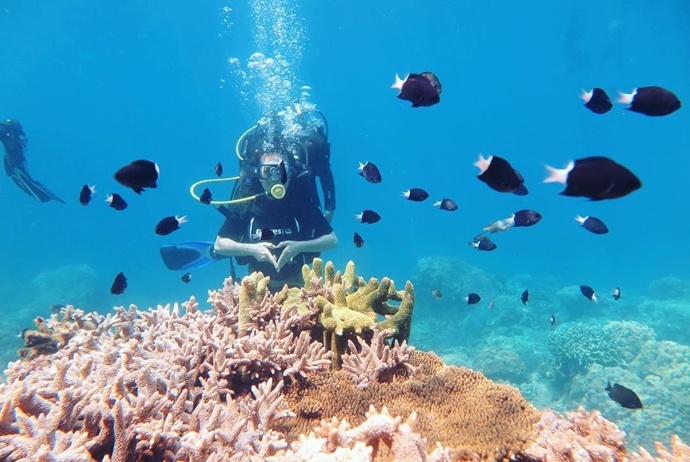 Source: rootytrip
To admire the beautiful coral reefs in Binh Ba Island, you should rent a boat then head to the wilderness. If you have more time to travel, you should choose Bai Nha Cu beach (Bãi Nhà Cũ) because the water here is very clear.
Go fishing squid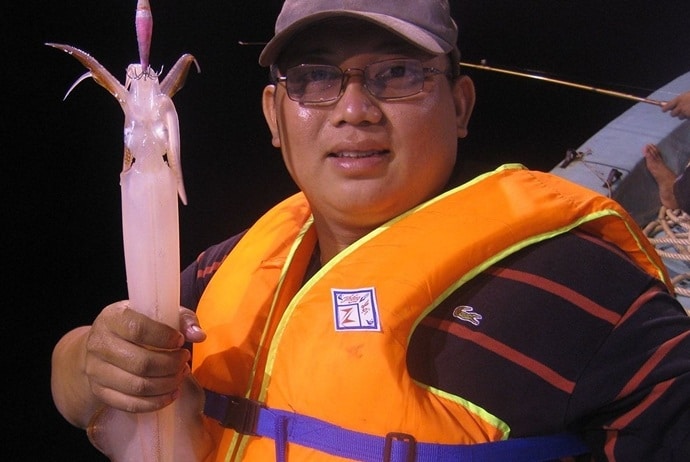 Source: divui
To understand more about the lives of local fishermen, you should buy tickets to go squid fishing at night. This activity will definitely give you an unforgettable experience.
Eat seafood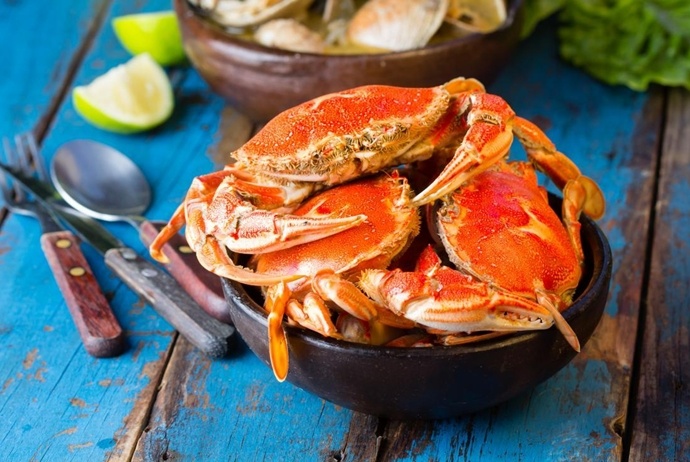 Source: infokingsresources
Binh Ba Island is not only a great destination for tourists to enjoy natural scenery but also a heaven of fresh seafood with very cheap price in comparison with other tourism sites in Vietnam. This island is also known as "Lobster Island". The reason is because when traveling to Binh Ba Island, you definitely cannot miss local specialties, especially lobsters which are very fresh and sweet. The special thing of this food is its freshness because it will be processed instantly and directly after being caught. Besides, you should also try some other dishes such as steamed crab, fish salad, fried squid, etc.
With our answers about some of the most common questions regarding traveling to Binh Ba Island Nha Trang, hope that you can plan a detailed trip to this beautiful island. Wish you have a fun trip with many memories!