Updated: 08/28/2019
If you still have enough in your trip of visiting Nha Trang, Vietnam, you can buy tickets or book a tour to visit Monkey Island, also known called as Hon Lao Island (Hòn Lao).
Hon Lao Island looks like a casuarinas, so it was called Hon Lao Island since ancient times. Since 1975, the specialists of the So Viet Union came here and raised monkeys for scientific research, so this island is called Monkey Island.  Surely, the fun of the monkeys here will make you feel very interesting.
At present, Monkey Island has been invested in the tourist area with beautiful scenery and poetic way. On the other side of the island, there is a white sand beach. Here, you can take a dip in the sea to watch the coral.
How To Get To Monkey Island?
From Nha Trang center, you can drive a motorbike to the north about 18km towards Nha Phu Bay – adjacent to Ninh Van Bay (Vịnh Ninh Vân), in which there is the famous Sixsenses Ninh Van Nha Trang resort.
From Nha Trang, you can go along Tran Phu (Trần Phú) road to the north. When nearly approaching Thap Ba Pagoda, you turn round to the old National Road 1 to get to Ru Ri Pass and enter the new Highway 1A. When arriving at Luong Son (Lương Sơn) area, Nha Phu Bay (Vịnh Nha Phu) will appear in front of you. From the port, there will be a boat that picks you up to Monkey Island.
At the port, you buy tickets to the Monkey Island. The fare to Monkey Island is described as follows:
000VND / adult

000VND / children (<1.3m)
Total time to go from the port to Monkey Island is only about 15 minutes. You can spend a whole day or about half a day exploring this island. Every 30 minutes, there is a ship taking guests to the shore. However, it is necessary for you to go prior to 3 P.M because the last ship from the island to the mainland departs at 4:30 P.M.
An interesting thing when you leave the coast to visit the islands in Nha Trang is that you can enjoy the scenic ocean with cool wind during your time of sitting on the cruise. This definitely gives you an unforgettable experience.
Also read: 7 Islands Nearby Nha Trang That Have Clear Water
What Is Interesting In Monkey Island?
This is a private and relatively large island approximately 2 km off the coast north of Nha Trang city.
If you want to explore the monkey kingdom, see how a monkey society is like and how smart they are, or experience scuba diving and the feeling of walking under the sea, etc. then Monkey Island is ideal for you.
There are some activities that tourists can enjoy upon visiting this island:
Play With Monkeys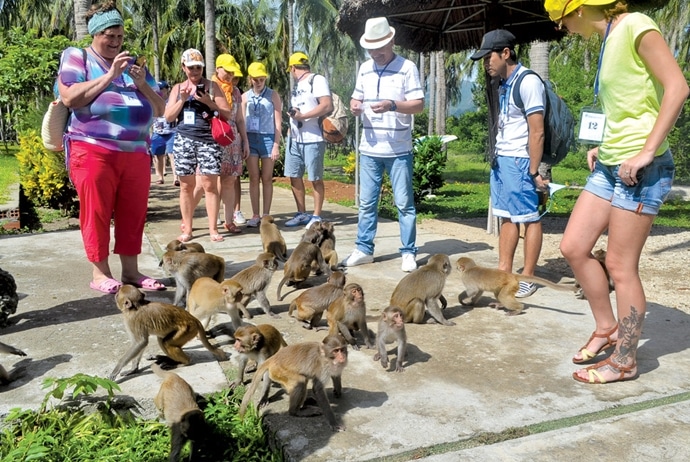 Source: dulichnhatrangbiendao

There are more than 1,200 monkeys raised for the purposes of preservation and tourism on this island. The monkeys here are mainly red-faced monkeys and gray-headed monkeys. They are naturally released in the primary forest rather than in the zoo.
You can feed monkeys while playing with them comfortably. Monkeys are very mischievous, so if you go with your children, then surely come here, the children will be delighted to play.
Monkey Island is not too wide, but you can rent a carriage for the convenience of transportation. You will go under the coconut shores of the coast, visit the monkey farm and finally go to the monkey circus on this island.
There is also an activity of dog racing in Monkey Island. However, this activity is not always organized, so if you go to this island on the occasion of this race, you are really lucky.
The monkeys are very bold and ready to play with tourists at any time. Those mischievous monkeys will surely delight you by their intelligence. There is nothing better than breathing the fresh air, seeing beautiful natural scenery and having fun with adorable monkeys. You will really relax when immersing yourself in the space here.
Because the monkeys are very intelligent and clever, people here have trained them to become good circus performers. Therefore, when visiting this island, you will be able to see incredibly attractive monster circus performances that you do not have many chances to see before.
Don't skip: 20 most beautiful beaches in Vietnam voted by the world
Sea bathing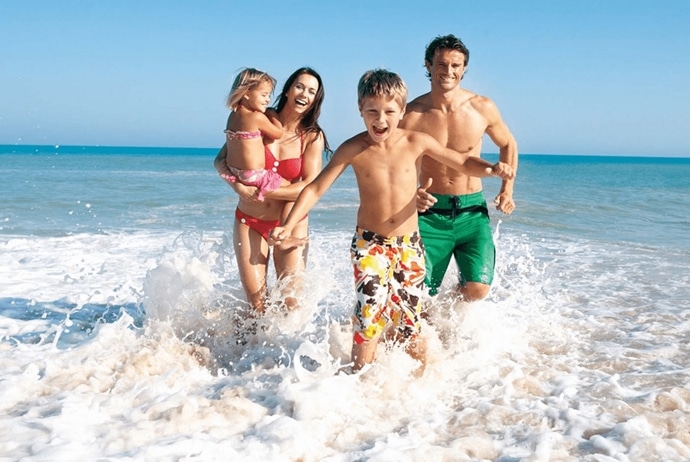 Source: phuquocxanh
At the resort of Hon Lao, you can also take a bath in the afternoon, and the sand and water here are very clean and beautiful. At the beach, you can rent chairs and umbrellas to sit on the beach.
Besides, you can also take part in many other fun activities such as scuba diving, coral reef watching or adventure games such as driving water motorbikes and parachute flying. You will need to pay extra for these services.
Go swimming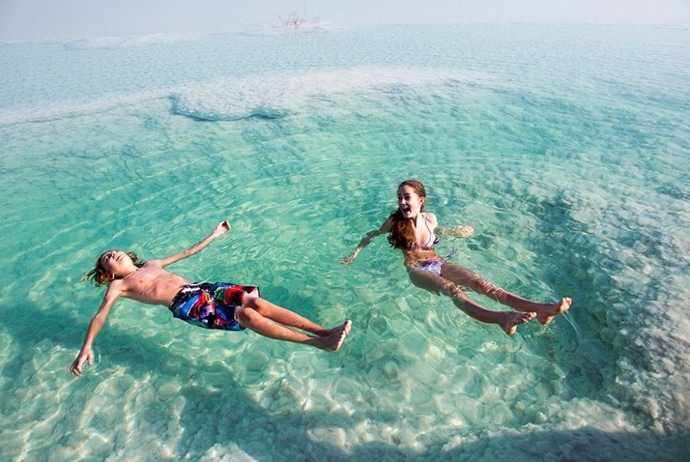 Source: sheis
For a more complete trip to Monkey island, you should enjoy swimming in the clear blue water of the white sandy beach here. This beach will surely leave you memorable impression upon coming back home. At the beach, you can rent parasols and chairs to sit down, contemplate the sea and enjoy fresh seafood.
Prokart racing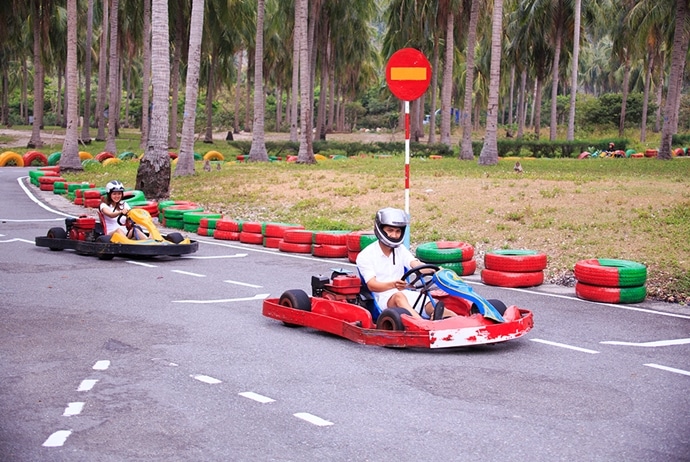 Source: nhatrangclub
If you have a chance to visit Monkey Island, do not miss the chance to experience the feeling of speed on winding roads with Prokart. This is a professional sports car, but several specifications have been adjusted to in order to fit with the local model. Tourists can also try out this type of racing.
Riding the ostrich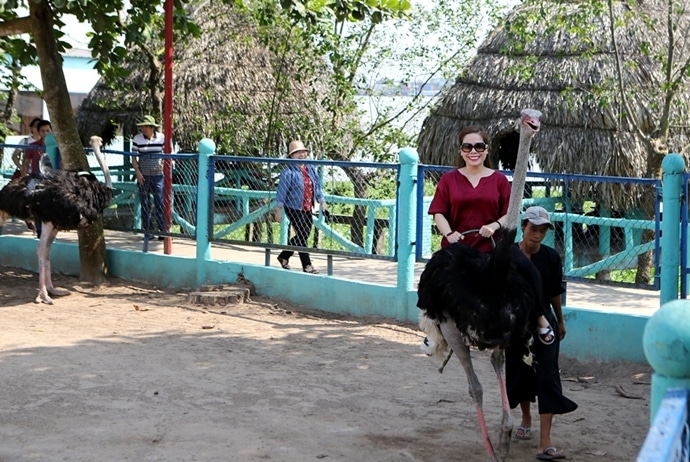 Source: kinhtedothi
You can take part in the activity of riding the ostrich. Sitting on the back of an ostrich, is not as simple as sitting on horses' back. Thus, when visiting Monkey Island, you should not try at least one times the feeling of swaying on the back of this giant bird.
Enjoy Fresh Seafood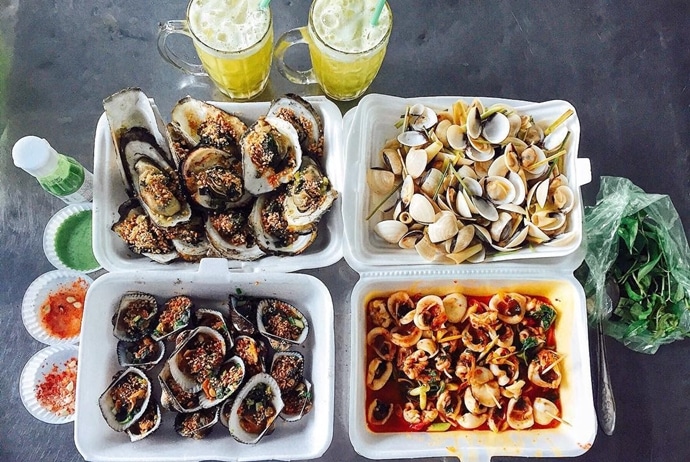 Source: new.zing
When visiting this beautiful Monkey Island, visitors do not forget to enjoy seafood dishes which extremely attractive and fresh. All fish are caught early in the day by local fishermen in order to sell in the market, so they are very fresh. Just simply choose a restaurant and order them to prepare the dishes as you like.
If you go with a large group, you can also bring foods and water to save money because the price of food and drink on the island is always higher than in the mainland.
Each journey is a new experience which helps you enjoy the wonderful time. During your trip to Nha Trang – Vietnam, Monkey Island will bring you a memorable experience. At present, in addition to promoting the natural potential of forests and sea, Monkey Island Nha Trang has many positive options for the protection and development of monkeys in the spirit of international biodiversity law. Leaving the Monkey Island, you will surely remember the funniest monkeys in such a wonderful natural landscape.