Seafood is always one of the pure nutrition sources with excellent natural flavors. There is no need to go to the sea to eat seafood; Hanoi also has countless places serving a lot of delicious seafood from South to North. However, seafood prices are always the thing that makes people "wary", because usually, seafood is not cheap compared to daily foods like meat and fish. Right now, Vina.com will reveal a list of delicious seafood restaurants in Hanoi with reasonable prices for tourists during their visit to Vietnam.
Top 5 Seafood Restaurants In Hanoi, Vietnam To Try At Least Once
Here are the top 5 seafood restaurants in Hanoi that you should visit at least once when traveling to Vietnam.
1. Hai San Bien Dong Restaurant (Nhà Hàng Hải Sản Biển Đông)
Referring to the taste of fresh and high-quality seafood in Hanoi, Hai San Bien Dong (East Sea Seafood) restaurant cannot be ignored. In recently, Hai San Bien Dong has appeared in many urban districts with convenient locations to help gourmets to taste a variety of freshest seafood. The menu is very diverse with many delicious dishes such as emperor crab, baked lobster with cheese, or grilled squid directly imported from famous seaside nationwide. A special feature here, the restaurant allows guests to select each type of seafood in the tank system for the chef to cook immediately. Besides, the design of Hai San Bien Dong is very modern, luxurious, and suitable for cozy family and friend parties. This is one of the popular seafood restaurants that you cannot miss in this summer.
Location: No.2, Lane 84, Tran Thai Tong Street (Phố Trần Thái Tông), Cau Giay District (Quận Cầu Giấy), Hanoi
Tel: 098 202 3048
Price ranges: 250.000 – 300.000 VND/person
2. The Gioi Hai San Restaurant (Nhà Hàng Thế Giới Hải Sản)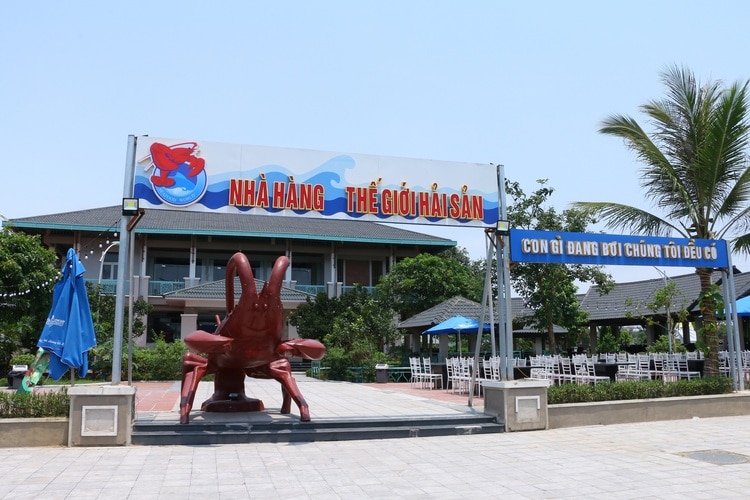 Located in Hanoi's finest seafood restaurant chain, The Gioi Hai San is extremely famous throughout the city for its fresh and varied sources with more than 100 kinds of seafood. The dishes here are eye-catching and guests are totally free for choosing all the seafood species in the tank system. The main theme of the restaurant is very big crab with firm meat. In addition, you can enjoy grilled prawn with salt and pepper. Moreover, the restaurant's space is fairly polite and clean with separate VIP rooms for groups of customers looking for a quiet food venue. In general, many customers come here to appreciate the quality of food and service.
Location: 75A, Tran Hung Dao Street (Phố Trần Hưng Đạo), Hoan Kiem District (Quận Hoàn Kiếm), Hanoi
Tel: 090 448 2626
Price ranges: 100.000 – 500.000 VND/person
Also read: 15 Interesting Restaurants In Hanoi To Add On Your Bucket List
3. Tomato Restaurant
If you are a seafood lover and looking for some good seafood restaurants in Hanoi, Tomato Restaurant is really an ideal place. It can be said that the menu at the restaurant is always meticulously processed and you can be surprised with their unique sauces. With popular seafood such as sea crab, octopus, and marine fish, Tomato always innovates tastes on the menu along with some special promotions on weekdays. For example, you can enjoy crab hot pot for the best price ever (only 395,000 VND for 2 big crabs). In addition to the main dishes, you can enjoy some appetizers like grilled oysters served with onion and shrimp with tamarind sauce.
Location: 82, Le Van Huu Street (Phố Lê Văn Hưu), Hai Ba Trung District (Quận Hai Bà Trưng), Hanoi
Tel: 043 632 1577
Price ranges: 50.000 – 220.000 VND/person
If you still wonder which seafood buffet restaurant to go for family parties, refer to Huong Sen Restaurant right now.
4. Bay Buffet Restaurant
Bay Buffet is one of the top classy seafood restaurants located in the bustling Hoang Ngan Street with a varied menu of fresh seafood. True to the meaning of the word "Bay", a culinary paradise discovered in the space of beautiful bay becomes an ideal rendezvous for diners. In such a poetic spot, Bay Buffet restaurant will give visitors a harmonious and delicate blend with nearly 200 delicacies from traditional countryside markets to unique mountainous specialties. Certainly, Bay Buffet will be one of the most wonderful experiences for those who are looking forward to finding a good place with professional service to celebrate.
Location: 167, Hoang Ngan Street (Phố Hoàng Ngân), Cau Giay District (Quận Cầu Giấy), Hanoi
Tel: 086 884 6868
Price ranges: 70.000 – 300.000 VND/person
5. Sochu Bar'n Grill Restaurant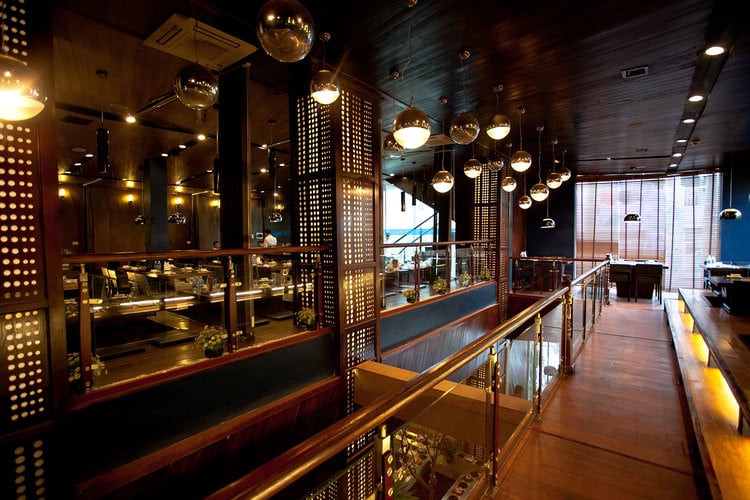 Korean cuisine has now been introduced to Vietnam for a while with outstanding & typical dishes from kimchi nation. Truly, Korean-style seafood will be able the thing that can surprise you when visiting Sochu Bar'n Grill restaurant. Sochu Bar'n Grill is a Korean restaurant with a main dish of grilled seafood buffet served with Soju – famous liquor directly imported from Korea. Besides the barbecued seafood menu, you can also enjoy some light snacks such as seaweed salad and fresh oysters with a modern and subtle flavor that will satisfy the taste of any diners. With a warm brown tone and a space designed to combine with traditional and modern Korean style, this is the right place for your parties on the weekends.
Location: 59, Lang Ha Street (Phố Láng Hạ), Ba Dinh District (Quận Ba Đình), Hanoi
Tel: 04 3514 9651
Price ranges: 499.000 VND/person
Read more:
These are the addresses of 5 delicious seafood restaurants in Hanoi, Vietnam that Vina.com would like to recommend to all customers. In addition to the above restaurants, Hanoi still has many other seafood restaurants with reasonable prices for you to consider and choose for yourself a suitable dining spot. Refer to our website right now on Restaurants page and share your feedback about the service style as well as the taste of the restaurants above.