Thuy Son Park (công viên Thủy Sơn) located in Ninh Binh (Ninh Bình) is a must stop destination that has gained the popularity and interest of tourists and visitors because of the beautiful peaceful landscapes and great natural systems. Thanks to the beautiful and convenient location, people from many parts of the country can visit this park and enjoy a great time here after days of working and studying. Thuy Son Park is a great place for you to escape from the stressful and overwhelming daily life. Therefore, if you have a chance to visit Ninh Binh, do not forget to come to Thuy Son Park.
When Is The Best Time To Visit Thuy Son Park
Of course, you can visit this park at any time of the year but if you want to combine a visit to Thuy Son Park with other great popular attractions of Ninh Binh, the recommended time for a wonderful trip is from November to April thanks to the dryness and cool weather. Months between May and October are also ideal for a journey to Ninh Binh in general and Thuy Son park in particular. It is awesome to escape from the hot summer in the bustling city and enjoy nature in Ninh Binh and Thuy Son Park. However, these months are likely to get high rainfall; therefore, it is important for you to prepare the necessary things before the trip. Avoid September because, during this month, Ninh Binh may be vulnerable to storms and typhoons.
Thuy Son Park – Beautiful Attraction in Ninh Binh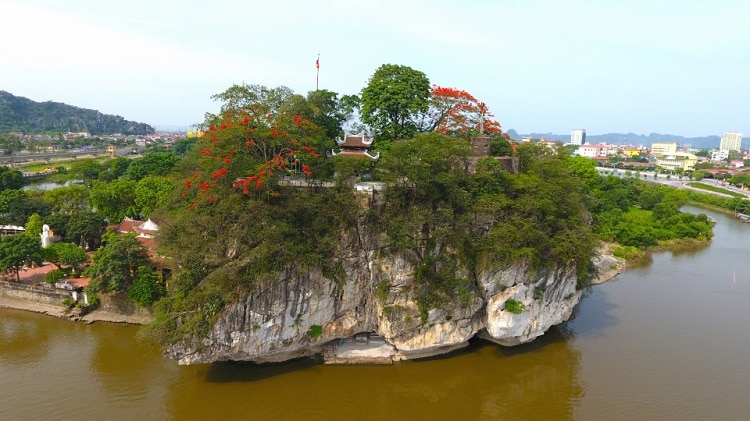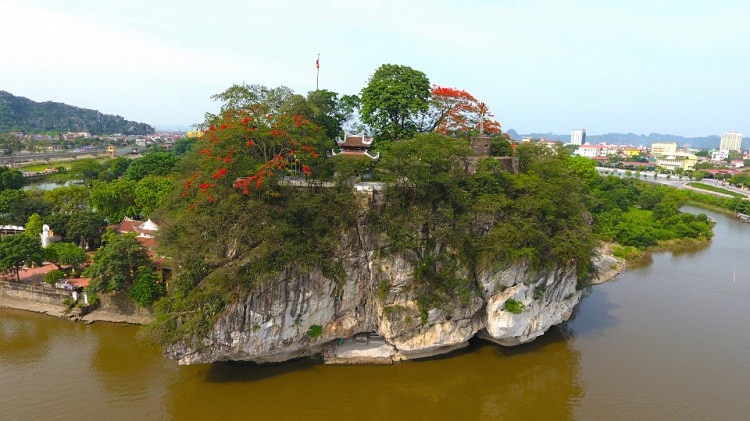 Thuy Son Park is situated on the bank of Day River in Ninh Binh City. Visitors and tourists visit this part not only to relax and rest but also explore several famous sites of the park like Truong Han Sieu  (Trương Hán Siêu) Cultural Monument, Duc Thuy (Dục Thúy) Mountain, Non Nuoc (Non Nước) Pagoda, city martyrs monument, etc.
The park was built in a beautiful land with an area of about 8 hectares. Visiting Thuy Son Park in Ninh Binh, you can enjoy the time at the swimming pool, immerse yourself in the beautiful scenery and explore the zoo.
In the morning, the park is quiet with shady green and fresh air. During that time, you can see many activities here. For example, the labors clean the dirt and pick grass. Several groups of students relax and chat friendly with each other. In the early morning and late afternoon, residents of Ninh Binh come to the park for walking and exercising. Some families also visit here to relax.
Thuy Son Park is considered as a green park and green lung of Ninh Binh City because the park is loaded with trees including shady trees, grass, and urban trees.
In the park, there are some sliders in the corner. However, they look too old, and children can not play but watch only. Thuy Son Park is a great place if you love animals and want to know more about their life. The park does not have too many animal species but you can enjoy the great experience here.
Besides exercising and walking, a park is also a place where people come to date or relax after a long tiring day of working and studying. You can visit the park with your husband, partners, children or friends. When the night comes, people will come to the park and tell hundreds of stories.
Where To Eat Near Thuy Son Park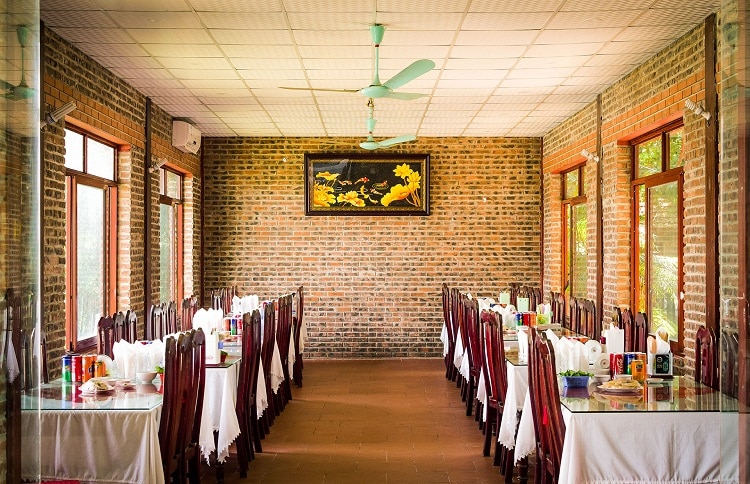 It is easy for you to find a dozen restaurants at the main gate of the park with plastic chairs placed around the lake. Nothing is greater than eating delicious meals and drinking water while sightseeing and immersing in the beautiful scenery of the park. However, the restaurants here are often crowded; therefore, it is recommended coming soon or booking in advance to make sure that you get the beautiful spot.
Where To Stay Near Thuy Son Park 
In Ninh Binh, you can stay in a variety of hotels and resorts that have different price and quality. Alternatively, if you want to understand more about the life and daily activities of locals in Ninh Binh, you can ask a resident living nearby for you to stay overnight at their house. Ninh Binh residents are willing to help and give you delicious meals.
Thuy Son Park in Ninh Binh has attracted a lot of interest and encouragement from both domestic and international tourists. This park has improved a lot to provide better experiences for tourists and visitors and increase popularity throughout the country. I hope that this article will give you useful information. For any questions, you can leave them below, and we will answer them as soon as we can. On Vina.com, there are many articles about Vietnam's attractions and interesting activities you can check out if you are planning to travel to Vietnam.