Updated: 08/25/2019
Far about 90 km from Hanoi (Hà Nội), Van Long Nature Reserve (khu bảo tồn thiên nhiên Vân Long) situated in Gia Vien (Gia Viễn) district, Ninh Binh (Ninh Bình) province is well-known as a beautiful tourist attraction, a legendary land and the largest wetland reservation spot in North Delta. Owning the historical-cultural values, Van Long is now an attractive tourist site in Ninh Binh that is luring thousands both domestic and foreign travelers who come to discover Ninh Binh. Visiting this nature reserve, tourists have the chance to enjoy the view of the rich tropical forest ecosystem in this amazingly diversified wetland in Vietnam.
I. When Is The Best Time To Discover Van Long Nature Reserve
Van Long Nature Reserve has a shortage of advertisement; therefore, fewer tourists know this scenic landscape than it should be. Recently, Kong movie had a great scene setting in Van Long, which made people curious about this land and after that, it received a lot of concern and attention from tourists over the world. Surely, when you explore Ninh Binh, you may also like to visit this wetland. But when you should visit Van Long Nature Reserve is the most important question.
The recommended time to visit Van Long wetland is in the early morning or in the late afternoon when tourists can enjoy a fully stunning nature with storks, bird, endangered langurs, and herons in this land.
And the best seasons for tourists who want to see more birds are spring and winter (between April and November). If you would like to see a pink and green color of lotus blooming flowers along the riverside, the time I suggest is between May and August.
II. How To Get To Van Long Nature Reserve From Ninh Binh?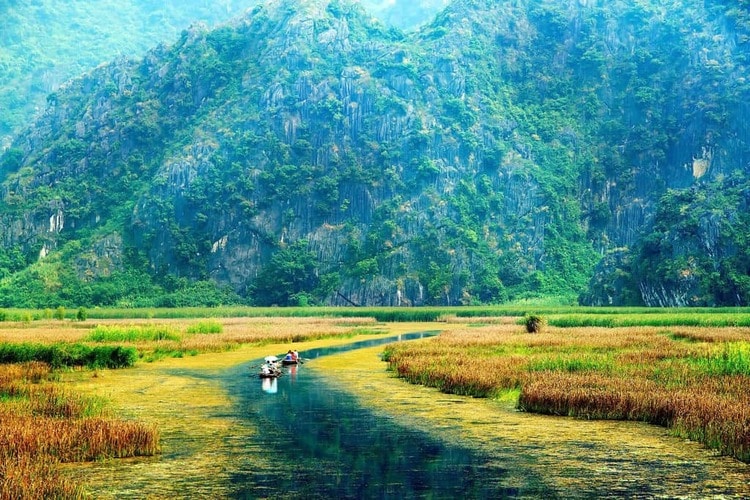 There are no local buses to Van Long; therefore, the only options for tourists who want to spend time exploring this wetland is a motorbike and a taxi. It is easy for you to hire bicycles or motorbikes from the hotel service if you have your identity papers. See the map carefully to find the best short way to Van Long Nature Reserve. The receptionists are always ready to help if you ask them. If you want to catch a taxi, it is recommended asking the price before going.
After entering the gates of Van Long reserve, the adventure will start with a 15,000 VND fee to get you inside. You can hire a sampan or bamboo boat with rower included that may cost you about 50,000 VND for an hour and a half.
III. What Things To See In Van Long Nature Reserve?
Visiting Van Long Nature Reserve in Ninh Binh, you should enjoy panoramic views of valleys undulating, endlessly mountains, green forest, gorgeous rice paddies and peaceful village from the top of the highest mountain peak Ba Chon. A panoramic view of Van Long looks majestic with the immense waters, green grass, wetland swamp, countless white storks, enormous forest and great mountains such as Mam Xoi (Mâm Xôi) Mountain, Meo Cao (Mèo Cào) Mountain, Hom Sach (Hòm Sách) Moutain, Nghien (Nghiên) Moutain, Co Tien (Cô Tiên) Mountain, Mo Coi (Mồ Côi) Moutain, Da Ban (Đá Bàn) Moutain…According to the statistics, Van Long forest is home to 457 species of higher plants and 39 species of animals in which 12 species are rare animals and 9 species contained in Vietnam List.
On the boat ride, tourists have the chance to experience the natural landscape featuring peaceful reservoirs and great mountains. Tourists also contemplate the colorful species of fish in water, hear langurs howling and birds chirping in the sunset. Furthermore, this reserve also has about 100 sublime, beautiful caves including Ca (Cá) Cave, Chanh Cave, Rua (Rùa) Cave, and Bong (Bóng) Cave, etc. Notably, Ca Cave located in the Hoang Quyen (Hoàng Quyển) Moutain is the longest cave with 10 meters width, 8 meters height, and 250 meters length, providing strange multi-shapes and a breathing view. Meanwhile, the largest cave is Bong Cave with 16 meters width.
Not only possessing stunning nature views, but Van Long also attracts tourists and travelers for the diversified ecosystems: aquatic ecosystems and terrestrial ecosystems. Each has its own features and characteristics, but they both are valuable in common.
Having Van Long Nature Reserve tour, tourists should explore Thung Lau  Temple, a historic relic of Dinh Tien Hoang (Đinh Tiên Hoàng) and Dich Long (Địch Lộng) cave.
IV. Accommodation Options Near Van Long Nature Reserve
There are a lot of things for tourists to see and do in Van Long Nature Reserve. The adventure may take you one day to explore all the beauty of this wetland. So, where should tourists stay?
There are a few accommodation options near Van Long Nature Reserve, including the Ninh Binh Legend Hotel (3km away), The Vissai Hotel (0.8km), and the Hoang Son (Hoàng Sơn) Peace Hotel (2km).
If you want to spend less on accommodation, I recommend the Hoalu Backpacker Homestay Ninh Binh (6km away).
For tourists who like to splash out on accommodation and enjoy the best services, the Ninh Binh Hidden Charm Hotel & Resort that is 5km away must be the best choice.
Hotels near Van Long Nature Reserve may cost you from AU$13 per night. The price and included services will depend on the hotel or homestay you choose.
V. Van Long Nature Reserve Ninh Binh Cuisine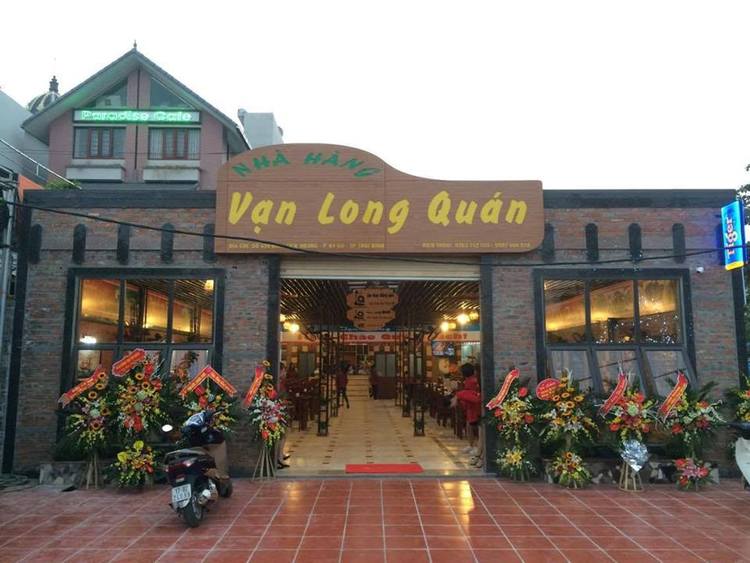 Having Van Long Nature Reserve tour, you can have the opportunity to try specialties such as field anabas noodles, Ninh Binh scorched rice, and spring rolls.
Some delicious and famous recommended restaurants in Van Long is Van Long restaurant situated at Gia Van (Gia Vân) commune, Bao Minh Ngoc (Bảo Minh Ngọc) restaurant, Leaf House Speciality Restaurant, and Lua Vang (Lúa Vàng) restaurant.
Those restaurants have received a lot of good reviews from tourists.
VI. Tips You Should Know Before Visiting Van Long Nature Reserve
Carry a hat because of the hot weather and high temperature in the summer

Take the boat ride with 3 visitors for one boat, more than that is dangerous

Show your polite attitude to the rowers or boatmen
Read More:
Vina hopes that you can find useful information after reading this article. Exploring Van Long wetland is a great experience, and it is better if you have good preparation.