Source: blog.traveloka
Updated: 08/26/2019
Being asked about Ninh Binh's (Ninh Bình) attractions, most tourists know about the famous sites such as Trang An (Tràng An) Eco-tourism complex, Tam Coc – Hoa Lu (Tam Cốc – Hoa Lư) or Bai Dinh (Bái Đính) pagoda as the information of these places can be searched easily on the internet and there is plenty of advertisements about them. However, a pristine site like Tuyet Tinh Co (Tuyệt Tình Cốc) (it is also called Am Tien area) sounds strange to travelers especially foreigners. But if you have the chance to visit here, you will be astonished at the untouched appearance and extraordinary beauty that makes it become a wonderful masterpiece. It is not surprising when Tuyet Tinh Coc in Ninh Binh nowadays has attracted numerous visitors and tourists coming to explore the mysterious pristine beauty of this place.
Where Is Ninh Binh Tuyet Tinh Coc, And How To Get There?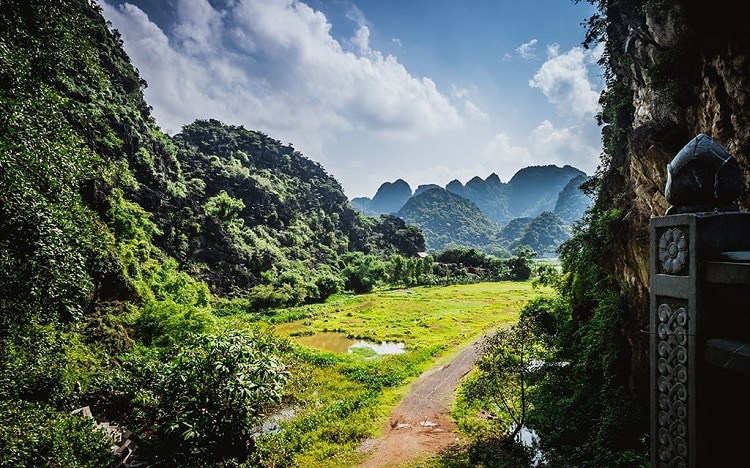 Source: blog.traveloka
Tuyet Tinh Coc tourist site isn't far away from Hanoi. Located in the Hoa Lu (Hoa Lư) Relic Complex, Truong Yen (Trường Yên) commune, Hoa Lu (Hoa Lư) district, Ninh Binh province, Tuyet Tinh Coc is about 10km far from Ninh Binh center, 6km from Trang An Landscape Complex and 100km from Hanoi.
If you depart from Hanoi, you can go to Tuyet Tinh Coc in Ninh Binh by motorbike or car.
If you want to ride a motorbike to this site, there are two routes for you to follow. This first one is to follow Highway 1A from Hanoi, about 85km, reach to Hoa Lu gate and then go along Highway 38B for about 5.5km. Go forward and you can see Am Tien (Am Tiên) pagoda. The road has a pretty detailed signpost for you to go to Tuyet Tinh Coc in Ninh Binh easily. The second way is for those who want to combine Tuyet Tinh Coc with Trang An Eco-tourism in the journey. Departing from Hanoi, you should go along the National Highway 1A for about 90km. You will reach the Ninh Binh city. Going forward 10km, you will see Trang An. From Trang An Eco-tourism, it takes less than 10 minutes (5km) to reach Tuyet Tinh Coc.
Alternatively, tourists can catch the coat at My Dinh (Mỹ Đình) or Giap Bat (Giáp Bát) station to Ninh Binh. The price will be about 60,000 VND to 100,000 VND/ person. That will take you 2 hours to reach Ninh Binh center. After stopping at Hoa Lu Hotel, you can catch a motorbike taxi or a taxi to reach Am Tien pagoda.
What Do You Do When You Take Tuyet Tinh Coc Tour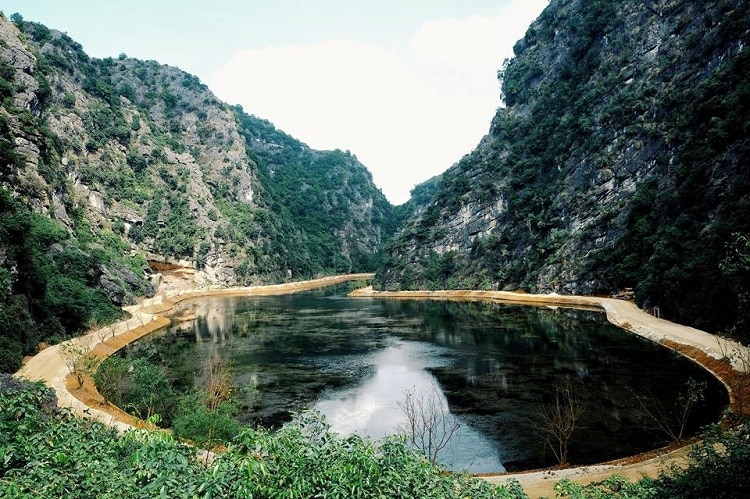 Source: moitruong24h

Tuyet Tinh Coc is surrounded by the upright and high limestone karst and fresh lake in the middle. That creates a wonderful natural picture, making you feel as if you are immersed in the fairy island.
Coming to Tuyet Tinh Coc, tourists will have the chance to discover the charming beauty of the famous gardens and fields that are like the scenes in China's film. In 2017, Tuyet Tinh Coc tourism has been invested and operated when it began to sell tickets for visitors and tourists. People constructed two tunnels crossing the mountain and carpeted the road around the lake with plastic. Furthermore, more trees were also planted to create a wonderful natural landscape.
Crossing this tunnel, tourists can be lost in an island of isolation that is separated from the busy and hustle life. Tourists will enjoy the peaceful sightseeing of green trees on limestone mountains and fascinated clear water.
Climbing up through 205 stone steps, visitors will see the Am Tien cave that is surrounded by the imposing, mesmerizing and mysterious scenery. The cave has the width of 100m2 with many chapels. According to the legend, this cave is located in the area where King Dinh Tien Hoang (Đinh Tiên Hoàng) built executive grounds and raised tigers to punish the sinners. It was also the place the dowage empress Duong Van Nga (Dương Văn Nga) lived her religious life in the old age.
Looking to the right of Am Tien cave, you will see the Am Tien pagoda that dated back more than 1,000 years. The Am Tien pagoda's gate looks like a dragon's mouth. It is a reason why Am Tien pagoda is also called Dragon Pagoda. It worships when the saints and Buddha. Therefore, tourists coming to Am Tien pagoda not only to see the beautiful natural scenery but also pray for themselves, their friends and family.
Nothing is greater than looking down from the Am Tien pagoda to enjoy the panoramic view of the majestic landscape with super clear lake and great mountains surrounding. This lake is so clear that visitors can see the bottom of the lake with a lot of water plants, giving the lake a unique green color.  Turtles were raised in this lake; therefore, this is also called Ao Giai (Ao Giải).
Camping in Tuyet Tinh Coc will give you great memorable and enjoyable experiences especially when you go with your friends and your family. Make sure that you bring your necessary items such as sleeping bag, flashlights, batteries, foods, and drinks. In the next day, you have to collect your trash and throw into the appropriate containers before leaving.
The Best Time To Visit Tuyet Tinh Coc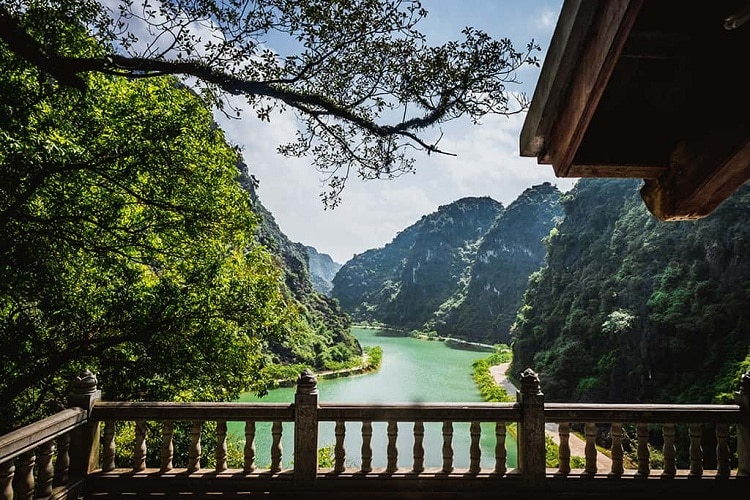 Source: blog.traveloka
It is great to combine Tuyet Tinh Coc tour with other attractions in Ninh Binh such as Bai Dinh pagoda, Trang An Eco-tourism complex, Tam Coc – Bich Dong, etc. The time you visit depends on your work schedule because the temperature in Ninh Binh is quite pleasant within the year. However, in order to enjoy the sightseeing, join in climbing activities and take beautiful pictures, you should take Tuyet Tinh Coc tour in the dry season from November to March.
It is recommended arriving at Tuyet Tinh Coc at 7 or 8 am to have enough time for discovering Am Tien area and take great pictures.
Some Notes You Need To Know Before Visiting Tuyet Tinh Coc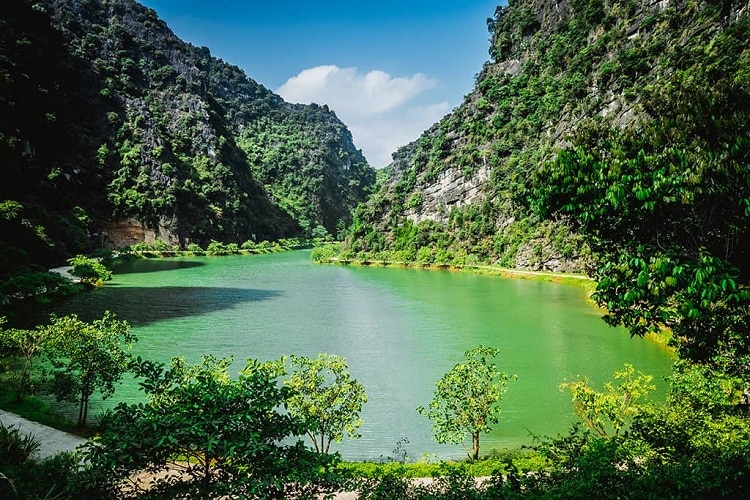 Source: blog.traveloka
Bring a hat and water with you to prevent dehydration when you climb the mountain

Wear sport shoes and lightweight clothing with good sweat absorbency

Avoid climbing mountain after 4pm because in November, after 4pm, it is dark and dangerous for all travelers

Do not throw rubbish
Tuyet Tinh Dong is really impressive with the unique architecture of Am Tien pagoda and the swashbuckling scenes surrounding. It is definitely a great place for you to relax and be immersed in nature, running away from the busy and hustle life. If you are looking for the hidden charms in Ninh Binh, it is regretful to miss this paradise. Hope that you get useful information after reading this post. Any questions can be left in the comment section and we will answer as soon as we can. To know more about Vietnam travel, visit our Vina homepage.