Source: thefirsttravels
Updated: 08/27/2019
Van Lam (Văn Lâm) Village is located in Ninh Hai (Ninh Hải) commune, Hoa Lu (Hoa Lư) district, Ninh Binh (Ninh Bình) province. People around the world often come to this village for its rich historical and cultural values, and its conventional embroidery craft. Vietnamese people often call it "the Kingdom of Embroidery". It is not surprising when the Van Lam village has changed into a must-see popular tourist attraction in Ninh Binh.
How To Get To Van Lam Village Ninh Binh?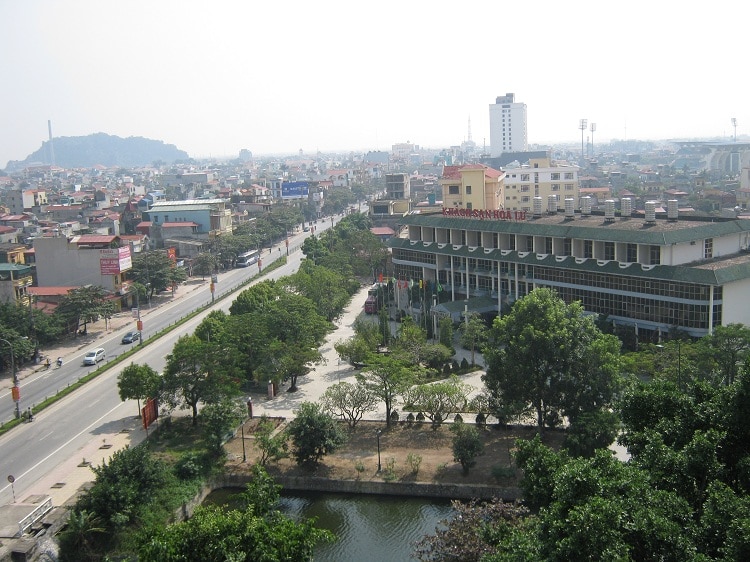 Source: vi.wikipedia
Van Lam Embroidery village is inside the famous Tam Coc – Bich Dong (Tam Cốc – Bích Động) attraction; therefore, tourists combine the Tam Coc- Bich Dong tour with a trip to Van Lam village. If you depart from Hanoi, you can take the bus from Hanoi to Tam Coc and then use a local bus to reach Van Lam from Tam Coc.
Alternatively, there is Ninh Binh Railway Station in Ninh Binh province if you want to take the train from Hanoi or anywhere in Vietnam. However, there is no direct route from Hanoi to Van Lam village; therefore, from Ninh Binh, you go to Van Lam by motorbike or taxi.
The Best Time To Visit Van Lam Village Ninh Binh, Vietnam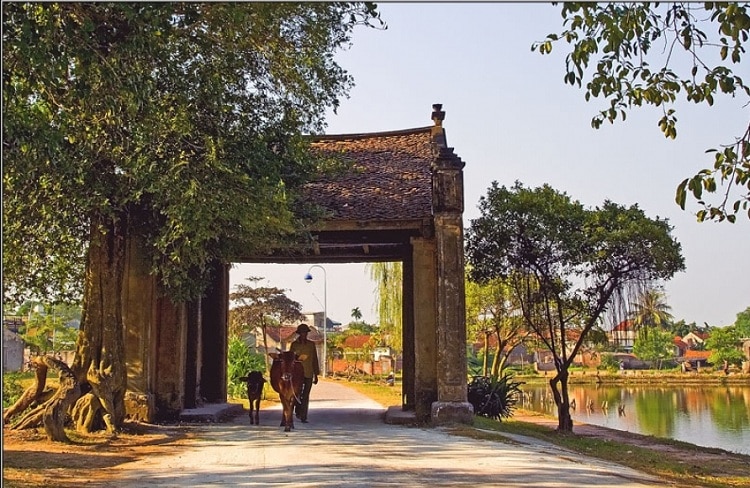 Source: vietpictravel

People often combine the trip to Van Lam Village with the Tam Coc- Bich Dong tour; therefore, the time they visit will depend on the tour schedule. In general, Van Lam village is a good destination to come throughout the year, although, you should not visit in the rainy seasons such as in August if you want to have a beautiful trip.
If you intend to take the visit to Van Lam Village, the best time for you is from early May to June. During that time, the weather is pleasant and you can take wonderful pictures of this embroidery kingdom. At that time, it is also easy for you to visit other famous attractions of Ninh Binh like Trang An (Tràng An), Phat Diem (Phát Diệm), Bai Dinh (Bái Đính), Bich Dong (Bích Động)Pagoda, Cuc Phuong (Cúc Phương) National Park, etc.
What Do You Do In Van Lam Village Ninh Binh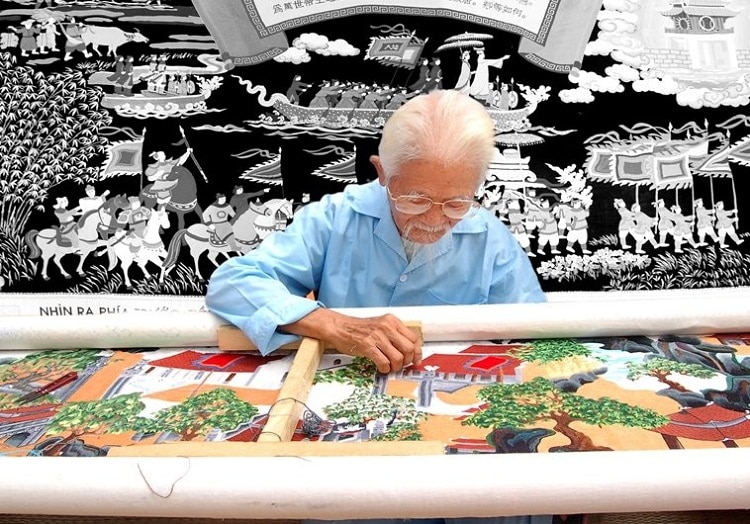 Source: genesisninhbinhtour
Van Lam Village established in the 13th century and now it has been famous for conventional embroidery art. On the gate of the Van Lam Village, you can see an ancient temple that was built to show the respect and aspiration for the foundation and predecessors who teach and transfer embroidery craft to their descendants.
Today, the village has been known as an embroidery trade village with about 80% of the people in Van Lam knowing the skills of embroidery, many embroidery enterprises established, and more than 700 embroidery households (out of 830 households in Van Lam). When you have a great chance to visit Van Lam, you should walk and watch how they make embroidered crafts with their skillful hands. You can buy or take wonderful pictures of Van Lam embroidery products that are famous not only in Vietnam but also in the US, Japan, and German, etc.  Biking around the village, meeting local people and buying the special souvenirs for your family and friends are memorable experiences when you take the wonderful trip to Van Lam Village. In the village, the workers wait for customers to buy their products but still making their uncompleted job. In the market, everything is sold orderly and salespeople take the free time to make the uncompleted products. It is how Van Lam people work.
There are a number of accommodation or restaurant options near Van Lam Village or Tam Coc – Bich Dong attraction. Furthermore, you can eat on the route to Van Lam Village. But if you want to learn more about the sophistication of the process for making embroidery craft and explore the cultural and historical values, I suggest you should stay and rest in the craftsmen's house where you can find many conditions and chances.  People here are open and hospitable to tourists and visitors. They will make many Ninh Binh specialties and delicious foods.
Coming to Van Lam embroidery village, you will understand deeply the soul of the Van Lam people and the countryside. As a famous site in Ninh Binh that is attracting more and more tourists to come, Van Lam has expanded its tourism and production while promoting and preserving its unique wild and traditional beauty. Let's come here to discover the true art. To know more other places to visit in Vietnam, visit our Vina homepage!