Landscape Of Dalat By Giang Minh Tong
Updated: 08/25/2019
Golden Stream Lake is a famous tourist destination in Da Lat (Đà Lạt). This lake with a width of 0.28km2 is built by Da Dong (Đạ Đờng) River and Da Lien Deur Stream (suối Da Lien Deur). Golden Stream Lake in Da Lat is a famous tourist destination because of its unique name and beautiful scenes such as gentle streams and green pine trees. It is a great combination between the majestic green nature of pine forests and the blue water embracing the mountains and hills. So, it gives visitors an extremely interesting and unforgettable experience.
In this article, Vina.com will show you some of the reasons why Golden Stream Lake in Da Lat, Vietnam becomes a famous destination when you plan to travel to the city of Da Lat.
Golden Stream Lake: A Famous Landmark In Da Lat, Vietnam
1. What Is The Best Time To Visit Golden Stream Lake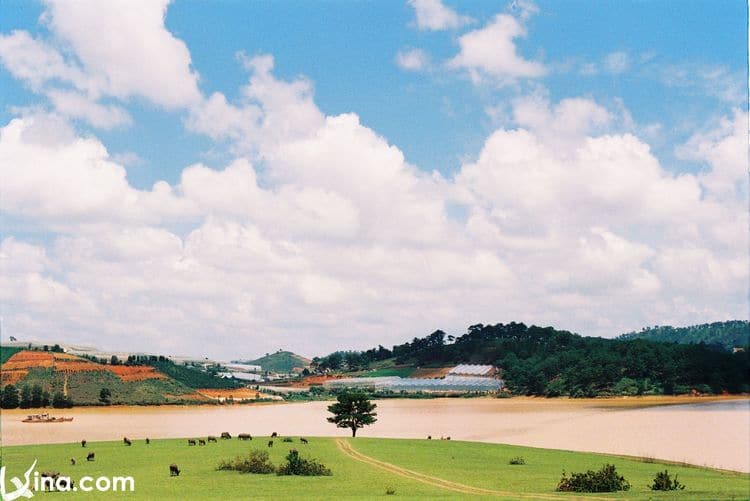 Landscape Of Dalat By Giang Minh Tong
Da Lat is beautiful all year round, and you can choose a suitable time to visit Golden Stream Lake. Especially, at the end of November to the middle of January of the solar calendar, this lake looks like a paradise with the beautiful rose grass in Da Lat. Along with the cool weather in Da Lat, this landscape changes constantly. This lake is covered with a thin layer of white fog in the early morning. When the sunshine shines on the rose grass field combined with the mist forming on grass, it creates a poetic scene. When the air is less cold, and the fog melts, visitors can see the scenery from white fog turning to light purple and then to a mysterious pink.
2. How To Go To Golden Stream Lake
Located 17km from the center of Da Lat city, Golden Stream Lake is in Lac Duong (Lạc Dương) district, Lam Dong (Lâm Đồng) province. To go to this lake, at first, tourists need to travel to Da Lat city by plane, bus or motorbike. After that, tourists can hire a motorbike or take a taxi to reach the destination. Guests have to cross the bumpy road between the rolling hills before reaching Golden Stream Lake. The road from Da Lat to this lake is as beautiful as a silk strip, suddenly opening a few valleys of grass and trees.
3. Where To Stay And Eat
Surrounding Golden Stream Lake area, there are many resorts, hotels, restaurants, etc. So, you can stay and eat in any of these places. Some highly-recommended hotels for tourists are Tulip hotel, Dreams hotel, Ladalat hotel, etc. However, if you want to be immersed yourself in nature and witness the dawn, you can consider camping on the bank of the lake.
The empty space here is very suitable for camping. The best time to take photos is in the early morning (from 4-9 pm), in the evening (16-20 pm) because this time is less rainy. Gathering with a warm fire in the cold night, visitors can enjoy grilled dishes here. You can also camp around pine trees for about 2 days 1 night. This camp will bring you an interesting experience when immersing into nature.
4. What Are Attractions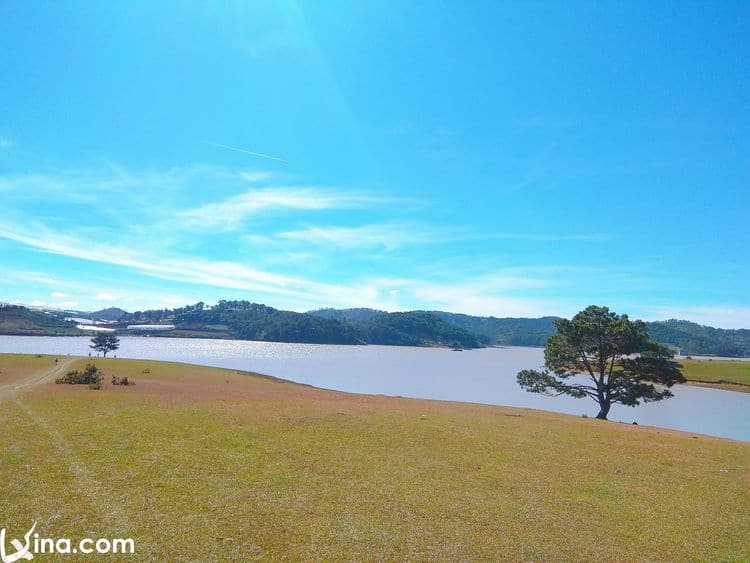 Da Lat Landscapes By Peter Huỳnh
Visitors can see an extremely majestic waterfall that is also known as a 7-story waterfall. This waterfall is large enough for hundreds of tourists to play at the same time, so it is very suitable for family trip and friend gathering. When going into the lake area, visitors can see a vast lake space with green lawns and thousands of green pine trees. Visitors will feel relaxed and comfortable when they are immersed in nature.
Coming to Golden Stream Lake in Da Lat, visitors can freely admire the beauty of a forest area that still retains the original features. Visitors will be surprised with the pine forest, green valleys, clear blue lake, and majestic waterfalls. It can be said that Golden Stream Lake is an invaluable gift that nature gives to Da Lat, creating an unforgettable experience for tourists when visiting Da Lat city.
5. Activities For Tourists To Do
In the future, Golden Stream Lake will be developed into the second Da Lat city with villas and resorts with full of modern facilities for tourists. In addition, the special mountainous entertainment areas will also be built here including golf, horse racing, hunting, zoo, and especially a casino. Moreover, there will be a high-class road from Cam Ly airport that visitors from Singapore and other counties in Southeast Asia to Golden Stream Lake area.
Hopefully, this article that introduces a brief introduction about Golden Stream Lake in Da Lat can bring tourists more information as well as inspiration to start a trip to Da Lat city. If you have any ideas about this article, remember to share your ideas with other readers by leaving your comments below.