Updated: 11/27/2019
Hue is an important city and also one of the economic, cultural, and culinary centers in Vietnam. Hue food is really plentiful with several specialities which are famous throughout the country. Food to eat in Hue is not cheap and there are many kinds of seafood used to make dishes.
I. General Overview Of Food In Hue And Hue's Cuisine:
1. General Information About Hue: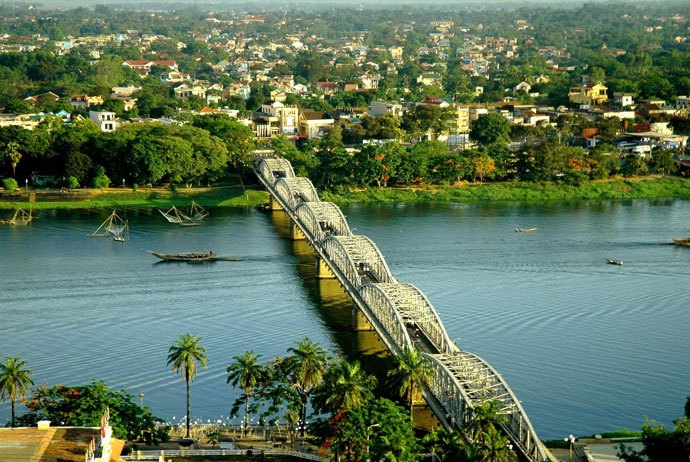 For almost 400 years (1558-1945), Hue had been the capital of 9 Nguyen dynasty lords in the Cochin. It was the capital of the Tay Son dynasty, then the capital of the unified country under the rule of 13 Nguyen kings. Hue today still preserves the cultural heritage and intangible object which contains the value representing the wisdom and the soul of Vietnamese. Over the centuries, many fields of the country's elite has been refined and converged here for a unique culture to complete an amazing natural landscape painting with charming, romantic mountains and rivers.
Therefore, talking about Hue, people immediately think of the capitals, golden palaces, temples, shrines, and gorgeous dancing stage, majestic tombs, and ancient meditative landscapes which the "natural craftsmen" carved.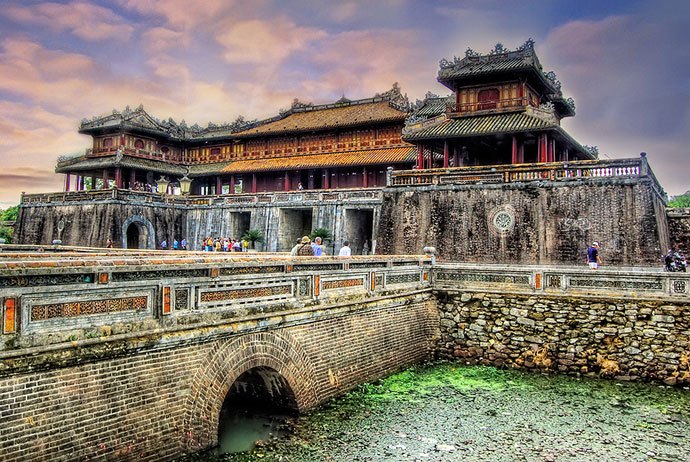 The traditional musical forms which were for entertaining have been still preserved almost intactly in the center of Hue city. Recently, it makes people in Hue happy as Hue ancient capital relics Preservation Center collaborates with Vietnam Folk Arts Association, under the advice of many scientists in the country and abroad, has submitted the proposal to UNESCO for recognizing Hue imperial (court) music:
Nha Nhac (Nguyen dynasty) is the masterpiece of Oral and Intangible cultural heritage of the humanity. Although everything is still not addressed, that movement is enough to express the precious value of Hue traditional music.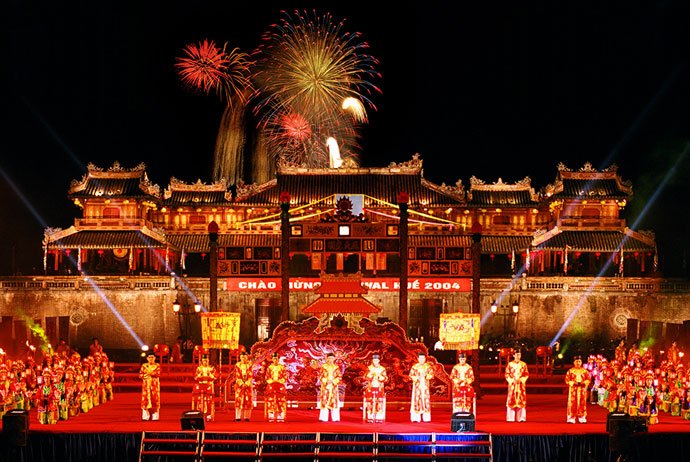 Today, Hue has become a characteristic festival city in Vietnam. Every two years, people living in Hue welcome this great festival with eagerness, joy, pride, and great happiness. In the thought of many people, the event that Hue has become the city of festival is almost a certain and absolute matter because Hue still reserves the characteristic face of a typical capital of the feudal dynasties that architectural works are harmony with the nature, the unique rhythms with traditional festivals, music, and culinary. The diversity of these precious features is still well-preserved in Hue. The structure and combination between architecture and landscapes made Hue became a city which has harmonious relation of architecture, nature, and human beings. Hue could present the synthesis between religion and life in the architecture, combining ancient and modern, and then harmonize the ancient capital with the brand new and young city as Hue today!
2. Hue Food And Cuisine:
Tourists often come to Hue and visit restaurants which serve specialities. They find a restaurant not only because of the hunger after the excursion, visiting the scenic and historic places in Hue, but more interesting, they come to learn the culture of this place through the art of food processing and culinary philosophy.
In Hue, there are hundreds of food dishes which are divided into 3 main kinds: rustic dishes, vegetarian dishes and imperial dishes.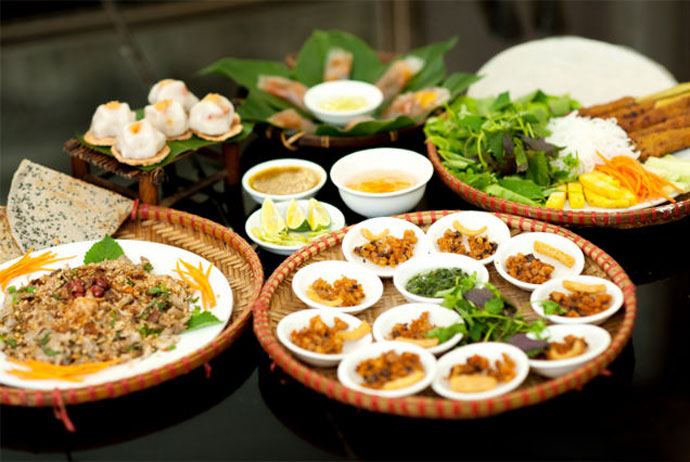 The rustic dishes are made from the common materials in everyday life of people in Hue, simple processed and not too fussy as the dishes which are used to serve the aristocracy. There are many rustic dishes but no Hue people could forget Hue tiny mussel rice, beef noodle with pig's leg, boiled meat – shrimp sour paste, Khoai cake, bloating duckweed-shaped cake, Nam cake, wet cake…
The rustic yet most difficult to be forgotten Hue food is Hue tiny mussel rice. Some people (diners) even "complain" that tiny mussel rice is too cheap. A bowl of tiny mussel rice in Hue contains as many as 16 flavors yet is sold for a dirt cheap cost.
Hue tiny mussel rice contains tiny mussel, tiny mussel broth, penicilated shrimp, chili sauce, fish sauce, garlic, pig's skin (roasted), roasted peanuts, salt, sesame, MSG, raw herbals, julienned banana flower, mixed with cool steamed rice (or vermicelli), creating a "mess" yet extremely delicious.
– In the past, vegetarian diets and dishes are just for the Buddhist monks.
Vegetarian dishes are prepared and processed from fresh plants, dried or fermented dishes, such as soy sauce, soya, pickles … Vegetarian diet requires avoiding all materials from animals, but with just some simple ingredients, the skillful chef can still process them into food dishes in the style of luxurious imperial food dishes. Vegetarian dishes are also sufficient with cinnamon meat pie, rolls, sour meat pie, roasted pork, shredded chicken…All of them are 100% made from plant materials.
It can be said that vegetarian diets have become specialties of Hue people. It is simple to understand why the vegetarian food dishes processing has become a wonderful pick of Hue culinary art.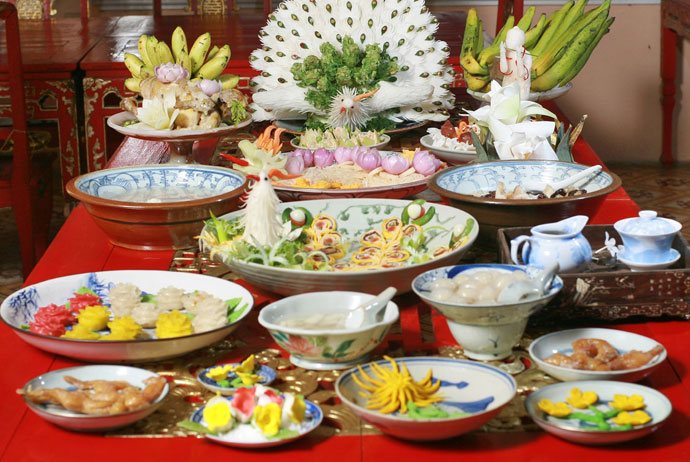 Hue used to be the "capital" of Buddhism in Vietnam. The Nguyen lords considered and defined Buddhism as the national religion and the religion of the Nguyen royal family. Not only the temple monks but also the aristocracy followed the vegetarian diet. Also, any Buddhist family in Vietnam spends two days per month at least to serve vegetarian dishes only so that vegetarian dishes in Hue are very plentiful, luxurious, and delicious.
Imperial food is the noblest dishes of the kings, appearing in the daily meal in the palace and the feasts in the imperial palace to regale distinguished guests. Huong Giang is the place where serves these types of service the most. Of course, the customers need to be willing and especially have the amount of money to pay for such a royal gala like this. The price for this service is pretty high.
II. The Most Popular Food To Eat In Hue:
Hue cuisine is not the combination of food in many regions like Hanoi or Ho Chi Minh City. Similar to Hai Phong and Da Nang, Hue food just mainly focuses on its own specialities which are mainly processed in the special style, strongly influenced by the palace processing style. In fact, Hue culinary still remains in its traditional characters, which are very picky in processing methods, choosing materials, and presenting the dishes. In Hue, it is harder to find many other dishes which are the specialities of other places compared to Hanoi and Ho Chi Minh City. Here are the best Hue food dishes to eat which are very famous, delicious, and have been existed for a long time.
1. Com Hen – Tiny Mussel Rice: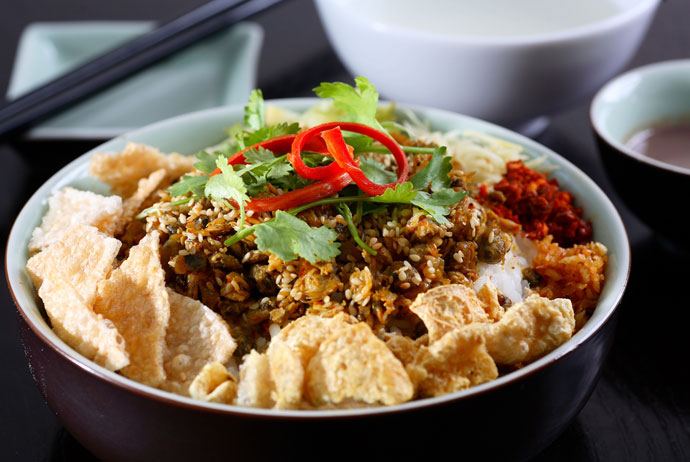 The first of the best Hue food to eat I would like to introduce in this article is the tiny mussel rice dish – a very famous food to eat in Hue that tourists should never miss! If you have a chance to come to visit Hue, you will be able to visit the beautiful sceneries everywhere: the Huong river with the sound of the bell from Thien Mu Pagoda, the mist and incense sight in Hon Chen temple, or go to visit Vy Da river, the Citadel, or visit the tombs of Minh Mang, Tu Duc …
Before traveling the rivers and mountains, you should stop at the first corner of the Truong Dinh Street and opt for Hue tiny mussel rice as a delicious, spicy, and aromatic breakfast. Hue tiny mussel rice is a rustic dish which is sold everywhere whether in the village or country road in Hue. This dish is very simple, rustic yet still tastes like a cheer. Hue tiny mussel rice is also called with a luxurious name: "Cau Lau Con" to honor the simply, rusticiality, and frugality which are the characteristics of Hue.
Ingredients:
– Tiny mussel
– Mint leaves
– Pennywort
– Coriander
– Basil
– Julienned banana flower
– White sesame, peanuts (roasted)
– Dried pig's skin
– Hue's penicilated shrimp
– Rice
– Fresh bean sprouts
– Sour starfruit
– Milled chili, ginger, salt, MSG, fish sauce
2. Banh Canh Nam Pho – Nam Pho Thick Noodle Soup: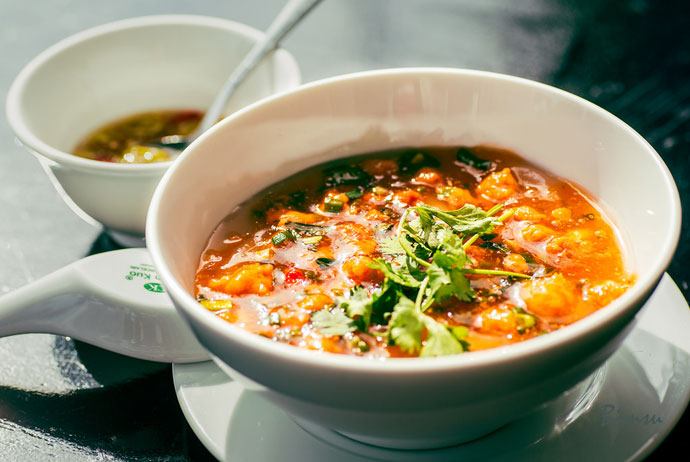 Not popular and widely sold as beef vermicelli or tiny mussel rice, yet Nam Pho crab thick noodle soup (Phu Vang district, Thua Thien Hue) is still preferred by many tourists, so it attracts a lot of tourists to come and enjoy it whenever they have chance to visit the former Citadel . No bar, no fame, Nam Pho thick noodle is sold in small diners and mobile stalls on the sidewalk or in small alleys in every evening.
Nam Pho thick noodle soup is not picky in ingredients. It just contains thick noodle (fresh), shrimp, crab, meat pie…yet very meticulous in cooking process. Therefore, the thick noodle soup here has its own characteristics compared to other thick noodle soup which is originated in other provinces throughout the Central. The meticulous requirement is expressed through each processing stage. First, the thick noodle fibers are also made from rice flour, yet it requires many efforts to create soft and tough noodle fibers which are used to make Nam Pho thick noodle soup. After milling the rice, the flour will be put into a hot pot and steamed over low heat. People will need to whisk the flour until it is viscous. After that, the flour will be poured into a plastic bag with a side cut in the tapering shape to create the noodle fibers in a pot with boiling water. When the noodle fibers are milky, take them out and soak in cool clean water.
Ingredients:
– Thick noodle:
+ Rice flour
+ Chestnut starch
+ Wheat flour
+ Salt
+ Hot water
– Broth:
+ Cartilage
+ Crab flesh
+ Fresh shrimp minced finely with spices
+ Rock sugar
+ Large onion
+ Spices: salt, pepper, sugar, MSG, fish sauce
+ Chilli powder (or coloring chilli)
– Side dishes:
+ Fried fish pie (or steamed fish pie)
+ Hue meat pie (sliced)
+ Scallion, coriander, lemon, fresh chilli
3. Bun Bo Hue – Hue Beef Vermicelli: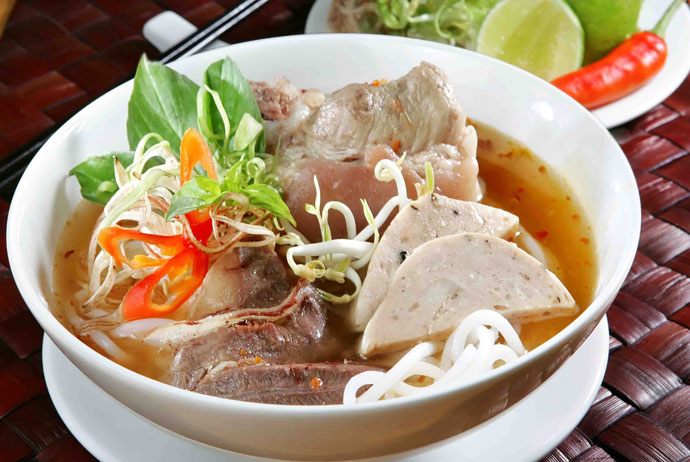 Hue beef vermicelli ("bun bo Hue" in Vietnamese) is the soul of Hue cuisine. The fame and delicious taste of this dish makes no discussion as it is on the list of the top 50 most delicious dishes in the world. Hue beef vermicelli contains a piece of pig's leg, a piece of beef pie, a small piece of boiled pig's blood, and of course a few thin slices of beef. The fresh herbals to serve with Hue beef vermicelli are also very fresh and plentiful.
Ingredients:
– Pig's tale bone
– Pig's leg
– Beef
– Big-size vermicelli
– Large onion, lemongrass
– Lemon, fresh chilli, chilli powder
– Penicilated shrimp paste
– Brown cashew coloring powder
– Fish sauce, salt, lard (cooking oil)
– Julienned banana flower, fresh bean sprout, scallion, coriander
4. Bun Thit Nuong – Grilled Meat Vermicelli: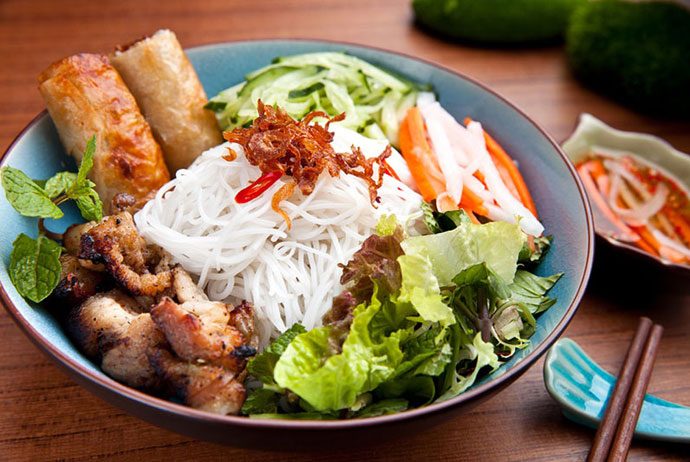 Grilled meat vermicelli is a popular dish which is the favorite of many people in all three regions of the country. Among these, Hue is the place that has the most preferred beef vermicelli dish. Grilled meat vermicelli everywhere keeps its own distinctive taste depending on the 3 regions: the North, the Central, and the South. This noodle dish can be suitably used for breakfast, daily meals, or between meals. It is very tasty and attractive dish which many people in the country and also the foreigners love. The requirements of grilled meat vermicelli contain:
– The grilled meat need to be brown with the charming scent of lemongrass and sesame
– The sauce must be harmoniously sweet and sour served with many kinds of fresh vegetables and raw herbals.
In fact, this is also one of the best Hue food dishes which are famous and popular in Vietnam.
Ingredients:
– Pig's shoulder lean meat (with a little fat)
– Honey
– Finely chopped lemongrass
– White sesame
– Fish sauce, lemon, garlic, fresh chili, rice vinegar)
– Lettuce, carrot, scallion (cut into small pieces
– Peanut
– Oblique (to make skewers)
– Vermicelli (small size vermicelli)
5. Banh Uot Thit Nuong – Wet Cake Served With Grilled Meat: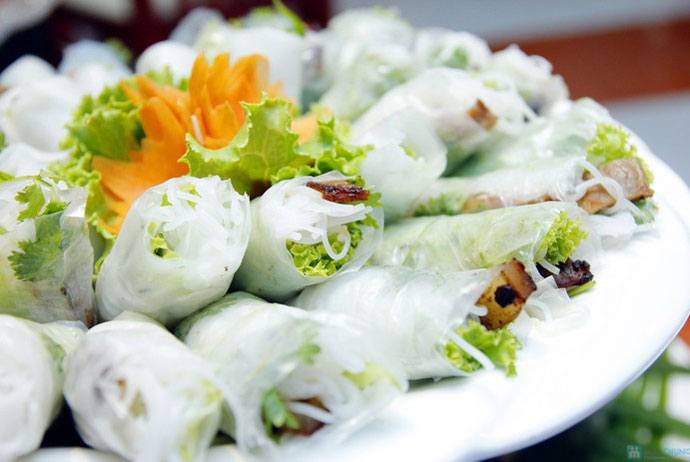 Actually, wet cake does not just belong to Hue, but Hue's wet cake carries many characteristic features, representing the personal branch of the ancient capital land. This is also one of the best Hue food that tourists cannot miss when coming to visit Hue. The main ingredient of the wet cake's shell is rice flour mixed with chestnut starch or cassava starch in proper proportion. These 3 kinds of flour will be dissolved in clean water so that when being processed, the shell of the wet cake will be very thin yet tough and could not be torn (the shell of the wet cake is also not too tough). People consider that the shell of the wet cake is thinner; the maker must be more skillful, and the thinnest wet cake will be the best.
Ingredients:
– Salt
– Soft beef
– Semsae
– Finely chopped lemongrass
– Soy sauce
– Sugar
– Cooking oil
– Milled pepper
– Wet cake shell (thin)
– Raw herbals, lettuce
– Pig's liver
– Shelled shrimp
6. Banh Beo – Bloating Duckweed -Shaped Cake: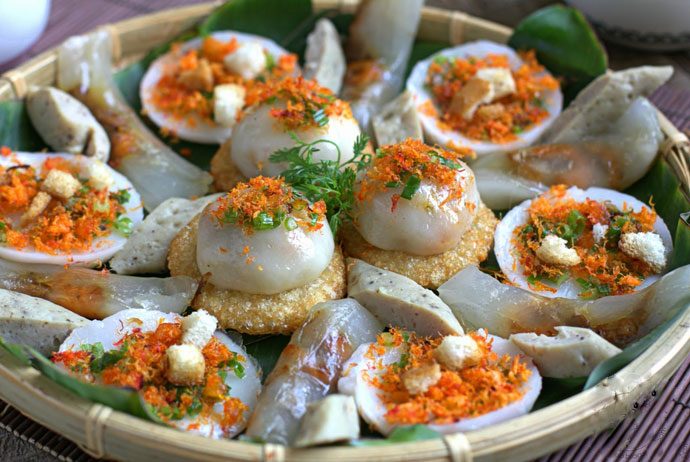 Bloating fern-shaped cake is a simple, rustic Hue food that is very famous in all 3 regions in Vietnam. The tiny, limber cake with the attractive fragrant of rice flour, the sweetness of fried dried shrimp, and the spiciness of the dipping sauce, making people are really attracted when enjoying this dish. The name "Banh Beo" was born due to the shape of the cake which is thin, rounded like the duckweed, or according to the folk comparison, this dish is very cheap ("beo" in Vietnamese). Bloating duckweed-shaped cake is rustic yet very famous speciality which everyone who comes to visit Hue wants to taste.
Ingredients:
– Rice flour
– Chestnut starch
– Cool water, boiling water
– Field shrimp
– Dried purple onion, fresh garlic, scallion
– Fish sauce, salt, pepper, sugar
– Small plates (to pour the flour and take away to steam)
– Crispy fried bread or pig's skin
7. Banh Bot Loc – Chestnut Starch Cake: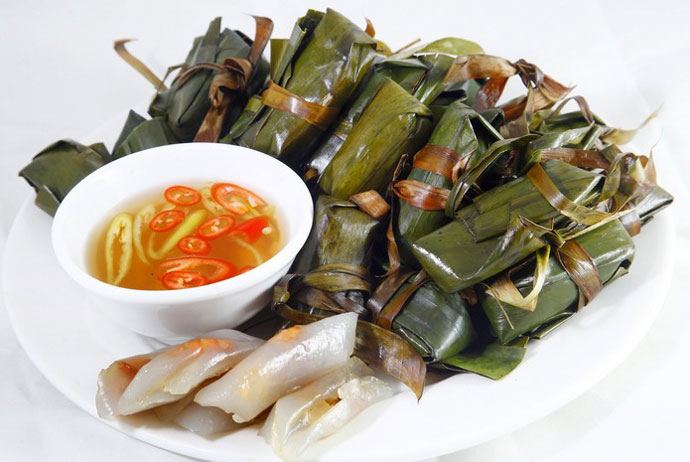 Hue chestnut starch cake is very picky and meticulous in choosing ingredients, cooking process, and also the shape of the cakes. In the Hue ancient palace in the past, this cake was shaped in the form of bullion, wrapped in fresh banana leaves. Chestnut starch cake is small yet has unique taste. Hue chestnut starch is tough with the fragrance of chestnut starch, fleshy stuffing made from shrimp and milled pork meat, sweet and salty shrimp rousing, fatty and aromatic cooking oil with scallion, and Hue's style sweet and sour dipping sauce.
Ingredients:
– Chestnut starch
– Fresh shrimp
– Chopped or milled pork meat
– Spices: salt, sugar, MSG, pepper, cashew oil, fish sauce, rice vinegar
– Fresh banana leaves, scallion, fresh chilli
– Cooking oil, clean water.
8. Banh Khoai – Khoai Cake: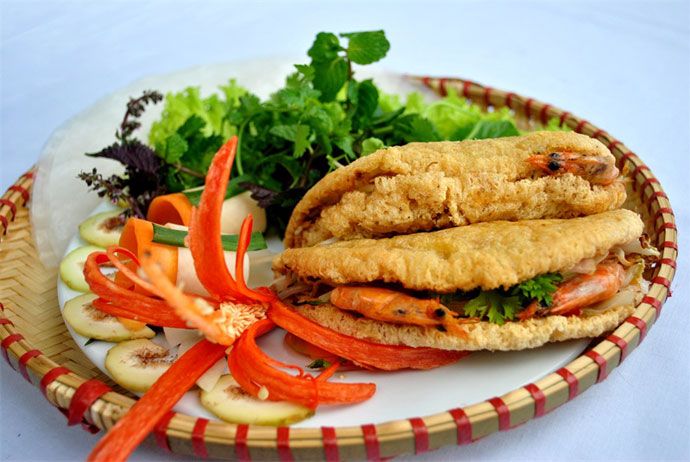 Sitting huddly in a teahouse on the sidewalk, enjoying the cold of Hue, and looking at a plate of hot and golden fried Khoai cake, you will feel really hungry and want to eat this dish right away. In fact, "khoai cake" is a wonderful food to eat in Hue that tourists should never miss when they have chance to come and visit this place.
Khoai cake can easily make people confused because it has many similarities with the sizzling pancake in the South. However, "khoai cake" is smaller, thicker, and crispier than sizzling pancake. This difference is due to the stage of powder mixing with an "exclusive" recipe, the level of fire when frying the cake bread, and the way to make dipping sauce of each restaurant.
Hue people are famous throughout the country for their meticulousness and fussiness in processing and eating style. This dish is actually one of Hue food dishes which express clearly the "soul" and the pickiness of Hue people.
Ingredients:
– Rice flour
– Clean boiled water
– Beer
– Salt
– Fresh scallion, turmeric powder (or yellow coloring powder)
– Cinnamon meat pie
– Fresh shrimp
– Quail egg
– Chicken egg
– Fresh bean sprouts
– Julienned green papaya
– Cooking oil
Broth:
– Soy sauce
– Clean boiled water
– Thick soy sauce
– Sugar
– MSG
– Roasted sesame
– Roasted and bruised peanuts
– Corn starch