Famous Landscapes Photo In Hue By Thong Hoai Nguyen
Each year, tourists from everywhere pay a visit to Hue not only learn about the history of Nguyen Dynasty, but also explore the charming beauty of ancient monuments. Roaming on Thanh Toan tile bridge, one of the most famous bridges in Hue, you will have a chance to contemplate its unique charm which has marked the historical values for decades.
Thanh Toan tile bridge is a kind of famous bridges in Hue with the unique style "Thượng Gia Hạ Kiều" (it means the house is above and the bridge is below). Through 200 years, Thanh Toan Tile Bridge remains the beauty of a charming landscape picture. Due to the historical and cultural beauty, Thanh Toan tile bridge becomes the tourist attraction of Hue.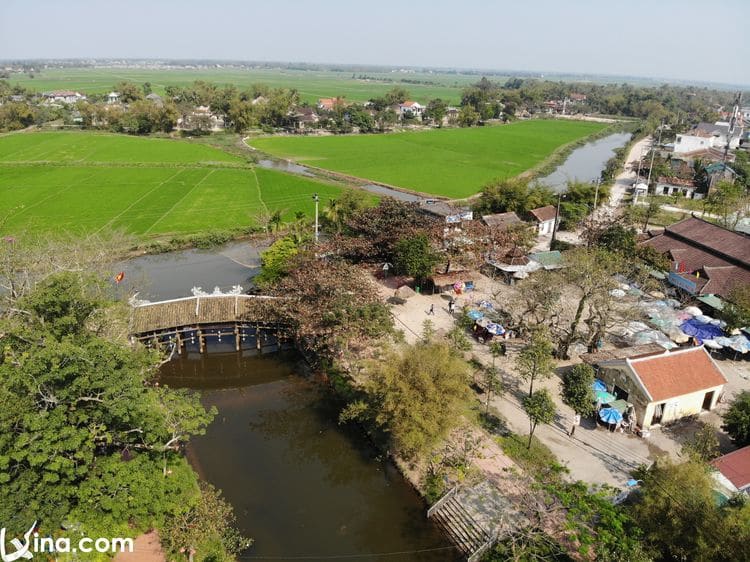 Famous Landscapes Photo In Hue By Thong Hoai Nguyen
Located in Thanh Thuy Chanh village, Thuy Thanh commune, Huong Thuy town, Thanh Toan Tile Bridge is one famous destination of Thua Thien Hue. According to the local tourism department, every day the bridge welcomes about 200-300 foreigners, not including domestic tourists.
Historically, Thanh Toan Tile Bridge was built by Tran Thi Dao, the daughter of the 6th Tran generation in 1776 with the purpose of helping local people travel more conveniently. Through raising and falling periods of history, Thanh Toan Tile Bridge was severely damaged, which required the residents to restore and repair several times in 1847, 1906, 1956 and 1971. The concrete pillar of the bridge in restoration altered the ironwood one. Especially at the end of 2016's recovery, the bridge was repaired with a total 13 billion budget.
In1990, Thanh Toan Tile Bridge was recognized as a national monument by the Ministry of Culture, Sports and Tourism. There has been an increasing number of tourists setting foot on this bridge for years.
According to Tran Thi Dao's idea, Thanh Toan tile bridge was designed in style "Thượng Gia Hạ Kiều" with the square area of 43 wood rulers long (18.73m), 14 wood rulers wide (5.2m) and divided into seven rooms. The size of the bridge was narrowed down to 16.85m and 4.63 m through times of restoration. Two sides of the bridge are bannisters and wooden podiums for tourists to take a rest. The roof of the bridge is tiled with Bat Trang tiles. This is the bridge among few bridges remaining with the architectural style. Besides, in 2015, Thanh Toan agricultural tool exhibition room was opened to display agricultural and fishing physical facilities and "illustrate" routine stories in rural areas with the financial support and association of International Labor Organization and UN Culture Education committee.
Activities In Thanh Toan Tile Bridge: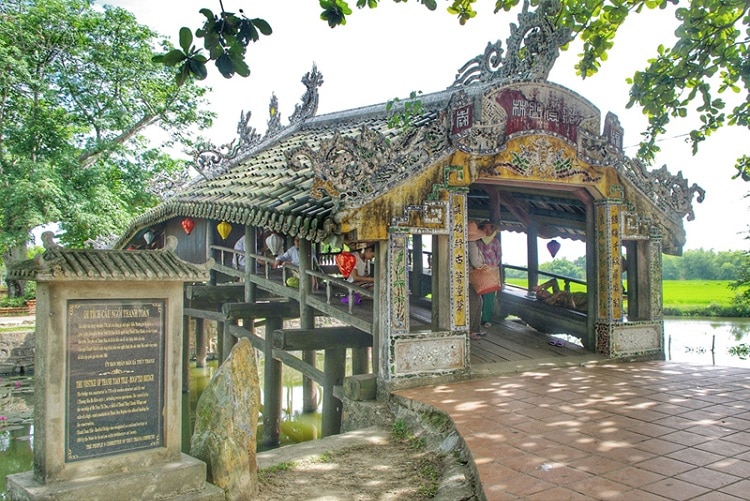 In daily life, tourists come here not only to explore the history of the bridge but also to oversee the bridge helping local people travel easier and becoming the shelter for people in the sunny and rainy weather. Perhaps, the bridge was constructed across the river, so the weather is always cool, and the air is fresh.
If you observe, you can realize that the front of the bridge has a large space. There, trading, entertainment activities and villagers' festivals are often held. In the 3rd day of the Lunar New Year, Bai Choi festival takes place in bustling and crowded atmosphere here. In particular, on April 15th in the lunar calendar, local people also organize the procession of Tran Thi Dao's shrine. When the ceremonies finish, fork entertainment activities happen. Besides, every two years "Chợ quê ngày hội" (local market of the festival) is held in this place. "Chợ quê ngày hội" is known as among tourism programs of Hue Festival.
In these days, Thanh Toan Tile Bridge is filled with lanterns, flowers and flags. Passing through different occasions of Hue Festival, "Choi que ngay hoi" in Thanh Toan tile bridge has gradually claimed its brand name.
In the festive occasions featuring Hue Festival, poetry night "Who visits Thanh Toan tile bridge…" with poems composing about the tile bridge coupled with local market day mark an impressive point for tourists. In addition, coming to the festival, tourists can be served with specialities and a variety of food with reasonable prices or explore tools 50 years ago and experience fork games, traditional boat racing.
Thanh Toan Tile Bridge is about 8 km far from Hue in the southeast. So tourists can go by car across Truong Chinh Street and go straight on the apartment, then you arrive at the bridge.
Thanh Toan Tile Bridge with the age of 240 years old plays a vitally important role in the local people's life of Thuy Thanh commune. Besides to art values, the tile bridge bears spiritual values. If you take a trip to Hue, do not forget to visit the hundred-year-old bridge.