Updated: 11/19/2019
Nha Trang (Nha Trang) is one of the most beautiful tourist destinations for not only Vietnamese locals but also international tourists over the world. Visitors and tourists come to this place to enjoy the amazing beaches, modern amusement centers, endless white sand, and charming islands. Besides these activities, Nha Trang is also a paradise for shopping. In this city, you can find many markets and shops that supply good products in terms of origin and quality that will satisfy the demands of every shopaholic. So what is the best things to buy in Nha Trang and where can you get it? Read on if you want to find your answer.
Best Things To Buy In Nha Trang, Vietnam: Guide For Shopping
I. Souvenirs: The Best Things To Buy In Nha Trang
If you have a chance to explore Nha Trang City and enjoy the shopping center in this city, do not forget to buy some popular souvenirs for your family and your friends. Nha Trang is well-known for its fine art handicrafts, pearls and photography/postcards.
1. Pearls
Pearls are one of the most popular things to buy in Nha Trang as they are the symbol of the wildness of the ocean. Locals often collect and grow pearls naturally in the nearby waters.
Of course, you can find pearls in Quy Nhon (Quy Nhơn), Vung Tau (Vũng Tàu), and Phu Quoc (Phú Quốc) in Vietnam as well. But the pearls in Nha Trang is so special because they are formed and made naturally because of the natural conditions of Nha Trang ocean. The Nha Trang pearls possess its unique beauty of delicateness and luxury.
The valuable pearls in Nha Tran may cost over 100 USD for each item but it is worth your penny if you are not in a tight budget.
Of course, you can buy pearls in every corner of Nha Trang but it is easy for you to purchase the fake item if you shop at the unreliable shops.
So, here are several prestigious shops in which you can buy valuable real pearls with good quality:
Hoang Gia Pearl (Hoàng Gia Pearl)
Address: Ground floor, 20 Tran Phu (Trần Phú), Nha Trang
Opening hours: 9 am – 10 pm
Long Beach Pearls
Address: 30A Nguyen Thien Thuat (Nguyễn Thiện Thuật), Nha Trang, Khanh Hoa (Khánh Hòa)
Opening hours: 10 am – 10 pm
Saigon Pearl
Address: 150 Hung Vuong (Hùng Vương), Nha Trang
Opening hours; 9 am – 10 pm
2. Fine Art Handicrafts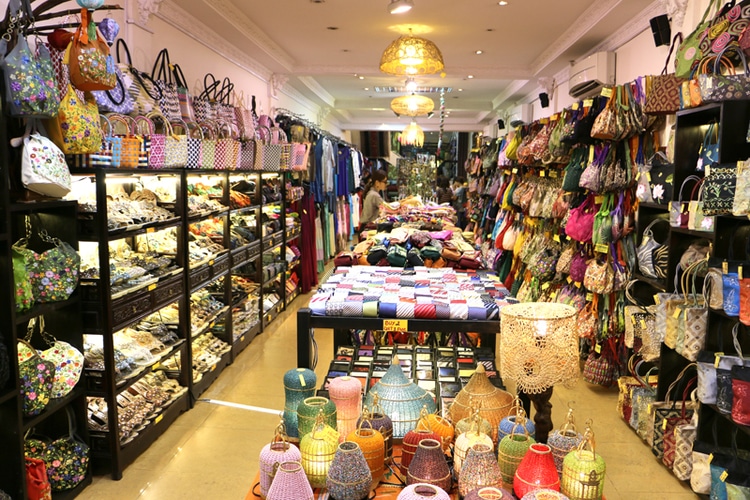 If you love fine art handicrafts, it is great for you to bring home the beautiful and impressive pottery items including plates, bowls, vases or simple cups that are all made by the talented traditional artists in Nha Trang. These fine art handicrafts here own the pretty impressive decoration and simple design. Some of the potteries have a Champa influence, so you can see the Champa patterns or Apsara dancer statues on the surface of the beautiful items. Furthermore, you can also explore the unique products made of burned eggshells, natural bamboo, and lacquer. The price of these crafts are reasonable and affordable; therefore, fine art handicrafts would be the second choice for the best things to buy in Nha Trang if you do not want to spend too much on souvenirs.
Shops You Can Buy The Crafts:
My Village
Address: 6G Hung Vuong, Nha Trang
Opening hours: 9 am – 10 pm
Bau Truc Pottery
Address: 135 Hoang Hoa Tham (Hoàng Hoa Thám), Loc Tho (Lộc Thọ) Ward, Nha Trang City
3. Artwork
If you love artwork collection, XQ Su Quan (XQ Sử Quán) is the best place for shopping as it displays numerous stunning embroidered pictures. It is great to bring your home these fantastic pictures made from the local skillful artisans. The price of these artworks varies from 500,000 VND to over a hundred million VND.
XQ Su Quan
Address: 64 Tran Phu Street, Nha Trang
Opening hours: 7:30 am – 10 pm
4. Clothing
The tailored clothing is also one of the best things to buy in Nha Trang, Vietnam. Some of the top tailors of Vietnam have opened their shops in Nha Trang City. Therefore, you can go to the shop and ask them to design a unique adorable dress with a competitive price. The design of these clothing can be chosen in the catalogue or mannequin. Or if you are creative and want to create your own design, you just need to bring the fabric to the talented tailor and they will make your dream of wearing a beautiful dress or attractive suit come true.
Here are some recommendations for trustworthy tailored shops:
Silk And Silver Nha Trang
Address: 6 Tran Quang Khai (Trần Quang Khải), Nha Trang
Hoang Yen Tailor (Hoàng Yến Tailor)
Address: 128 Nguyen Thien Thuat, Nha Trang
Besides, if you look for the environmentally-friendly and fashionable clothing which is made of fiber materials, you can come to these shops listed below:
Dam – Vay Nha Trang (Đầm – Váy Nha Trang)
Address: 147/10 Duong Hien Quyen (Dương Hiến Quyền), Vinh Hoa (Vĩnh Hòa) Ward, Nha Trang
Opening hours: 9 am – 9 pm
The Bambou Company
Address: 15 Biet Thu (Biệt Thự), Nha Trang
Senmi Nguyen
Address: 54 Dinh Tien Hoang (Đinh Tiên Hoàng), Nha Trang
Opening hours: 9:30 am – 9:30 pm
Him Closet
Address: 72 Dong Da (Đống Đa), Nha Trang
Opening hours: 9 am – 9:30 pm
II – Nha Trang Specialties: The Best Things To Buy In Nha Trang
Visiting a city or province in Vietnam, what do you look for? Its unique specialties, right? Nha Trang also has its special delicious food that is cooked in different and tasty ways. If you love the cuisine, you should not forget to enjoy or bring home some seahorse, seafood, bird nest, and mango rice paper. You can try these dishes directly in Nha Trang restaurants but it is also awesome to buy these Nha Trang specialties as a present for your family and friends.
1. Seafood
If you love this kind of food, Nha Trang is definitely a tourist paradise you should look for. Owning 19 islands and a long coastline, Nha Trang will satisfy your empty stomach with different types of fresh seafood, from squid, spidercrab, echinus, shrimp, sea snails to many kinds of fish.
In Nha Trang, you will have a chance to enjoy a party of seafood on the beach while immersing in the brilliant sunset. To do this, you can go shopping at a seafood market in the early morning and ask a restaurant's chef to cook for you or you can cook it in your hostel's kitchen.
Xom Moi (Xóm Mới) and Binh Tan (Bình Tân) are the most popular places locals often look for seafood. Many fishing boats come and bring the fresh seafood they caught to these markets for selling and distributing to restaurants in town. If you want to buy fresh seafood at reasonable prices, it is recommended going in the morning.
The price of seafood displayed in local markets in Nha Trang often fluctuates based on the season and the seller may give you the overpaying price. Therefore, to avoid that, you should go shopping with a local or ask the local about the seafood price range before buying anything.
Besides Xom Moi and Binh Tan, my recommendations for seafood markets in Nha Trang include Vinh Luong Market (Chợ Vĩnh Lương) (1A National Road, Luong Son (Lương Sơn), Vinh Luong) and Nha Trang Market (Ben Cho (Bến Chợ) Street).
2. Yen Sao – Salaganes' Nests (Yến Sào)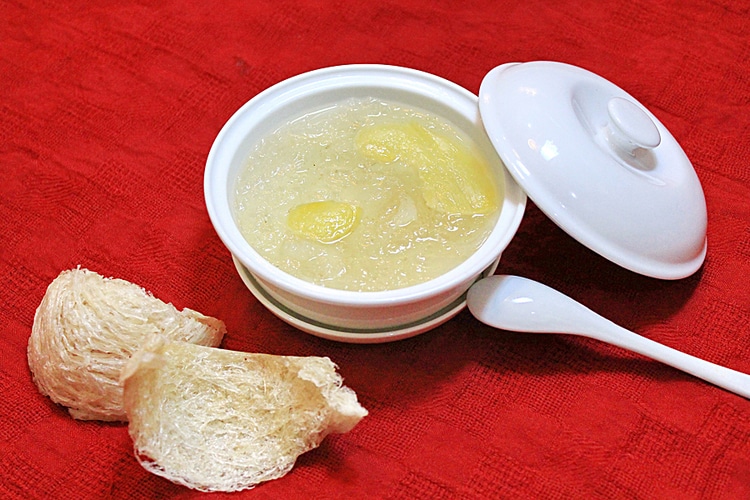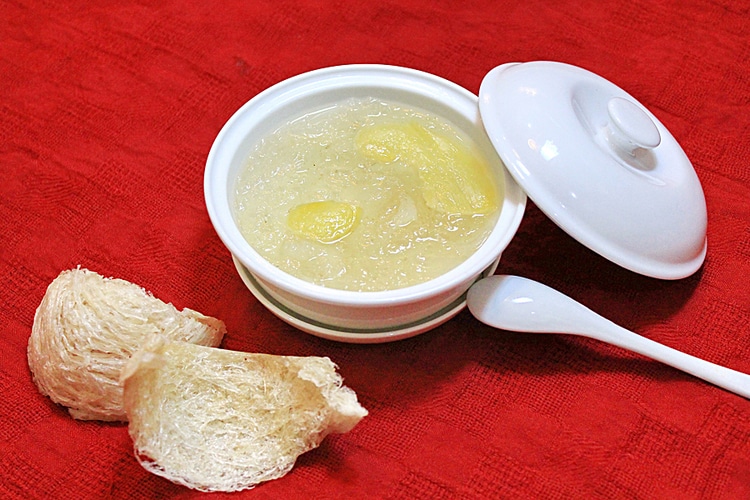 Salanganes' nest is believed to be a miracle medicine for long life. In fact, the salanganes' nest has been traditionally used as a beauty food as it has many benefits for the health and beauty such as enhancing the skin's health, boosting the cell growth and promoting the overall immunity.
You can buy the salaganes' nest products at many places in Nha Trang, but for the good quality and guaranty, I would like to suggest you buy it from the reliable companies like Khanh Hoa Bird Nest Company and Yen Island (Đảo Yến) in Nha Trang.
The price of this Nha Trang specialties is expensive. For instance, the dried one may cost you about 20,000,000 VND/nest. The cheapest price is around 3,000,000 VND per 100 grams.
If you want to enjoy the salaganes' nest without spending too much money, you can consider the salaganes'nest soup and drink which cost you around 36,000 VND or more.
3. Banh Trang Xoai – Mango Rice Paper (Bánh Tráng Xoài)
Although the origin of  Banh Trang Xoai – Mango Rice Paper is from Cam Ranh City (Cam Ranh), Khanh Hoa Province , this food is one of the amazing specialties in Nha Trang a lot of people demand it.
This food is made from the best quality sweet and juicy mango from Cam Ranh. In the making process, the mango with good quality is blended. After that, it is mixed with sugar, boiled and stirred for two or three hours until it becomes a highly concentrated mixture with a sweet scent. People put this mixture in a tray that is covered with plastic and leave it until it dry and is no longer sticky.
The Mango Rice Paper is unique for its sweet and a bit sour taste. You can buy this food at many places in Nha Trang. But the recommended one is Dam Market (Chợ Đàm), 11E Thai Nguyen (Thái Nguyên) Street. For one bag of mango rice paper, you have to pay around 25,000 VND – 30,000 VND per 200 grams.
III – Tips For Shopping In Nha Trang
1. Shopping In the Early Morning
This tip is absolutely true if you want to buy fresh food. It is the thumb rule when you visit in Nha Trang and go to the market. The early you go, the fresher food you can find.
2. Look For The Trustworthy Places For Shopping
In some places, they sell low-quality or fake products to make more profits. Therefore, a useful tip if you go shopping in Nha Trang and any cities or provinces is to only buy products and valuable items from the trustworthy shops with the well-established reputation.
Furthermore, do not believe any street vendors who introduce their products or someone recommends you to go to their shop because the prestigious goods do not need this kind of advertisement.
3. Prepare Some Skills Of Bargaining
The vendors in Nha Trang may give you higher prices than the original ones. Therefore, if you want to get a reasonable price, you should need some skills in bargaining. It is simple. You need to tell the vendors the lower price you can purchase for that item. If they feel it is ok, the product will be sold immediately.
If you are not familiar with bargaining in Vietnam, the best idea is to go shopping with a local who will help you bargain or recommend the best price for any goods.
Coming to Nha Trang, you can buy many souvenirs, mementos, and gifts for your family and friends back home. Shopping in Nha Trang has become an important part of any wonderful tour and trip to Nha Trang. Hopefully, after reading this article in Vina.com, you can enjoy the great shopping experience in this beautiful beach city.