Updated: 11/20/2019

Ngu Binh Mount, a famous tourist destination in Hue, is renowned for magnificent landscapes of mountains and a deep blue Huong River. This creates an unforgettable beauty alluring tourists when travelling Hue city. With green pine trees, a bird's eye-view of the Huong River, pagodas, Ngu Binh mount creates a beautiful and lively picture of its homeland, Hue. It was also called Bang Son and then changed into Ngu Son, but perhaps Ngu Mount is the familiar name with local people.
Ngu Binh mount is located in An Cu, Hue city, so it is not difficult for tourists to visit this place. You can have a chance to watch the broad view of the sky and enjoy the relaxed and calm space of mountains. Ngu Binh Mount passed through ups and downs with Hue people in many decades; especially it plays a vital role in the history of Hue ancient capital.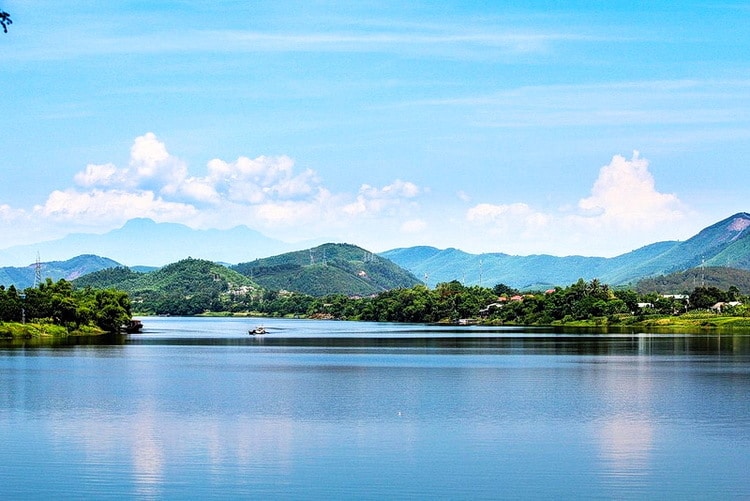 Ngu Binh mount was chosen by King Gia Long to be the fence protecting the imperial city; besides; it was the favourite outdoor place of Nguyen Dynasty's Kings. If you look carefully, you realize that kings grew lines of thick and interminable pine trees. 
Despite difficult periods of historical time, the pine tree forest on the mount retains its unique beauty, covers the entire place in green. On windy days, standing in the mountain foot, you can hear the trees whispered soft and low, which makes the soul calm and tranquil. About 105m high, Ngu Binh mount creates such an incredible view for tourists to observe the picture of a romantic Hue along with the luxurious castle, ancient temples and a deep blue Huong River. Sunset lover cannot neglect the charming scenery at dawn when the colour of the horizon is shading off the green of forests, which stamps unique beauty and a true icon of Hue.  
Also, Huong river has a strong attachment with Ngu Binh mount as two close-knit entities because mentioning Huong river means saying Ngu Binh mount and vice versa. The association of a poetic and contemplative Huong River and a green and peaceful Ngu Binh mount remarks the natural beauty of Hue, which makes Hue more enchanting and graceful in the eyes of local people and travellers. Ngu Binh mount treasures the picturesque beauty which is in integrity and has never been ceased to exist or blended into something new. Hence, this place is always an ideal destination for poets, photographers to arouse their art inspiration. Moreover, many couples choose Ngu Binh mount for their wedding background to capture beautiful shots. Nothing is fascinating compared with taking a romantic getaway or having a family-focused vacation in Ngu Binh mount to enjoy the vast space of mountains and forests, feel calm in mind, especially keep memorable pictures here.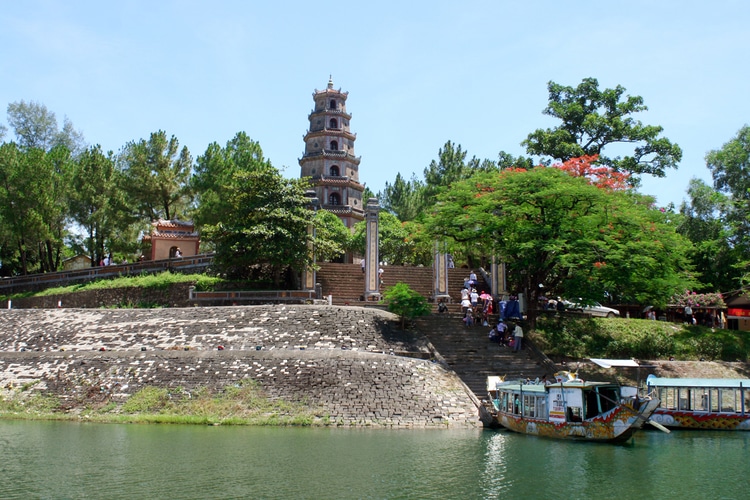 From Ngu Binh mount, it is about several kilometres to get to Vong Canh hill next to Huong river. Tourists can see the green orchards with different kinds of fruit such as longan, oranges blending with the shade of pine trees. Furthermore, tourists can contemplate, get lost in romantic Huong river and admire the ancient architecture of Thien Mu pagoda or even visit several imperial tombs of Nguyen Dynasty's Kings
Ngu Binh Mount is about 5km far from the city centre. If you have landed off the airport, you can carry your luggage to Hue hotel and check-in there before going by taxi or renting a motorbike to come to this place. From the city centre, tourists can follow the route Le Huan- Da Vien bridge-Bui Thi Xuan- Dien Bien Phu- Dang Huy Tu and go straight, you can arrive at Ngu Binh mount. 
Ngu Binh Mount is the "heavenly gift" of its homeland given by Mother Nature. If you plan to visit Hue, remember to take a trip to Ngu Binh mount to enjoy the calm and fresh atmosphere and poetic landscapes, which promise to bring amazing things for tourists. 
By M Phuong