Famous Landscapes Photo In Hue By Thong Hoai Nguyen
Hue is the paradise of tourist attractions with historical monuments or eco-tourism. You will have a chance to explore the cultural features of a romantic city in central Vietnam. To take a complete trip, you should pay a visit to Tam Giang lagoon, Hue among the largest lagoons in Southeast Asia.
Tam Giang lagoon lying in Tam Giang – Cau Hai lagoon systems, is renowned for the largest brackish lagoon in Southeast Asia and is neighbouring Cau Hai Lagoon. Twelve kilometers from Hue City, Tam Giang lagoon, belongs to four areas Phong Dien, Quang Dien, Phu Vang and Huong Tra of Thua Thien Hue. 
With the square area of 52 square km along from O Lau estuary to Huong estuary, Tam Giang lagoon allures tourists by its pristine and natural beauty of old fishing village and landscapes of fishing lagoons at dawn because its placid waters are home to a small fishing community.
The Beauty Of Tam Giang Lagoon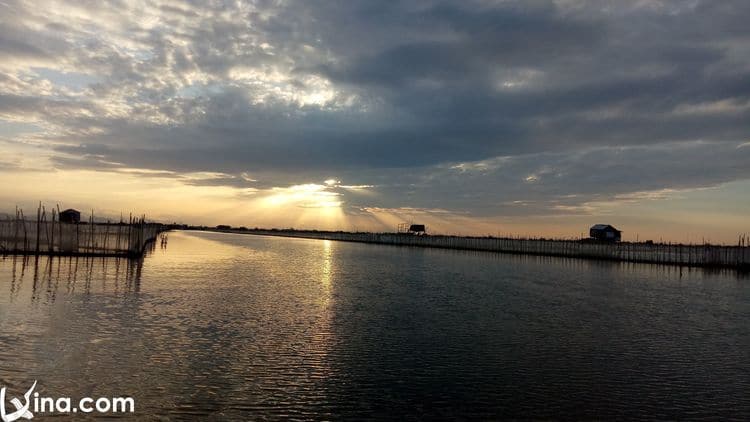 Famous Landscapes Photo In Hue By Thong Hoai Nguyen

Huge Tam Giang Lagoon was known as the poor village. Today, Tam Giang is famed for attraction destination in Hue with picturesque landscapes which are alluring to tourists. Setting foot on Tam Giang Lagoon, tourists can contemplate the tranquil beauty in the old fishing village. The picture of a wharf floating in the lagoon is dyed by violet colour of the sunshine, which creates an enchanting scene for a charming lagoon.
As morning light floods the lagoon and its tiny fishing village prepare to go off-shore, check the nets, it is not hard to feel like you are trapped in such a rustic and simple picture of the life that you rarely see in a bustling city. Moreover, tourists can be amazed at the pristine and spacious but contemplative beauty as a feature of its homeland, Hue when viewing Tam Giang lagoon in the sunset. Seemingly, the purple color at dawn is shading off all shrimp lagoons. This beautiful scenery is dotted with farmers diligently collecting shrimps, fish for dinner meal. 
View more: Stunning And Famous Landscapes Photos – Top Attractions In Hue City / Quang Loi Lagoon Photos In Hue 
Local People's Life
The floating market is one unique feature of the largest lagoon in Southeast Asia. Floating market shifts often start at 4 am and finish when the sunrise is shining all of the lagoon, about 6-7 am. Not bustling and hustling compared to Southwestern floating markets, the floating market in Tam Giang Lagoon has primary trading of local seafood.
Resemble other lagoons' life, local people's livelihood here is partly dependent or dependent on fishing. In the morning time, fishing boats come back to the shore with a good haul of fish. Women and children engage directly in manual collecting and raking scallops, oysters. Traders in the floating market are residents of fishing villages: Thai Duong Ha, Ngu My Thanh with hundreds of years in development history.
Sightseeing In Tam Giang Lagoon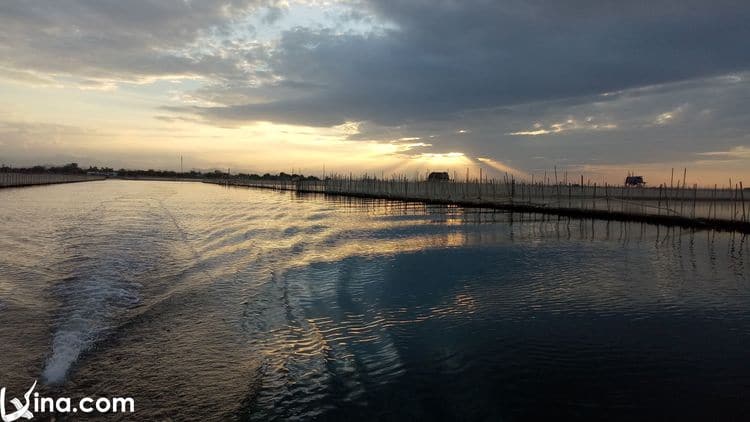 Famous Landscapes Photo In Hue By Thong Hoai Nguyen
Despite not having amusement places or historical monuments, Tam Giang Lagoon attracts tourists by its breathtaking pastoral scenery with plain local people's life. Spending one day in Tam Giang, you can freely explore the beauty of this old lagoon.
Coming to Tam Giang lagoon, you should not miss the chance to discover Thai Duong Ha, the old fishing village called a tiny oasis. The town is surrounded by water with the history of hundred-year development until now. Here, tourists get the eagerness to learn and explore the sea culture of the old fishing village. It bears the harmonious beauty of traditional Vietnamese villages and cultural features of Thua Thien Hue temples. The luxurious and solemn architecture of the temple is used to worship the tutelary god (Truong Quy Cong). Historically, he taught villagers to fish and sell junks. Especially, you can sit on fishers' boats to directly experience fishing. Near-shore fisheries are typically for adult males, mainly, where they involve using boats. With women and children, they are restricted dominantly to shore-based activities like manual harvesting or raking scallops by without the need for boats.
Besides, tourists can set foot on Ru Cha mangrove forest, which is considered "treasure" of Tam Giang Lagoon. Lines of mangroves cover the lagoon as a vast green tree wall. It seems to come in another life when you sail the boat in this forest. Ru Cha mangrove forest allures tourists not only by its tremendous lines of mangroves but also by its variety of fish and shrimp with high nutritious values. Furthermore, Ru Cha is also home to many species of birds. In the sunset, watching each flock of birds come back to their nests may be the unforgettable moments for tourists. 
After completing the trip to Tam Giang lagoon, it is time for you to try special dishes. You should pay a visit to some hut in the lagoon, enjoy several fried seafood dishes. Nothing wonderful compared to have the sheer joy with peaceful and rustic life in Tam Giang lagoon, which is completely different from your daily life in a noisy and crowded city. It will be incomplete if you miss the Tam Giang lagoon!
Written by M.Phuong
Proofread by Hang Pham