1. Where Is It?
Among ancient features of Nguyen King royal tombs is Vong Canh Hill, situated near the Huong River. The name "Vong Canh" can translate into: "Vong" means "watch", "observe"; "Canh" means "scene". It is a beautiful combination of river and hill with a peaceful and poetic landscape. The mountain is 7 km far from Hue centre and has a height of 43 m; its foot lies next to slowly flowing Huong River. It has been considered the best place to catch a panoramic view of the Huong River. Therefore, tourists should not ignore this spot.
View more:
2. Why Do You Should Come Here?
Let's Explore A Poetic Hue From The View Of Vong Canh Hill
Vong Canh hill makes people enjoy and experience imaging things belonging to nature wonderfully. Take a chance and come here at least once to be in harmony of beautiful scenes, especially fascinating pictures from sunrise to sunset. As you set foot on Vong Canh Hill, from the top of the hill is the whole picture of a poetic and romantic Hue, utterly, you can admire the sunshine shining through each leaf canopy with twinkle sunlight in deep blue and harmonious Huong river. The great moment to marvel at the entire beauty of mountain and river from Vong Canh hill is the appearance of the glow of sunset in the sky. At that time, the sun gradually hides behind the rising and falling mountains; the sky is apparently dyed in gold-coloured.
3. What Do You Explore Here?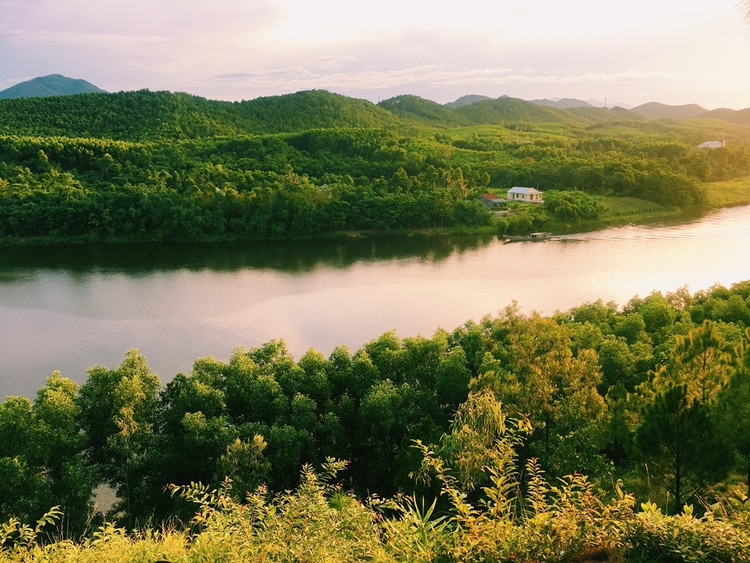 In the top of Vong Canh hill, visitors can cover the broad view of many ancient monuments and wonderful landscapes. You can see Minh Mang's tomb, Hon Chen palace, Tu Duc's tomb, Thieu Tri's tomb, imperial tombs of the Nguyen Dynasty's kings.
Moreover, tourists have a chance to admire the romantic and alluring of Huong river- the symbol of natural beauty in Hue. Vong Canh hill lies on a fascinating carve of Huong river. When being viewed from the hilltop, Huong river appears a string of soft silk on the foot of the hill. Besides, you can observe the whole scenery of Hue city. There are fruit orchards, "in-shaped" pine trees, grey-roof pagodas and tombs. Far away are boats carrying visitors on Huong river.
Also, you cannot resist the lure of the bright lights in both twilight and dawn. In the view of Vong Canh hill, you can catch marvellous times of nature. It can be the moment when vaporous clouds of mist disappear, and the sun rises to begin a new day. It can also be the moment the sun appears over the pine forest in red. Romantically, the sunset rings a bell to announce that it is time for all things to finish a hard day. The sun says goodbye and gives Mother Nature peace and tranquillity of the nightlife.
Tourists can hold camping activities, taking wedding photos or having memorable trips with friends and loved ones. Especially, Vong Canh hill always brings unforgettable moments for all visitors when they pay a visit here.
Some of the tourists may feel worried about the high season tours with crowded people and noise. However, the Vong Canh hill brings an entirely different atmosphere, which refreshes and calms people. Because of not quite popular tourist attraction, you hardly face hustling in a stream of people. Thus, this helps to keep the pure beauty and calmness of Vong Canh hill – symbolizing poetic Hue.
4. How Can You Get By Here?
Coming to Vong Canh hill is not difficult; you hire a motorcycle and use Google maps or ask residents if necessary. It takes around 20 minutes for you to go by motorbike from Hue City to Vong Canh Hill. Take notice that the road is relatively flat and easy to ride, and two sides of the road are lines of green pine trees, and the closer you pedal to the foot of the hill, the cooler and fresher air is. Conveniently, near the hill foot there is a small kiosk with service of taking care of motorbikes with the price of 5000 VND/ticket and also selling some kinds of drinks. Then you can walk and move to Vong Canh hill.
5. What Makes Vong Canh Hill Special?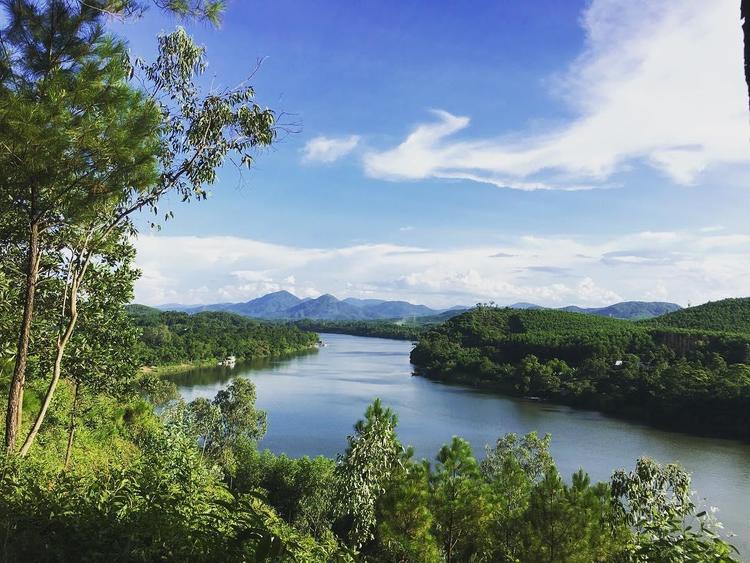 Grey roofs of temples and pagodas, royal tombs scattered along the road. Far away is contemplative Ngoc Tran mountain; ostensibly, the green of the mountain is shading off the colour of the horizon at dawn. Seemingly, you feel pleased in front of the paradise on earth, even if you are the prissiest. Standing in the transference of day and night, you feel so tiny, sorrows seem to fade with clouds, flow with the river. Someone said, "there is evidence that sunset is the end with its unique beauty".
Phuong Nguyen