Vietnam is considered as "paradise of street foods", particularly in Ho Chi Minh City (Saigon), which is loaded with exotic street food. Vietnamese stuffed bitter melon, eggplant and chili pepper recipe (khổ qua cà ớt) is created by Chinese people in Saigon. This dish includes multiple kinds of vegetables stuffed with fish and pork, fried and served with dipping sauce and a broth. More importantly, it has attracted most of the people for its reasonable price and great taste. To know how to make one of the most famous Vietnamese recipes, follow our directions below carefully to make it absolutely delicious. 
Stuffed Bitter Melon, Eggplant And Chili Pepper Recipe: Famous Food in Vietnam
I. What You Need To Prepare: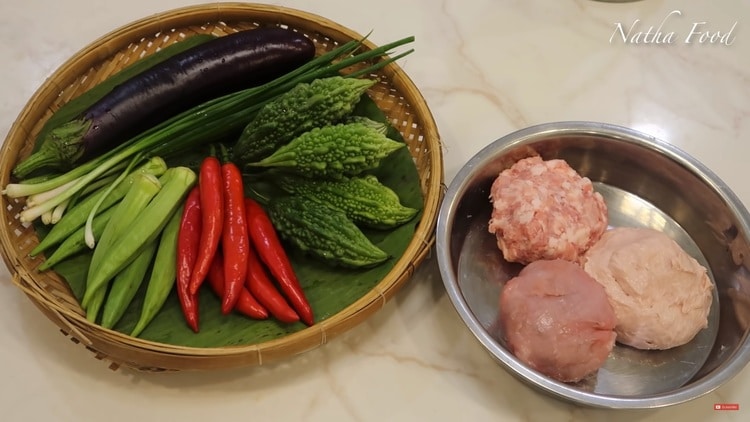 200g of ground pork

200g of raw Vietnamese ham

200g of

featherback fish

10-12g of dried stock fish (optional)

6 bitter melons

150g of eggplants

150g of tofu

6 okra fruits

6 cowhorn peppers

Green onions

Salt, sugar, MSG, fish sauce

Oyster sauce, soy sauce, chili sauce, sesame oil

Tapioca starch

10g of fried shallots
II. Process
Note: Store the ground pork, fish, and raw Vietnamese ham in a freezer for about an hour. This will make the meat soft and crispy.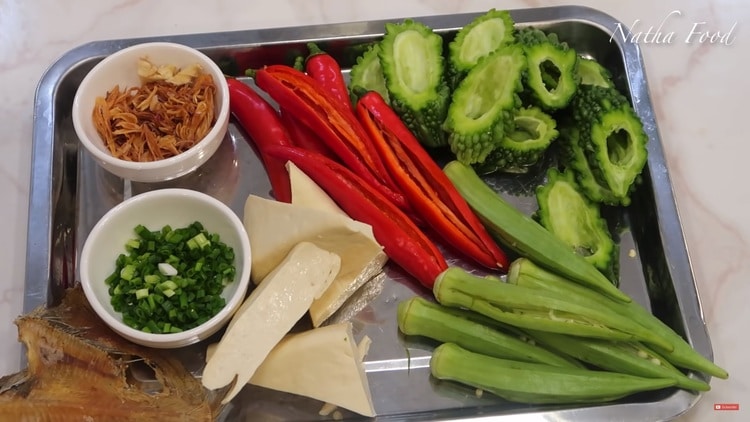 Cut the eggplant into rings and soak them in a basin of water mixed with one teaspoon of salt to prevent them from turning black. Remove the core and seeds the eggplant.

Cut the okra into half lengthways and remove their seeds. 

Use your hands to turn the horn pepper around. Cut it

in half lengthwise and remove all seeds. 

Cut the tofu into pieces and

carefully carve out the center of the tofu.

Slice the green onions.

Cut the bitter melon into 1cm to 1.5 cm chunks.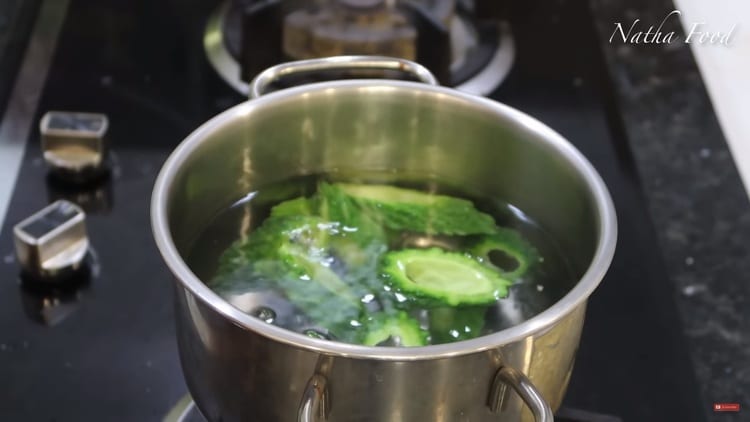 Boil the bitter melon chunks to reduce the bitterness. Put a pot of water on the stove and add 1 teaspoon of sugar to it. Cook until it reaches the boiling point and add the bitter melon and cook for 20 minutes until it is tender. Turn off the heat and soak the chunks in cold water.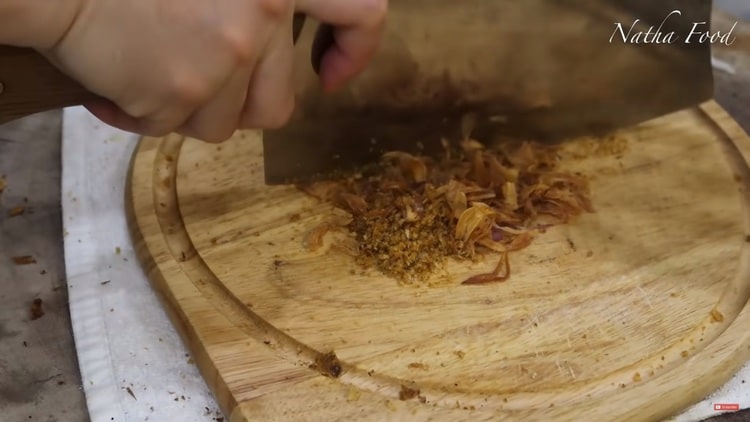 Carefully clean the dried stockfish and let it dry. Deep fry the fish until golden and crispy. After that, you can grind or mince it with 10g of fried shallots.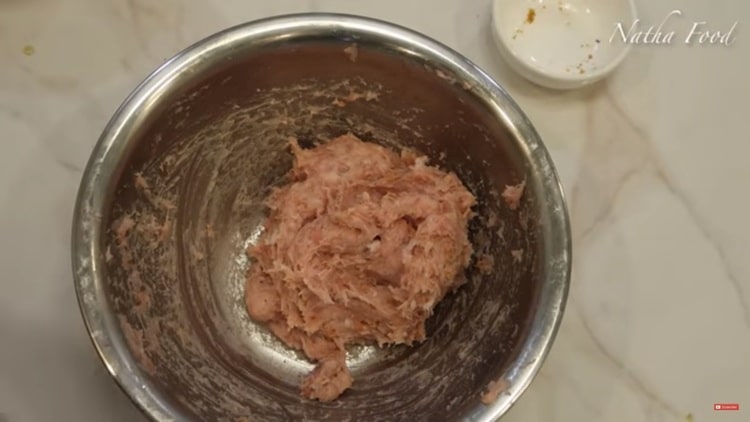 Dissolve 5g of salt, some MSG, 6g of fish sauce and 6g of hot water. 

Remove the featherback fish from the freezer and grind it. Mix the ground featherback and ground pork with the above mixture well. 

Add some ground pepper, minced stockfish, and chopped green onions and mix well. Then, mix in the raw Vietnamese ham.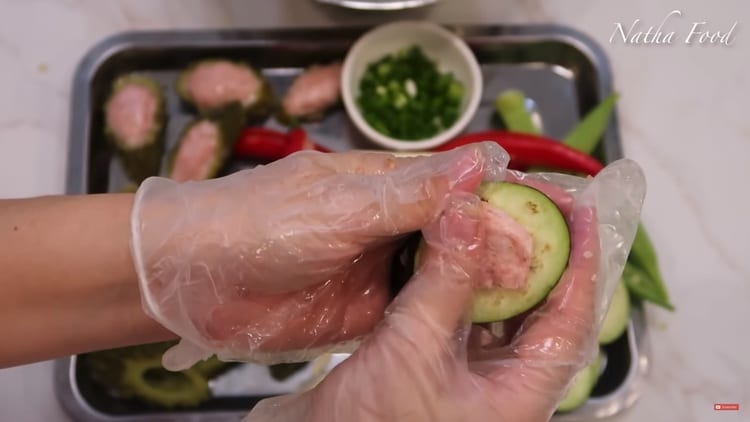 After combining all the filling ingredients with spices, stuff the bitter melon, horn pepper, okra, and tofu with the filling. Make sure to spread the meat evenly to prevent it from falling off while frying.

Put oil in a pan and heat it up. Deep fry the stuffed bitter melon, horn pepper, okra, and tofu until golden brown.
Note: Start cooking ingredients when the oil is hot. When the ingredients begin to turn golden, cook on high heat for 1 to 2 minutes, and then remove them to reduce oil absorption.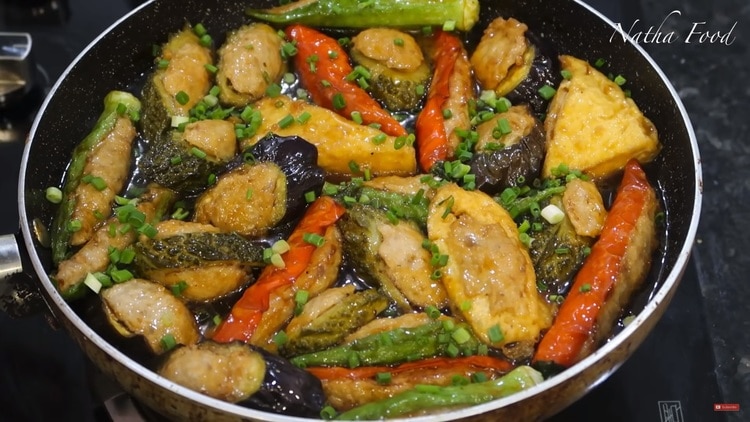 T make the sauce, dissolve 60g of oyster sauce, 60g of soy sauce, 20g of chili sauce, 5g of MSG, 20g of sugar, ¼ tablespoon of ground pepper in 300ml of water. 

Dissolve 10g of tapioca flour in 10g of water to make the sauce become more viscous.

Boil the sauce in a pan until it is melted completely. When it starts boiling, gradually pour the tapioca flour dissolved in water in it. Add the fried bitter melon, horn pepper, okra, and tofu to the pan and cook for several minutes until they are soaked in the sauce. 

Turn off the heat and add some minced green onions and oyster sauce.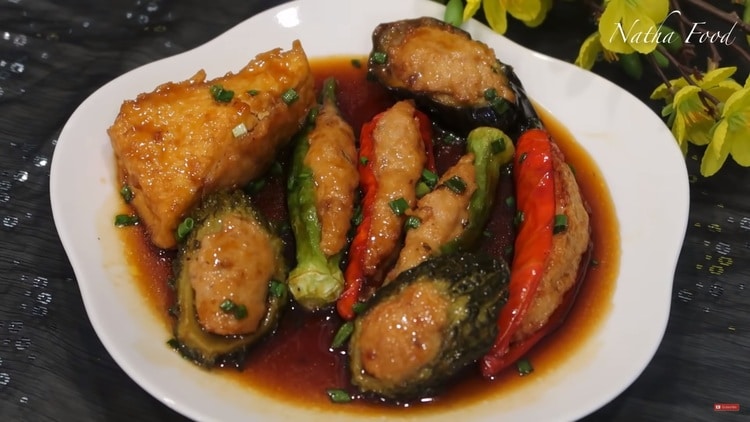 Put this

stuffed bitter melon, eggplant and chili pepper recipe

on a plate and serve with hot rice. 
View more other delicious Vietnamese dishes:
This dish seems to be more tasty when you use it with your family on the weekend. Moreover, It provides your family with various vitamins and minerals from the ingredients. How do you feel after following our directions? If you are interested in this stuffed bitter melon, eggplant and chili pepper recipe, let us know by commenting on the section below. 
By Mai Cao