Vietnamese beef shank salad recipe is a great mid-week family meal, which is full of flavor.  It has the right balance of salty, sour, sweet, and spicy tastes. This fragrant and fresh dish is perfect for a low-carb or light lunch or dinner. Plus, it is really simple to make and good for you. Enjoy!
Vietnamese Beef Shank Salad Recipe: Step-by-Step Instructions
I. Ingredients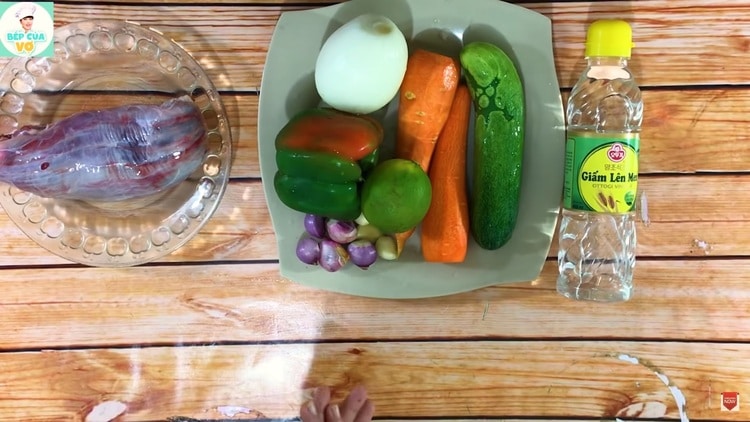 400g of beef heel muscle

Cucumbers

Two carrots

Lemons, garlic, shallots

One onion

Vinegar

Bell pepper

Broth mix

Ground pepper

Corn flour

Sugar

Roasted peanuts

Fish sauce

Fresh vegetables and herbs
II. Directions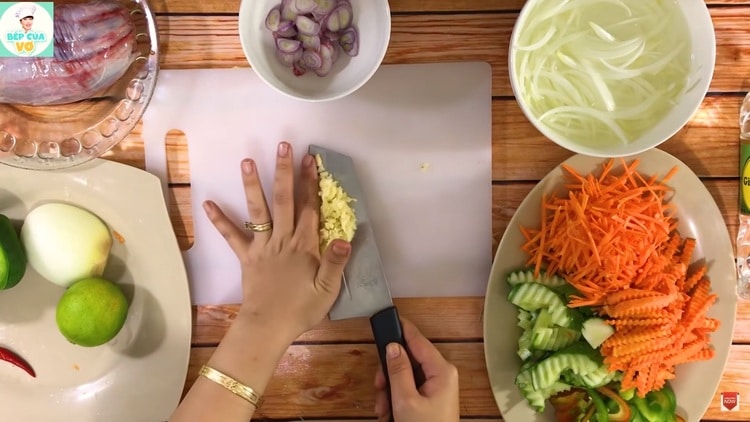 Slice the onion and soak them in a bowl of ice water. Peel the cucumber and bell pepper and cut into 2-3 cm pieces. Cut or shred the carrots into thin pieces.

Slice the shallots. Crush and mince the garlic.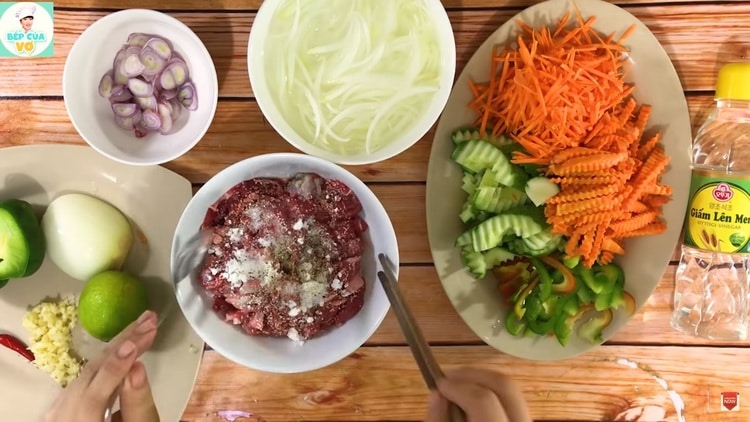 Cut the beef heel muscle into thin pieces. Mix these pieces with 1 tablespoon of broth mix, ground pepper, ½ tablespoon of corn flour, 1 tablespoon of sugar in a bowl and marinate for 10 to 15 minutes.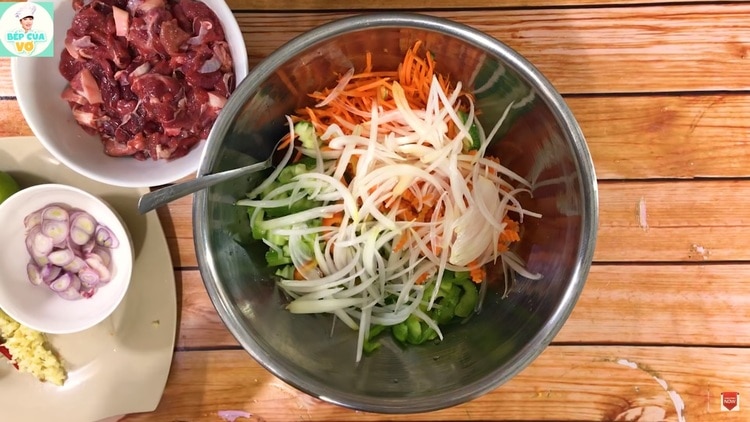 Put all of the ingredients, including carrots, cucumber, bell pepper, onion in a big bowl.

Add 4 tablespoons of vinegar, 1,5 tablespoon of sugar, 5 to 6 tablespoons of water to it and turn evenly. Leave it on for 30 minutes. After that, take them out and squeeze out the water.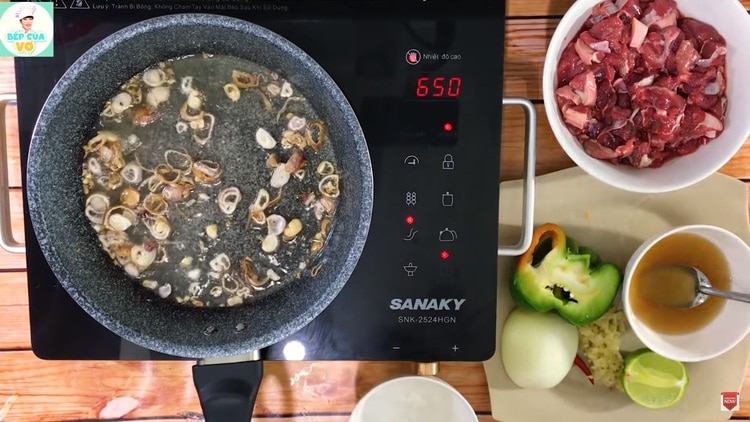 Heat some vegetable oil in a pan. When the oil starts boiling, you mix 1 tablespoon of corn flour with finely chopped shallots,  put in the pan, and sauté it. Once done, remove the onions from the oil and put it into a bowl.

Pour 2 tablespoons of the oil used to fry shallots in the beef and mix well for 10 minutes so that the beef will be softer.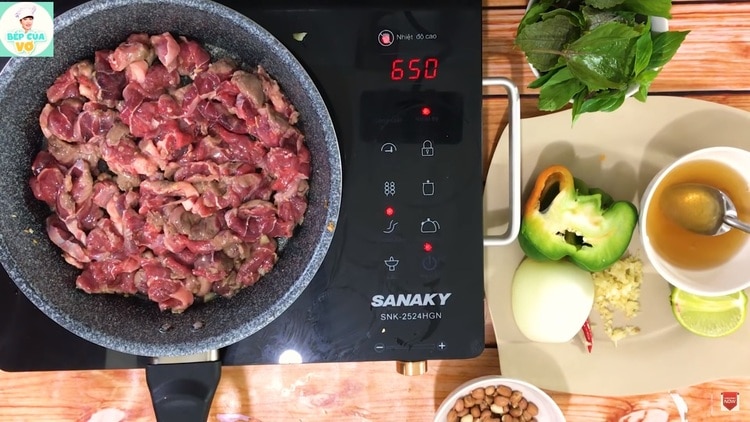 Heat a pan, add 3 tablespoons of vegetable oil, then sauté the garlic until fragrant. Add beef and stir-fry over a high-heat until medium-well.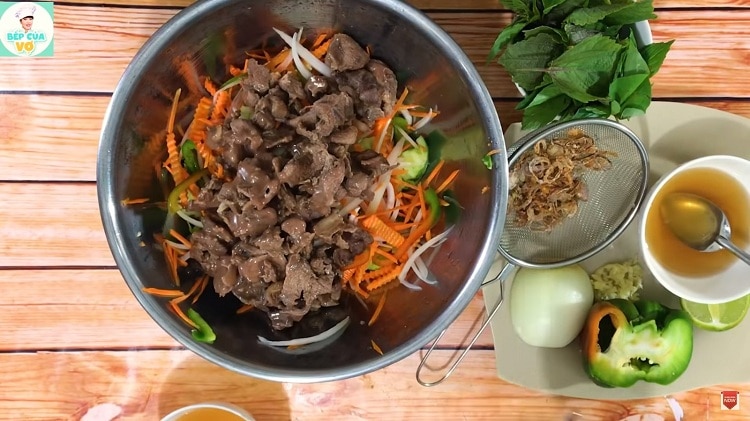 Combine the above vegetable mixture with the beef.

Dissolve two tablespoons of sugar, 3 tablespoons of fish sauce, and 2 tablespoons of lemon juice. Pour this liquid into the vegetable-beef mixture. Add some minced garlic, roasted peanuts, and herbs and mix everything well.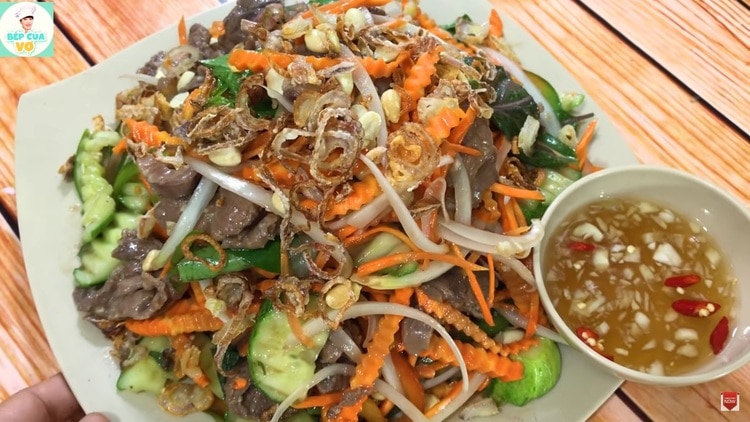 Put the salad on a plate, top with fried onion, and enjoy.
Read more:
We hope that you find this guide of making Vietnamese beef shank salad useful. Good luck! Visit our main Recipes page to learn more about other well-known Vietnamese recipes.
By Mai Cao