Are you planning to travel to our beautiful country, Vietnam? Want to explore the wilderness? If your answer is yes, then Vina.com would like to introduce to you May Rut Island – one of the most stunning uninhabited islands in Vietnam. This place has long been famous for its sea crystal clear and rare charming scenery. The island is ideal for snorkeling and exploring the wild nature of marine life. If you like the beach but love the wild, beautiful, and romantic places, you can think about this island and ready to go. You will feel sorry if not try to discover once in your life when coming to Phu Quoc.
May Rut Island – The True Gift Of Nature In Phu Quoc, Vietnam
I. What Is Special About May Rut Island?
Phu Quoc has long been famous for the wild beauty of the sea, the ocean. Plus, the beach is relatively unspoiled. The beach will be full of blue water color and white sand during alluvial sand. In Phu Quoc, the most unspoiled beautiful islands are May Rut and Mong Tay. Especially, May Rut Island is considered to be the most pristine and attracts many tourists because of the following reasons:
1. The Unique Natural Landscape Of This Island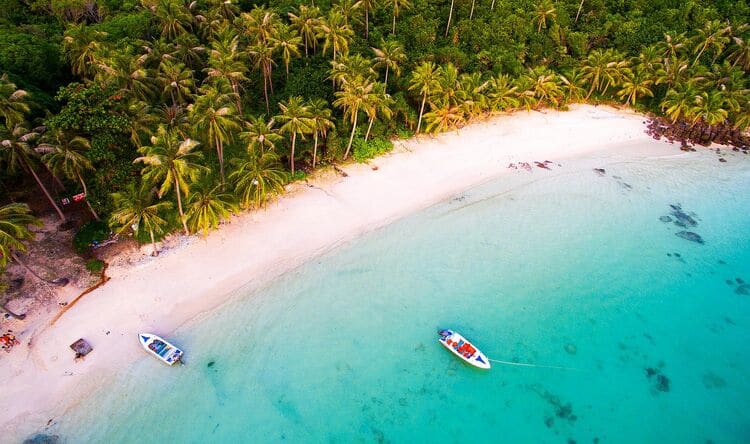 May Rut island is located in the south of Phu Quoc Island. This place is not affected too much by the human hand, so it is almost a wild, rustic island and also attracts the most visitors.
Here you can notice water scenery that combines pure water and exquisite landscapes which are formed by other natural features. The water is so clear and blue that it can see the bottom clearly. Visitors can enjoy swimming, fishing, and snorkeling. Of course, when coming to May Rut island, you will not be able to resist enjoying the clear, turquoise water here. 
For those who love photography, May Rut Island is a paradise of stunning images with white sandy background and blue sea. You can wake up early to take impressive photos of the dawn and a wonderful moment at sunset.
2. Thrilling Legends Of May Rut Island At Phu Quoc District
May Rut Island is also famous for its thrilling and fascinating stories that are told by Mrs Bay Yen. Every visitor often calls her by name, "God of the Island". 
The story has been started a long time ago since her family from Hon Chong (Kien Luong district, Phu Quoc island) crossed the sea to reach the island, set up tents, go fishing, catch snails, and pick raw forest fruits to live from hand to mouth.
Until recent years, this place has become more crowded because a lot of tourists come here by boat to discover the wonderful beauty of the island. And after returning, everyone kept sharing about the hospitality and the warmth of his spirit of the "God of the Island" family, so it is becoming more and more famous.
3. Fun Activities At May Rut Island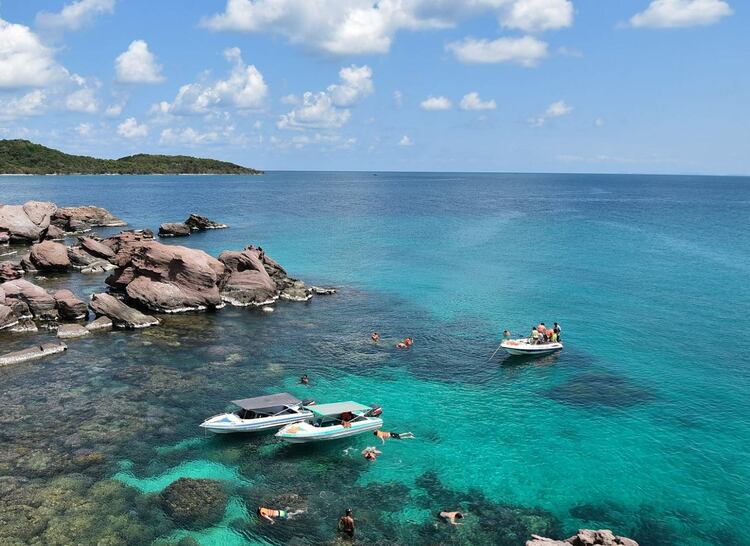 When traveling to Phu Quoc, most of the tourists want to experience fishing, snorkeling, and watching corals. Most people enjoy when visiting May Rut Island is diving and watching coral. More importantly, visitors will be immersed themselves in the enchanting space of the clear blue water and the peaceful atmosphere.
Because of the characteristic nature of Phu Quoc Island, the source of seafood is extremely abundant. Visitors to May Rut Island in Phu Quoc district are also very interested in diving to catch sea urchins (Cầu Gai or Nhum). Sea urchins are a great specialty of this island. Its appearance can make tourists fear because of its rough appearance and shining black. This dish, however, is full of vitamins and minerals, which are good for our health. 
The tools used to catch sea urchins and to dive for watching coral in May Rut Island are quite primitive. It is only an iron clip (1m length) that is used to pick up each sea urchin to the basket. Sea urchin after being caught, remove the spines, wash and cook immediately to keep its freshness. There are a few variations of cooking sea urchins, such as soup, steam, or raw salad, etc. The popular way of cooking it is grilling. You can also enjoy sautéed sea urchin, sea urchin soup, or sea urchin paste. 
4. The Land Of Human Love
Mrs Bay Yen is an extremely hospitable person. Tourists are always treated with delicious dishes full of the aftertaste of the sea. The first-time visitors probably don't know the "law" of this place; it is not to ask "how much" or other questions related to money. Mrs Yen said that she only cooks food to invite guests, not buying and selling. Thus, tourists who visit Mrs Yen's house send her some money to make a living on this deserted island.
II. What Time Should You Travel To May Rut Island?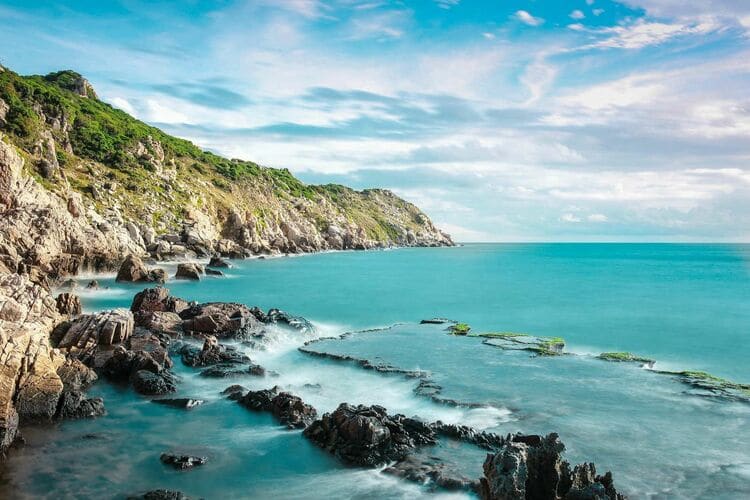 The ideal time for you to visit May Rut Island is in September to March of the lunar calendar every year when the weather is warm, sunny, not rainy, and calm sea.
However, according to the experience of traveling to the island, you should come here in early April or December every year. Remember to follow the weather forecast to avoid stormy days.
III. How To Get To May Rut Island
To get to the island from Ho Chi Minh City or Hanoi, you can go by bus, car or plane to Phu Quoc province and then drive to the port of An Thoi to take a speedboat to this place. At An Thoi port, there are many cruise ships here, please take the boat to the island and remember to negotiate the price.
For people in Ho Chi Minh City, take a passenger car to save money. You can choose Phuong Trang or Kumho to go to Ha Tien with prices ranging from 180 to 200,000 VND. After arriving at the Coach Station of Ha Tien, you go to Ha Tien pier by other cars. Here you can select the Ngoc Thanh or Superdong speed boat to the island.
It can be said that May Rut island is a very pristine yet extremely peaceful island in Phu Quoc, Vietnam. When you have a chance to go to Vietnam, don't forget to visit this island. Thanks for your reading!
By Mai Cao