Updated: 08/25/2019
Da Lat (Đà Lạt) is not only famous for its natural landscapes, but it also has many destinations attached to historical stories. And, Valley of Love (Thung lũng tình yêu) is one of the ideal destinations you should visit when you travel to Da Lat due to its beautiful scenes and love stories. In this article, Vina.com will show you some of the most important reasons why Valley of Love is considered as one of the indispensable destinations for tourists in Da Lat.
Valley Of Love – A Great Destination In Da Lat, Vietnam
1. How To Go to Valley Of Love In Da Lat
Located about 5 kilometers from the center of Da Lat city, the Valley of Love is at 7 Mai Anh Dao (Mai Anh Đào), Ward 8, Da Lat city, Lam Dong (Lâm Đồng) province. This destination attracts many domestic and foreign tourists every year.
To go to Valley of Love, tourists can travel to the center of Da Lat by plane, bus, or motorbike. After that, from Da Lat market, tourists go to Ho Xuan Huong (Hồ Xuân Hương), turn left and continue to go about 700 meters before turning to Dinh Tien Hoang (Đinh Tiên Hoàng) street. Then, tourists go straight to Phu Dong Thien Vuong (Phù Đổng Thiên Vương) street and Mai Anh Dao (Mai Anh Đào) street. After going about 300m, tourists can see the Valley of Love on the right.
2. What Is The Best Time To Visit Valley Of Love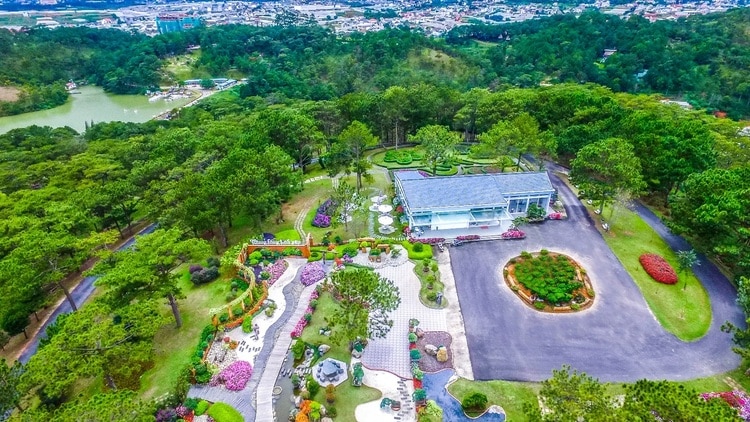 Da Lat is beautiful all year round and each time of the year has its own characteristics; so, you can choose a suitable time to travel to Da Lat. From February to April, Da Lat is shaded in the color of prunus cerasoides and purple flame flower. So, if you want to see the unique beauty of these flowers, this is the right time to travel to Da Lat. From May to August, the weather at this time is warmer than the rest of the months, so these months are the tourist season in Da Lat. From September to December, Da Lat is often foggy and cloudy, so people who like cloud can wake up early to enjoy dawn on the hillsides.
3. Where To Stay And What To Eat
When visiting the Valley of Love, there are many hotels and homestays for tourists can choose from. The foods in Da Lat are considered delicious and cheap. Some of the dishes visitors cannot ignore when coming to Da Lat are Hue beef noodle soup (phở bò Huế), Quang noodles (mỳ Quảng), Ba Hung fried rolls (nem nướng Bà Hùng), Phan Rang chicken rice (cơm gà Phan Rang), etc. When coming to the Valley of Love, you should try sipping a cup of fragrant coffee, breathing the fresh air, and enjoying the peaceful feeling here. It will surely be an unforgettable experience.
In terms of hotels, some highly- recommended hotels for tourists are Ladalat hotel, Rung Hoa (Rừng Hoa) hotel, Zen homestay, Lys 3 Villa, Thao Van (Thảo Vân) hotel, etc. Tourists can choose any hotel, villa, or homestay that suit their needs.
4. What Are Activities For Tourists To Do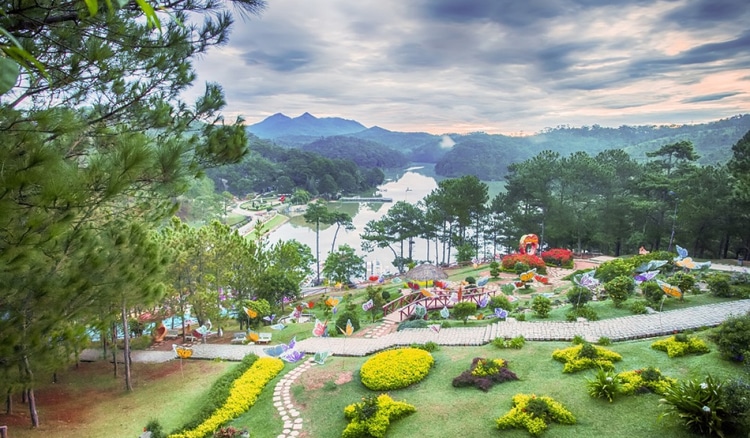 Opening hours of the Valley of Love in Da Lat are from 7:30 to 17:00 all days of the week. The ticket prices for the entrance of the Valley of Love are 100,000 VND/adult and 50,000 VND/ child. The price includes the admission ticket, ticket for train or tram, and ticket for ducking. With a total area of ​​up to 140 ha, the Valley of Love is an ideal area for tourists to choose as a campsite and organize team-building activities.
One of the best attractions in the Valley of Love is Vong Canh (Vọng Cảnh) Hill. There are two ways to go up the hill. You can follow the trail or follow the built-in steps. At the blooming Mimosa flower season, this hill is the best place to see these beautiful flowers. On the hill, there is also Tieu Son Lam (Tiểu Sơn Lâm) garden with the giant trees. Surrounding the Valley of Love is Da Thien (Đa Thiện) lake and the green pine forest all year round. Apart from Vong Canh Hill, visitors can explore other areas by walking along the lake or through pine forests. Visitors can also visit the Valley of Love by horse-drawn carriage, jeep or tram.
Currently, the Valley of Love has some interesting games that appeal to young people and children. People who love adventure activities can participate in thrilling games such as swinging the rope, balancing on cables, paint shooting, etc. Each game is a new experience for visitors who arrive in the Valley of Love.
For couples, exploring Da Thien Lake on swan boats is ideal. Sitting on the swan boats, visitors can comfortably chat and admire the beautiful scenery. Also, visitors do not forget to visit the banyan tree or "love – fortune tree." Many tourists come here to buy pink and crimson silk strips and carefully hang their wishes on the tree.
Apart from these locations, the Valley of Love also has other beautiful scenes such as love locks, flower springs, etc. There are many stone benches for visitors to take a rest after the hours of walking. On the occasion of Valentine's Day, the tourist area often builds lovely heart models for visitors to check in.
5. Notes When Visiting Valley Of Love In Da Lat
In the Valley of Love, there are many slopes and lakes; so, tourists should be careful and pay attention to the children. In the rainy season, you should not wear high heels or soft slippers in order to avoid slipping. Besides, there are many beautiful miniatures like horses or old cars in the tourist area. If you take photos, you will lose money. The weather is not too hot. However, visitors have to apply sunscreen, wear a hat and jacket when visiting the Valley of Love. When playing thrilling games, remember to equip your items and ensure safety for yourself. Also, you should not play and take pictures when riding a swan boat.
Actually, the Valley of Love has many beautiful scenes with romantic love stories. This is a great destination that tourists, especially couples, should not skip when coming to Da Lat. If you have any ideas about this place, you can share them with us by leaving your comments below.