Thai Vi Temple By Vina.com
Situated in Van Lam (Văn Lâm) village, Ninh Hai (Ninh Hải) commune, Hoa Lu (Hoa Lư) district, Ninh Binh (Ninh Bình) province, Vietnam (Việt Nam),Thai Vi (Thái Vi) temple inside Tam Coc – Bich Dong (Tam Cốc – Bích Động) complex is well-known for its unique special architectural features and the tranquil romantic scenery. This worships Kings under the Tran Dynasty such as King Tran Thai Tong (Trần Thái Tông), King Tran Nhan Tong (Trần Nhân Tông), King Tran Thanh Tong (Trần Thánh Tông), King Tran Anh Tong (Trần Anh Tông) and Generals like Tran Quang Khai (Trần Quang Khải), Tran Hung Dao (Trần Hưng Đạo), and Queen Thuan Thien (Thuận Thiên). Visiting here, tourists will have the great chance to recall memories of the Tran Dynasty and admire the temple's architecture, folklore and special art in Thai Vi. That is definitely unforgettable experiences for tourists who find themselves being lost in the tranquil land. It is not surprising when Thai Vi temple becomes one of the most famous cultural attractions in Vietnamese and each year it welcomes numerous tourists to visit.
How To Get To Thai Vi Temple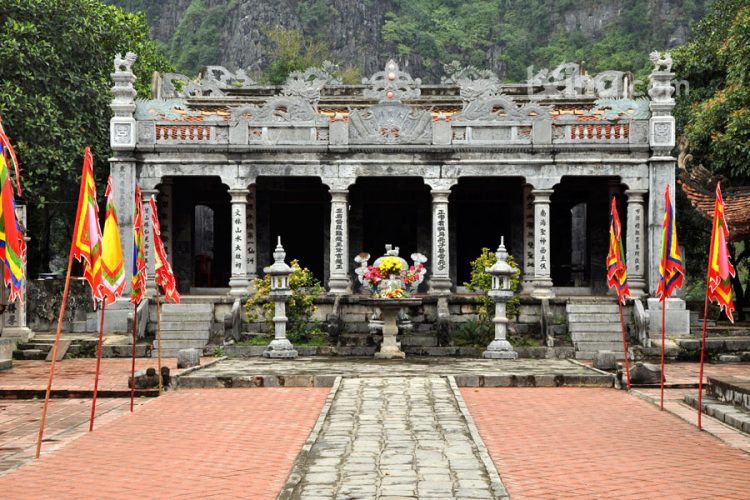 Thai Vi Temple By Vina.com
Thai Vi temple lies inside the Tam Coc – Bich Dong complex; therefore, it is easy to walk from Tam Coc to Thai Vi temple that is just 1.5km away. By walking, you will have great opportunities to admire the sightseeing and enjoy the fresh air on the road to Thai Vi temple. The alternative transportation for you to reach this temple from Tam Coc is bike or motorbike. To rent, you just need to ask at your hotels or accommodation nearby. You can also ride a motorbike from Ninh Binh center to Thai Vi temple.
Depending on the starting point and where you live, you can choose the suitable transportation to get to Thai Vi Temple. For example, from Hanoi, you can go to Ninh Binh by train, bus or car. After getting there, use your own transportation.
Furthermore, there are many tours that take tourists to Ninh Binh's attractions including the Thai Vi temple in the itinerary. You just need to choose the suitable tour that fits your budget and your time.
Things To See And Do In Thai Vi Temple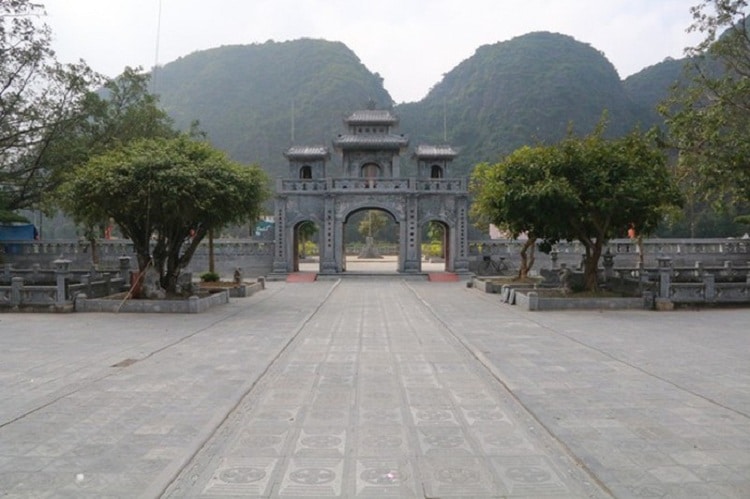 Source: baomoi
Thai Vi temple Tam Coc has the historical cultural values and unique architecture with the main temple built of stone and steeple built in Ironwood. When building a Thai Vi temple, workers used monolithic greenstone to make worshiping items, incensory, and altars, creating the unique features and making the solid and magnificent posture in Thai Vi temple. That becomes one of the impressive points of Thai Vi temple Tam Coc Ninh Binh that allure numerous tourists around the world.
From the two-story steeple, looking in the opposite direction, you can see the 4-side stele tower built in 1926. Both sides of this tower have 3 steles that show you the recorded information about the years of repairing and restoring. It also shows the names of people who contributed to the temple construction. Entering the Thai Vi temple, you will see the 40 square meter Dragon courtyard in greenstones with 2 blocks of Vong houses located on both sides. Stepping further, tourists will be astonished at the massive Ngu Dai Mon – 5 Great Entrance with 6 rows of parallel stone pillars in which the art of dragons overlooking the temple's chancel was carved.
The stone rafts on the patios are also carved 2 dragons. Inside Thai Vi temple are 3 compartments with two parallel row of stone columns including 4 pillars carved dragons. Stepping foot furthermore inside, you discover 5 main compartments with 8 stone pillars carved beautifully and sophisticatedly. All columns in Thai Vi are made of greenstones and carved smoothly and elegantly.
The statues of King Tran Thai Tong, Tran Thanh Tong, and Queen Thuan Thien are placed in the sanctuary. They also have the status of Sudhana that stands in both sides of the four Kings of the Tran Dynasty.
Exploring the unique architecture and art of Thai Vi temple is the best thing to do when you have the chance to visit Ninh Binh. Besides, the festival atmosphere and beautiful natural scenery also attract tourists once visiting Thai Vi temple.
When Is The Best Time For You To Discover Thai Vi Temple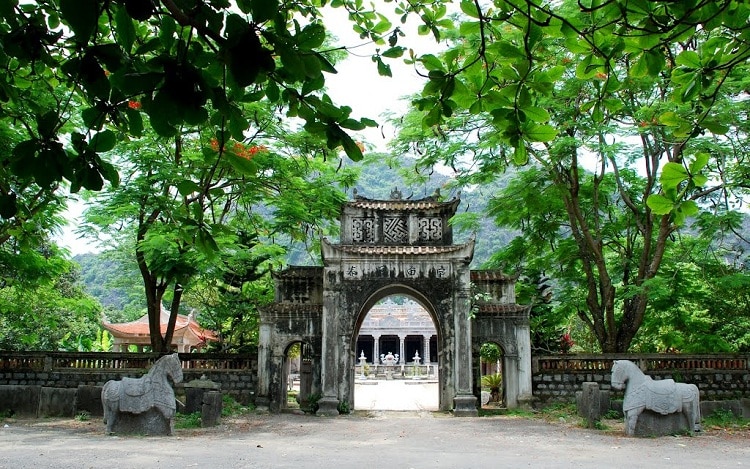 Source: mapio

You should visit Thai Vi temple Ninh Binh at any time within the year. That depends on your schedule and time. However, according to the locals, the best time to discover Thai Vi temple is when it celebrates its unique festival. Thai Vi temple Festival is from 14th to 17th March in the lunar calendar. During this time, people commemorate the merits of the first four Kings under the Tran Dynasty. Tourists will have a great chance to take part in a number of folk games such as a dragon dance, lion dance, wrestling, human chess or boat racing. Immersing in the festival atmosphere is certainly unforgettable experiences when tourists come to the temple on this occasion.
Accommodations Near Thai Vi Temple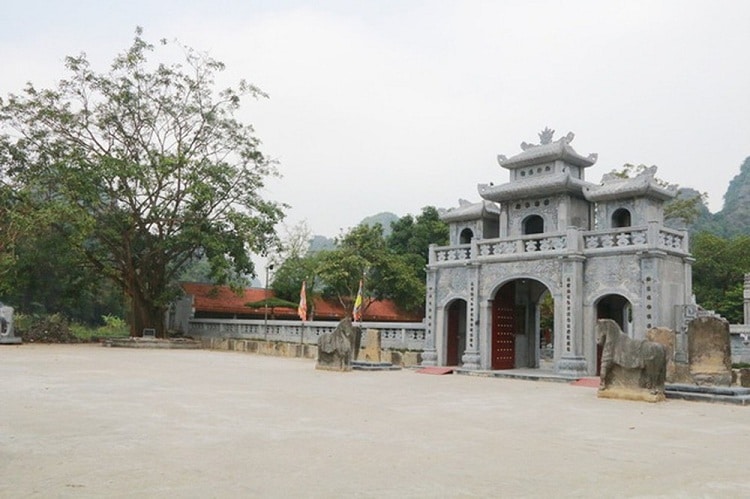 Source: baomoi
It is impossible not to visit Thai Vi temple when you explore Tam Coc Bich Dong. And it is also great to combine Thai Vi temple with Tam Coc and Bich Dong pagoda in your tour schedule. There is a good system of homestays and hotels for you to stay overnight.
For example, the Chez Loan Hotel that is just 0.7km away from Thai Vi temple. Located in Dam Khe (Đam Khê) village, Ninh Hai, Hoa Lu, Ninh Binh, this 3-star hotel features 25 rooms, free WiFi, LCD TVs, and balconies. You just need a 10-minute drive to reach this hotel from Thai Vi temple. The restaurant here can serve local foods that are available in breakfast, lunch, and dinner.
The second choice is Amira Homestay that is located in Van Lam village, Ninh Hai, Hoa Lu, Ninh Binh. At this homestay, you will be 2.2km from Thai Vi temple. This hotel offers free breakfast that serves local cuisine, free self-parking, and a restaurant. In this hotel, you can enjoy bike rental services.
Also in Van Lam village, Ninh Hai commune, Ninh Binh is Tam Coc Bungalow. From this hotel, it will take a 15-minute drive to Thai Vi temple.
There are other accommodations near Thai Vi with good quality, great services, clean rooms, and convenience such as Tam Coc Serene Bungalow, Tam Villa, Tam Coc Riverside Homestay, and Tam Coc Golden Rice, etc.
Most hotels near Thai Vi temple will be not higher than AU&18 per night.
Specialties In Tam Coc – Bich Dong Complex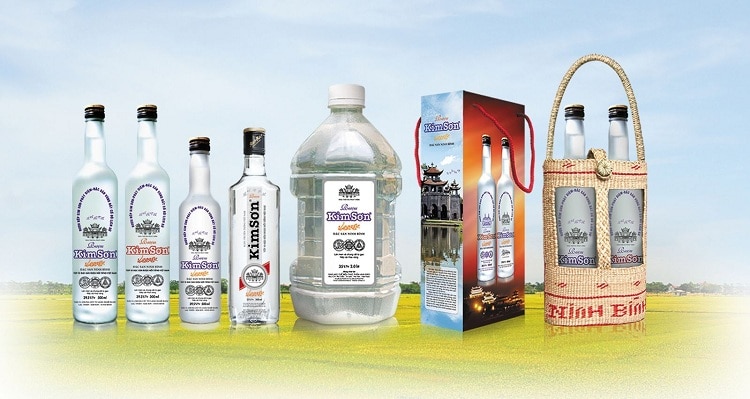 Source: opentour
There are a number of specialties you should try when you have time to visit Ninh Binh. The scorched rice is not a traditional food in Ninh Binh; however, it is developed well because it shows the ingenuity of the human hand in making this dish.
Ninh Binh goat meat is low fat and has appealing aromatic fragrance. This food is often eaten with some raw materials and other Ninh Binh specialties such as vegetables on the mountain, Nho Quan liquor, Kim Son (Kim Sơn) liquor, and Ninh Binh scorched rice. You can enjoy these in many famous restaurants near Thai Vi temple such as Minh Toan (Minh Toàn) Restaurant Father Cooking, Gia Minh Bear Garden, Thu Toan (Thu Toàn) Restaurant, Spice Garden Tam Coc Restaurant, etc.
Now you all know the complete travel guide before going Thai Vi temple. I hope that you can find this information useful. If you have any questions to ask, please raise your hands by leaving your questions below. We will answer them as soon as we can. To know more about Vietnam travel, visit our Vina homepage.