Visiting Hue, tourists can admire the beauty of the ancient capital with the huge architectural monument complex and discover poetic landscapes of a rural area or gorgeous beaches. Yet, do not miss a chance to try famous cuisine and explore the traditional craft in Chuồn Village, which will promise to bring a great experience for you!
Location:
Chuồn village is about 7km far from Hue city along the new road. Tourists have to cross Vy Da Bridge, then go through new towns, the scenery of Phu An ward appears with the enormous green rice fields running along villages, you will get to Chuồn Village. Here, you can have a chance to explore Chuồn lagoon, a famous lagoon with rustic and tranquil landscapes.
Local people's life:
Chuon village is an ideal attraction for tourists to explore and discover traditional crafts which have existed for many decades. Coming to this place, tourists can get the eagerness to learn about methods and taste cuisines and drink, which brings truly unforgettable experiences!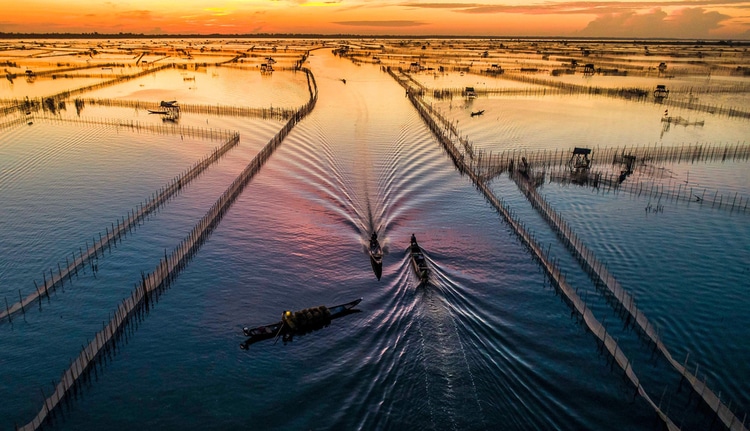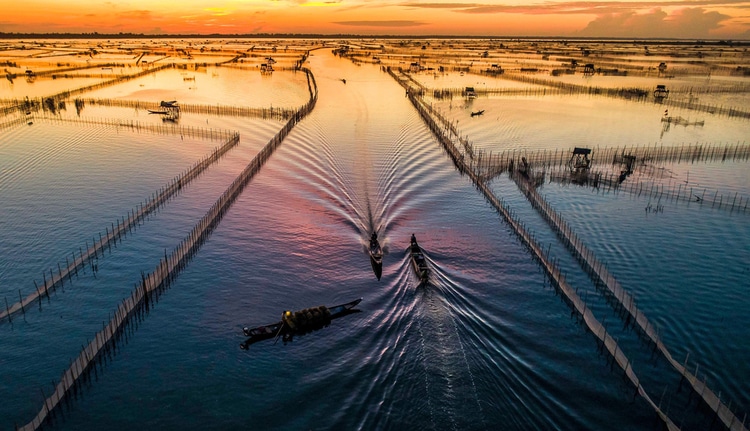 Let's Explore The Craft Village
1. Making "liễn-trướng":
"Trướng – liễn" of Chuon village is a kind of ornamental items for house decoration during Tet holiday of traditional Hue villages and the central region. Products are just sold at the end of the year; local people start making this craft after Winter-Spring harvest. In the past century, "Trướng – liễn" paper of Chuon village was printed in Poonah paper manufactured by Doc So village or the more opulent kind was printed in scarlet paper beading bronze gold of Chinese people. When newspapers became more popular, "Trướng – liễn" was written in old newspapers. Those papers were dyed, applied with many coats and cut according to suitable sizes in principle: "y môn" hung in horizontal, "trướng- liễn" hung in vertical. The background colour follows the traditional rule "lòng điều, kế lục, chỉ vàng"; then is printed with decoration patterns and words.
"Liễn" of Chuon village consists of two main kinds: "liễn bông" – a set of 4 pictures printed according to "four flower species" picture: "apricot-orchid-daisy-bamboo flower", and "liễn chữ" – a set of three pictures: a horizontal lacquered board (đại tự) with "Phúc, Lộc or Thọ" stylized words and two "liễn giấy" in two sides.
The horizontal lacquered board was printed upwards and drawn with the eight fairies or the four holy animals in blue or golden color. The blue edge was added and decorated in "bát biểu cổ đồ" style (include eight precious things in Buddhism's concepts), then printed in strings.
Besides, "y môn" are hung in the horizon as the front or back curtain for the altar. The pattern to print is "lưỡng long triều nguyệt" (two dragons flanking a moon) as fabric "y môn", and divides "y môn" into three parts of decoration.
Depending on the demand, customers can choose to buy different parallel sentences with the content expressing wishes, happiness, wealth, morals. Today, in modern life, people rarely use these materials, but tend to buy wooden sculptured "liễn đối" or embroidered "y môn". Therefore, the craft in Chuon Village nearly disappears, and just some households maintain this craft to meet the demand for decorating altars simply.
2. Brewing wine:
Wine of Chuon village has remained for centuries and was ranked as the first alcohol in the ancient imperial capital. Visiting Hue, tourists will be feasted with this kind of wine. It is hard to explain why the wine of Chuon village has a unique taste and is distinguished from a variety of traditional wine in Hue. It is said that due to soil and topography with many lakes, ponds and lagoons, the reputation of the wine is well-merited.
Thanks to the elements such as rice, ferment, water source and distilling technique for wine production, wine of Chuon village is bent with the flavour of rice fields in Chuon village and huge lagoons along with winemakers' heart and feelings. Hue people wish to return to their homeland to drink rice wine with an exceptional taste. Wine of Chuon village sticks to local people's daily life and plays a vital role in Tet holidays.
Chuon village now has about 300 local people to specialize in wine brewery with more than 100 wine ovens. The atmosphere in hamlet is not quiet; the wine smell wafts in front of the alley. Overseeing the kilns, tourists realize that to have a perfect haul of wine; local people have to make great efforts, work hard, also put their heart in brewing wine from generations to generations. It is such a way to preserve the "brand name" of the village!
Let's Taste A Special Dish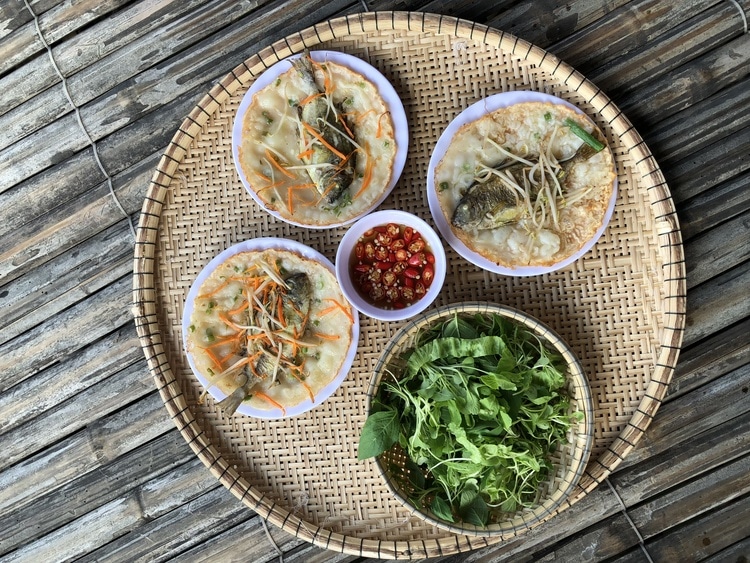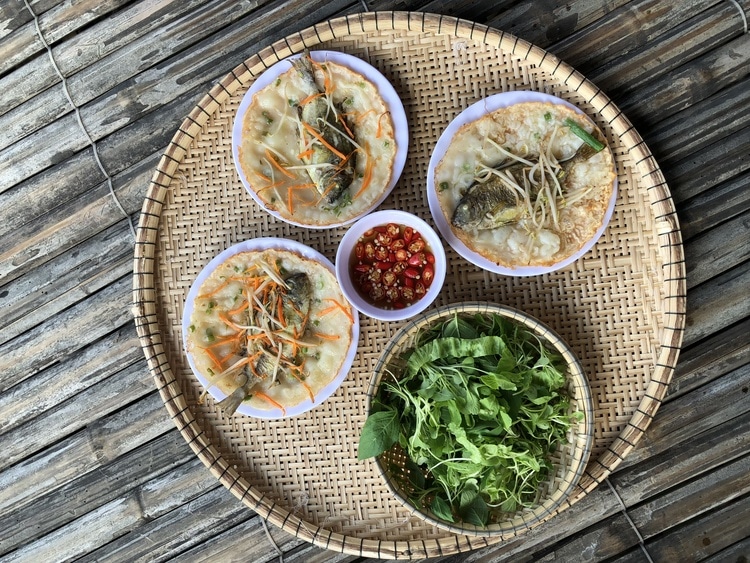 "Bánh khoái cá kình" (kind of rice cake with a particular fish in Chuon lagoon) is a unique cuisine in Chuon village. Once tourists have a chance to taste this dish, you will be allured by its strange but distinctive taste. The way to make this cake is effortless but extraordinary because tourists can choose and buy raw fish and shrimps in the market near the place they make cakes; then bring them to cake makers and tell them to make "bánh khoái cá kình" with the price 2000-3000 vnd/cake. After that, you will have "bánh khoái cá kình" and taste it with sour-sweet fish sauce. The freshness of the fish and shrimps combining with fish sauce and rice flour can make tourists addicted as its name "bánh khoái". "Khoái" sounds the feeling of happiness and satisfaction when you eat or taste something good.
Let's Discover Chuon Lagoon 
From April to August, Chuon Lagoon is one of the most attractive destinations for tourists in Hue. Not only does Chuon Lagoon contain the poetic landscapes and beautiful moments from dawn to dust, but it also is eager tourists' curiousness to strange huts floating on the water surface. It is a refreshingly different approach to this lagoon because you will immerse yourselves in a rustic and simple life full of vitality.
In the early morning, the market in front of the communal house opens with a variety of vegetables, fruits and becomes bustling with selling and buying of local people before they come to work in the farm. Chuon Lagoon is traditionally famed for many fish species such as "cá ông", "cá mú", "cá kình". Among all of them, "cá kình" is considered as the best material for making "bánh khoái cá kình" alluring to tourists when they set foot on Chuon village.
It will be a waste of time if you spend time going around Chuon village and its lagoon. Tourists can gain wonderful moments when they come here and feel a strange but rustic life here. You are the person wishing to both seek a beautiful place and learn about the traditions, so Chuon village is eminently suitable for you – an adventurous fellow!
By Phuong Khanh