Among the largest freshwater lagoons in lagoon systems of Southeast Asia, Cau Hai Lagoon brings its beauty of rustic and simple life. Besides, the lagoon of Poetic Hue also allures tourists when they come to Hue on a beautiful day.
Location:
Lying on the southeast of Hue, about 40km, Cau Hai Lagoon belongs to the freshwater lagoon system in the Southeast Asian region. The route from the centre of Hue city to Cau Hai lagoon is not hard for you to ride. You need to ride the route Hue–Da Nang along 1A National road, then arrive Phu Loc district, look in the left, you will see Cau Hai lagoon, and it is about 8km to reach 49B national road, and you have to turn left in Tu Hien estuary.
It is such a difficult description to praise because it is beyond aesthetic standards. In those kinds of beauty, Cau Hai Lagoon is renowned for the gift of Mother Nature giving to Hue homeland. Photographers capture the beauty of life and nature as masterpieces for the next generations. However, these shots of pristine landscapes and rustic life cannot show all the unique, tremendous and magnificent charm of this lagoon – your naked eyes contemplate it.
With the area of 11,2000 hectares, Tu Hien estuary through Cau Hai to flow into the sea. This lagoon gets water from most of the rivers in Thua Thien Hue province, so the lagoon contains freshwater but changes into brackish water in the dry season. 
Beauty Of Cau Hai Lagoon: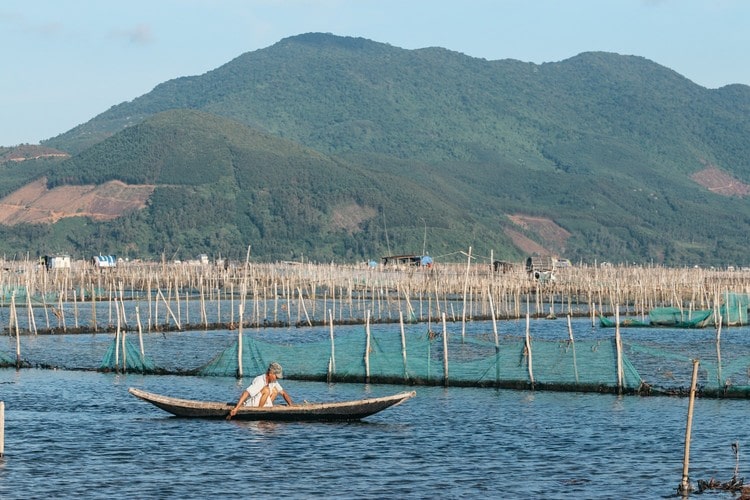 Cau Hai lagoon is as vast as the sea and is beautified with small islands as the signal calling Tu Hien estuary to open the path for water pouring into the sea. Far away are Bach Ma mountain hidden in the vaporous clouds of mist, and Linh Thai mount, Tuy Van Mount appears with the shade of Dieu Ngu Tower of Thanh Duyen pagoda. 
Thuy Tu lagoon which is as quiet as the river in summer interconnects from Cau Hai lagoon to the north and curves through Tam Giang lagoon. Here, it can flow into deep blue freshwater of Huong river toward old Hue city. 
In different moments, Cau Hai treasures distinctive beauty. In the early morning, Cau Hai lagoon greets the sunrise with sunlight like forecasting rain, which dyes red the corner of the horizon as an Elysian field. At noon, it is time for Cau Hai to show its magnificent beauty with fresh and cool water doubled with the sunny sky. How is about the afternoon? You can immerse yourselves into the tranquil landscapes and feel calm and peaceful in mind. Afternoon in Cau Hai lagoon resembles offshore sea. Local fishermen bring back their fish baskets after catching in the lagoon. The harmonious picture of humans and landscapes is such a beautiful and simple life. Nothing is comparable to sipping on a drink while watching people spreading the nets and contemplating a beautiful sunset.
Sightseeing  In Cau Hai Lagoon: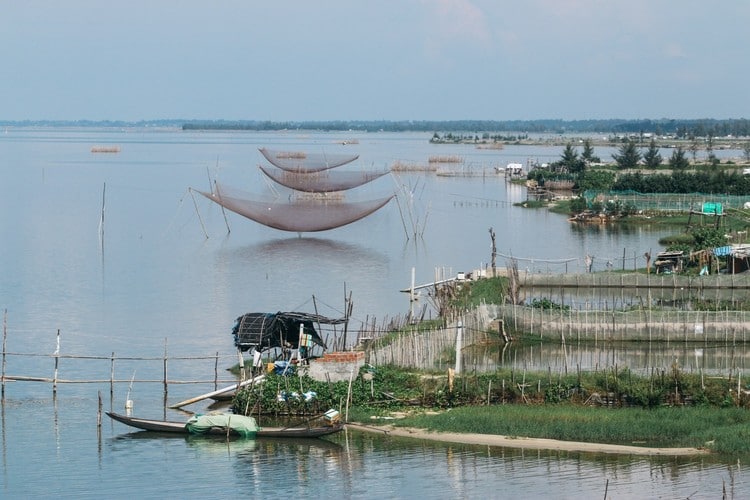 Landing on Cau Hai lagoon, you will see eye-catching but tremendous views. Remember to carry your camera to capture impressive shots. Roaming around the lagoon, tourists can experience some different fishing methods and enjoy the delicious taste of unique brackish water fish. Thank to the advantaged location, Cau Hai Lagoon treasures the variety of animal species such as storks, birds and also is the home of a small fishing village for earning livelihoods, which can make ecologists curious and keen on their interest. Enjoy striding for bare feet in beautiful sandy shores while taking in the breathtaking sunrise bears a wonderful experience for tourists. You can also find a balance between pristine charm and activities such as sightseeing and roaming by boats. Moreover, tourists can see such iconic scenes as farmers planting rice at sunset, fishing nets spreading into the air and falling atop the lagoon's waters if they go in the rice-growing period. 
Besides, Tu Hien estuary, Da Bac, Cau Hai are considered the ideal backgrounds for tourists to catch the most beautiful moment in the early morning, in the sunset. The most unforgettable moments can be beautiful shots of children playing in a river; a woman collecting water lilies; a fisherman with his nets. 
In particular, Cau Hai lagoon is famous for its tranquil beauty and exotic coral species. If you have a chance to travel to this place, try some special seafood dishes: shrimp, crab, eel.
Transportation:
Tourists can choose several vehicles for moving such as motorbike, car or even bus. However, the most recommended one is going by car because it is much more comfortable and convenient for you to travel and also safer than other vehicles. Let's take a trip to have a romantic getaway to Cau Hai Lagoon to escape the bustling cities and tiredness of work. Inevitably, a trip to dreamland is more enticing than what it would be like to own private life with hectic routines and tedious jobs.
By Minh Phuong