Canh Duong is known as the most charming and alluring beach in Thua Thien Hue. With photo-taking and food must-try opportunities in this famous beach, tourists can gain an unforgettable experience for themselves.
Location
Canh Duong is among the beautiful and alluring beaches in Hue and is trapped between the Western and Eastern of Chan May mountain. From Canh Duong, it is about 60 km to reach Hue city. Being remarkable with the arc shape coupled with the size of  8 km long, and 200m wide,  Canh Duong creates a natural landscape with charming beauty, which helps it attract the enormous amount of tourists every year.
Reasons To Come Here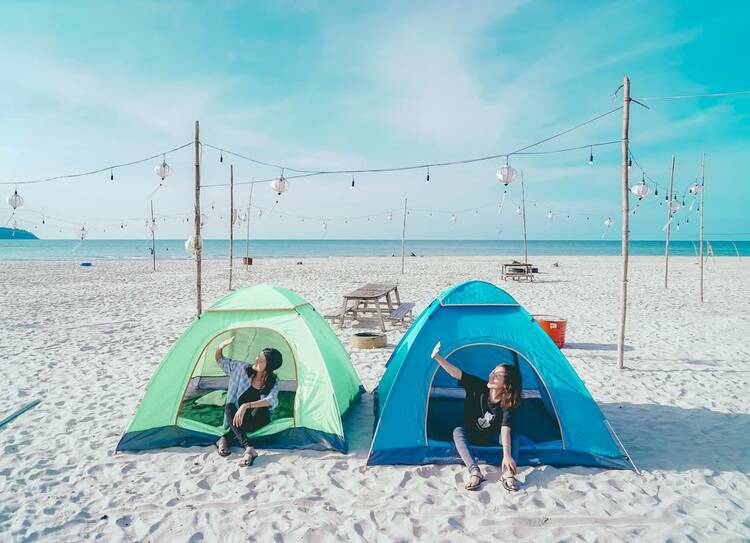 Beaches stretch beyond the horizon with the characteristic arc-shaped figure, the gradual slope with the turquoise blue water creates the natural beauty of the beach. Moreover, Canh Duong is convenient to organize all kinds of activities combined with seawater because of unchanging beautiful scenery and windless surrounding.
You come to the place, you will immerse yourself in the alluring and charming beauty of nature. Canh Duong beach will offer you a private hideaway where tranquility and charm are embedded in the natural landscapes. With the uniquely wild landscape embraced by the sea on both sides, this place will captivate your heart with feeling calm and relieved in the cool air from green coconut trees and the stunning views from dusk to dawn. You can be allured by the picturesque beauty of the place.
Activities

Canh Duong has the gradually sloping beach, white and fine sand, transparent and limpid sea water and fairly windless. With a lot of locations such as bars, restaurants, enjoyable places for kids and adequate facilities for camping, Canh Duong beach camp is ideal for all activities of tourism and sports. It is such an unforgettable experience for tourists, especially young people. Tourists can hold entertaining activities such as camping on the beach, playing games, camping fire, outside barbeque and even using torches to catch "cong" (a kind of crabs) at night.
Canh Duong Beach is regarded to have the most beautiful backdrop of mountains, namely Western Chan May and Eastern Chan May. So tourists can leisurely capture amazing pictures of wild scenery.
Arriving Canh Duong, you can have a chance to experience fishers' s life. Local people's livelihoods largely depend on fishing in the lagoon, so in the morning fishing boats become busier in the shore and fishers come back with a big haul of fish after a hard working night. Canh Duong village is attractive to tourists with plain beauty and people's hospitality, so you should not ignore to explore this place. It will be fascinating if you rent a bike and take a trip to this village because the centrality of nature and green space can be the bliss of one's mind.
Transport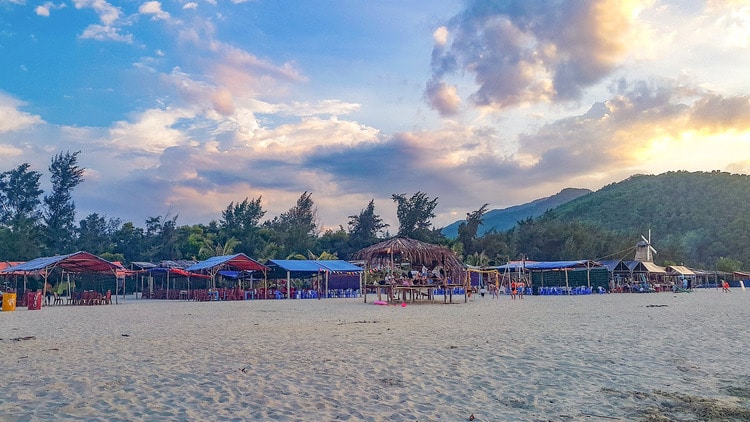 You move from Da Nang or Hue, you should go by motorbike, which creates more experiences and helps you more active while traveling. The route is quite simple, you ride along 1A road according to the direction Hue – Da Nang or in the opposite Da Nang – Hue. When seeing the post "CHỐT KIỂM DỊCH ĐỘNG VẬT & CẢNG CHÂN MÂY", you go straight on about 100m, then turn left if you move from Hue and turn right if you drive from Da Nang. After that, you ride extra 3 km, you will see the board Cảnh Dương Beach Camp on the left. Canh Duong beach camp is about 1 km far. 
Services
Canh Duong beach camp food is famed for specialities of seafood. You can try different kinds of fish, squids, snails and crabs. Especially, you can be served with other foods in different sets of menu if you want to eat at lunch. The price of taking care of motorbikes is free for tourists using services at Canh Duong beach camp. Canh Duong beach camp is filled with all accommodations for camping such as stoves, tents, so you can leisurely enjoy your trip here.
By Minh Phuong