Tam Giang lagoon, the largest brackish water lagoon in Southeast Asia, draws tourists' attraction by its pristine beauty and rustic life of fishers. Moreover, it is such a romantic getaway for tourists to travel one of the old fishing villages in this lagoon – Ngu My Thanh.
Located in Quang Loi commune, Quang Dien district, Hue, Ngu My Thanh is known as the old fishing village with a tradition of many years in Tam Giang Lagoon. Said to resemble other fishing villages, Ngu My Thanh is dependent on fishing for survival. With an orientation towards community eco-tourism development, the number of tourists in this old fishing village has continuously ramped up significantly for years. 
Life In Fishing Village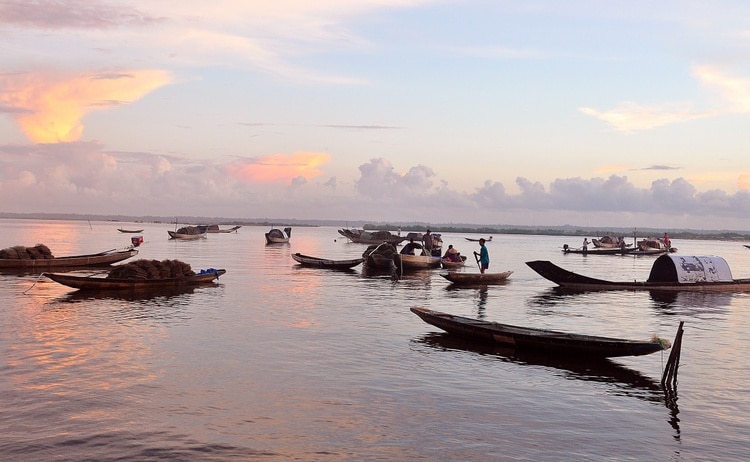 Ngu My Thanh allures tourists by its rustic and pristine beauty from routines such as fishing, raking scollops, oysters and especially trading in its floating market. 
Most of the local people in Ngu My Thanh earn their livelihood by fishing and gathering sea creatures. Fishers spend a whole night spreading the nets and come back in the early morning with a good haul of fish to sell fish and other seafood on time. Their daily work revolves around the processing and sale of products such as shellfish and scallops. The fishing is primarily the domain of men on boats, while women and children directly take part in harvesting sea species near the shore.
After that, they sell products in Ngu My Thanh floating market. This floating market often starts from 4 am-7 am every day. In the early morning, there are hundreds of fishing boats of Ngu My Thanh and other neighboring villages centralizing in the market, which makes the lagoon suddenly bustling and busier with trading. After a night of spreading the nets, fishing, fishers with bright smiles come back with fishing boats filled with big hauls of fish such as crabs, eels, local fish. This floating market is regarded as the tourist attraction when they pay a visit to Quang Dien. In a large Tam Giang lagoon, this floating market appears like an impressive point representing cultural values of local people and bringing economic benefits. 
Mural Paintings And New Changes In The Village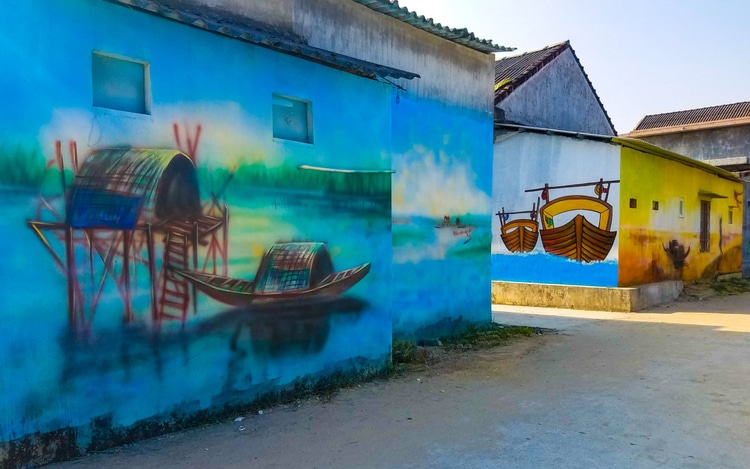 Ngu My Thach is a more and more attractive destination for tourists to take a romantic vacation to escape bustling and  noisy cities and their tiring daily routines with boring work, and immerse themselves into nature. In May 2019, to satisfy tourists' desire, artists and volunteers of  universities of Hue joined hands to decorate walls in Ngu My Thanh fishing village with mural paintings which reflect truly people's daily life and livelihood on the lagoon. With these new changes, the old fishing village is brightened by vivid and lively pictures by artists' great efforts aimed at tourism development. Ngu My Thanh village is now renowned for "village with mural paintings" when it is coated itself with ten mural paintings sticking to the daily life of the village. These pictures bring a new wind to blow gloomy and sorrowful colour in the village; besides, they become lively backgrounds to allure tourists. The images of more than ten young people utterly absorbed with brush and paint in the hot weather of July make us admire. Ten pictures with the different colour combination are aimed at conveying the message "introducing and popularizing the beauty of Ngu My Thanh to tourists". Mr. Phan Van Ty (village head) said "these mural paintings create a positive influence to tourists when they set foot on Ngu My Thanh. We will call local people to take fences off so that visitors can stop in this place to take some photos with sparkling views on these walls".
Tourists now travelling Hue have many options to plan for their trip. Remember not to miss the Ngu My Thanh when you have a chance to come to Tam Giang Lagoon!