Updated: 08/22/2109
Constructed in the late eighteenth century, Tuy Loan Communal House (Đình Làng cổ Túy Loan) in Tuy Loan Village (Làng Túy Loan), Hoa Phong (Hòa Phong) Commune, Hoa Vang (Hòa Vang) District worships the bygone sages and the village gods. Each year, on the 9th day and the 10th day of the first lunar month, local residents from Tay (Tây) and Dong (Đông) Hamlets in Tuy Loan Village, and travelers come to this communal house to organize the two-day Tuy Loan Communal House Festival in Da Nang.
About Tuy Loan Communal House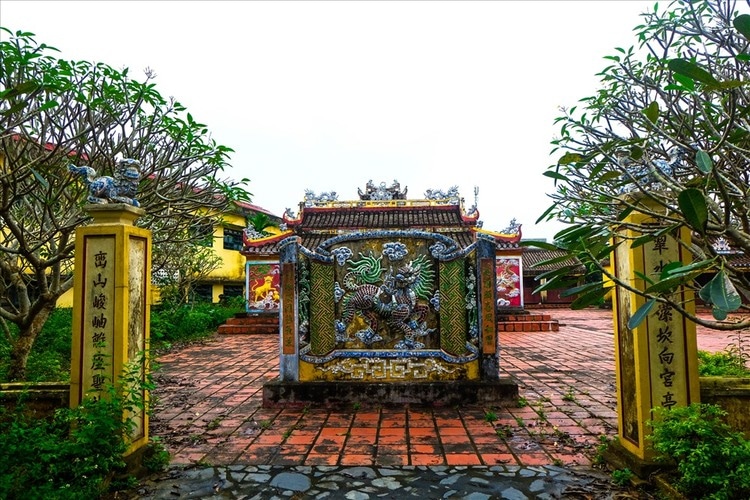 Tuy Loan Communal House with an area of 110 square meters was designed with the brick walls, a pantile roof, and impressive decoration with dragons. The interior is divided into three sections with rows of strong jackfruit wood pillars. Each pillar also has special designs and decoration. There are 20 honor decrees that date from 1826 (King Minh Mang's reign (Minh Mạng)) to 1924 (King Khai Dinh's reign (Khải Định)). During the anti-French resistance war, this communal house was used to hold a demonstration. During the anti-American resistance war, this house is made to be a place for executing and betraying communists. On 4 January 1999, the Ministry of Culture and Communication recognized the Tuy Loan Communal House as a historical and cultural relic.
About the Tuy Loan Commune House Festival In Da Nang

 
Tuy Loan Commune House Festival is a festival celebrated at this communal house. Organized on the 9th and 10th day of the first lunar month, the Tuy Loan Commune House Festival is the time Vietnamese people commemorate ancestors of Tuy Loan Village including Lam (Lâm), Dang (Đặng), Tran (Trần), Nguyen (Nguyễn), and Le (Lê). These people listened to the order of King Le Thanh Ton (Lê Thánh Tôn) to expand the country to the southern region and they decided to settle in this land.
During the festival, many locals and tourist come to this communal house to enjoy the festival that has become an important spiritual event or festival for local residents.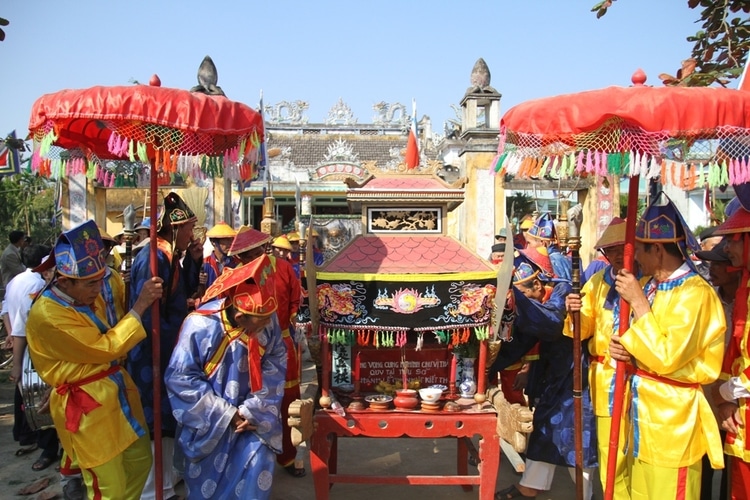 Not only does it remind the younger generations of Vietnam, but it also preserves and enhances the cultural identity of the village. It is also a place where people pray for prosperity and peace throughout the year.
There is King's honor ceremony (called le sac phong (lễ sắc phong) in Vietnamese), offerings and dances at this festival. It is a great opportunity for you to enjoy the festive atmosphere and take part in countless interesting folk games like bamboo dancing, tug of war, races of shooting eels, grilling rice paper, wrapping cylindrical steamed rice pie.
If you have visited Tuy Loan Village, you may know about the Tuy Loan river following around the village that is poetic and fascinating. During the festival, the river will become vibrant and lively with young men and maidens singing a romantic song.  Also, the boat race takes place with cheers and thumping drums. That expresses the hope of Vietnamese people in general and local residents from Tuy Loan Village in particular for a year of prosperity and happiness.
A visit to Tuy Loan Communal House Festival is a chance for visitors to explore the cuisine section where you can try countless local food made with original recipes. If it is your first time to visit Tuy Loan Communal House Festival, you should try to make your own versions of rice papers or Tuy Loan Noodles. That will definitely be interesting.
Visiting Tuy Loan Communal House Festival will help you learn more about the traditions, customs and local values of the local residents in Tuy Loan village. I hope that you will find useful information in this article. Any questions can be left in the comment section and we will answer them as soon as we can. If you want to know more about Vietnam's attraction and activities, please do not hesitate to visit Vina.com.