Source: ngocfoody.blogspot
"Nom xoai" is a Vietnamese popular dish and favoured by many people. This dish tastes crunchy, a little sweet, sour, salty and refreshing. This dish includes green mango, carrot, mint, bean sprouts, chilli, coriander and other herbs. Then, the concoction will be displayed in a plate with a few layers of lettuce. Especially, it is adaptable dish, so you can feel free to include your favourite herbs or vegetables in your dish. Finally, toss your dish with the delicious dressing and sprinkle roasted peanuts. Let's check out more about this dish with VinaFood!
I. Vietnamese Green Mango Salad – The Introduction
A flavourful and colourful appetizer is a perfect start for any meal. And, green mango salad is known as one of the best choices before having a big meal because it is vibrant in colour with many contrasts in texture, and very fragrant with herbs. Green mango has a fruity sour and gives you a tropical taste sensation. Therefore, this dish is a combination of the sweet, sour and savoury tastes. Especially, green mango salad is popular for beer drinkers and this dish is often consumed at the Vietnamese drink gathering.
II. Where To Eat Vietnamese Green Mango Salad In Hanoi

Source: flyfood
Vietnamese green mango salad is amazingly healthy because it has fresh ingredients and the salad dressing does not contain oil. In Hanoi, green mango salad is sold in many places, from street vendors to luxury restaurants. And, here we give you some of the most famous places where you can enjoy this delicious dish.
1. "Nom Xoai" On Hang Duong Street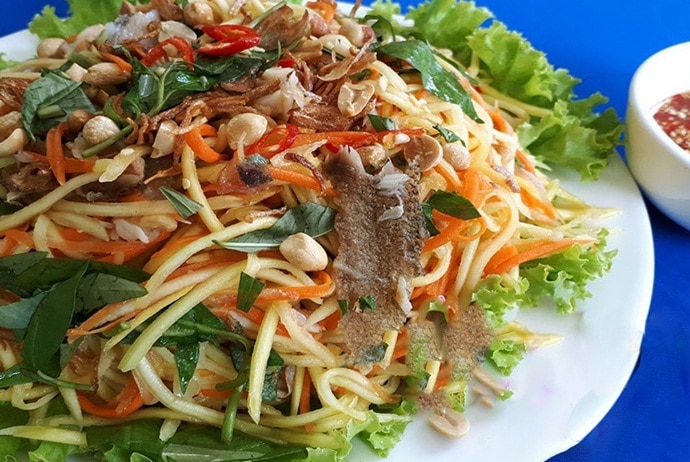 Source: dacsan4u
If you are looking for a place where you can enjoy Vietnamese green mango salad, you should not skip a shop on Hang Duong Street. This street vendor is very famous for the gourmets who want to enjoy the Vietnamese green mango salad. It is located on the side walk and just has a few small chairs. However, it is always packed with guests. A serving of mango salad here is full of ingredients such as green mango, dried beef and dried squid and costs 20,000 VND. Therefore, this is a great destination for students and other people who love this delicious dish.
 Address: 28 Hang Duong Street, Hoan Kiem District

Pricing: 20.000 VND
Check Out: Grilled Pig Intestine on Gam Cau Street – Long Nuong Gam Cau
2. "Nom Xoai" At ThaiExpress Restaurant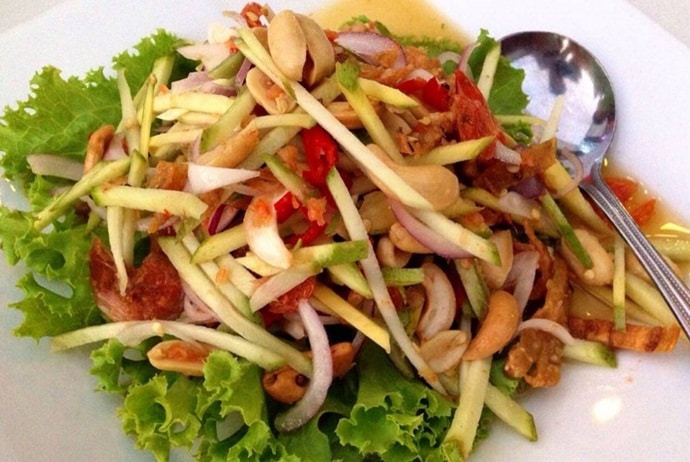 Source: vnngon
This is a Thai-styled mango salad that has many features of Thai cuisine. Generally, the unique feature of this dish is that it is very focused on the spicy, sour, salty and sweet tastes. This combination will never bring the sense of boredom. Combining all the essence of Thai cuisine, ThaiExpress restaurants always serve customers the best quality food. Besides, ThaiExpress restaurants also invest in space, layout and consumer care service.
Address: 241 Xuan Thuy Street, 458 Minh Khai Street, 191 Ba Trieu Street, 7 Dinh Tien Hoang Street, etc.

Opening Time: 10:00 a.m – 10:00 p.m

Pricing: 50.000 VND
Learn More: Steamed Sticky Rice With Perch – Xoi Ca Ro Dong
3. "Nom Xoai Hai San" At Mon Ngon Sai Thanh Restaurant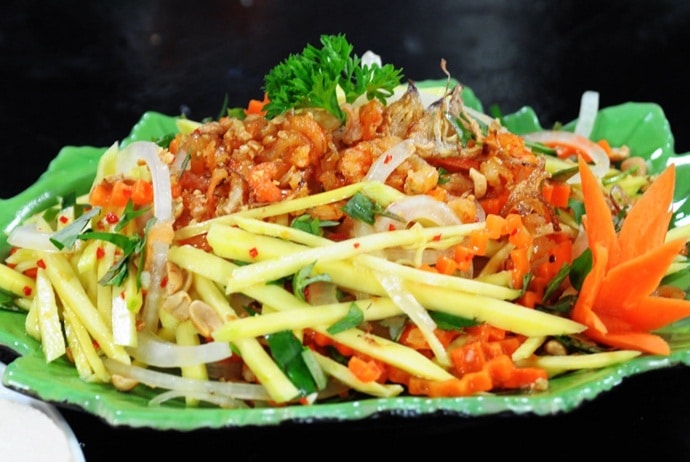 Source: vietle
Green mango salad is an appetizer that is easy to make but very delicious. This dish can be helpful when you eat it with other greasy foods. And, at this restaurant, guests can enjoy a delicious plate of mango salad with seafood. This dish is often eaten with main dishes that are high in protein. However, it sometimes becomes the most favourite dish in the party. Actually, this is a great destination for those who want to enjoy the taste of Vietnamese green mango salad in Hanoi.
Address: 59A Huynh Thuc Khang Street, Dong Da District

Opening Time: 10:00 a.m – 10:00 p.m

Pricing: 130.000 VND
Discover: Vietnamese Musk Duck Noodle Soup – Bun Ngan
Hopefully, this list can be helpful for you and can help you find it easier to find a place where you can enjoy the Vietnamese green mango salad. So, if you have a chance to visit Vietnam or you love the combination of sour and sweet tastes without using any oil, you can try this dish as soon as possible. In fact, this dish is very delicious dish and should be the great starter for a big meal.