Prep Time: 30 minutes
Cook Time: 20 minutes
Serving: For 3-4 people
Banana flower is a food that can be said to be extremely folk to the Vietnamese. It can be cooked into many dishes such as boiled banana flower, fried banana flower, etc. However, the most famous one that you should try is the Vietnamese banana flower pig ear salad recipe, a delicious dish that is easy to make. Banana flower salad consists of the two main ingredients: banana flower and pig ear. Besides, the spices, such as lemon, garlic, chili, and sugar create a sweet and sour taste of the dish, which also contributes to the soul of the dish. Making a banana flower pig ear salad doesn't take any time, so instead of buying it from the store, you can make this delicious dish for your family to enjoy at home. Moreover, if summer causes everyone to be fed up with greasy dishes, you add this cool banana flower salad to your family meal! Now, let's try it out.
The Delicious Banana Flower Pig Ear Salad Recipe You Should Try
Ingredients Needed For Banana Flower Pig Ear Salad Recipe: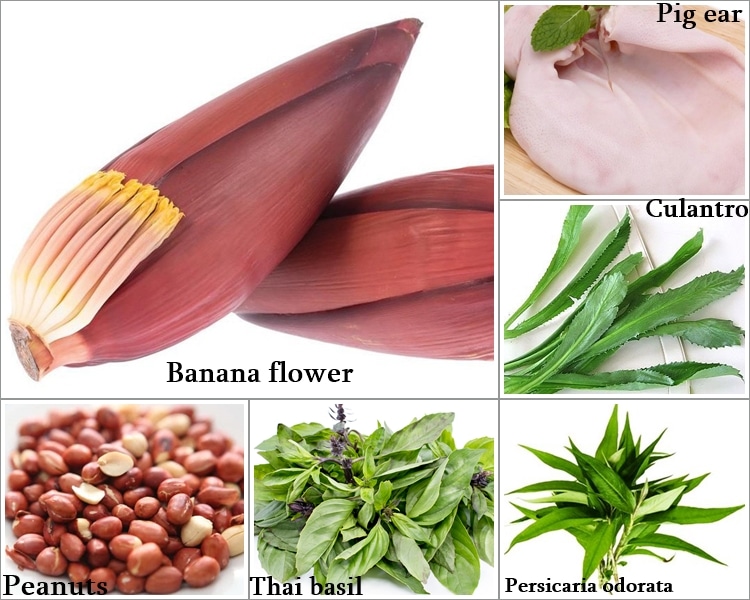 1 banana flower

1 pig ear

2 lemons

3/4 teaspoon of salt

2 cloves of garlic, finely minced

1 tablespoon of chopped persicaria odorata 

1 tablespoon of chopped culantro

1 tablespoon of chopped Thai basil

1 tablespoon of chopped coriander

1 cayenne pepper, thinly sliced

2 tablespoons of sugar

1 tablespoon of fish sauce

1/4 cup of unsalted dry-roasted peanuts, crushed
Detailed Instructions for Vietnamese Banana Flower Pig Ear Salad Recipe: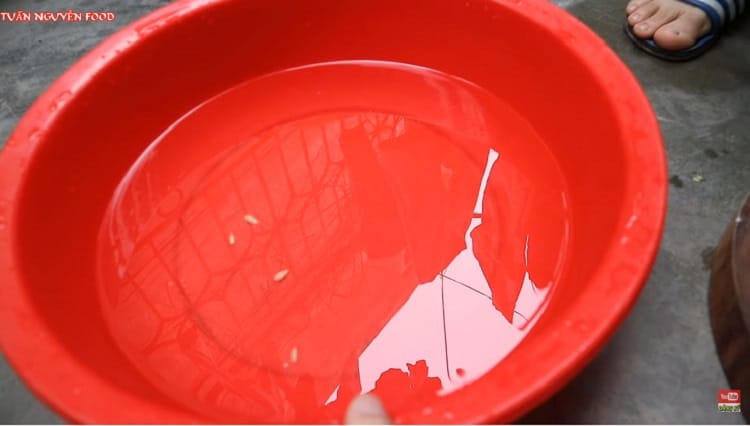 1. Prepare a large bowl of cold water. Add a pinch of salt, the juice of one lemon to the water. Keep it aside.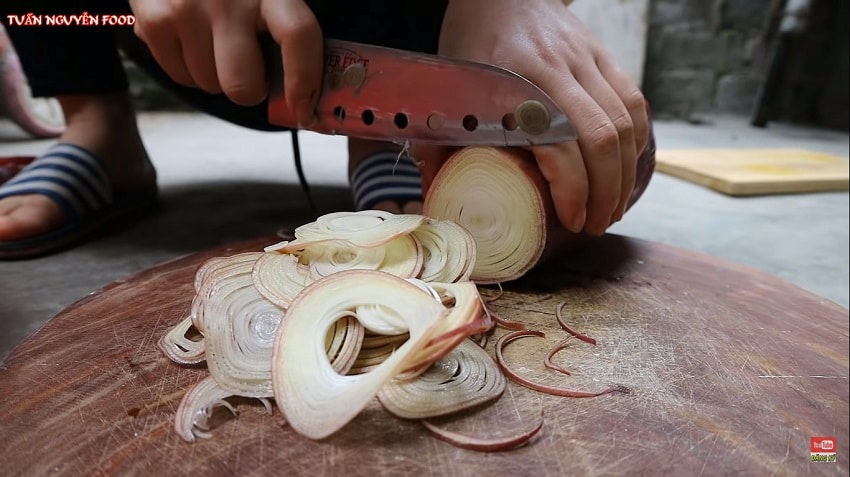 2. Remove the stem at the bottom. Remove 2-3 layers of the banana flower, and slice the banana blossom.
3. Soak the sliced flower into the above-prepared water for 20 minutes.
4. Wash the flower under cold running water and drain.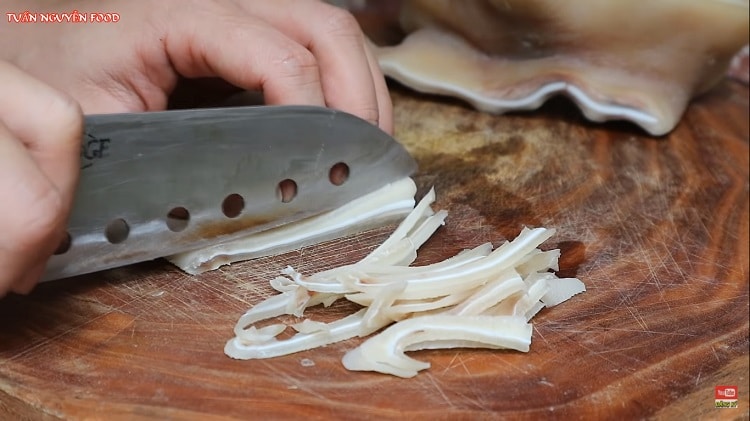 5. Slice the boiled pig ear. 
Note: After boiling the pig ear, you add it to a bowl of cold water mixed with lemon juice for about 15 minutes to make it crispy.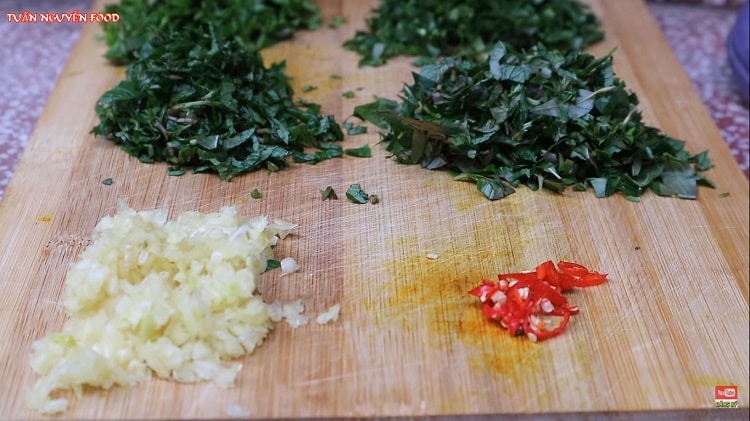 6. Cut coriander, persicaria odorata, cilantro, and Thai basil finely. Mince garlic, and slice cayenne pepper thinly. Add all of them to a mixing bowl.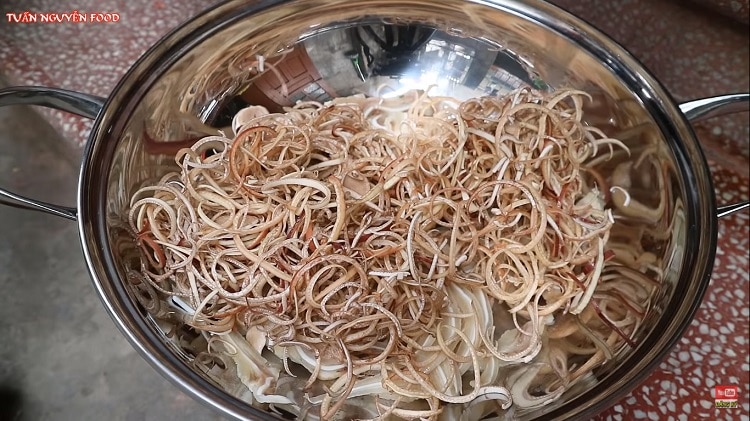 7. Add sliced pig ear and banana flower to the mixing bowl. Mix them well.
8. For the sauce: Add the juice of a lemon, fish sauce, sugar, and boiled water to a bowl. Stir them well to melt the sugar.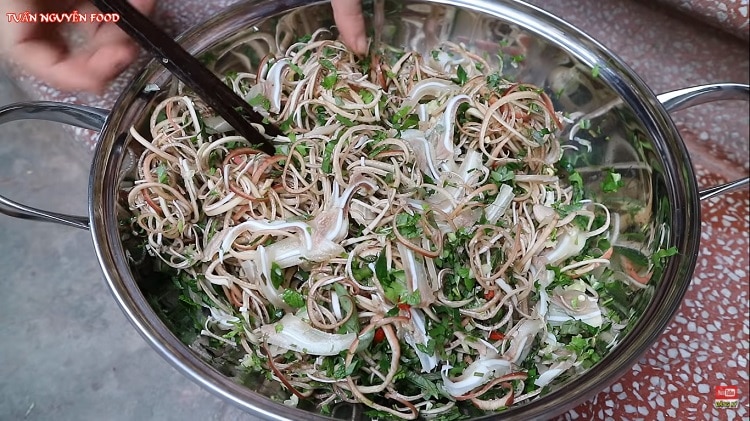 9. Add the sauce and the crushed peanuts to it. Toss well and transfer to a serving platter.
Requests For A Finished Banana Flower Pig Ear Salad:
The restaurant standard for a banana flower pig ear salad needs to make sure the pig ear slices are crispy, the banana flower slices are white, all of which are combined with the fat of dry roasted peanuts. All create a delicious dish that helps get rid of the greasy feeling after fatty or oily food.
With the very detailed instructions above, I hope that you can easily make the Vietnamese banana flower pig ear salad recipe at home for your family to enjoy! A small suggestion for you, if you do not like the way to make banana flower salad with pig ear salad, you can replace it with pork belly, shrimp, or chicken. Do the same as the steps above. To cook more delicious Vietnamese recipes, check out Vina.com and have fun.
View more:
By Nga Do