Da Nang (Đà Nẵng) is not only famous as a tourist city with unique bridges, but it is also known as a beach city by many tourists thanks to its blue water and white sand beaches. One of the beaches attracting visitors is Bai Rang Beach (Bãi Rạng) in Da Nang.
I. Why Should You Go To Bai Rang Beach?
1. To Discover Wild Beauty Of This Beach
Bai Rang has nature's wild beauty, with white sandbanks, blue sea, and rocky rapids. Because it has not been exploited much, Bai Rang in Da Nang still has the wildest and natural features.
Coming to Bai Rang, you no longer suffer from the noise and bustle of the city anymore. Instead, it only has the soothing sound of the waves. Also, there is no smoke and fatigue in life. Coming here and inhaling the salty smell of the sea into your chest, you will feel more relaxed.
The most beautiful moment in Bai Rang Beach is at dawn and sunset. In the early morning, you can lie in the sand and watch the sunrise. Also, it is so amazing for you to walk barefoot in the soothing sand and enjoy the cool atmosphere of early morning. During the sunset, both the sky and the sea are red in color. This is a moment you rarely find somewhere else.
If you go with friends or the whole family, camping and campfires are certainly special. Try to invite friends to set up a tent and throw a BBQ party there. And best of all, the next morning you can get up early to catch the dawn. It must be one of the most interesting experiences that should be in your life.
2. To Discover Da Nhay (Đá Nhảy) Beach – An Attraction In Bai Rang, Da Nang
This is an attractive tourist destination at Bai Rang, Da Nang. The rocks here come in different sizes, colors, and shapes. When the waves hit the beach, it will create a unique scene. Coming here, visitors can participate in scuba diving to watch corals, play water surfing bike ride, or sit on the rock faces to see the sea, all of which are enough to make you feel immensely great.
This is also an interesting check-in point for young people. Sitting on the rocky cliffs and playing with water will create extremely artistic images for life.
II. What To Know About It?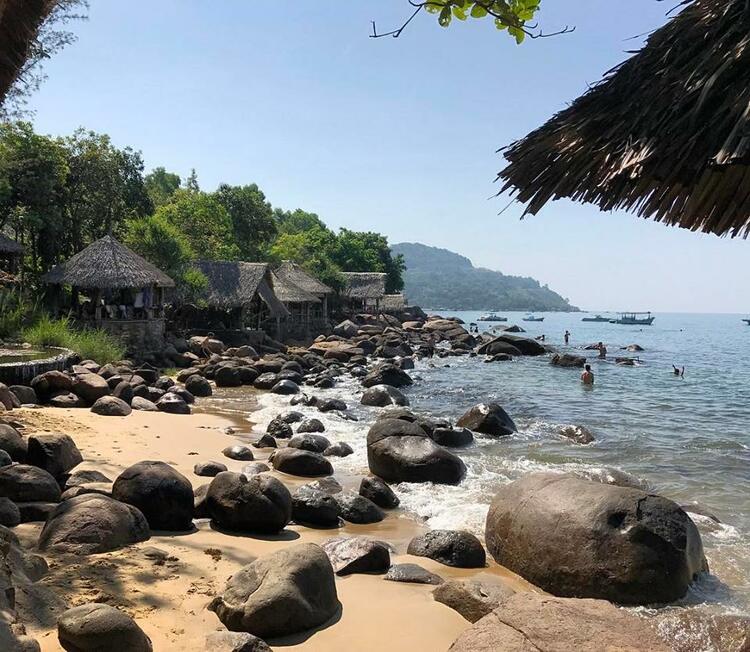 1. Location Of Bai Rang Beach
Bai Rang beach is located about 15 km from the city center. With a motorbike, visitors only take more than 20 minutes to drop the soul into the beauty of this nature.
From the city center, you go along Hoang Sa (Hoàng Sa) Street and then pass Linh Ung (Linh Ứng) Pagoda to reach Rang Beach. Park your motorbike and spend your time to discover the mysterious, wild features of this attraction.
2. What Is The Best Time To Visit Bai Rang Beach
You should travel to Bai Rang beach from March to September for going swimming. You can also come there in the remaining months, but you should avoid traveling here in the winter because it makes the movement more difficult.
III. What To Eat And Where To Stay
1. What To Eat
Along Bai Rang, there are a lot of fresh seafood shops for visitors to enjoy dishes after having fun.
After hours of discovering Bai Rang, immersing yourself in the cool sea, and joining the exciting games at the beach, it is nothing better to sit on the beach huts, listen to the sound of the waves, drink a few cups of beer, and eat seafood. Seafood is shipped directly from the sea, so its fresh taste makes you hard to resist.
Besides serving seafood, breakfast here is also very abundant. Depending on your preference, you can try other delicious dishes, including fishball noodles (bún chả cá), Quang noodles (mì Quảng), bread, and chicken with sticky rice (xôi gà), etc.
2. Where To Stay
Danang, especially the Son Tra peninsula, is a key area for tourism, hotels here are quite luxurious and comfortable but somewhat expensive as compared to other areas. You can refer some hotels in Bai Rang beach – Son Tra peninsula:
Trendy Hotel
Address: 347-349 Tran Hung Dao (Trần Hưng Đạo) street, Son Tra District, Danang City

Tel: 0236 3943 888

Price: 600.000 VND/room
Princess Hotel Đà Nẵng
Address: Lot E2-20 Phan Boi (Phan Bối) Street, Son Tra District, Danang, Vietnam

Tel: 093 497 79 34

Price: 600.000 – 700.000 VND/room
Son Tra Resort & Spa
Address: Bai Nam – Bai Con, Son Tra District, Danang City

Tel: 0236 3924 924

Price: Room price is quite high; if you have a good condition, please come here to enjoy services at this resort
Olina Hotel 
Address: 54 Pham Thieu (Phạm Thiều) street, Son Tra District, My Khe beach, Da Nang

Tel: 0236 3937 477

Price: 280.000 – 380.000 – 1.068.000 VND/room
IV. What To Buy As A Gift When Visiting Bai Rang Beach?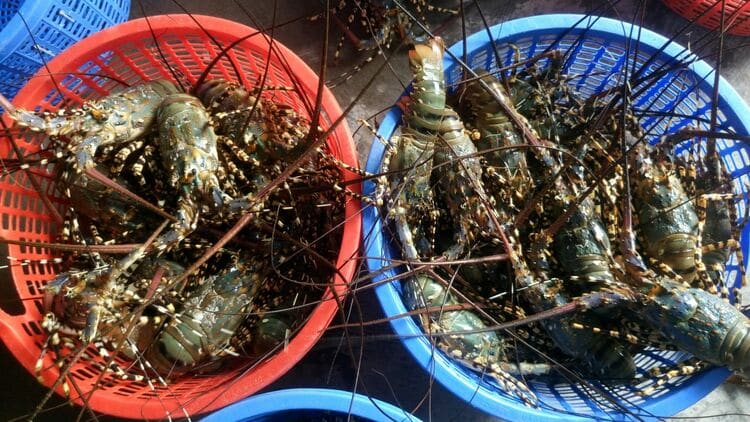 Coming to Bai Rang beach in Da Nang, you must buy seafood to bring back. Famous specialties here are fish and shellfish. If you have time, you should wait until the end of the day after watching the sunset and then go to select gifts to bring back. It is when the fishermen return to the bumper boats after a day floating on the sea. The seafood here is the freshest, extremely nutritious seafood and makes you want to come here again and again.
See more:
If you are too tired with your busy work and life and want to go somewhere to help relax the soul, don't hesitate to carry a backpack up and go to Bai Rang Beach in Da Nang, Vietnam to enjoy the taste of the sea smell. If you want to know more about Vietnam's attractions, please visit our Vina.com site.