Not only is Danang (Đà Nẵng), Vietnam (Việt Nam) famous for its beautiful beaches, but it also attracts tourists thanks to unspeakably stunning landscapes. Gieng Troi well (Giếng Trời) is one of such landscapes. Located in Hoa Ninh Commune (Xã Hòa Ninh), Hoa Vang district (Huyện Hòa Vang), Gieng Troi (also known as the Heaven Well) has a pristine beauty. This destination is found deeply inside the forest and becomes an attractive place for adventurous youngsters. If you are planning on exploring Gieng Troi well, do not ignore our article below. It will give you some tips so as you can explore all fascinating things in this place.
What Is The Best Time To Visit Gieng Troi?
Summer months (from June to September) are the best time to go to Gieng Troi well. During this time, the weather is sunny and windy, making your travel more enjoyable and convenient.
If you like crowds and bustle, go to Gieng Troi in the festive season. If not, choose the time after Lunar New Year as tourists are not crowded during this time.
How To Get To Gieng Troi?

Source: blog.traveloka

About 35km west of Danang city center, Gieng Troi is situated in the middle of the primeval forest of Ba Na – Nui Chua Mountain (Bà Nà – Núi Chúa). Thanks to its convenient location which is near the mountain's peak and covered by greens along with a high waterfall, the space here is always cool and pure all year round.
To start your trip to Gieng Troi, it is best to depart early in the morning when the air is fresh and it is not sunny. It is ideal to use a motorbike to visit go to Gieng Troi. It takes about 4 hours to go from Danang city center to Gieng Troi.
To reach to Gieng Troi, you need to go to Ba Na. The road from Danang city center to Ba Na is quite safe and convenient. When going to Khe Mooi Bridge (cầu Khe Moọi), look to the left, you will see a road (which is rather dirty) leading to Gieng Troi. Park your vehicle in Ba Na and go on foot.
The road to Gieng Troi is a bumpy 15 km long forest road which is a trail made by foresters, with many vertical slopes. There are a number of thick and damp foliages on the road and the surrounding rocks are covered with green moss. Since some roads are probably covered by trees, so you have to carefully route your way to avoid getting lost. Along the way, you can see butterflies with so many gorgeous colors. This is actually a trekking because you have to cross mountainous road of more than 10 km long, of which about 3 km is rather hard to go.
What To Prepare Before Departure?
There are not many tourist services in Gieng Troi as it is a relatively wild place. Thus, you need to prepare the following things to make sure that your trip goes smoothly:
Food and water: You can bring processed food, or raw food and cooking utensils to cook directly with your friends.

Tents: Do not carry too large tents as the terrain here is not flat. You may have to build tents on big rocks.

Insect repellent, medicines, torch, knife, and lighters.

Hiking shoes, hats, gloves, life jackets, raincoats, and long clothes.

A GPS app on your mobile phone or a map of this area (if any)
Remember that you should bring only necessary items since the journey is long and you will have to go on foot. Carrying too many things will make you feel tired.
Also read: Top 17 Must-See Da Nang Attractions In Vietnam To Visit
What To Do Upon Visiting Gieng Troi Well?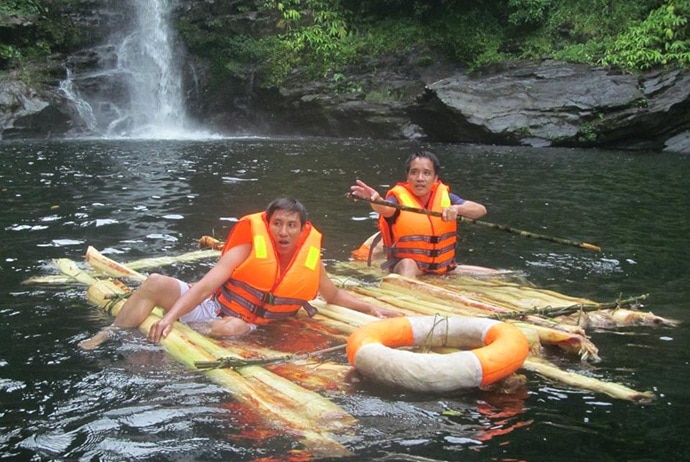 Source: tago
Immerse yourself in the "natural swimming pool"
Because Gieng Troi is located near the mountain's peak, it is considered a swimming pool in the sky. An interesting thing about the water here is that it is always cool, so after going a long way to reach to Gieng Troi, swimming in cool and clear water will give you a great feeling.
Interestingly, there are many banana trees around Gieng Troi. You can use them to make rafts. Lying on your handmade raft and immersing yourself in the wild will be something that you will never forget in your life.
Despite the road to this site is hard, the most interesting thing upon visiting Gieng Troi is not the conquest of steep mountainous road but the pristine wildness of Gieng Troi. There are no noisy streets, restaurants' shadow, or services; just people and the nature. The reason why it is called as Gieng Troi (The Heaven Well) is thanks to a lake with green water located in the middle of the mountain.
Gieng Troi in Danang impresses tourists with wide and deep streams. However, there are still some shallow stretches which are suitable for those tourists who do not know swimming to wade through.
Another interesting about Gieng Troi is that the road to this site has not been exploited for tourism. Thus, it is important to have a person who understands clearly about the route and leads the tour for safety guarantee.
There are many types of fish in Gieng Troi. The majority of them are seahorses. Watching and teasing the fish swimming around the rock is an interesting and funny experience. If you are fortunate enough, you can catch a few fish and cook them into tasty dishes.
Perennial trees with long roots that make up the ropes will make your activities very exciting.
Catch crabs, snails, and frogs in the evening
They will definitely become ingredients for a delicious dinner.
Don't skip: 15 Things To Do In Da Nang City – What To Do In Da Nang?
Things To Note
Gieng Troi is a destination that is suitable for just people in a good health.
As Gieng Troi is very primitive and does not have many travel services, you should go in groups to warrant safety. Besides, members in the group can also support each other throughout the journey.

Do not separate groups or go separately to avoid getting lost.

You do not have to pay any fees to have fun at Gieng Troi.

On the way to Gieng Troi, if you get lost, do not get panicked. Stop and wait for the loggers to pass by and ask for directions.

Do not forget to clear the rubbish before leaving.
There you have grasped some useful tips on traveling to Gieng Troi in Danang, Vietnam. Don't forget to take pictures to save your beautiful memories during your trip to Vietnam.
Leave comments below if you have any idea about this topic.