Updated: 11/16/2019
In Danang (Đà Nẵng), there are three pagodas named Linh Ung (Linh Ứng); however, among them, only Linh Ung Bai But Pagoda (Chùa Linh Ứng Bãi Bụt) has the highest statue of Quan Yin in Vietnam. Therefore, you should not ignore this spiritual destination upon visiting Danang city, Vietnam. Since Linh Ung Bai But Pagoda is a special place, before you start your journey, you should grasp the useful tips shared below.
Linh Ung Bai But Pagoda was built on June 19, 2004 lunar calendar. After 6 years, on July 30, 2010, this pagoda was officially inaugurated. It is considered as a symbolic development of Vietnamese Buddhism in the 21st century.
Where Is Linh Ung Bai But Pagoda?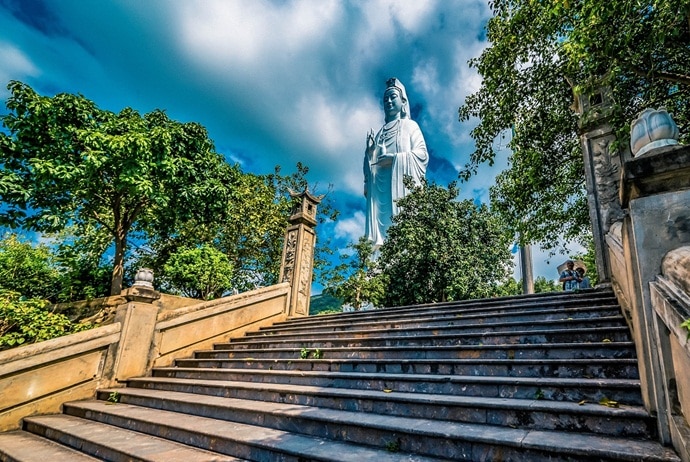 Linh Ung Bai But Pagoda is located on a 20-ha area and built in modern style combined with inherited traditional architecture of Vietnam's pagodas featuring with curling roofs.
This is a pagoda located in the tourism complex of Son Tra Peninsula. The harmony between modern and traditional features makes this pagoda a new tourist attraction of the beautiful coastal city – Danang.
A highlight of this famous pagoda is the statue of Quan Yin located on the hill of over 100m in height.
Another special thing of Linh Ung Bai But Pagoda is that tourists can easily see the statue of QuanYin no matter where they stand in the city.
What Is The Best Time To Visit Linh Ung Bai But Pagoda?
The duration from March to September is considered the best time to visit this famous pagoda. During this period, the weather is dry without rain and the sky is clear, so you can easily admire the beautiful scenery here.
You should not come here from September to December because the weather is usually rainy, foggy and stormy, which affects sightseeing and may cause slipping.
Also read: Top 17 Must-See Da Nang Attractions In Vietnam To Visit
What To Pay Attention When Visiting Linh Ung Bai But Pagoda?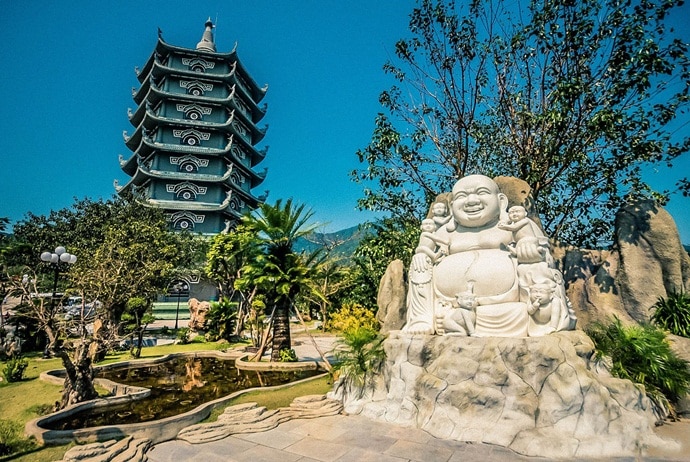 Since the pagoda is located close to the sea and covered with green plants, if you come here in the summer, you should carry an umbrella and hat to avoid the sun. Also, do not forget bringing a long dress to keep your body warm at night.
During the visit, you will climb many steps, so avoid wearing high heels. It is best to wear sports shoes or sandals.
Since the pagoda is a sacred place, instead of wearing short clothes or short skirts, it is best to wear long ones.
How To Get To Linh Ung Bai But Pagoda?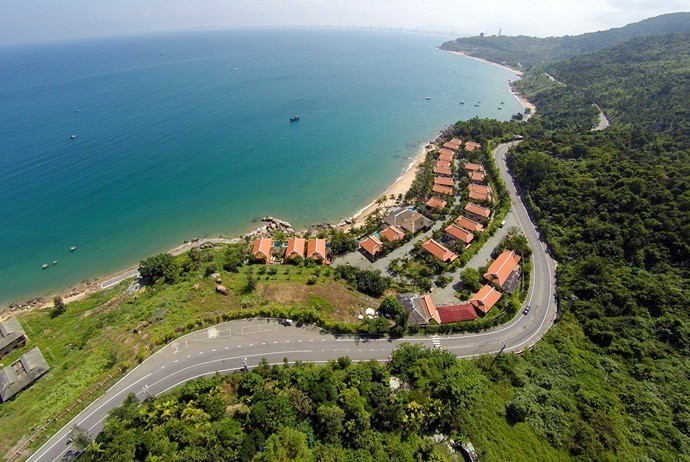 The pagoda is only 10km from the center of the city to the northeast. From the Bien Dong (Biển Đông) Park, you need to go along Truong Sa (Trường Sa) road to reach to Linh Ung Pagoda.
To get to Linh Ung Bai But Pagoda, you need to get to Son Tra Peninsula. There are many ways to get to this peninsula, such as riding a motorbike, driving a car, or taking a coach. For a more convenient trip, rent a motorbike if it is not too hot. Many motels and hotels in Danang have motorbikes for rent with prices from 100.000 to 150.000VND / day. Don't forget to bring your ID or visa if you want to rent a motorbike.
Because the road to Linh Ung Bai But Pagoda has a large slope and many bends, so you need to observe when moving to avoid danger.
Don't skip:  14 Reasons Why Everyone Calls Da Nang A 'Worth-Living" City
What Are Attractions In Linh Ung Bai But Pagoda?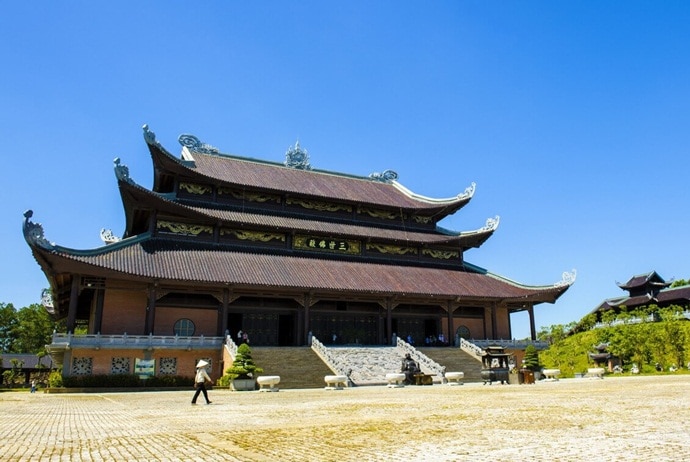 Tourists can visit this pagoda without fee. Park the motorbike or car at the gate of the pagoda (if any). There will be Buddhists who protect your vehicles. You can pay for it depending on your wishes. The money from this activity will be used to restore the pagoda.
Along two sides of the pagoda, there are statues of 18 Arhats, with special symbols of folk beliefs. The life of each of these Arhats has the mysterious features which are close to the folk.
Particularly in the architecture complex of Linh Ung Bai But Pagoda, there is a statue of Quan Yin, which is 67m high, 35m diameter, overlooking the sea. The height of this statue equals to that of a 30-storey building. The statue has a total of 17 floors. The special thing about this statue is that in each of its floor, there are 21 statues of with different postures, facial expressing and shapes. Tourists can get into these 17 floors to contemplate the scenes from the above.
There are many sculptures of dragon and other mascots in the architecture of Linh Ung Bai But Pagoda. In the grounds of this pagoda, there are three statues of Shakyamuni Buddha, Quan Yin Buddha, and Tam Tang Buddha. Tourists who have ever visit to Linh Ung Bai But Pagoda all admire the Arhat statues which were sculptured delicately, sharply and smoothly. The main hall's strong pillars are also surrounded by curved dragons, which were carved sophisticatedly.
Inside the great hall of this pagoda, the middle area is the place for worshipping Buddha Shakyamuni, the right for worshiping Bodhisattva Avalokitesvara, and the left for worshiping Bodhisattva Vajra. The statues here are cast in bronze. In addition to the main hall, Linh Ung Bai But pagoda also has a library.
Standing from the courtyard, visitors can see the panorama of the city, mountains, and sea around Danang. Looking to the south, you will see Ngu Hanh Son and Non Nuoc Beach (one of the most beautiful beaches in Vietnam) with stretches of sand.
Thanks to its location on Son Tra Peninsula, Linh Ung pagoda is not only a spiritual tourist destination, but also a space for spiritual convergence. This is definitely a must-see attraction for tourists who are about to visit coastal Danang city.
Hope that this article about Linh Ung Bai But pagoda – a highlight of Vietnam travel – has helped you gather some essential information to plan your trip smoothly and happily.