Ngu Hanh Son (Marble Mountains) is also known as Non Nuoc Mountain, which is one of Danang attractions that you cannot miss upon visiting this coastal city. Mystery and illusion are all the nuance of Ngu Hanh Son that you can easily feel through the lens of the community.
It is no coincidence that people call Ngu Hanh Son a "tourist paradise" of the world. So what makes this destination so attractive? The article below will provide you with the answer.
Where Is Ngu Hanh Son Located?
Ngu Hanh Son is just over 8 km from Danang city center with convenient transportation. It is located in the middle of the intersection between the famous World Cultural Heritage sites like Hue, Hoi An ancient town, My Son sanctuary. Marble Mountains is a cluster of 5 marble and limestone hills situated in Ngu Hanh Son District, Danang city, Vietnam. The whole area is 2 km2 and named after the five elements: Kim Son (Kim Sơn) (metal), Thuy Son (Thủy Sơn) (water) (biggest, highest and most beautiful), Moc Son (Mộc Sơn) (wood), Hoa Son (Hỏa Sơn) (fire) and Tho Son (Thổ Sơn) (earth). Ngu Hanh Son not only has the majestic natural landscape and charming scenery but also is packed with many deep spiritual cultural values.
What Is The Best Time To Visit Ngu Hanh Son?
Ngu Hanh Son is beautiful in all year round so you can come here in any season while still admiring the same beauty.
If you travel in the summer, it will be more appropriate because you can go to the beach nearby. This experience is particularly enjoyable because you will be in the cool blue water.
How To Get To Ngu Hanh Son?

Source: vntrip

The road is quite easy to go. It is not too far from Danang's city center so you can use a motorbike to get there. Motorbikes can be rented in the city center for a quite cheap price of about 100.000 -150.000 VND / 1 motorbike/ day.
There are many options to reach Ngu Hanh Son that you can refer below:
Option 1: From the Bridge, go ahead to the East bank of the Han River then turn right to Ngo Quyen (Ngô Quyền) Street (National Highway 14B) to get to the South. At the traffic-circle of Tran Thi Ly (Trần Thị Lý) Bridge, you go straight ahead Le Van Hien (Lê Văn Hiến) Street. Ngu Hanh Son Mountains are on the left-handed side. After that, you will see majestic mountains that are easy to observe. This is the shortest and easiest way to move. You mainly go straight and do not turn much.
Option 2: Run along the Danang seacoast to the south. When you go towards the direction of Hoa Hai (Hòa Hải) commune, there will be a junction between Truong Sa (Trường Sa) and Pham Huu Nhat (Phạm Hữu Nhật) streets, turn right at Pham Huu Nhat (Phạm Hữu Nhật) street. At the end of Pham Huu Nhat (Phạm Hữu Nhật), turn left on Le Van Hien Street. Going about 100 meters, you will meet the road leading to Ngu Hanh Son tourist area. There are very few vehicles on this road.
Danang has many taxi companies, so you can comfortably choose a safe taxi for your trip.
If you go by bus to Ngu Hanh Son, it is quite cheap and safe. What you need to do is to catch the bus with the route of Danang – Hoi An (Đà Nẵng – Hội An). It costs about 15.000 VND per person.
The Legend Of Ngu Hanh Son's Formation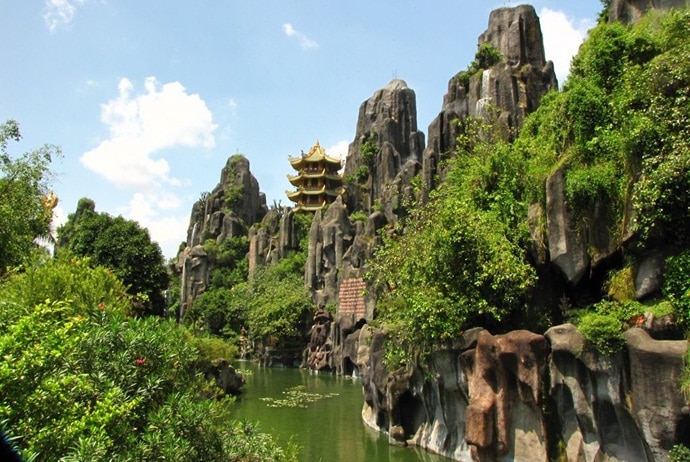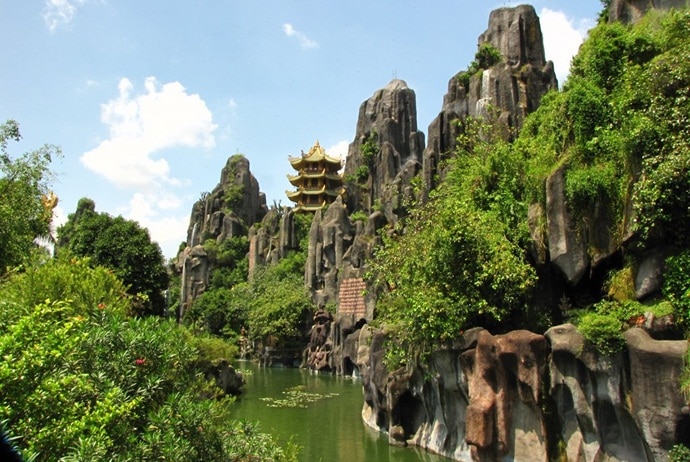 Source: tinhte
According To The Legend Of The Cham People
The formation of Ngu Hanh Son is associated with the legend of Kim Quy divinity and Dragon's eggs of Long Quan (Long Quân). According to the legend, during the birth of the heaven and the earth, when Danang was still wild, there was a large sea turtle crawling from the East Sea to the shore and selecting this land as a place to lay eggs. The only difference is that this large turtle only laid an egg and then returned to the sea. The egg shell cracked into 5 pieces, creating 5 mountains named Ngu Hanh Son.
According To The Geologists
Ngu Hanh Son is a cluster of small mountains in the middle of the East Sea. It was steadily merged into the mainland after Quang Nam Plain formed due to the upward movement of Truong Son (Trường Sơn) mountain range and the accretion of Thu Bon (Thu Bồn) River.
Now, the coast has withdrawn about 800 meters from these mountains, creating a scenic area with unique and attractive mountains.
The mountains are limestone. Because locating in the tropical region which is sunny and rainy heavily, limestone was eroded to create the beautiful, mysterious and magical scenes. The caves in Ngu Hanh Son are open and have many holes that are open to the outside, so they are always cool and airy.
History
Nearly 200 years ago, in the early of the 19th century, the Nguyen dynasty emperor – Minh Mang King (Vua Minh Mạng) had come here many times. Since then, pagodas, towers were built and developed. He named the mountains himself as Ngu Hanh Son and it was officially named to this day.
The culture and historical marks are still imprinted on every pagoda, tower, and Cham's sculpture. The poems of the poetry of the Le, Tran also imprinted on the moss cliff in the caves.
All of them are the eloquent proof of a legendary Ngu Hanh Son, the land of spiritual epic poetry.
Also read: Explore Mysterious Ponagar Cham Tower Nha Trang, Vietnam
What To Visit In Ngu Hanh Son?
These mountains are associated with different myths. The poetic spaces of the scenery and fairy tales of ancient stories have given Ngu Hanh Son a special meaning. The number 5 is extremely important in the thought and life of Eastern people. In the coincidence, the five mountains of Kim Son, Moc Son, Thuy Son, Hoa Son and Tho Son contain strange anomalies.
Here is some detailed information about what to visit In Ngu Hanh Son: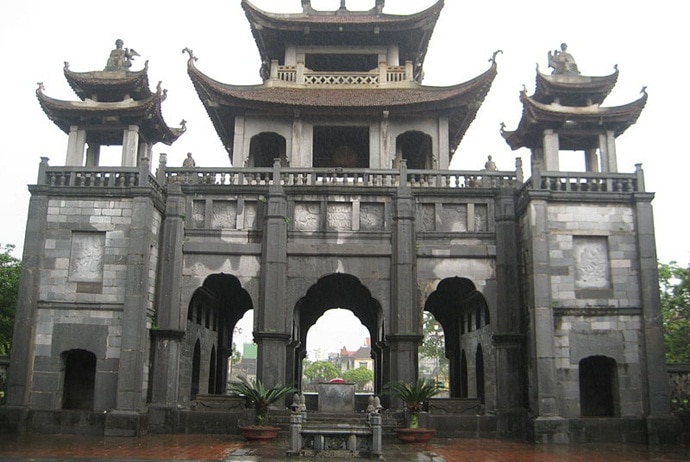 Source: vihasa
It is located in the southeast, at the shores of Co Co River (Sông Cổ Cò). At the foot of Kim Son, there is a cave of 50 meters long, 10 meters wide, and 10 – 15 meters high. The entrance to the cave is made with natural stone steps. The interior is the stalactites clinging to the cliffs, creating the statue of Avalokiteśvara Bodhisattva. Boating on the river, you can admire the mountain and pagoda's shadow printed on the calm water.
After discovering the cave (1950), Thich Phap Nhan (Thích Pháp Nhãn) had people to expand the entrance to the cave and built Quan The Am pagoda (Chùa Quán Thế Âm). The pagoda has its back on Kim Son Mountain and its face seeing the river. At 19/02 lunar calendar every year, there is a spring festival named Hoi Quan Am (Hội Quán Âm).
It is located in the East, close to the sea, near Thuy Son Mountain. There is a sandy cave in the East and South area. Fields are in the north and villages are in the west. Moc Son is also called as Mong Ga Mountain (Núi Mồng Gà) probably because the outside shape of this mountain is like the ball cock.
There is no temple or pagoda on this mountain, but a white marble mass looking like a person who is sitting. This may be a present that the Mother Nature has given to Moc Son Mountain. About 10 meters below the tip of the mountain, there is a large rock running horizontally to the South. In the mountain, there is a small cave named Ba Trung cave (Hang Bà Trung).
Lying on a large area, Thuy Son Mountain is about 15 hectares and 160 meters high. This is the largest and most beautiful mountain that many tourists visit during their trip to Ngu Hanh Son.
There are 3 mountain peaks located on 3 floors that look like 3 stars, creating the tail of the Great Hero star cluster. This is also the place where most of caves as well as pagodas gather. The most notable pagoda is Non Nuoc pagoda, which attracts tourists thanks to the presence of ancient pagodas, stalactites and stalagmites. Two other beautiful pagodas are Tam Thai pagoda and Linh Ung pagoda (Chùa Linh Ứng).
Travelers who want to visit Linh Ung pagoda have to step up about 108 stair steps. With Tam Thai pagoda, tourists have to go further about 156 stair steps.
Today most travelers visit Thuy Son by car. There are traditional villages specialized in carving marble statues on two sides of the road.
It is in the Southwest, opposite to Kim Son Island, on the left side of Su Van Hanh (Sư Vạn Hạnh) Street.
This is a double mountain with two peaks connecting with each other by a rocky path. Around this path, there is Thien Ung pagoda (Chùa Thiên Ứng). The western mountain near Kim Son is Duong Hoa Son (Dương Hỏa Sơn) Mountain, which is located on the banks of Co Co River. In the past, when Danang and Hoi An (Hội An) connected with each other by waterway, there is a river crossing with extremely busy boasts passing here.
Inside Duong Hoa Son Mountain (Núi Dương Hỏa Sơn), there are caves and Pho Son Da (Phổ Sơn Đà) pagoda. On the eastern slope, there is Am Hoa Son (Âm Hỏa Sơn) mountain.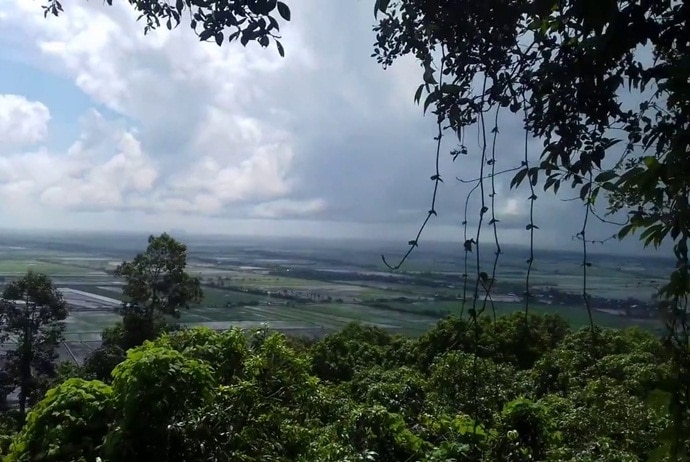 Source: baomoi
This mountain is located in northern side of Kim Son Mountain and western side of Thuy Son Mountain. It is the lowest but also the longest mountain, which looks like a dragon lying on the sand.
The mountain has two-storeyed blocks of rock on the peak. The northern slopes have steep, narrow and low cliffs.
According to the legend, Tho Son is a place of spirituality. From ancient times, Cham people have chosen this place to place the station. Here, there is a remnant of Cham architecture.
In the mountains, there is a cave named Coc (Cốc) or Bo De (Bồ Đề) Cave that faces to the southwest and goes deeply into the mountain. The entrance to the cave is very narrow that only one person can passage here.
On the cliff next to the pagoda, there is a large rock which is about 30m high, shaped like the Buddha.
It is located at the foot of Ngu Hanh Son mountains, in Hoa Hai Ward (Phường Hòa Hải), Ngu Hanh Son district (Quận Ngũ Hành Sơn). This village is formed in the 18th century by a craftsman named Huynh Ba Quat (Huỳnh Bá Quát) from Thanh Hoa. The material used to make marble products is very beautiful and luxurious.
If you have a chance to visit this village, you will surely be impressed by the artworks made from stones. Each of works expresses the talent, delicacy of artisans. These works describe various shapes of everything. Statues of the Buddhas, God, Goddess, and legendary animals like unicorn and dragon are among the most special works, in addition to stone lamps and stone jewelry.
Visitors often buy some these sculptures and statues as gifts. Not only are they beautiful but they are also spiritual symbols in which sculptors drop their spirits into.
Recently, Danang government has issued a ban on rock mining to protect the monuments and landscapes' scenery. Luckily, artisans who are passionate about this profession have found a new direction. They look for the right materials in other provinces throughout the country, including Nghe An (Nghệ An), Ninh Binh (Ninh Bình), Quang Nam (Quảng Nam), etc.
Ticket Price List 
From 1 January 2017, the price of Ngu Hanh Son tour has been changed:
Admission fee to visit Ngu Hanh Son: 40.000 VND/person.
Visiting Thuy Son Mountain:
Adult: 40.000 VND/person.

Pupils and students: 10.000 VND/person.

Children under 6: free.
Visiting Am Phu cave:
Adult: 20.000 VND/person.

Pupils and students: 7.000 VND/person.

Children under 6: free.
Elevator:
One turn (up or down): 15.000 VND/person.

Round trip (up and down): 30.000 VND/person.
What To Eat In Ngu Hanh Son?
If you are a fan of regional specialties, you will find it very interesting when visiting Ngu Hanh Son, in particular, and Danang, in general. Danang has many delicious dishes, including:
There are many delicious seafood restaurants in this coastal city. You can choose the fresh seafood then have local people in the restaurants to process it according to your request. There are many types of seafood to choose from, such as crabs, crayfish, and fishes.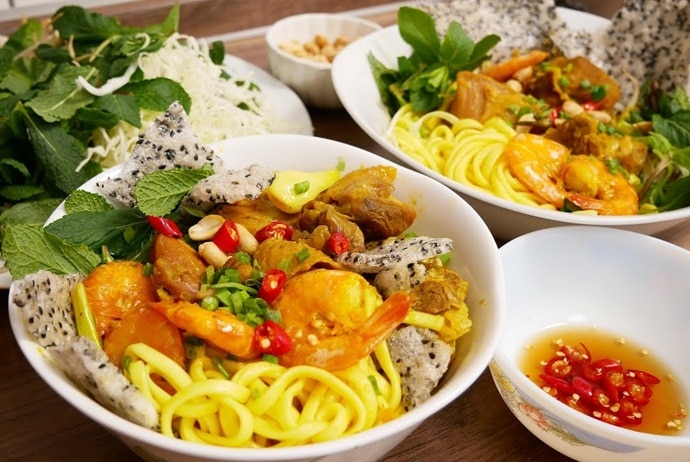 Source: dulich24h
If you have a chance to visit Danang, you definitely have to try noodles. This dish is made with noodles, chicken, and shrimp, and covered by a tasty, rich broth. It is eaten with crunchy Banh Da Vung (Bánh Đa Vừng). .
The two most famous noodles near Ngu Hanh Son Mountain is Pho Phuong (Phở Phương) and Pho Dung (Phở Dung). The price of a noodle bowl is around 20,000 VND.
Hue-Styled Beef Noodle Soup
The noodle soup is made from pork bones which are boiled slowly, noodles and beef. It costs about 20,000 VND / bowl. The way to cook Hue-style Beef Noodle soup is rather different with the traditional Vietnamese beef noodle soup , so you should try this new version of beef noodle soup during your trip in Ngu Hanh Son.
The relatively stable price and high quality of food in Ngu Hanh Son will make you remember this place forever.
To understand more about Vietnamese cuisines, you can check out the recipe to make the famous Vietnamese Hue Beef Vermicelli Soup here.
Some Notes While Traveling Ngu Hanh Son
You should bring a flashlight or a mobile phone with lights when visiting Ngu Hanh Son, especially in the evening. Ngu Hanh Son has many pagodas and sacred places so pay attention to dress neatly.
There you have gathered some tips to have an enjoyable trip to Ngu Hanh Son. Keep your health good when you come here, as you will want to visit more places. Hopefully, you and your family will have a pleasant and fun trip in Danang.