When it comes to favorite tourist destinations in Danang (Đà Nẵng), Vietnam, it is worth mentioning Nam O (Nam Ô) Reef. This reef is an ideal tourist destination for nature enthusiasts and young people.
About 17 km from Danang city downtown, the fishing village Nam O has been previously known as a destination with poetic landscapes, golden sand dunes, undulating rocks, crystal blue water. Nam O Reef nowadays has become much more interesting and charming in the eyes of domestic and international tourists due to various enchanting activities such as going fishing, relaxing on beach, enjoying scuba diving, etc.
If you are planning to explore this reef, the information and knowledge below will be very helpful.
How To Get To Nam O Reef?
Nam O reel is about 17km west of Da Nang city center. It is located in Hoa Hiep Bac Ward (Phường Hòa Hiệp Bắc), Lien Chieu District (Quận Liên Chiểu), Danang City. So, it is quite convenient to move around here by motorbikes, private cars, or taxis.
To get here, depart from Danang city center, go straight Ton DucThang (Tôn Đức Thắng) Street, pass Nguyen Luong Bang (Nguyễn Lương Bằng) street and go through Xuan Thieu Beach (Bãi Xuân Thiều). After that, you will see the small path road leading to a fishing village and from here you can see Nam O Reef.
What Are Attractions In Nam O Reef?
There is a legend about this place. It was related to a craftsman couple (husband and wife) entrusted by the Jade Emperor to dig the sea and raise the mountains. While carrying the stones, they fell. The rocks fall and form Nam O village (Làng Nam Ô), Xuan Duong Mountain (Đồi Xuân Dương) and Nam O Reef in Danang, Vietnam as today. What an interesting legend!
Nam O Reef in the eyes of tourists is a beautiful picture. There is nothing interesting than throwing away all worries and leaving the bare feet on the sandy shore, walking around a poetic beach, letting the wind to be gently entangled to blow an extremely sweet air flow into the soul.
Based on our travel experience in Nam O Reef, to fully explore the beauty of this place, you should go early in the morning. Some fun activities that you should not miss such as:
Explore The Beautiful Scenery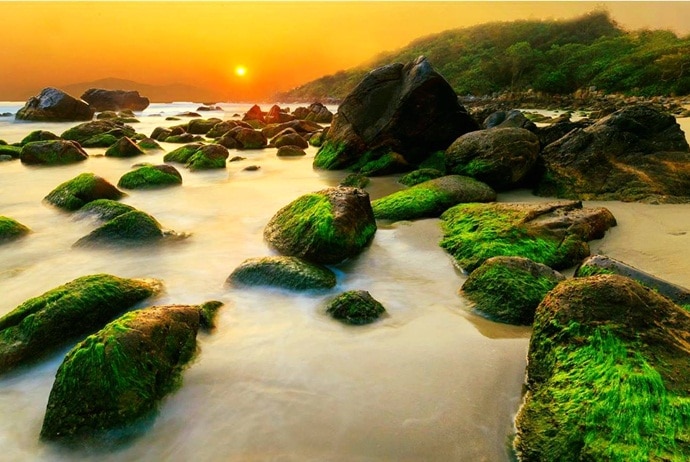 Source: webtretho

Nam O Reef is about 300 meters in length long and 2.5 hectares in width, and divided into two major reefs, namely Ca Reef (Rạn Cả) (the big one) and Con Reef (Rạn Con) (the small one). In fact, the Con Reef is more poetic and peaceful than the Ca Reef. In between these reefs, there are small creeks, often referred to as "Thong Long" (Thòng Lòng)) in Vietnamese.
Peaceful, wild and majestic scenery creates the characteristic of Nam O Reef. Here, you can admire the scenery and breathe fresh air.
The main feature of Nam O Reef is convex reefs and large rocks stacked on top of each other. In the 1st lunar month annually, these rocks are often covered with beautiful green moss, creating a stunning scene of a heaven.
According to some travelers' experiences, the white sandy beach in Con Reef makes them think of the shyness and a gentle feeling of a traditional Vietnamese woman.
Not far away from Nam O reef, there are many boulders which are large enough for a person to rest on and enjoy the peaceful landscape at this site.
Standing on the large rocks, looking to the east, tourists will see Son Tra Peninsula, and Hai Van Pass on the west coast which is hidden in the mountainous clouds and forests. If possible, you should visit Nam O Reef in the morning to capture the sparkling moment of this landscape. The nature in Nam O Reef gives tourists a solitude of tranquility but also very pleasant.
With immense natural landscape, Nam O beach creates a sense of closeness and tranquility. Sea water is very cool and clean. Surely you will feel great when swimming in the sea and listening to the waves' sound.
The best time for swimming is early morning. There are many rocks and moss, so you should be careful upon swimming to avoid falling.
Nam O Reef is famous for its beautiful coral reefs. That is why you should not skip taking part in exciting scuba diving activities here to witness colorful coral reefs and fish swimming in clear blue water. Being in the ocean is one of the best ways to relax.
The sea in Nam O is also home to various types of seafood, especially Do fish and Com fish – the ingredient used to create the nationwide famous Nam O fish sauce.
If you come here early in the morning, you will have the opportunity to enjoy the vast space and watch the sunrise on the sea. Sun rays in the early morning will reflect on the blue sea and green moss layers, creating a beautiful and romantic scene.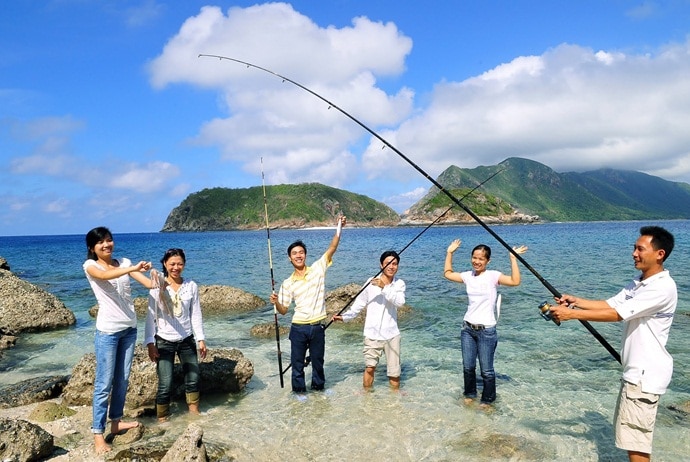 Source: yesgo
An interesting experience that you should not ignore during your trip to Nam O Reef is going fishing. You could easily catch the sight of local fishermen in the nearby districts catching fresh seafood. Having a rich source of seafood, Nam O Reef is also a an ideal place for tourists to enjoy the fun of fishing.
It is better to bring your cooking utensils and prepare the caught fish for lunch.
The scenery in Nam O Reef is perfect for you to take great pictures. Capture the exciting moments and memorable memories of your trip by taking lots of photos.
Explore The Traditional Fish Sauce Making Village
Here, you will get to know the process of making fish sauce from anchovies. Moreover, chances are, you can taste Vietnamese traditional fish sauce. If you like, you can buy some bottles of Nam O fish sauce as gifts for friends or relatives.
Don't skip:  20 Most Beautiful Beaches In Vietnam Voted By The World
What To Eat In Nam O Reef?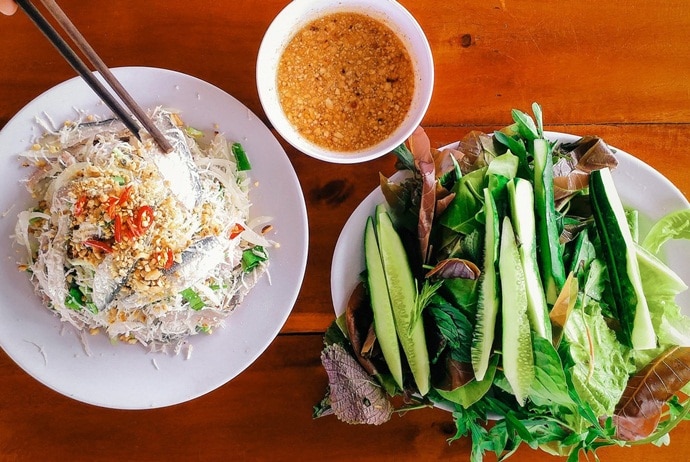 Source: kenh14
Having a trip to a coastal city cannot be completed if you do not enjoy the local seafood. Due to its proximity to the sea, Nam O Reef has a great variety of seafood. You can buy fresh seafood at cheap prices and then process and enjoy right at the reef. Especially, do not ignore the dish named Goi Ca (Gỏi Cá), which is processed from raw fish and vegetables – a very famous specialty of Nam O Reef. It is made from a variety of fish and processed based on different recipes.
If you have more time for the trip, you can visit some places that are close to Nam O Reef, which are Hai Van pass (Đèo Hải Vân), Voi village (Làng Voi) or Van stream (suối Vân).
There, you have just discovered useful information about Nam O Reef tourism. This site is really worth visiting at least once in a lifetime. With the article above, we hope that you have just gathered some general view and specific figuration about Nam O Reef so as to prepare for a good trip. Come on, stand up and start your trip.
If you have any questions, please leave a comment, we will reply as soon as possible.