Updated: 11/19/2019
Than Tho (Than Thở) lake is a tourist destination that is no stranger to tourists coming to Da Lat as it contains a sad love story of a pity couple. If you want to find a place to calm your mind, Than Tho Lake is a suitable destination for you.
Than Tho is a natural lake. In 1917, the French struck and built a reservoir, named Lacdes Soupirs, which had two meanings: whispering water, or lamentation.
For a long time, this place is a witness to unfaithful but unfinished love stories. So it is called Than Tho Lake.
Than Tho Lake is located abo 6 kilometers from the center of Da Lat city, surrounded by 3 roads including: Quang Trung – Phan Chau Trinh (Phan Châu Trinh) – Ho Xuan Huong (Hồ Xuân Hương).
In this article, Vina.com will reveal some of the interesting attractions and activities that tourists can experience when visiting Than Tho lake in Da Lat.
Than Tho Lake: Landscape Not To Be Missed In Da Lat, Vietnam
Basic information:
Other name: Suong Mai (Sương Mai) lake, Tơnô Pang Đòng, Lac des Soupirs
Address: Ho Xuan Huong Street, Ward 9, Da Lat City, Lam Dong (Lâm Đồng) Province
Opening Time: 08:00 a.m – 5:00 p.m
Tel: 02633 823 800
Ticket price: VND 20.000/ adult. VND10.000/ children.
1. How To Go To Than Tho Lake In Da Lat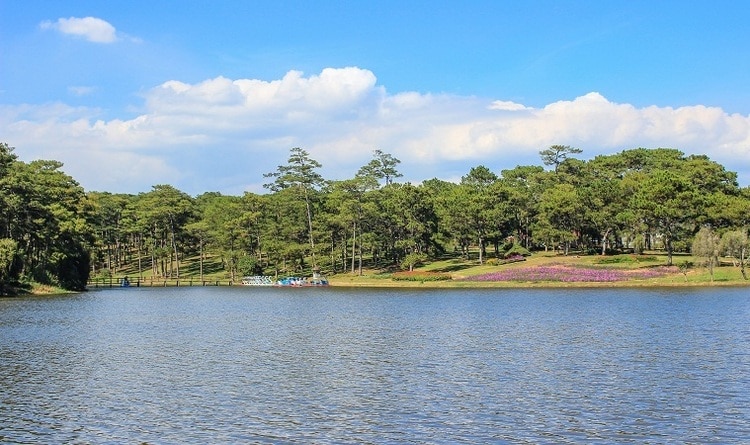 There is a simple way to travel to Than Tho lake:
Starting from the city centre, at Lam Vien (Lâm Viên) Square, you go to Quang Trung Street, cross Phan Chau Trinh Street, to the end of Ho Xuan Huong Street, and the Than Tho lake is on the right.
2. The Best Time To Go To Than Tho lake
You can visit Than Tho lake in every season of the year. If you want to enjoy sweet and delicious strawberries here, then you should visit this destination from November to April.
3. Attractions Of The Place & Activities For Tourists To Do
Surrounding the lake, there are whispering pine hill and willow trees. Inside the Than Tho Lake area, there is a vast immortal hill, colorful flower gardens, and a hydrangea flower garden. Taking slow footsteps, visitors are able to explore the natural scenery with purple sim flowers, lavender, wild sunflowers…gardens.
Visiting this destination, tourists not only contemplate the beauty of hill and lake, but also sightsee the Bio-fresh strawberry garden – a strawberry farm with a scale of over 3 hectares nearly. Tourists can take photos and pick fresh strawberries in the farm. Moreover, you will feel peaceful when you walk on the green grass and see the pine trees printing the shadows onto the surface of the lake.
Tourists should experience recreational activities such as walking and horseback riding around the lake and pine hill. Horse carriage price is about 150,000 VND / turn.

After a round of sightseeing, visitors can have short break in the waiting houses which are placed around the green grass, and enjoy the beauty orchid baskets of the highland hills.

You can see the girl's grave at the Two-Grave Pine Hill, from the outside to the left of the resort.

You can also try roaming the lake with swan boats. The price for this activity is VND 60.000/ hour/ boat.

Tourists only spend a day to visit this entire place, and then go back in the morning, so they accidentally missed the night view at Than Tho Lake. As soon as the sun is turned off, the lights of the resort are turned on and silhouetted onto the lake surface, creating a sparkling scene. It is far away from the urban area, empty of people, and there is only the "groaning" sound from the pine forest.

Than Tho Lake is a suitable place for couples to take wedding photos.
Read more:
People who used to travel in Da Lat knew Than Tho Lake because it is the beautiful natural scenery, drawing a hill between old pine forests, and telling romantic sad love stories engraved in the lake's history. A peaceful Than Tho lake, a Two-Grave pine hill, and a misty land with thousands of flowers make anyone who has come here even once will remember forever. If you have a chance to visit Than Tho Lake, don't forget to share your feelings and practical experiences with Vina.com by leaving a comment below.