Updated: 08/24/2019
Lang Biang Mountain is considered as the roof of Lam Vien (Lâm Viên) plateau with the height of over 2,000 meters, so this mountain is an ideal destination for young people, especially those who want to conquer the high mountains. If you are planning to travel to Da Lat (Đà Lạt), you can try exploring the Lang Biang Mountain in Da Lat in order to have new experiences on this windy plateau. In this article, Vina.com will show you some of the reasons why many people decide to choose this tourist destination as a weekend trip.
Lang Biang Mountain In Da Lat, Vietnam: A Soulful Legend
1. How To Go To The Peak Of Lang Biang Mountain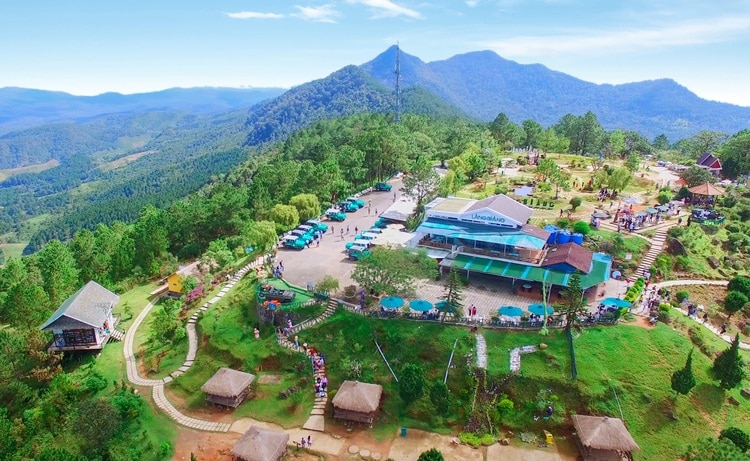 Lang Biang is far about 12 kilometers to the North of center Da Lat city, and it is located in Lac Duong (Lạc Dương) district, Lam Dong (Lâm Đồng) province. From the center of Da Lat city, tourists can catch a bus to Lang Biang Mountain in Da Lat. For tourists who love exploring the roads in Da Lat, they can rent motorbikes to start their journey.
Lang Biang is a range of mountains with many peaks in Da Lat. The two highest peaks are Nui Ong (Núi Ông) (2.169 meters) and Nui Ba (Núi Bà) (2,064 meters). To go to the peak of Lang Biang Mountain in Da Lat, visitors must use a special jeep. Currently, Lang Biang tourist area has passenger services to the Radar peak by jeep with the price of about 300,000 VND/6 people. This peak is one of the easily-conquered mountains in the jeep, and it takes tourists about 15-20 minutes to climb to the peak. If you are confident with your driving and want to conquer the road, you can consider renting a special jeep at the foot of the mountain. If you want to feel all the majesty of Lang Biang, you can rent an open-top car so that the sunshine and wind can wake up your strongest emotions.
Jeeps can only take you to the peak of Radar. And, if you would like to conquer the roof of Lam Vien plateau, you have to follow the trail, through primeval forests. You should be equipped with the lightest clothes and sticks to avoid losing strength. When standing on the top of the mountain, you will be overwhelmed by the natural scenery.
See more: 23 Wonderful Photos Of Vietnam's Da Lat Landscapes
2. The Best Time To Visit Lang Biang Mountain
The best time to travel to Lang Biang Mountain in Da Lat is in the spring – the flower season. Alternatively, visitors can travel from November to the end of the year because this time is the dry season; so, it is suitable for mountain climbing. Also, it is ideal to start the journey to Lang Biang Mountain in the early morning. This time can help visitors take the time and moving will be less tired. Due to early departure, visitors will have more time to visit when reaching the top of the mountain.
3. Where To Stay And Eat
At the foot of the mountain, there are many hotels for tourists to stay and relax. Some recommended hotels for tourists are Lam Vien (Lâm Viên) homestay, Tulip hotel, Ladalat hotel, etc. Also, there is a campsite and many necessary services for tourists. Some tourists stop here to take a sightseeing tour, and others go camping here overnight.
At the top of Lang Biang, tourists can see many restaurants and coffee shops. When you are tired of games or after hours of conquering mountain peaks, you can take a rest in a coffee shop and enjoy a cup of hot coffee in the freezing weather.
4. What Are Activities For Tourists To Do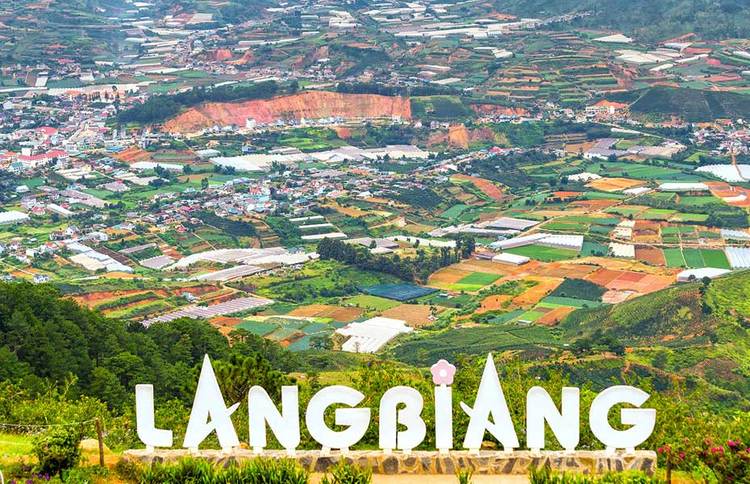 In recent years, there is a kind of parachute, going down the Lang Biang Mountain by wire. The most interesting feeling is to reign at the peak of the mountain and then follow the floating clouds. When you stand here, you can see the whole city of Da Lat in the color of pine forest, French-styled houses, and flower gardens.
At the peaks of Lang Biang Mountain, tourists can discover nature and learn about the culture of the local people here. After conquering the mountain, visitors can take a rest in restaurants, coffee shops and take part in horse riding services, photography, or shopping. All of these services have contributed to making the tourism of Lang Biang Mountain more perfect.
5. Notes When Discovering Lang Biang Mountain
In order to conquer Lang Biang Mountain in Da Lat, there are some notes that tourists need to pay attention to. Firstly, before coming to Lang Biang, tourists have to ensure that they are healthy. Secondly, as visitors have to walk a lot, remember to take a small bottle of water and a few snacks. Thirdly, visitors should not carry much luggage; instead, just bring the necessary items.
There is no surprise that Lang Biang Mountain is one of the most famous tourist destinations in the city of Da Lat. It has a mysterious beauty and also brings a beautiful love story. So, if you have a chance to travel to Da Lat, you should add this tourist attraction to your routine. If you have any experiences about Lang Biang Mountain, you should share your experiences with other readers by leaving your comments below.