Landscape Of Dalat By Giang Minh Tong
Updated: 08/24/2019
Tuyen Lam (Tuyền Lâm) Lake is one of the extremely attractive destinations for tourists in the city of thousands of pine – Da Lat.
Tuyen Lam Lake is located directly beneath Truc Lam Zen Monastery, 6 km from the south of Dalat city center. This destination has a fresh climate, quiet space, diverse and charming natural landscapes (forests, mountains, lakes, streams, waterfalls…) and many tourist attractions. Tuyen Lam lake is expected to become a large-scale tourist resort in Da Lat with many unique types of tourism such as sightseeing tour, camping, relaxation, health care, walking, climbing, fishing, visiting revolutionary bases, festivals – beliefs, entertainment, sports, … especially ecotourism.
Tuyen Lam Lake is known as "the best heavenly lake" because of its wild beauty and charm to the travelers. It is also one of the 21 Vietnam national tourist resorts with many small oases and pine forests. In this article, Vina.com will reveal some of the interesting attractions tourists can do around Tuyen Lam Lake in Da Lat.
Basic information:
Old name: Quang Trung lake

Address: Da Lat city, Lam Dong

Location: near Phung Hoang Mountain, 6 km from the center of Da Lat, 2 km from Datanla waterfall.

Area: 320 ha
Tuyen Lam Lake: Landscape Not To Be Missed In Da Lat Vietnam
1. How To Go To Tuyen Lam Lake In Da Lat
There are two ways to travel from Dalat market to Tuyen Lam Lake:
Hoa Binh (Hòa Bình) – Le Dai Hanh (Lê Đại Hành) – Tran Quoc Toan (Trần Quốc Toản) – Ho Tung Mau (Hồ Tùng Mậu) – April 3 Road (Đường 3 Tháng 4) – Prenn Pass (Đèo Prenn) – Truc Lam Monastery (Thiền Viện Trúc Lâm) – Tuyen Lam Lake (Hồ Tuyền Lâm)

Hoa Binh Area (Khu Hòa Bình) – February 3 Street (Đường 3 Tháng 2) – Pasteur – Trieu Viet Vuong (Triệu Việt Vương) – Tran Thanh Tong (Trần Thánh Tông) – Truc Lam Monastery (Thiền Viện Trúc Lâm) – Tuyen Lam Lake (Hồ Tuyền Lâm)
You can ride a motorbike from the city center to the lake. It is about 7 km away.
If you go by taxi, it will cost about VND 70,000.
Note: On the way to Tuyen Lam Lake, visitors will need to go through Prenn Pass. Be careful because this pass is quite long and winding, making it very slippery and difficult to go in the rainy season.
2. The Best Time To Go To Tuyen Lam Lake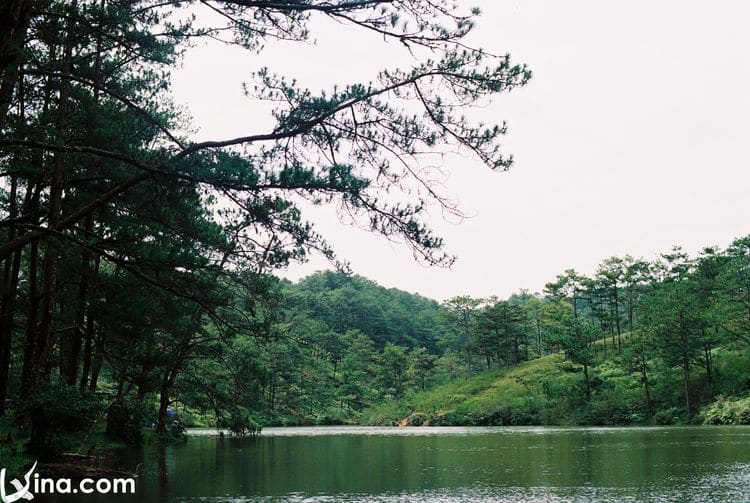 Landscape Of Dalat By Giang Minh Tong
It is best to visit Tuyen Lam Lake in the dry season, starting in the early morning or the afternoon as at that time, the photos will be more sparkling than the afternoon when the sun becomes fierce, and visitors cannot find a cool space to stay. It is also not advisable to choose this destination on rainy days because visitors will not be able to go sailing and get on swan boats.
3. Where To Stay And What To Eat
On the way to Tuyen Lam Lake, there are very few diners. Moreover, most of the eateries and restaurants are specializing in forest specialties. If you want to experience new and strange dishes, try eating there. In your experience, you should go to the city for good food and have more choices.
There are many beautiful hotels and resorts of 4 & 5-star-standard with the view overlooking the lake for tourists to choose, such as:
+ Da Lat Edensee: A Lake Resort spa, designed as a European village with modern architecture.
+ Terracotta hotel & resort: A resort consisting of 240 rooms and 21 lakeside villas, fully equipped with 4-star class services. Surely this will be an interesting option for visitors.
+ Sam Tuyền Lâm
+ Bình An Village
4. What Are Activities For Tourists To Do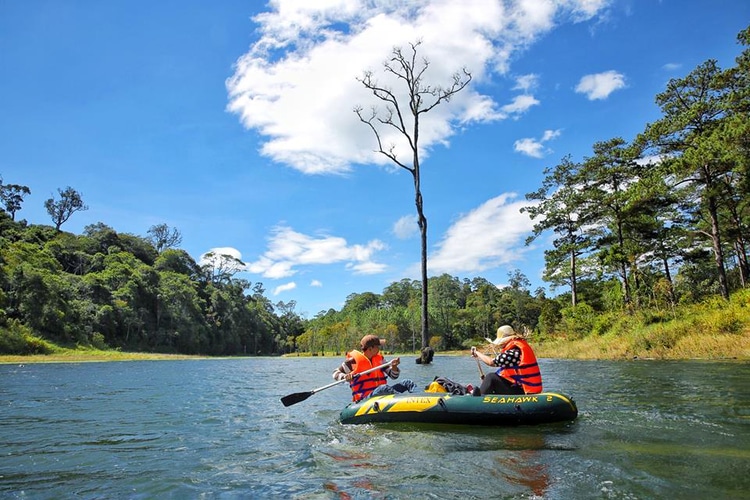 In addition to watching the lake and resting at beautiful hotels, visitors can also visit a variety of landscapes and famous attractions around Tuyen Lam Lake, for example:
The characteristic of Tuyen Lam Lake is that it is surrounded by lush pine forests, providing a sense of peace and allowing visitors to watch and travel on beautiful roads.

Tuyen Lam Lake is an ideal destination for picnics or camping on the lakeside. Here, visitors can unleash the chilly atmosphere and sip warm wine glasses with family and friends, bringing a very interesting feeling.

In addition to enjoying the romantic landscape around the lake, visitors can try recreational activities, such as horse riding, climbing, fishing, and sailing the swan boats around the lake.

When visiting Tuyen Lam Lake, you should go with a large group to participate in collective games, bringing more joy.
Read more:
Over time, Tuyen Lam Lake becomes one of the most attractive destinations of Da Lat city for tourists, contributing to the full picture of Da Lat. Taking a tour to this destination you will be able to temporarily forget about hard and busy life in big, crowded cities. Finally, if you have any personal experience in Tuyen Lam Lake, do not hesitate to share them with other readers by leaving your comments below.