Updated: 08/24/2019
Almost all visitors who travel to Da Lat (Đà Lạt) city will be surprised by the beauty of Xuan Huong (Xuân Hương) Lake – a clear blue lake all year round. This lake is about 25ha in width and 1.5 m in depth, and it has a crescent moon shape stretching over 2 km. Surely, you are wondering why this lake has the name "Xuan Huong lake". Firstly, this lake was named after the famous 19th-century Vietnamese poet – Ho Xuan Huong. Secondly, the fragrance of flowers and trees around the Xuan Huong Lake in the spring mixes together, creating a special aroma; so, it has this name therefrom.
Due to its poetic and romantic beauty, this lake has been a famous tourist attraction in the city of Da Lat. Located in the heart of the city, Xuan Huong Lake attracts many domestic and foreign tourists. In this article, Vina.com will show you some of the interesting attractions you can do around Xuan Huong Lake in Da Lat.
Xuan Huong Lake – Must-See Attraction In Da Lat, Vietnam
1. How To Go To Xuan Huong Lake In Da Lat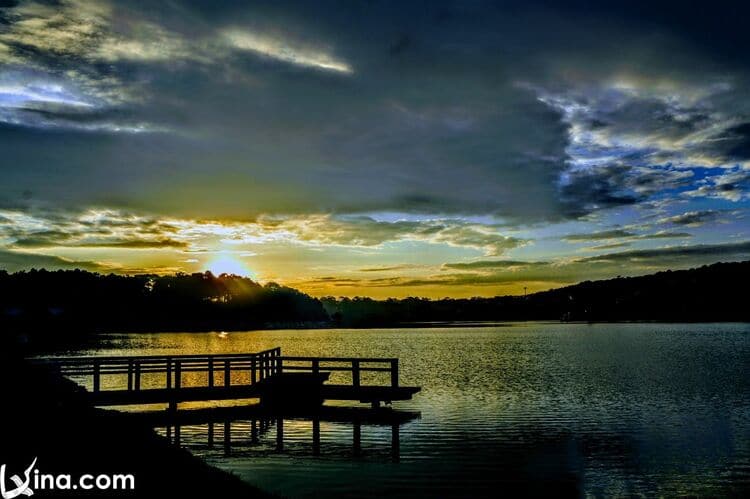 Da Lat Landscapes By Tuyet Thi Nguyen
To go to Xuan Huong Lake in Da Lat, at first, you need to travel to the city center by plane, bus, or motorbike. This lake is located in the center of Da Lat city and close to Da Lat Market; therefore, it is very easy for tourists to find it. If you want to visit tourist attractions in the city, it is compulsory to go through Xuan Huong Lake.
2. The Best Time To Go To Xuan Huong Lake
Xuan Huong Lake in Da Lat is beautiful all year round. However, the best time to visit this lake is in the spring. In this time, the cherry-like apricot flowers bloom and both sides of the Xuan Huong Lake are covered by the brightly pink color. The warm color of these flowers dispels the coldness. So, at this time, a huge number of the tourists come to the lake to go sightseeing and have a leisure stroll on the road. In addition, in the spring, this lake also hosts many cultural events of Da Lat city and Lam Dong province. Especially, "the race around Xuan Huong Lake" has become official in the national bicycle race schedule.
3. Where To Stay And What To Eat
Many tourists in Da Lat prefer to choose the hotels with the view of Xuan Huong Lake. Some suggestions for tourists are Ngoc Phat (Ngọc Phát) hotel, Dalat Plaza hotel, Thanh Thuy (Thanh Thủy) hotel, etc. Also, as this lake is near Da Lat market, it is easy for tourists to find and enjoy local dishes. At night, tourists can drop in sidewalk shops and enjoy snacks like baked rice cake, baked sweet potatoes, grilled corn, and hot soy milk.
4. What Are Activities For Tourists To Do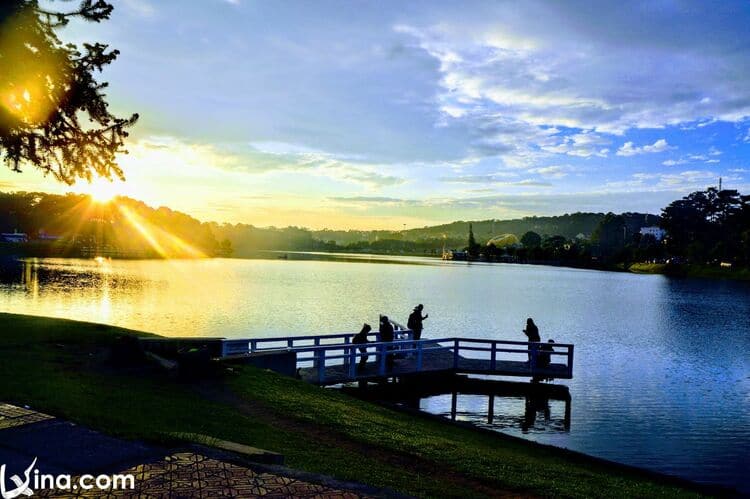 Da Lat Landscapes By Tuyet Thi Nguyen
Arriving in Xuan Huong Lake, visitors can go on a splendidly-decorated carriage while chatting, taking pictures, and enjoying the city's highlights such as Yersin Park, city flower gardens, Cu Hill, etc. Another way to enjoy the beautiful scenery at Xuan Huong Lake is duck riding. Couples are very interested in this type of service when actively controlling the direction and the speed of the ducks on the lake surface. Tourists can go to the intersection between Dinh Tien Hoang (Đinh Tiên Hoàng) Street and Tran Quoc Toan (Trần Quốc Toản) Street to rent a pedalo with the price of 30,000 VND/hour.
At night, Xuan Huong Lake is very crowded, especially at sidewalk shops and the bike rental area. It takes only 45 minutes for you to go through a round of lake. Also, there are few tourists who like to sit on the lakeside benches to chat with each other. After being tired of walking around the lake, taking a break at the root of the old pine tree will be romantic.
Another tourist destination also attracting many tourists to admire the scenery of Xuan Huong Lake is Thuy Ta (Thủy Tạ) café. It attracts visitors due to its unique architectural features on the lake. Many people like to sit at this café with the view of this lake. They can enjoy a hot cup of coffee while watching the lake surface in shimmering colors and taking some photos. For local people, this café is associated with the image of Xuan Huong Lake.
Around the lake, there are empty zones that are suitable for camping. So, if you want to enjoy the late night scenery of the lakeshore and chat with your friends and family members, you can come here to go camping.
Over time, Xuan Huong Lake is still one of the indispensable tourist attractions of Da Lat city, contributing to the promotion of the Da Lat's image. Apart from being the heart of the city, Xuan Huong Lake is also the home to nurture great emotions of tourists when coming to this beautiful destination. Finally, if you have any experiences about this tourist attraction, you remember to share them with other readers by leaving your comments below.