Updated: 08/22/2019
Possessing beautiful landscapes and sightseeing, Da Lat (Đà Lạt) has many charming names such as "city of thousands of pine tree," "city of love," "city of mystery" and the most popular poetic name is "city of flowers." Visiting Da Lat, you will be astonished at the beautiful flowers and impressive scenery. A journey to Dalat Flower Park won't complete if you do not discover Dalat Flower Garden. Dalat Flower Garden (Da Lat) houses hundreds of beautiful and colorful flowers. Because of the potentials and advantages, Dalat Flower Garden has become an attractive destination in Da Lat city which appeals not only domestic but also international tourists.
When Is The Best Time To Visit Dalat Flower Garden?
In fact, you can visit Da Lat at any time because each season of Da Lat has its beauty and charming. This city is different within the year; therefore, you can choose a suitable time to discover Da Lat, depending on your condition.
There are two seasons in Da Lat: rain season and dry season. The rain season is between April and October while the dry season lasts from November to March. To enjoy the best trip to Da Lac in general and Dalat Flower Garden in particular, the best months to visit here are during the dry season. This is because, during this time, the weather is comfortable and dry with clean environment and fascinating nature.
It is also the time you can admire the complete beauty of the flower in the park. Coming to Da Lat and Dalat Flower Garden during this time, you not only enjoy the poetic scenery of hundreds of flower blossoming but also have a chance to take part in the yearly flower festival held in January in Da Lat.
Dalat Flower Garden – A Beautiful Park Of Flowers In Da Lat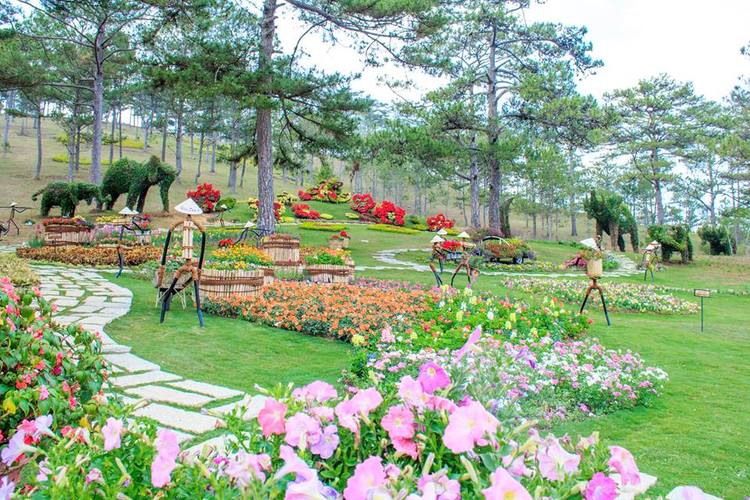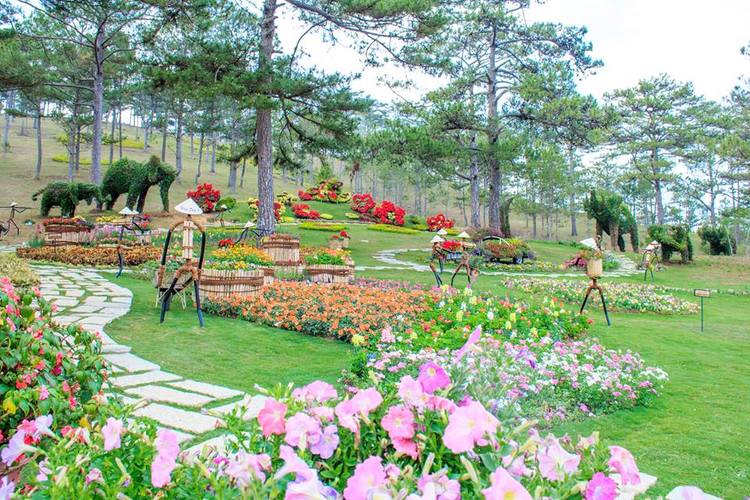 Talking about Dalat "the homeland of flowers", we can not forget the Dalat Flower Garden, the top must-see destination in Dalat. Covering an area of 7,000m2 and situated at the end of Xuan Huong (Xuân Hương) Lake, Ba Huyen Thanh Quan (Bà Huyện Thanh Quan) Street, Ward 1, 2 km far away from the city center, Dalat Flower Garden with the unique beauty and charming has been considered of a natural museum with a great collection of exotic and native flowers. The garden is home to at least 300 different kinds of flower including chrysanthemums, roses, daffodils, mimosas, orchids, and cactuses, etc. In which hundreds of flower can blossom all year round. It is a reason why each year, thousands of tourists and visitors come to this garden to enjoy the beauty of blossoming flowers and attend the annual Flower Festival.
Visiting Dalat Flower Garden, tourists and visitor will definitely be astonished at the flowers arranged in special shapes that are exhibited in back, front and all sides of the garden. It is great to immerse yourself in a dreaming and peaceful scenery in Dalat Flower Garden where you can restore your energy and forget all the noise and chaos of your daily life.
There is also a giant cactus garden in this garden. In the garden, you will find some cacti which is one of the rare species in Vietnam. The cacti in the Garden originate from Africa. The garden also has the area of orchids that are exhibited with the gorgeous beauty, diverse colors, and diversity of species. Hundreds of flowers in different varieties are also displaced in the garden.
The garden consists of an orchid and cymbidium garden built on a large scale that serves the demand of tourists for enjoying, exchanging and purchasing. Dalat Flower Garden is a place where an annual spring flower fair takes place held every 2 years in Da Lat. Furthermore, on the Lunar New Year,  this garden also celebrates Spring Flower Fair with the exhibitions of many fascinating flowers in Da Lat and other different areas. During this time, tourists and visitors can have a chance to take part in many provincial competitions.
Where To Eat Near Dalat Flower Garden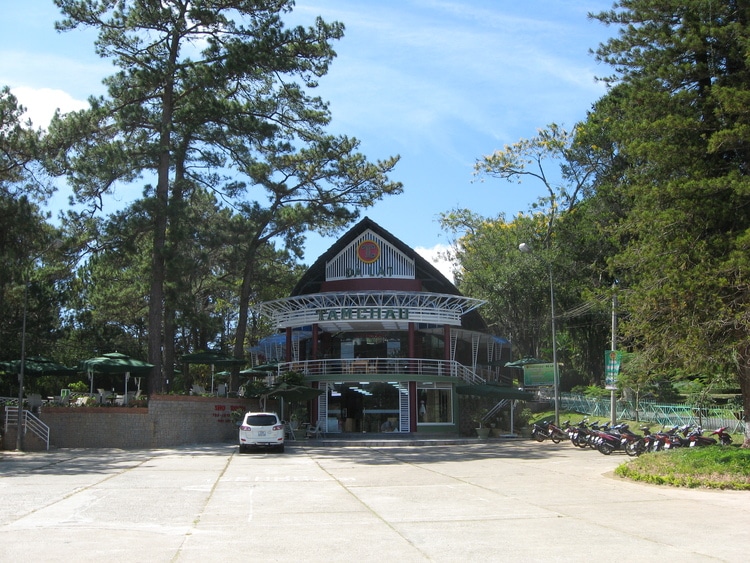 Dalat Flower Garden is located in a convenient location, not far away from the city center; therefore, it is easy for you to find a good restaurant in Da Lat serving delicious food nearby. The recommendations for accommodation near Dalat Flower Park would be Trang's Cookery Restaurant, Botea Bistro, Tam Chau Restaurant, Biang Bistro, etc.
Where To Stay Near Dalat Flower Garden
Da Lat has a wide option for accommodation ranging from affordable hotels to luxurious resorts. For the accommodation near Dalat Flower Garden, you can choose to stay in TTC Hotel Premium – Ngoc Lan, Woodstock Motel, Golf 1 Hotel Dalat, Thien Phu Hotel, Thien Ha Hotel, etc. These hotels have good services and receive many positive reviews from customer.
Read also:
Besides enjoying flowers, tourists can play sports such as swimming, shuttlecock kicking, etc in the garden. Tourists will regret if they forget to explore Dalat Flower Garden. It is not surprising when Dalat Flower Garden is promoting the tourism growth in Dalat by attracting a large flow of tourists.  I hope that this article gave you useful information and the best advice when you are planning to travel to Da Lat and visit Dalat Flower Garden. Any questions can be left in the comment section and we will answer them as soon as we can. Our blog Vina.com has a lot of interesting articles about Vietnam's attractions, activities, shopping, and restaurants. If you want to know, do not hesitate to click in.