Tofu is a nutritious food that is low in calories and gluten-free. It is popular in many Asian countries, especially Vietnam. There are numerous famous Vietnamese foods that are cooked with tofu. In this article, we will show you a new flavourful Vietnamese recipe from tofu. Vietnamese steamed egg tofu with shrimp recipe is an appetizing soft dish which is suitable for everyone who loves shrimp and tofu. The dish is great to have with rice and eat in winter or rainy days. The sweetness from shrimp combined with soft and smooth tofu will make everyone fall in love with it just from one bite. This dish is easy to make and wonderful for your family to enjoy. If you are still wondering what you should make for your family today, try this recipe as follows. This tasty appetizing recipe is definitely worth your time. Wait no more, let's try it now!
Appetizing Soft Vietnamese Steamed Egg Tofu With Shrimp Recipe
I. Ingredients: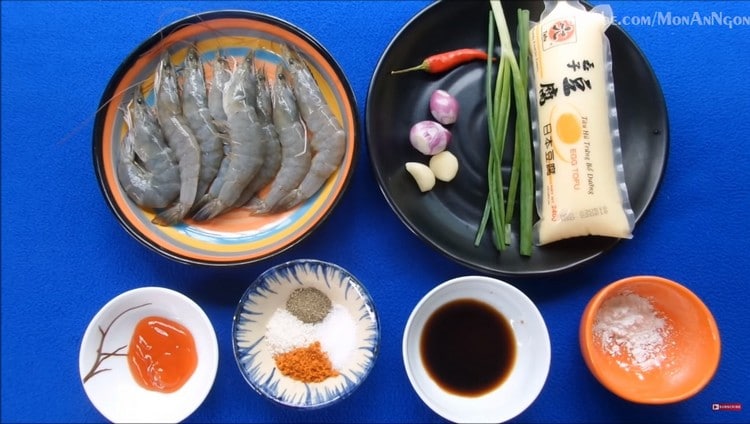 200g fresh shrimp

2 shallots

2 cloves of garlic

1 chilli

Scallions

1 egg tofu pack

1 tbsp tapioca flour

2 tbsp soy sauce

1 tbsp sugar

1tbsp seasoning powder

½ tbsp red chilli powder

 ½ tbsp pepper

2 tbsp chilli sauce
II. Instructions: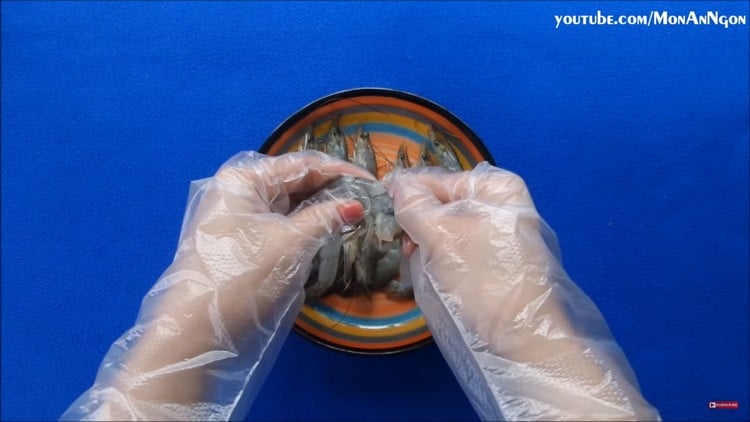 – Peel the shrimp shell, devein the shrimp and cut the tail. Then leave the tails separately for decoration later.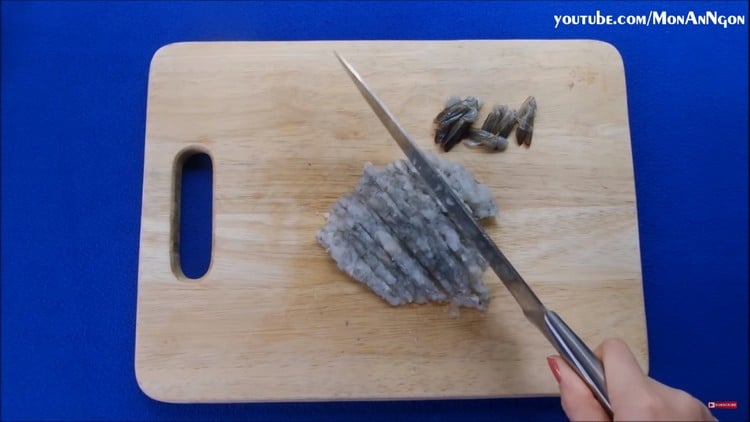 – Chop the shrimps or blend in a blender and put the ground shrimp into a bowl.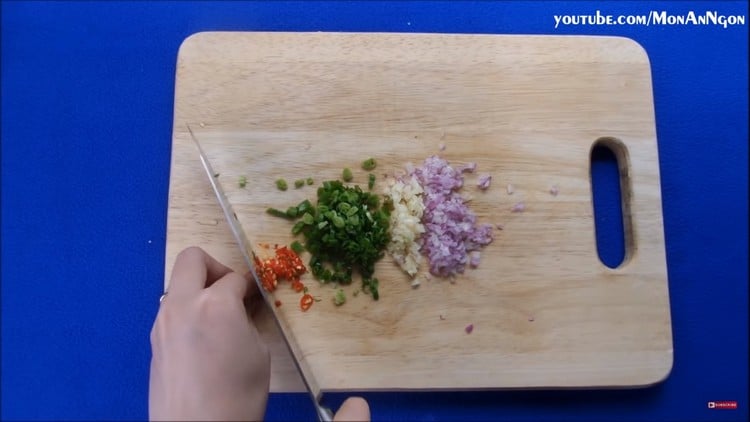 – Mince garlic, scallions, shallots and slice the chilli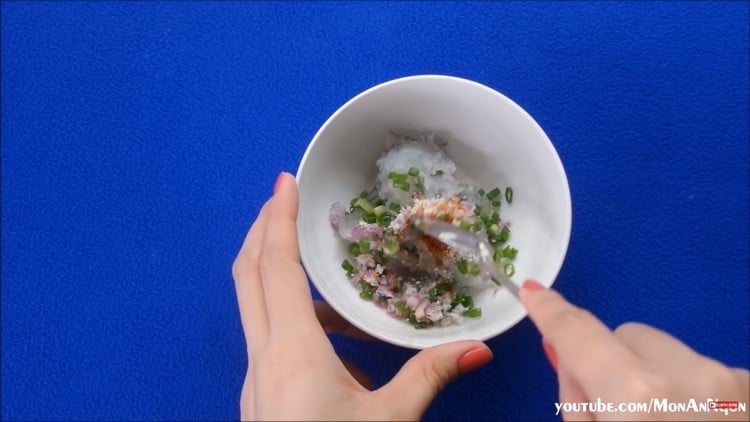 – Add half amount of the spices: sugar, red chilli powder, seasoning powder, minced garlic, scallions and shallots to the ground shrimp. Then mix all well and let it marinate for 15 minutes.
– Cut the tofu into even chunks.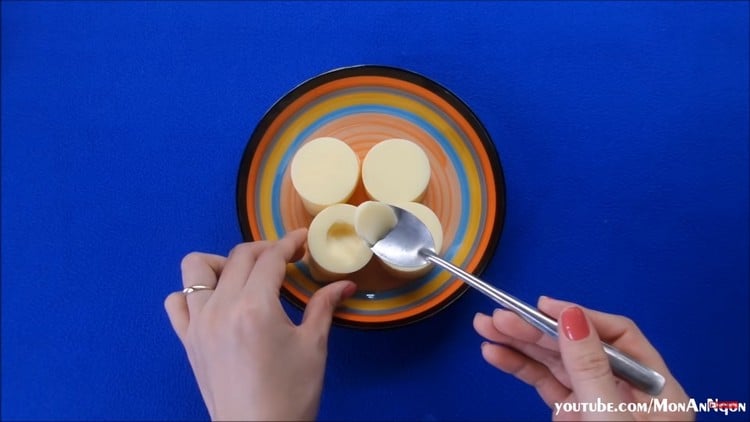 – Use a spoon to make the hole in the middle of the tofu chunks.
– Put the shrimp mixture in the hole of the tofu chunks, add a slice of chilli and the tail of shrimp to decorate.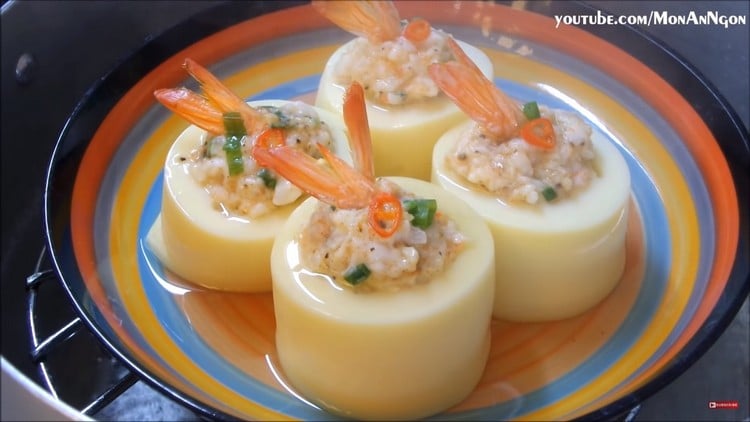 – Put the tofu in a soup plate and place in a steamer to steam for 10 minutes.
– Because there will be a lot of tofu water in the plate after steaming, you should use the soup plate to keep the tofu water.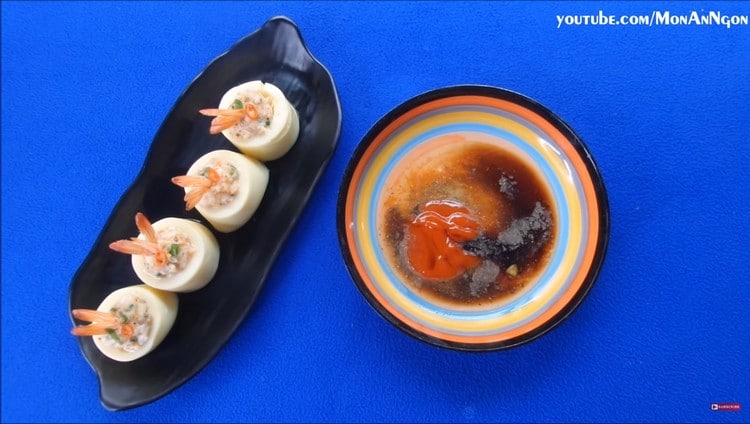 – After steaming, place the tofu on another plate. 
– In the soup plate with tofu water, add sugar, seasoning powder, chilli powder, chilli sauce, soy sauce, tapioca starch and 2 tbsp water then mix well.
– Put the pot on the stove, add cooking oil, garlic and shallots.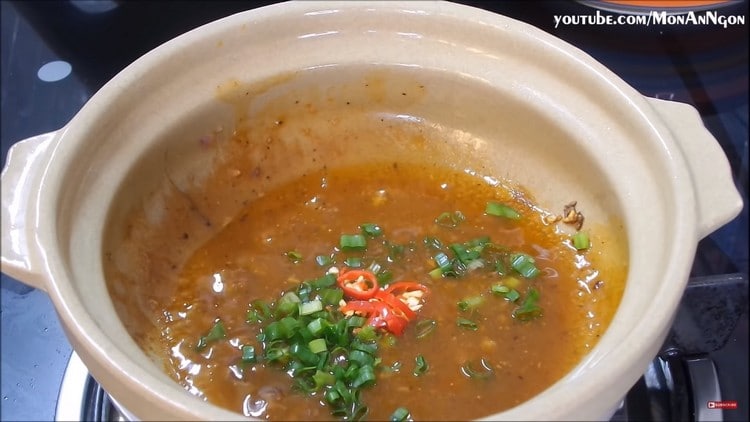 – Pour the mixture into the pot and cook until it is thickened.
– Then add scallions, chilli to the sauce and stir.
– When the sauce is done, turn off the stove and pour the sauce over the tofu.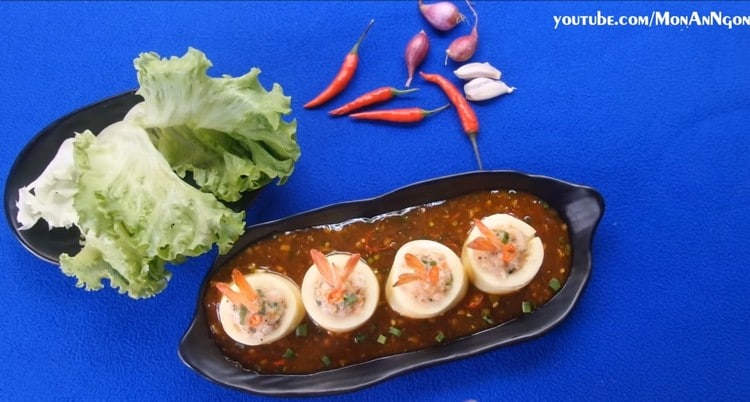 Your tasty appetizing Vietnamese steamed egg tofu with shrimp recipe is completely done. It has a beautiful appearance and is ready to enjoy now. It is time to make this soft delicious dish for your loved ones. To cook more flavourful Vietnamese recipes, take a look at our website. Have fun and good luck!
View more:
By Phuong Khanh