Updated: 08/24/2019
Saigon Central Post Office (Bưu điện Trung tâm Sài Gòn) is the largest post office in Vietnam, a special tourist attraction in Ho Chi Minh city. Being a design by French architect Gustave Eiffel, completed in 1891, Saigon Central Post Office is famous as one of the best examples of Renaissance architecture in Vietnam. Especially, although designed by a French, Saigon Central Post Office is different from other architectural projects with French style in Ho Chi Minh City (Thành phố Hồ Chí Minh). Instead, it has many characteristics of European combined with Asian styles.
Everything About Saigon Central Post Office In Vietnam
I. How To Get To Saigon Central Post Office?
Saigon Central Post Office is located on No.2, Paris Commune Street (Đường Công Xã Pa-ri), Ben Nghe Ward (Phường Bến Nghé), District 1 (Quận 1), opposite to the Notre Dame Cathedral (Nhà thờ Đức Bà). This is a prime location right in the heart of the city, so you can easily approach it by both public transports and private vehicles. If you choose to take a bus, you can catch one of the bus number 01, 02, 03, 04, or 05; if you have your own means, then Google Maps will be your best assistant.
II. What To Do At Saigon Central Post Office?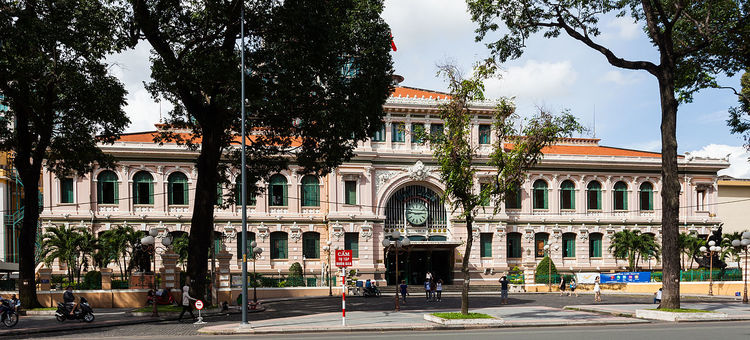 1. Admire The Unique Architecture
First, take a few minutes to admire the beautiful features of the building from the outside. Visitors will see rows of arched windows, a large clock above the main entrance, and the "red flag with a yellow star" – the Vietnamese flag – fluttering.
The supporting pillar and pole systems of the façade have a square structure with elaborate embossed patterns on the head. In the outside, the front of the building is decorated with rectangular cells, on which the inventors of the telegraph and electricity are registered. When going the inside, visitors will immediately notice the curved high ceiling that runs along the length of the spacious main vault. While the window system of the building's side blocks is arched, the windows of the middle block are rectangular. Because of the high ceiling, the contours, lines, and patterns were designed parallelly to create a balanced whole for the post office's architecture, reminding of 20th-century British railway stations.
Also, as soon as you pass the entrance, you can see two big maps mounted on both sides of the wall. These are the historical maps "Saigon et ses environs 1892" – "Saigon and surroundings in 1892" – and "Lignes téléraphiques du Sud Vietnam et du Cambodge 1936" – "Telegraph lines of Vietnam and Cambodia in 1936".
2. Reminisce About The Past
Today, with the development of the internet, mobile phones, and other transport services, Saigon Central Post Office is no longer crowded with visitors arriving for transactions like before. The post office survived in this land for more than 120 years, so it witnessed so many ups and downs of history, as well as many changes took place in this southern city of Vietnam. Most visitors come to Saigon Central Post Office to see its unique architecture. They can also rest on varnished wooden benches, which may exist hundreds of years, after a tour of the city.
Entering the post office, you will feel like that time is passing much slowly because at any corner, it is possible to catch a glimpse of the old Saigon.
3. Send Letters, Postcards
For some visitors, sending letters or postcards from Saigon Central Post Office to relatives and friends is an interesting way to store memories in modern times. In the off chance that you do not feel confident about your handwriting or want to impress receivers, there is a special service that you can only find at Saigon Central Post Office: hire a public writer.
Mr. Duong Van Ngo (Dương Văn Ngô), born in 1930, a formal postal worker since 1952, is said to be the last professional public writer in Ho Chi Minh City. Although he has retired for more than 20 years, the old man who is proficient in both English and French is still diligently working in the post office. The wish of "the writer for the community" is to serve people until he is not in a good state of health anymore. Each time writing, he only charges 10.000 to 20.000VND.
4. Buy Souvenirs
After a tour around the post office, head outside to the entrance where souvenir sellers converge. Thousands of souvenirs are displayed along the corridor, like postcards, artistic pictures, fridge magnets, stamps, and so on. These products of the country and people of Vietnam, in general, and Ho Chi Minh City in particular, are very suitable for passionate collectors or for giving as presents.
III. What To Eat And Where To Stay When Visiting Saigon Central Post Office?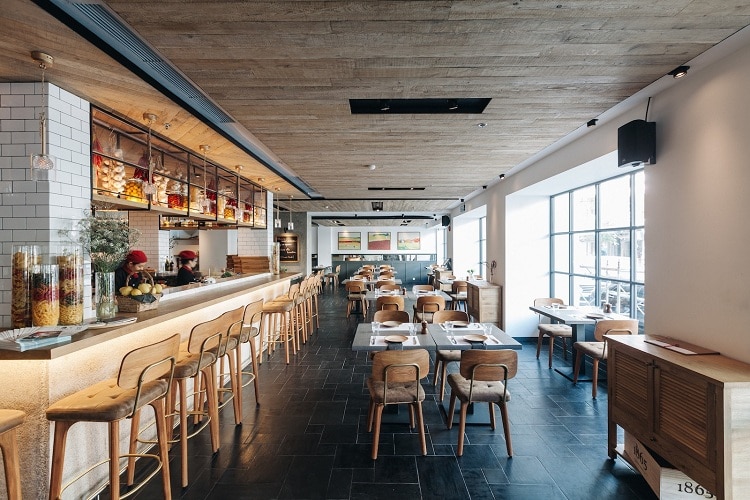 Since this is the post office, you will not find food shops or canteens inside its premises. So if there is a need to eat, there are lots of options available for you in the surroundings. Also thanks to the favorable location, it will be not difficult to find an accommodation that enables you to access the post office quickest.
Saigon Central Post Office along with the Notre Dame Cathedral form an interactive architectural cluster, which creates a unique highlight for the city. We hope this article has brought you a complete overview of this tourist site of the most bustling city in Vietnam. Do not hesitate to leave a comment if you have any question or if you want to share with us your experience. For more information about other places to visit in Vietnam and Ho Chi Minh City, please go to our Vina site.