Updated: 09/02/2019
Most tourists to Vietnam are attracted by the wonderful natural beauty of the country. From the green rice fields in the north to the wonderful bustle of the Mekong Delta located in the south. However, Vietnam is also a country with ancient traditions and a long history. It has a lot of historic attractions and old temples. Here's an overview of the most amazing Vietnam top attractions. Take a look!
11 Vietnam Top Attractions – Where To Visit First In Vietnam?
1. Nha Trang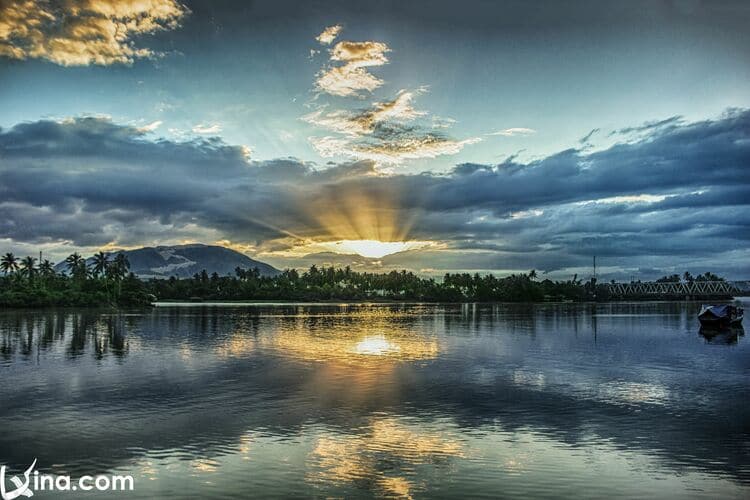 This is considered one of the most popular Vietnam top attractions. It is a seaside resort town situated along the second most beautiful bays in Vietnam. Having beautiful white sandy beaches and clean ocean water with mild temperatures, Nha Trang should be in the list of every foreign tourist when visiting in Vietnam. The city is livelier than other beach sites like Phu Quoc (Phú Quốc) and Mui Ne (Mũi Né). Also, it is a scuba diving center of Vietnam.
Nha Trang Travel Guide:
This is a favorite party town having many a lot of hidden charms for tourists to discover its aquariums, rich ethnic culture. Nha trang is serviced by daily flights from big cities of Vietnam, such as Hanoi (Hà Nội), Ho Chi Minh (Hồ Chí Minh) City, and Danang (Đà Nẵng), making it a relaxing beach holiday within reach when those big cities begin to grate on your own nerves.
Places to visit in Nha Trang and nearby areas – one of Vietnam top attractions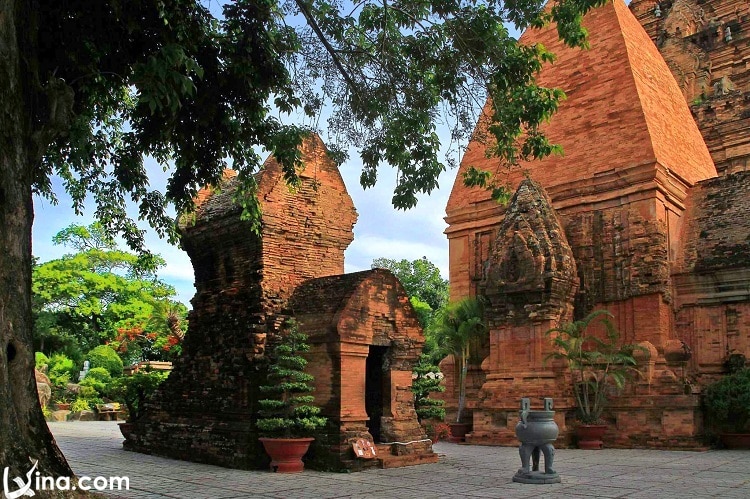 Nha Trang Travel Photos By Tho Bo Ho
Located on the hill above Cai River, right at the northern entrance of the city, Po Nagar is a majestic temple of the well-known Cham sanctuary. The main tower is about 82 feet (25m) in height and dedicated to the Cham goddess Po Yan Inu Nagar – who is the "Holy Mother" of the Champa kingdom. Her statue settles in the major temple, yet it was decapitated during French rule. Nowadays, there are just 4 of the sanctuary's original eight temples remain standing.
A few of the most interesting French-colonial architecture houses could be seen nearby Dam Market (Chợ Đầm), located near the Cai (Cái) River. This is the former Chinese quarter which is underrated part of town. This busy market attracts a large number of foreign travelers, and is a destination which is in contrast to the rest of the modern city. It is also a great site for tourists to snack on local food.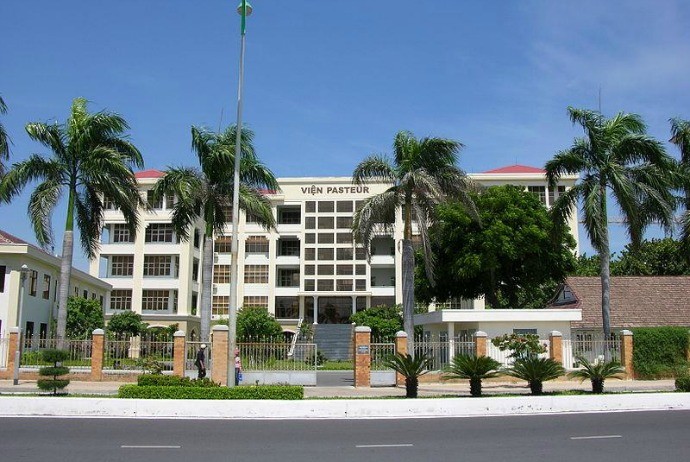 On located on Tran Phu Street, the seafront Pasteur Institute was founded in 1895 by a French microbiologist, explorer, military doctor, and overall Renaissance man – Alexandre Yersin. He discovered the connection between fleas, rats and finally bacteria causing bubonic plague. Then, he built a laboratory to produce the serum for this disease and this lab later became an official branch of Pasteur Institute.
Just several doors down from the Pasteur Institute, there is a small Khanh Hoa (Khánh Hoà) Museum located at no.16D Tran Phu (Trần Phú) Street. The left wing of this museum contains relics from Xom Con (approximately 3,000 years old), the Dong Son (c.2,000 BC – AD 200) and Cham (Chăm) cultures. The most unusual stuff may be the ancient musical instrument which is similar to a marimba and estimated to be about 3,000 years old.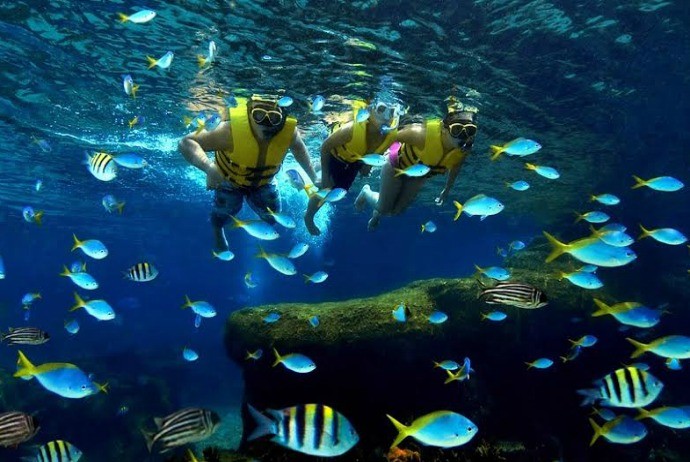 To the southern area of Nha Trang's city centre, you will find the Oceanographic Insitute (Viện Hải Dương Học), built in 1923 and housed in a large complex of French-colonial style.
This institute is the home of dozen open, large tanks – of which the most notable are the prowling sharks, sea turtles, and inquisitive rays.
Standing from Nha Trang Beach, you will see the outline of Bamboo Island, aka in Vietnamese as Hòn Tre). This island is currently dominated by the Vinperal Land Amuseum Park and Vinpearl Resort. The cable car departing from a port named Phu Quy can deliver tourists 3,320m (10,892 feet) across the bay to reach to the centre of the amusement park. In case you do not like the idea of using the cable car, you can take a ferry instead (it takes about 20 minutes) also from that port. The park has several rides, a rollercoaster, water park, game area, shopping center, and restaurants. The crowning feature of this park is the modern Underwater World, with over 20 tanks of different sizes, containing an impressive wraparound tank featuring rays, sharks, and moray eels.
2. Cu Chi Tunnels (Hầm Địa Đạo Củ Chi)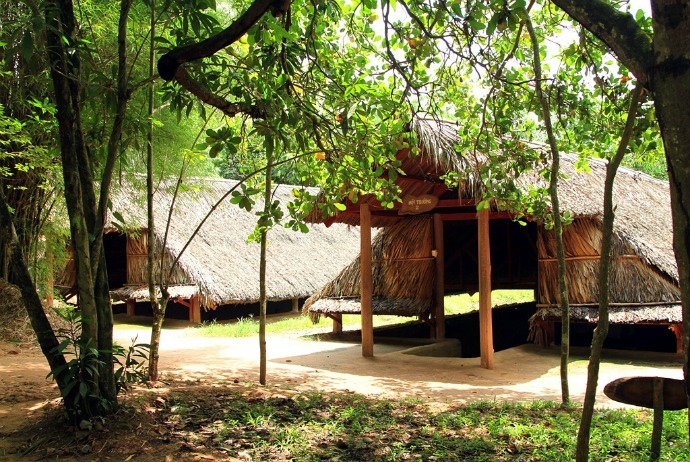 One of the most famous Vietnam top attractions is Cu Chi Tunnels, which is a vast network of linking underground tunnels situated about 40 km northwest of Saigon (official known as Ho Chi Minh (Hồ Chí Minh)City). These tunnels used to be use by Viet Cong guerrillas as the hiding sites during the years of the Vietnam War, and were the base of operations for the Tet (Tết) Offensive in 1968. These tunnels have become a well-known tourist destination and tourists are invited to crawl around in some safe parts of this tunnel system.
3. Hanoi's Old Quarter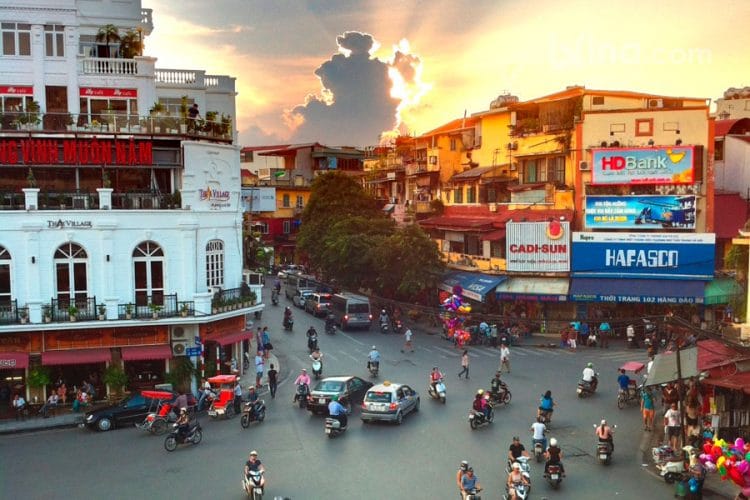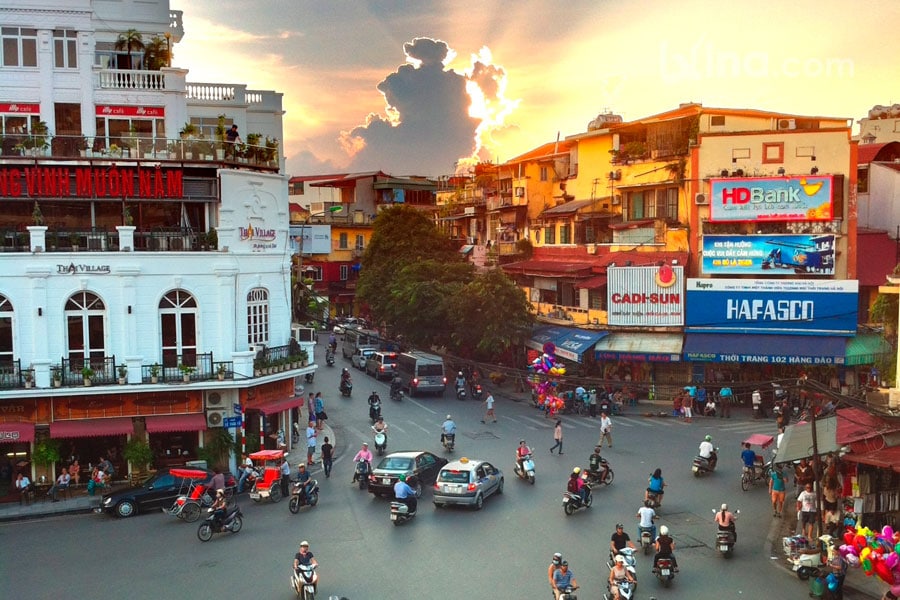 Hanoi Old Quarter By Vina.com

Hanoi, the capital of Vietnam, has a lot of things to see and to do for tourists. One of the most recommended attractions of this atmospheric city, in particular, and Vietnam, in general, is the Old Quarter, which is also among Vietnam top attractions. Here are some sites in the Old Quarter and around Hanoi you should not skip visiting.
Places to visit in Hanoi's Old Quarter and nearby area – one of Vietnam top attractions:
Hoan Kiem Lake (Hồ Hoàn Kiếm)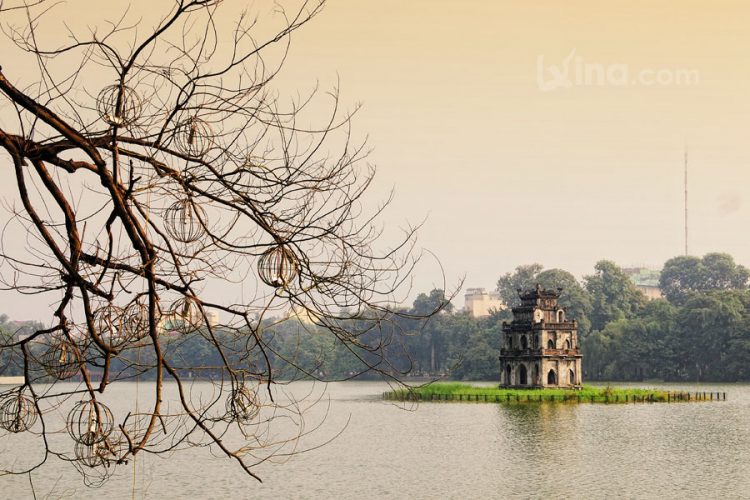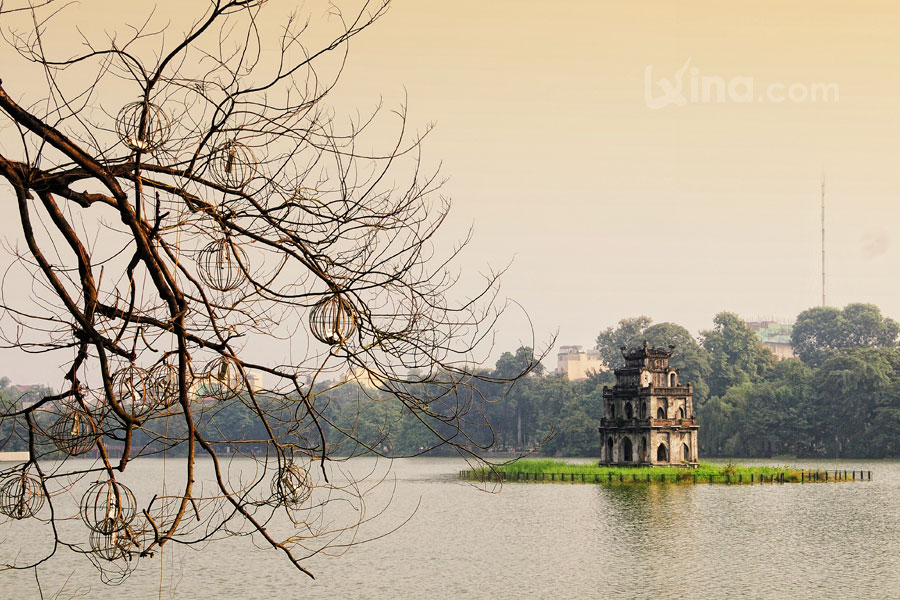 Sword Lake By Vina.com
Located at the center of the Old Hanoi, Hoan Kiem Lake (also known as the Returned Sword Lake) is the heart of Hanoi. Ngoc Son pagoda lies on a small island connected to the shore by a photogenic wooden bridge. This lake supports a large number of turtles.
The historic Old Quarter of Hanoi is known as Ba Mươi Sáu Phố Phường – "The 36 Streets". Date back many centuries to the time when a small group of 36 guilds built themselves in the area, the Old Quarter was almost devoted to commerce on a specific street. Nowadays, many of the initial names still survive. Some instances include Hàng Bạc – Silver Street, Hàng Mã – Paper Street, Hàng Thiếc – Tin Street, Hàng Chiếu – Mat Street. Among these streets, just Hang Bạc still remains its original crafts, specializing in the sale of jewellery. The best manner to visit and enjoy this Old Quarter is on foot or on cyclos, and you can seek out the most interesting sights, including Dong Xuan (Đồng Xuân) Market, the biggest old market available in Hanoi.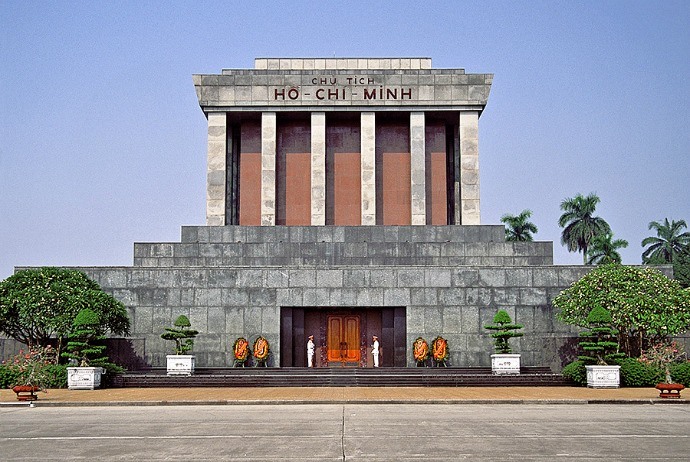 A visit to the Ho Chi Minh (Hồ Chí Minh) Mausoleum is a great starting point for those who love to discover Vietnam. Ho Chi Minh is the national hero of Vietnam, who died in 1969 and was embalmed by the Soviet experts. You can find more details about this great man provided at the Ho Chi Minh (Hồ Chí Minh) Museum located nearby, whilst the nearby Ho Chi Minh's house, is one of the most peaceful places in the modern city of Hanoi.
Chùa Một Cột, the One Pillar Pagoda, was established in 1049 and is considered as one of the few surviving infrastructures from the old city (despite the central shrine was reestablished in 1955). The pagoda itself is said to have supernatural healing powers.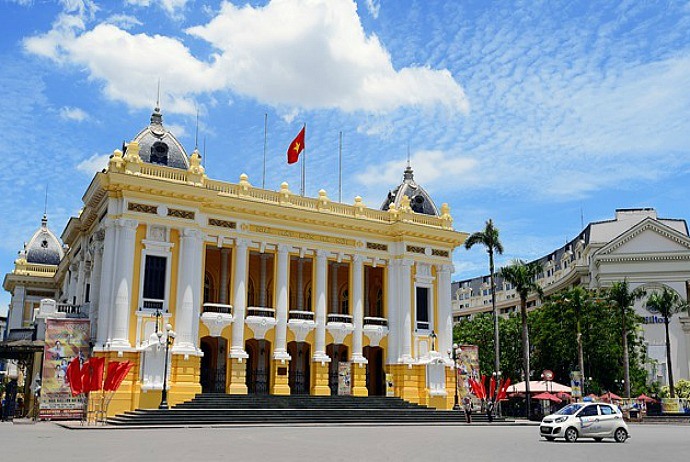 The Opera House (Nhà Hát Lớn) is one of the symbols of Hanoi (Hà Nội) featuring with French colonial architecture, which is resorted in 1997. The interior is really magnificent. If possible, you should catch a performance here.
The largest temple complex of Hanoi is exact Temple of Literature (Văn Miếu Quốc Tử Giám), having 5 interconnecting courtyards. This used to be a centre of learning for many centuries, and the Confucian examinations were taken place here.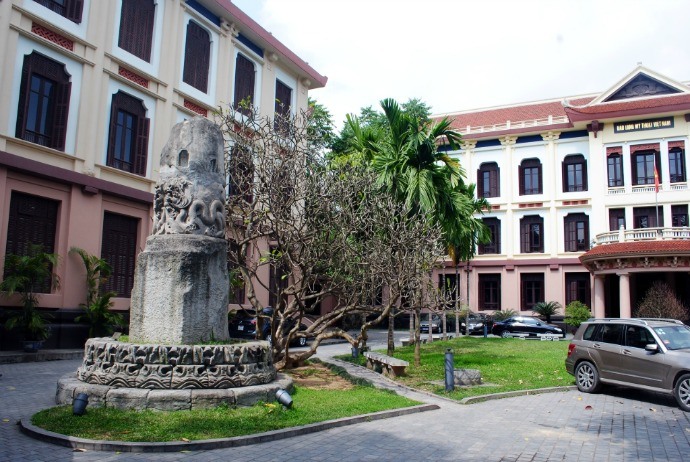 Fine Arts Museum of Hanoi occupies a beautiful establishment and is packed with many fascinating artefacts. Beautiful woodblock prints from mountainous peoples, fine Nguyen dynasty sculpture as well as paintings, and esteemed contemporary works are all displayed.
Museum of Vietnamese History
The museum of Vietnamese History is housed in a fine colonial edifice and details the story of the country from Neolithic times. The comprehensive collection contains Bronze Age implements, an ornate throne of the Nguyen dynasty, and Cham relics.
4. Mekong Delta
The Mekong Delta located in the southern area of Vietnam is where the Mekong River approaches and then empties into the sea. This lush and rich area is covered with rice fields which produce about half of the agricultural output of Vietnam. Subsequently, life in this area revolves much around this river, and most villages are usually accessible by the river rather than by normal road.
Travel guide around Mekong Delta – one of Vietnam top attractions: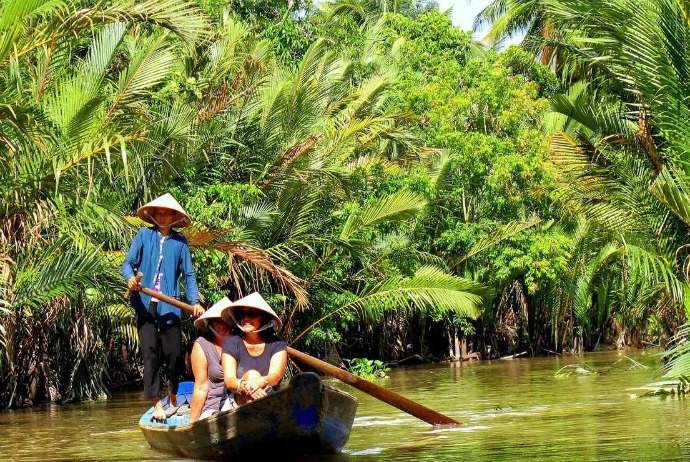 The mightiest river of the Southeast Asia, Mekong River, makes Mekong Delta a fascinating area to explore, deserving to be one of Vietnam top attractions. Nutrient-rich deposits carried by the Mekong River and its complete network of waterways and nine tributaries makes this area very fertile for bananas, rice, coconuts, tropical fruit and sugar cane. It is an intensively cultivated landscape which is also very appealing and picturesque. Secluded waterways with the overhanging foliage lined with mangrove swamps, stilt houses, paddy fields, and fruit orchards. Besides, local people make up much of this scenario.
Independent travel could be a little bit frustrating as transport is rather time-consuming and water-based, so if you to have less hassle, you should join in inclusive tours which are the best way to experience the area. Many tourists use small boats as a means of traveling. They visit cottage industries, fruit orchards, Khmer temples, early-morning floating markets, or penetrate deep into a narrow waterway labyrinth. Today, bike trips are also included in tours.
Places to visit on Mekong Delta: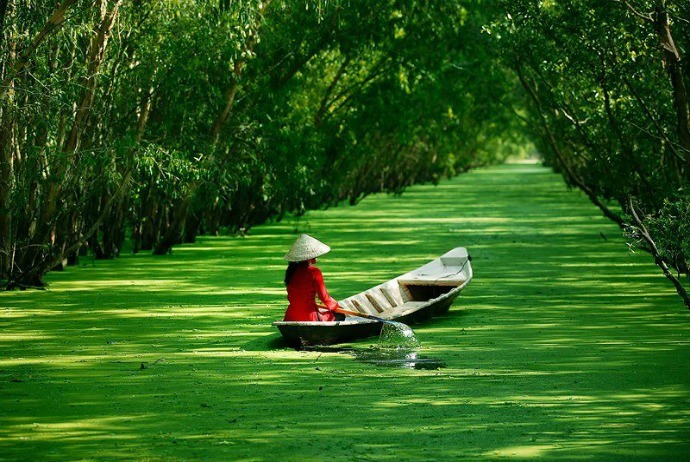 My Tho (Mỹ Tho) is the first stop out of Saigon. Some westward hubs such as Ben Tre (Bến Tre), Vinh Long (Vĩnh Long), Cai Be (Cái Bè) and Can Tho (Cần Thơ) can deliver authentic experiences for tourists who are not in favor of rush multi-day tours. Chau Doc (Châu Đốc), further west, is the home of Khmer ethnic communities, floating fish farms and Sam Mountain, with sweeping views and sacred pagodas. Across the borderline with Cambodia, Tram Chim (Tràm Chim) National Park and Ca Mau (Cà Mau) National Park are crucial heavens for water birds.
5. Sapa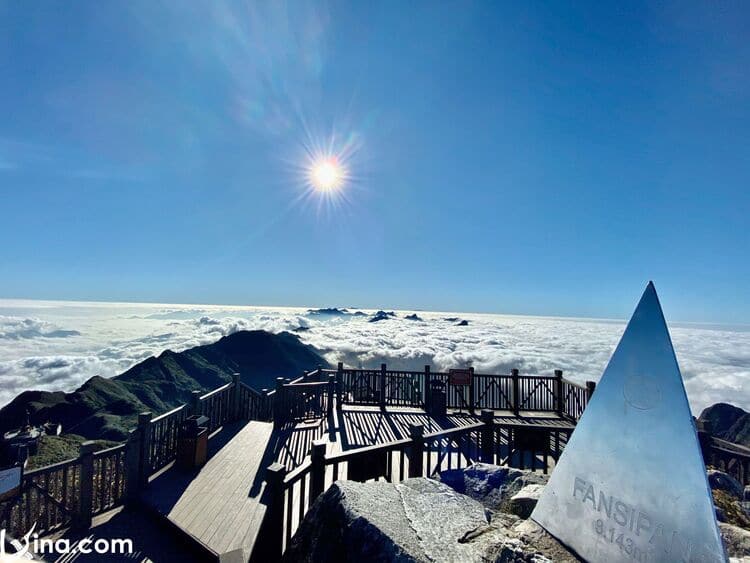 Landscapes Of Sapa By Hanh Bich Tong – Fansipan

When it comes to Vietnam top attractions, Sapa cannot be skipped due to its renowned scenes and atmosphere. Being a town in the northwest Vietnam, not so far from the borderline with China, Sapa has beautiful rice terraces which could be found in Muong Hoa (Mường Hoa) valley between the Fansipan Mountain and the two of Sapa, on the backdrop of green bamboo woodlands. Those local mountainous residents, the Hmong, Tay (Tày), Giay (Giáy), Dao (Dao), grow corn and rice on these paddy terraces, along with veggies.
The ethnic-minority people in this area are neither indifferent nor shy to travelers or their cameras. In contrast, they often take off their metal jewelries along with headpieces and proffer these items for sale.
Sapa used to be used by the French as the hill-station retreat during summer months. The temperature and climate is a welcome respite from the stifling humidity at the lower levels and also reminded the French of home. Sapa's current incarnation is a tourist attracting town just took off in the mid 1990s with the tours of a large number of backpackers.
Sapa is dramatically perched on a high plateau's edge and is surrounded on all sides by dark-blue peaks enveloped by shifting mist and cloud. Along the lower hillsides of the valley, there are terraced rice fields which are interspersed with hill-tribe villages. It is unbelievably scenic and does not take over 10 minutes to go from the town to the countryside.
Places to visit in Sapa – one of Vietnam top attractions: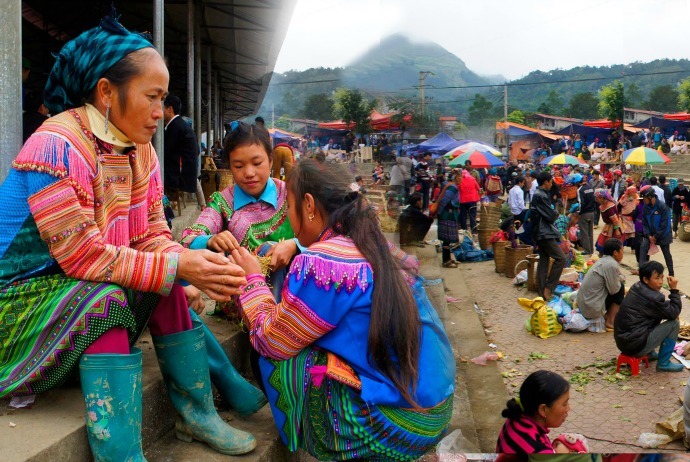 Here, you will find hill-tribe clothing, handicrafts, jewellery on sale here. After strong bargaining, you can get what you want. The ethnic-minority attire has been smartly altered for foreign tourists' body shapes. The vendors gather at this market daily, yet the best time to visit the market is Saturday and Sunday early mornings. During the weekdays, Red Dao and Black Hmong women will wander around the town and tout their jewelry and clothing.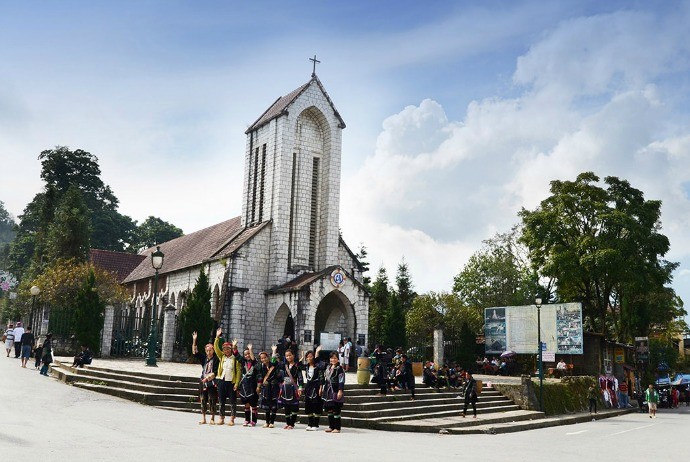 The ancient church of Sapa is known as the Holy Rosary church or stone church which is situated in the centre area of Sapa built by the French in the 20th century. Before building to establish this structure, the French architect chose the terrain carefully. The architecture and shape of this church was established by cross.
The whole church was established by stones, from floors, walls, to bell towers that are connected by a mixture of lime, sand, and molasses. With the total area of more than 6,000m2, Sapa church has adequate room for the arrangement of this area.
This is always a place where holds many traditional cultural events and activities of ethnic minorities. In the front of this church, there is a tennis area which features with unique cultural activities of locals on Saturday. With trumpet leaves, flute, "xoè" dance created magical, sparkling atmosphere in the ancient town of Sapa.
In addition, as the structure was designed early, the Sapa Church experienced many important events of the history. Since the establishment of the church, it always has priests to offer parishioners. Nevertheless, a lot of years later, because of the presence of the Japanese troops, those activities of Sapa Church have stalled. A few years later, the war makes most activities suspended. After that, this church became the repository of local rice.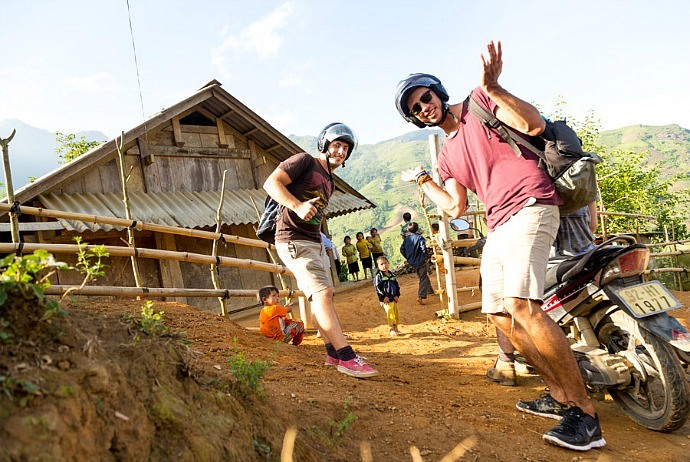 Just about 2 miles (3km) outside of the old town of Sapa,there is a well-trodden Black Hmong village named Cat Cat (Cát Cát). The Black Hmong kids here do often not wear trousers and pose for tourists cameras (of course, in return for money). Many tourists tramp through that small stilt-house village to the nearby Silver Falls (Thác Bạc), approximately 12km (7 miles) out of the old town. Near the falls, there is a long wooden suspension bridge named Cloud Bridge. A few outlying villages, like Sin Chai (Sin Chải), Ta Van (Tả Van), Ta Phin (Tả Phìn), make for relatively easy and pleasant treks. Hotels and travel agencies in Sapa will provide you with more details.
See More: Sapa, a gateway to tribe people with new longest cable car to Fansipan
6. Phu Quoc (Phú Quốc)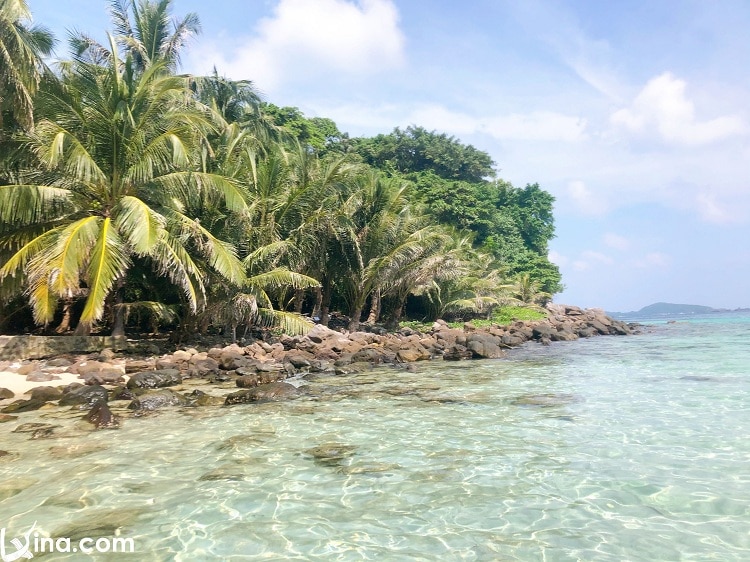 Phu Quoc Island Photo By Nhan Trong Truong

Situated right in front of the Cambodia coast, Phu Quoc is considered as the largest island in Vietnam. Phu Quoc is what Phuket would be if it had not been overrun by development. This island features with pristine tropical forests, great beaches and undamaged coral reefs. One of the beaches in Phu Quoc (Phú Quốc), named Long Beach (Bãi Dài), was gracefully chosen by the ABC News as among 5 clean and beautiful beaches. Phu Quoc is very famous for producing the best fermented fish sauce (nước mắm) in the world.
Offshore fishing, fermented fish sauce and pepper cultivation are major activities. If you are seeking a more simplified, natural island, then Phu Quoc is your choice.
Formerly an island prison camp, Phu Quoc has a beautiful resort which runs down the southwest's coconut palm tree-lined beach. There is also interesting snorkeling and scuba-diving, offering colorful reefs, transparent turquoise waters teeming with fish. Boat trips for snorkeling, diving and fishing are always arranged.
The mountainous interiors are mostly forested, much of this protected as a national park, where hiking possibilities abound. As the most western point of Vietnam, this is considered as the only place you could witness the sunset all the way.
7. Hoi An (Hội An)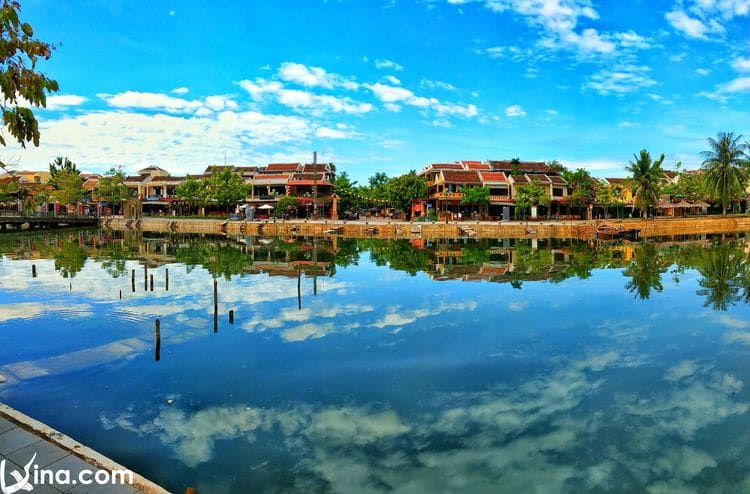 The Old Town By Truong Nguyen

Hoi An (Hội An) was known as a fishing village but now turns into a tourist attraction. Located on the coast of the South China Sea, Hoi An has been an international port since the 16th century. The heart of Hoi An is the Old Town, full of Chinese-style shops and winding lanes. Sometimes, it is called as the "Venice of Vietnam" due to the narrow canals cutting through part of the town.
Being one of the Vietnam top attractions, Hoi An occupies a scenic location along the Thu Bon river's banks, just several kilometers inland from the coast and the charms of Cua Dai (Cửa Đại) beach. To the south, you will find the UNESCO-listed Cham site of My Son (Mỹ Sơn). Nowadays, Hoi An is a relaxed town with the population of more than 120,000. 10% of the populations are living in the Old Quarter, which has been turned into a commonly historical showpiece for travelers. Many of the older homes, with their wooden beams, carved doors and airy, open rooms, have been turned into souvenir shops masquerading as current museums. Whilst it is certainly the old architecture drawing the tourist buses, there is no denying that shopping is the new soul and heart of Hoi An. Bespoke tailor shops could be found everywhere, and it is common to see travelers lugging suitcases filled with newly tailored dresses and suits. In reality, some people worry that the thing that makes Hoi An attractive – its peaceful atmosphere and quiet charm – is being damaged. Nearly every of the buildings in the Hoi An's Old Town have been currently turned into restaurants and shops, and approximately 80% of the populations here now directly derive their own income from tourism.
Places to see near Hoi An – one of Vietnam top attractions: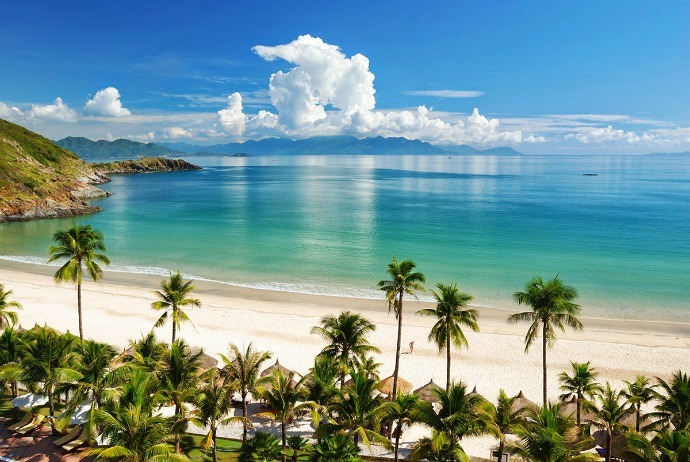 Just 3 miles (5km) from the centre area of Hoi An, you will find a broad silvery expanse of Cua Dai Beach. The stretch of sand of Cua Dai (Cửa Đại) Beach is lined with a few good beachside resorts, including one of the most expensive of Vietnam – the indulgent Nam Hai (Nam Hải). From Hoi An and Cua Dai Beach, going by speedboat about 25 minutes, there is Cu Lao Cham Marine Park comprising eight islands that create the Cham (Chàm) Island archipelago. This marine park is one of the finest diving spots in the central area of Vietnam. Among these eight islands, the main Cham Island is known for its rich number of swallow's nests, which are often used in the birds' nest soup – a delicacy in Chinese communities throughout Asia.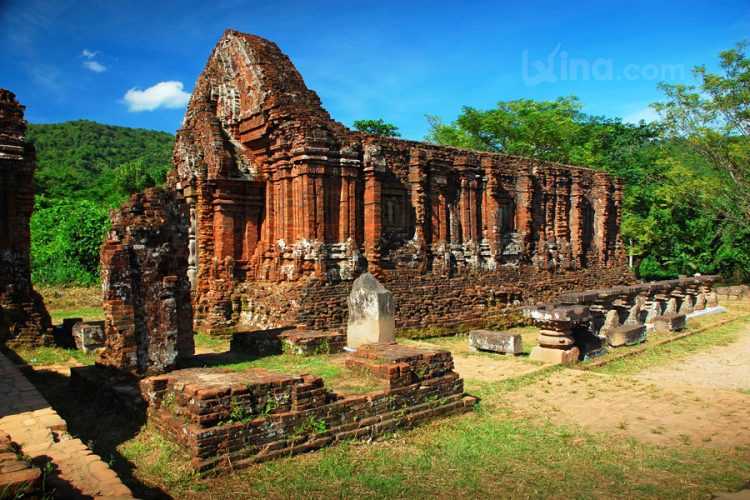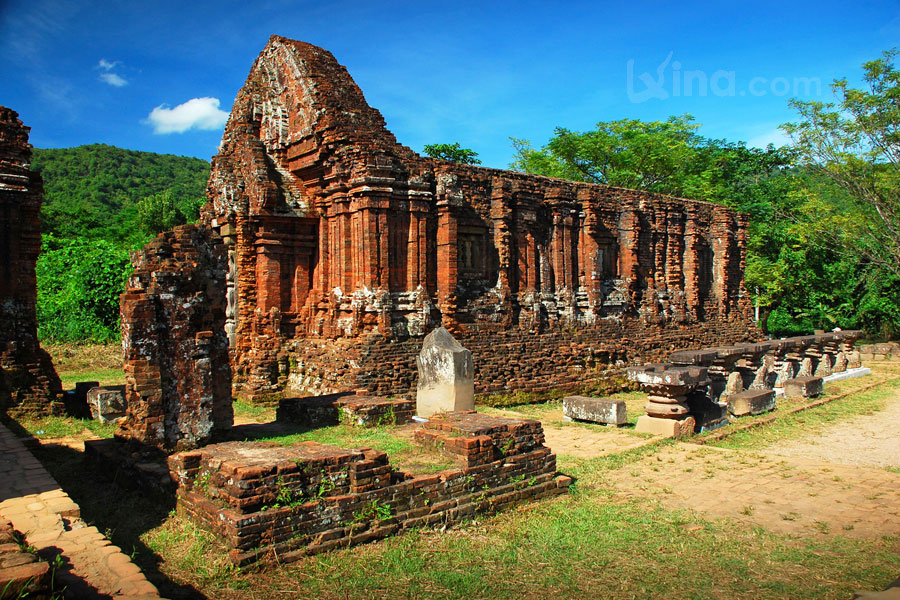 My Son Sanctuary By Vina.com
My Son (Mỹ Sơn), situated 50km away from Hoi An, is not only one of the must-visit destinations nearby Hoi An, but also among Vietnam top attractions. The ancient kingdom of Champa (Chăm Pa) is thought to date back to the 2nd century AD and flourish from the 5th to 15th centuries, used to occupy the central coats of Vietnam all the way to Dong Nai River in the south. Over many struggles, Champa was conquered by Vietnamese people, but the Cham people remained. If you have a keen interest in the war years of Vietnam, the My Son with a good guide – is incredibly rewarding. The site of My Son (Mỹ Sơn) these days is an impressive complex of ruined temples that are in the process of being restored or stabilized. All but one of the establishments here was made of red brick yet how the bricks were formed, baked, and adhered together before carving remains a hidden mystery.
Because of natural disasters as well as war-related damage, just 20 of the initial temple towers survived yet most of the epitaphs still remain.
8. Hue (Huế)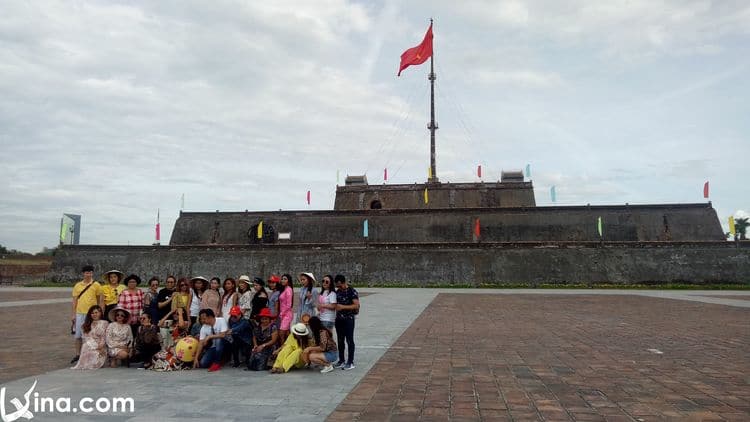 Famous Landscapes Photo In Hue By Thong Hoai Nguyen

Another spot in regard to Vietnam top attractions is the old capital of Vietnam – Hue. An imperial citadel still stands proudly in Hue, though violent bombardment during the Vietnam War by the Americans. If you ask Vietnamese people about Hue, they will usually remark that it is a romantic but a little bit sleepy city. This might have something to do with the crumbling ruins and old architecture. Hue (Huế) is prone to exceptionally rainy in compared with the rest parts of Vietnam, especially in the second half of the year.
Used to be the capital of Vietnam and the seat of Nguyen Dynasty, Hue is situated 12 km (about 7 miles) from the coast on a narrow stretch of land in Thua Thien Hue (Thừa Thiên Huế) Province, bordering Laos in the west. Hue lies between Hanoi and Ho Chi Minh (Hồ Chí Minh) City. Today, this city is among the more noteworthy destinations, due to its eventful history and cultural and intellectual connections. Hue, a pretty city is criss-crossed by many bridges, lakes, canals and moats. There is an ancient imperial citadel along with residential areas located on the north bank of the Huong River (Perfume River) whilst the new commercial area, the old French quarter and the hotel district are on the south bank. Further south, there are some tombs belonged to the Nguyen Dynasty's emperors.
What to see in Hue – one of Vietnam top attractions: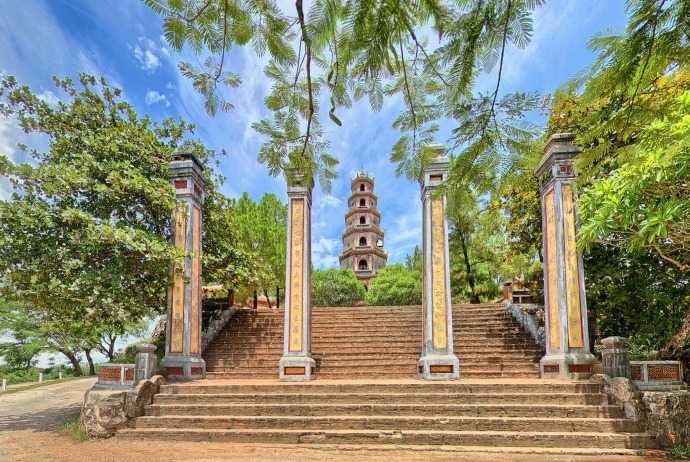 Thien Mu (Thiên Mụ) Pagoda, the tallest pagoda in Vietnam, has seven stories. The pagoda overlooks Huong (Hương River) River and is regarded as the unofficial symbol of the old imperial capital. This pagoda was established in 1601 during the rule of Nguyen Lords. The original temple was simply constructed, yet over time it was expanded and redeveloped with more and more intricate features.
On the Perfume River's northern side, Hue Citadel covers an area of 520 hectares (1285 acres). The citadel is enclosed by the wall which is made of brick, stone and earth, measuring 65 feet (20 metres) thick and 26 feet (8 metres) high. On the entry of the Citadel, there are 10 fortified gates; each of them is reached by an arched, low stone bridge across the moat. The area inside the Citadel contains three enclosures, the first of them was formerly used to accommodate different royal ministries and which now constitute a pleasant area of gardens, parks, and peaceful residential districts. Here, you can found Sung Than Cong (Nine Deities Cannons) which are kept in buildings that flank the gates on each side of the Flag Tower.
Yellow City – Hoàng Thành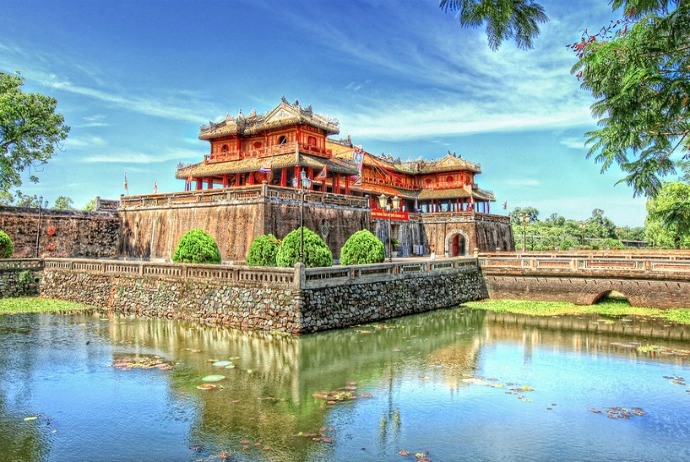 A second defensive wall and moat within the Citadel guard Hoang Thanh (Hoàng Thành) (Yellow City) deliberately modelled based on the Forbidden City in Beijing. This city has four gates, the main of which is named Cua Ngo Mon (Meridian Gate – aka the Noon Gate). The majestic structure, established during the sovereign of Minh Mang (Minh Mạng) Emperor in 1833, is one of the finest surviving examples of Nguyen Architecture. The central entrance, is reserved uniquely for the emperor, is respectfully flanked by smaller passages for the use of mandarins as well as court officials. In turn, these are flanked by two wider passages aimed for royal elephants. Right above the Ngo Mon (Ngọ Môn) Gate, there is Five Phoenix Watchtower in which the emperor sat in state during important events and ceremonies.
Forbidden Purple City (Tử Cấm Thành)
In the very centre of the Imperia Enclosure, there is nearly nothing left of the used-to-be magnificent Forbidden Purple City. This was a citadel-inside-a-citadel and was reserved solely for the personal use of the emperor – those servants who were allowed to enter into this compound were eunuchs who might not threaten the royal concubines. The Forbidden Purple City was nearly completely ruined in the wars, and its crumbling remains are currently overgrown weeds.
Perfume River (Sông Hương)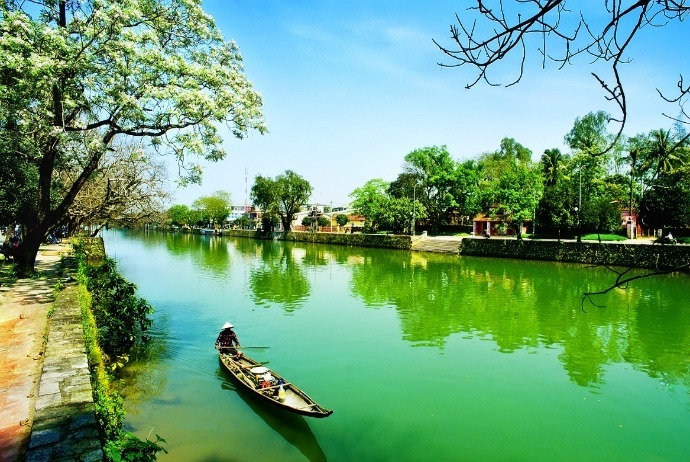 Any visit to the ancient capital of Hue would include a boat trip on the beautiful Huong (Hương) River. Boats are always readily available for hire, either for a trip in the vicinity of Hue, or for a longer journey upstream to the tombs of Gia Long (Gia Long) and Minh Mang (Minh Mạng). You can also enjoy night journeys on Perfume River with musical ensembles playing traditional court music, which will definitely offer you an enchanting experience.
Scattered across the rural area to the west and south of the city, the Tombs of Nguyen (Nguyễn) Emperors are, accompanied with the Citadel, are the greatest attractions of Hue. These seven tombs have features of outstanding architectural merit, are usually striking different.
9. Halong Bay (Vịnh Hạ Long)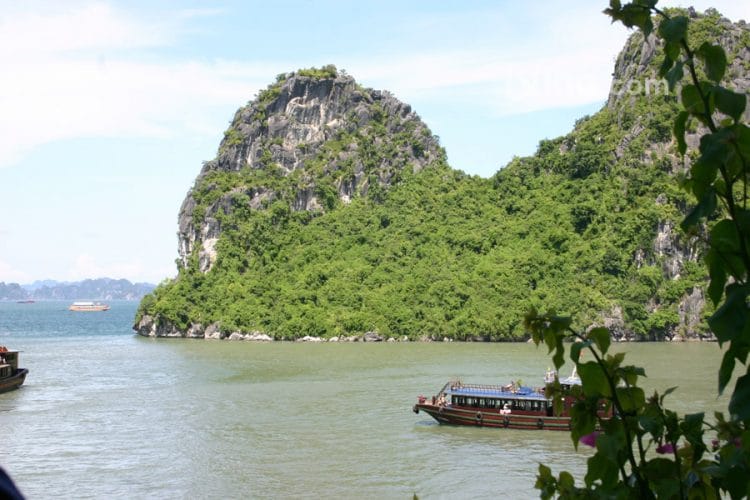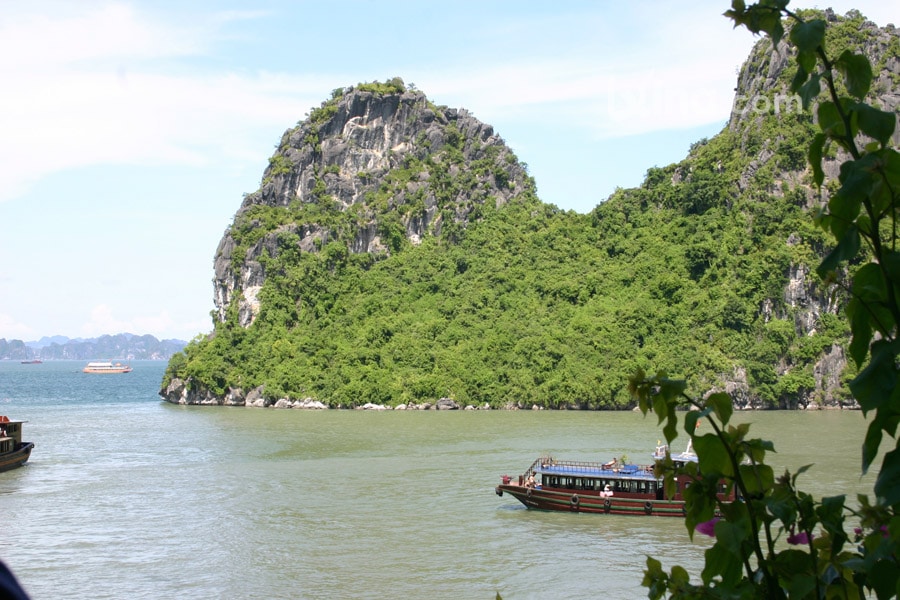 Landscapes Of Halong Bay By Vina.com

Situated in the north area of Vietnam, Halong Bay covers a 120km long coastline and is literally meaning as the Bay of Descending Dragons. Being one of the Vietnam top attractions, Halong Bay (Vịnh Hạ Long) has thousands of islands, each topped with thick jungle vegetation, creating a spectacular seascape of limestone pillars. A few of these islands are hollow, with enormous caves while others include floating villages of fishermen and lakes.
Travel guide for Halong Bay – one of Vietnam top attractions:
It is said that no trip to the northern area of Vietnam would be perfect without traveling to Halong Bay, one of top natural wonders of the whole world and truly one of the most worth-visiting destinations in Southeast Asia.  The tranquil beauty of the bay encompasses about 579 square miles (1,500 sq km) of indigo sea and is beautifully dotted with more than 3,000 limestone islands along with rocky outcrops, most of them uninhabited. Oddly shaped rock sculptures jut drastically from the enormous sea, and many grottoes create an enchanted, timeless and mystical world.
Just take about 3 hours from Hanoi (Hà Nội), Halong City comprises to small towns, which are Hon Gai (Hòn Gai) and Bai Chay (Bãi Cháy). The best time to visit Halong is from April to October as it is warm this time and you could swim off the boat or relax on sundecks. During September, the peak typhoon season, it is not ideally for traveling due to bad weather. From January to March, the weather could be drizzly and cool, yet even then Halong Bay is still a worth-trying excursion. It is crucial to note that the weather before heading to the sea as rough seas have resulted in serious accidents. Regarding Halong Bay tours, you will what you pay for. For more expensive tours, there are newer boats with higher standards of safety.
10. Mui Ne (Mũi Né)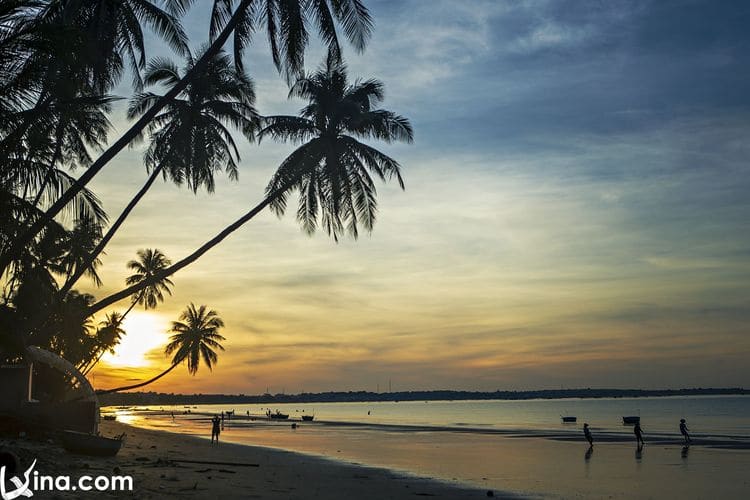 Photos Of Phan Thiet Landscape By Hieu Trung Tran

One of the most famous Vietnam top attractions is Mui Ne (Mũi Né). The formerly little-inhabited beach south of Mui Ne fishing village has seen dramatic development in the last 15 years. Because of the strong sea breezes, it is an ideal and popular destination in Vietnam for wind- and kite surfing. No journey to Mui Ne can be complete without a trip to the well-known sand dunes situated a short distance north of Mui Ne.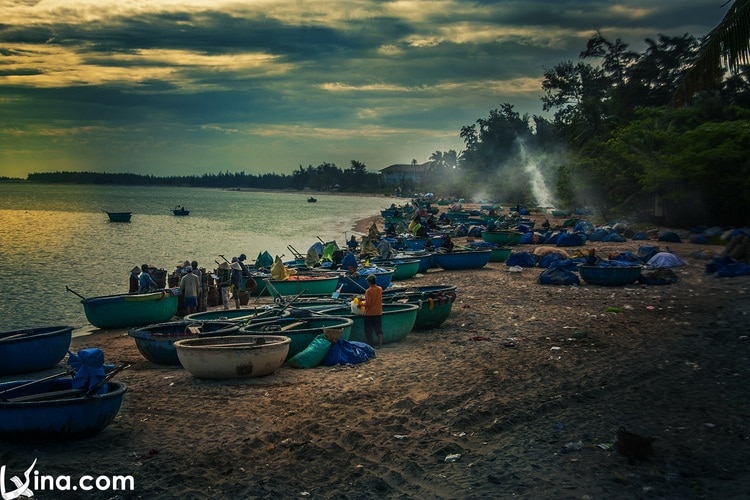 Photos Of Phan Thiet Landscape By Bao Doan (Cu Cay)
There is a wide range of resort and guesthouse options, with the actual village of Mui Ne set far eastern end of the bay. It just takes about 4 hours departing from Ho Chi Minh (Hồ Chí Minh) City; Mui Ne is an attractive destination for tourists who are looking for a quick beach vacation and Saigonese who are seeking a weekend retreat. The major resort strip is locally known as Ham Tien (Hàm Tiến) beach.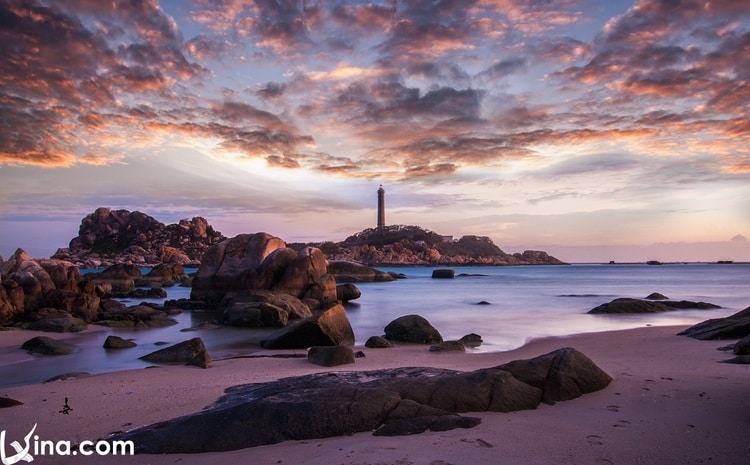 Photos Of Phan Thiet Landscape By Bao Doan (Cu Cay)
Over 15 years of development, Mui Ne nowadays has transformed from the once sleepy fishing town into one of Vietnam top attractions and stands as a mellow alternative to the lively Nha Trang. Mui Ne offers many luxury hotels and a wide array of outstanding mid-range resorts. Whilst options for budget tourists have dwindled, some good cheap haunts are still worth seeking out.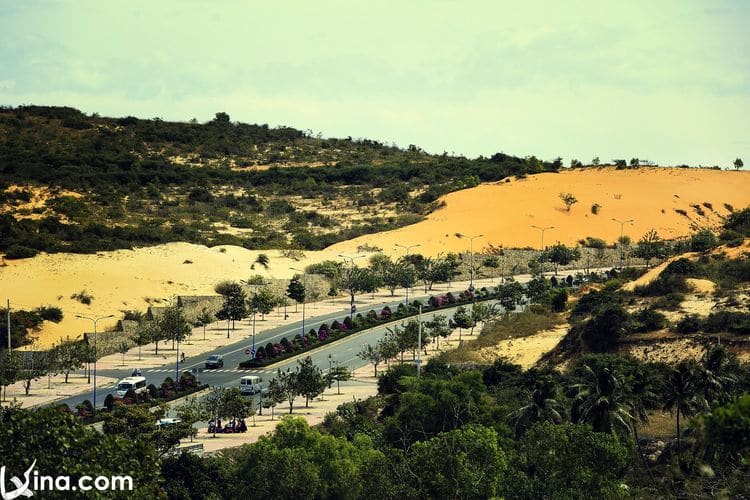 Photos Of Phan Thiet Landscape By Hieu Trung Tran
Mui Ne in fact is well-suited for swimming and other water sports. The bay is a common destination for kite and wind surfers because of consistent onshore wind during the year. It is common to see both amateurs and professionals of kite surfing mixing it up with fishing boats during the day. Many people claim that Mui Ne in Vietnam and Boracay in the Philippines to be the best spots in Southeast Asia for kite and wind surfing, so if you are keen on learning these sports, then do not skip this destination.
If you could peel yourself on the white sand, a few sites are worth checking out in the surrounds. Here, the key attraction is sand dunes, which could be visited with a tour operator or by motorbike. A stop at the Poshanu Towers and Fairy Stream can make for a good afternoon experience.
There are many more attractions in Vietnam, but in this limited frame of the article, I just can list down 11 out of Vietnam top attractions which are highly recommended by experienced tourists, both domestic and international. If you are going to travel Vietnam, then don't skip some of these Vietnam top attractions. Vietnam is a beautiful Southeast Asia country with friendly people. Come here and enjoy it!