When it comes to markets in Saigon (Sài Gòn) (also known as Ho Chi Minh (Hồ Chí Minh) City, the iconic Ben Thanh (Bến Thành) market often comes to mind. However, whilst it is rich in history for local people, it seems to be little more than a tourist attraction. There are many other markets spreading out across the city. Talk about Saigon's markets, a note is visiting during the early morning. In Vietnam, at this time of the day, the produce will be at its most colorful and freshest, and the markets are also at their own busiest. At the beginning of the new day, nothing could beat the freshness of produce and the morning rush as well. The markets in Saigon listed down here represent a poorer side of Ho Chi Minh (Hồ Chí Minh) City, but here you could find something of the liveliest, friendliest and the most convivial people in this city. Take a look!
1. Xom Chieu Market (Xóm Chiếu)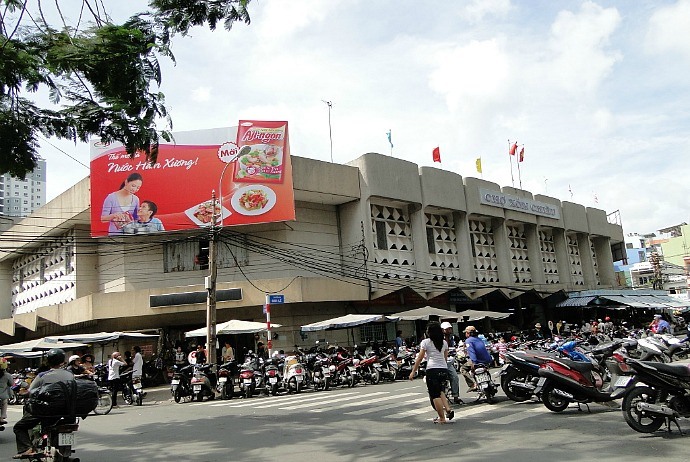 Located on Le Van Linh (Lê Văn Linh) street, Xom Chieu market is like other markets in Saigon, which is an eyesore from the outside, which could be described in some words like grim, grey, and bleak. It might not be the nicest market in Saigon, but the buzz, amazing food stalls and cathedral space that are full of sunlight of the market bring plenty to the table. This market is famous for its combination of Chinese and French architecture. Being one of the oldest markets is Saigon, behind the lovely façade, there is a mecca of the dry goods, from spices to biscuits and a canteen, which alone is also the reason to visit this market. Along the outer edge of the square of this market, there are a lot of food stalls that sell tasty street food dishes, and in the opposite side, there are vegetables and fruit stalls under the concrete slabs of the exteriors of the market. All of them burst with the colors in early sunlight. To sum up, there is a large selection of good for clients to choose from; however, you have to be good at bargaining as the local vendors will offer a high price at first. The food sold here is not only fresh but also inexpensive.
The majority of people populating this market are over 30 years old. Many of the workers in this market have worked in the same stall for a few years so they can know each other rather well. In Xom Chieu market, there is lots of laughter and gossip, particularly at the sight of a foreigner but nobody will hassle you to purchase from them as that is Ben Thanh market. You are almost free to walk among the fresh produce, soaking up the smells and colors in the hushed atmosphere and the cool air.
Location: Xom Chieu market, Le Van Linh (Lê Văn Linh) street, District 4, Ho Chi Minh (Hồ Chí Minh) City
Read more: 8 best markets in Vietnam
2. Binh Tay (Bình Tây) Market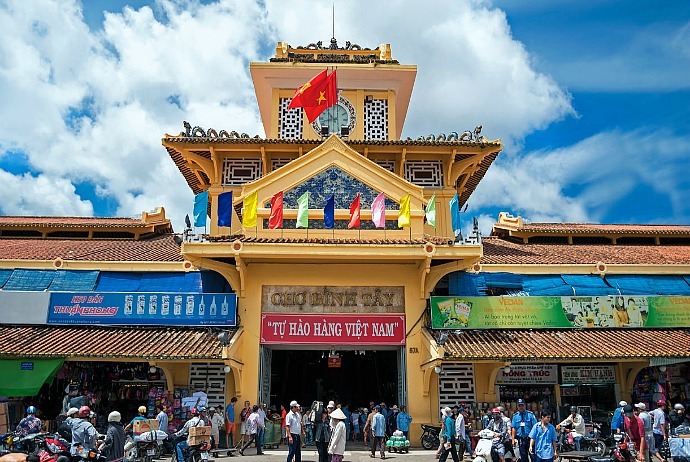 Located in no.57 Thap Muoi (Tháp Mười) street, District 6, Ho Chi Minh City, Binh Tay market is really an exception to the rule in regard to market facades. Also known as "Cho Lon" (Chợ Lớn), this market was donated by a Chinese business man named Quach Dam (Quách Đàm). The exterior of Binh Tay is an exotic and beautiful mixture of French and Chinese architecture. This building is a giant square structure established around a courtyard which is full of greenery.
After the main entrance, there is a section dedicated to bags, clothes, scarves and fabrics which despite colorful is rather boring in compared with the food ones. If you want to buy traditional Vietnamese candied fruits as well as nuts, you can go to the part around the perimeter of market's courtyard. Go to the back of Binh Tay market, follow those mouth-watering aromas, you will see a superb canteen in which you could enjoy a lot of food. The food here is extraordinary.
Beside the canteen, there is a votive and incense offering section, in which paper money, candles, and different printed prayers are sold for people to burn as the respectful offerings to their ancestors. Lining the perimeter of this market, you will find pickled veggies, herbs, dried mushrooms as well as medicinal leaves. Similar to Xom Chieu (Xóm Chiếu) market, there is a strange hush within this market.
For shopping convenience, many travelers choose to stay in the hotels in the Chinese region, in District 5.
The activities in this market start from 2-3 am to 9-10 pm, specializing in wholesale business. In addition to the businessmen go to the market for trading, this market also welcomes a lot of foreign visitors for sightseeing and shopping annually.
Location: District 5, Ho Chi Minh (Hồ Chí Minh) City
3. Ben Thanh (Bến Thành) Market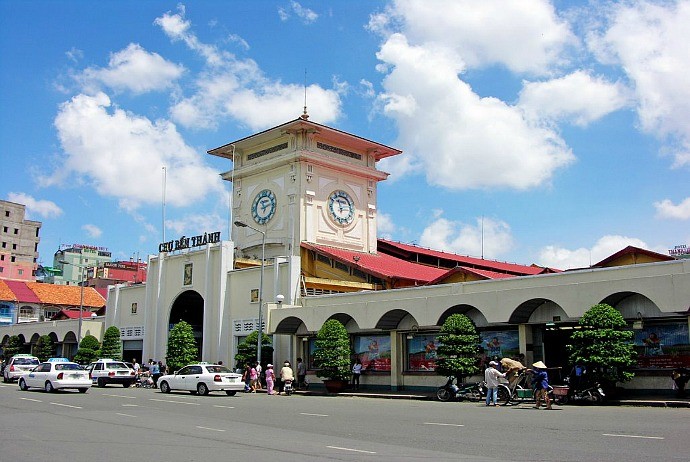 Ben Thanh Market was built in 1912 and completed in 1914. The market has 4 doorways and 4 ports attacking the clocks overlooking the central streets of District 1, respectively in the North, South, East as Le Loi (Lê Lợi), Phan Boi Chau (Phan Bội Châu), and Phan Chu Trinh. The main entrance has a high tower overlooking Quach Thi Trang (Quách Thị Trang) square. Sometimes, the main port is considered as the symbol of the city.
Currently, this market has over 3000 stalls selling from food, to daily items and luxury goods. This market starts its activities from 4 am at the North gate with fruit and vegetable stalls. Around 8 – 9 am, the stalls at other gates of the East, West and South will simultaneously be open.
Location: Cua Nam (Cửa Nam), Ben Thanh (Bến Thành) Ward, District 1, Ho Chi Minh (Hồ Chí Minh) City
4. Ben Thanh (Bến Thành) Night Market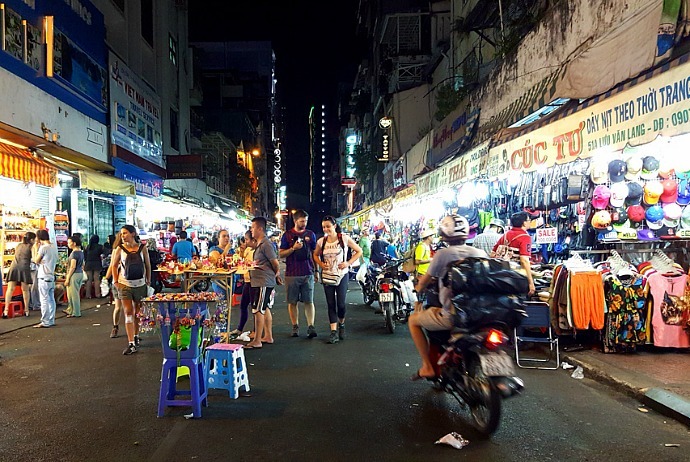 Ben Thanh Night market is formed at the two streets at the entrances at the East and West gates of Ben Thanh market. Unlike the daytime market, Ben Thanh market just trades 2 items, which are fashion and food with the reasonable price. Customers going to this market, particularly foreigners love the atmosphere here. You could wander around here while studying English with international tourists at the same time. Tourists can book the room in hotels around Ben Thanh market and walk to shop in the evening.
5. Binh Dien (Bình Điền) Market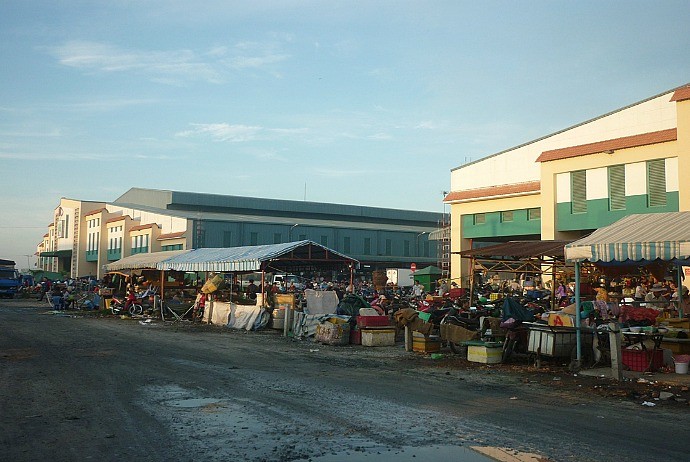 Most seafood-eating city possesses a wonderful seafood market. In Saigon, Binh Dien market is such market. Situated on the suburb of the city, this market is gigantic. Trucks and boats arrive in the small hours of the morning to unpack their produce, which are fresh from the rivers of the East Sea, the Mekong Delta, and the Gulf of Thailand. Prior to the first glimmer of the daily dawn, the market is filled with shells, fish, reptiles and crustaceans, not to mention the poultry, the meat, fruits and veggies which arrive on trucks and boats from those southern provinces.
This market is a wholesale market where other small markets purchase their produce. It can be said that Binh Dien is the market of Saigon's markets. That is why you need to get this market early, by 6:30 am.
Location: Nguyen Van Linh (Nguyễn Văn Linh) street, Ward 7, District 8, Ho Chi Minh (Hồ Chí Minh) City
6. An Dong (An Đông) Market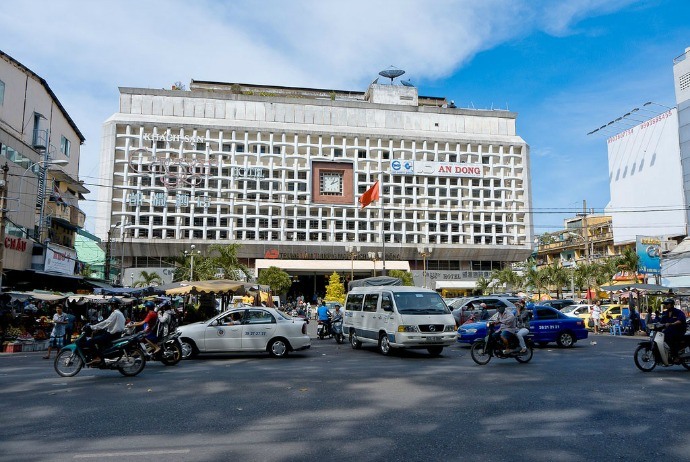 An Dong market has a history of 56 years. Currently, the market has about 2702 stalls. Apart from the usual items of business in other markets, this is also a place for updating fashion trends, with the quality as equal as large shops.
This is also the place supplying products of famous underwear brands such as Triumph, Vera, Lys, Wacoal with the cheaper price in compared with the shops of these manufacturers.
Location: An Dong Market, 34-36 An Duong Vuong (An Dương Vương) Street, Ward 9, District 5, Ho Chi Minh City.
7. Ba Hoa (Bà Hoa) Market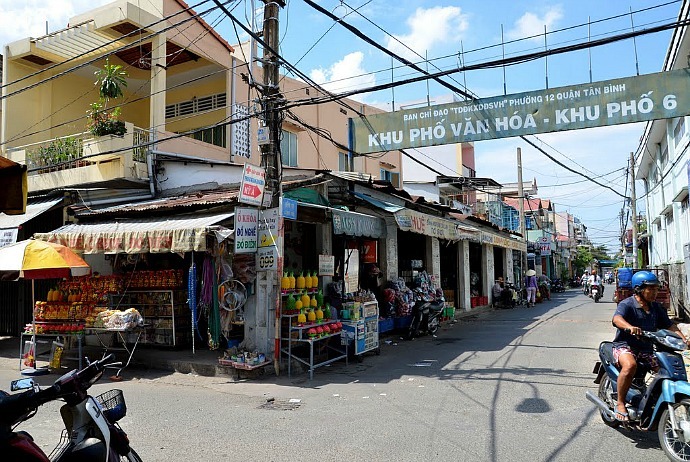 Built in 1957, Ba Hoa Market was named after the name of a woman in Quang Nam (Quảng Nam) who found this market. The special feature of this market is that it specializes in the products which just Quang Nam has.
Walk along the booths here, you will feel a lot of interesting things through the culinary here with the cakes having impressive names such as Banh No (Bánh Nổ), Banh Dap (Bánh Đập), Banh To (Bánh Tổ) or, dried spicy peppers, etc.
In addition, there are also some snack stalls selling Quang (Quảng) cuisine, such as Quang noodles (Mì Quảng), Banh trang dap (Bánh Tráng Đập),….
Location: Ba Hoa Market, Tran Mai Ninh (Trần Mai Linh) Street, Ward 11, Tan Binh (Tân Bình) district, Near Tan Son Nhat (Tân Sơn Nhất) airport, Ho Chi Minh (Hồ Chí Minh) City.