Mentioning the joy of experiencing the life of cloudy and glassy nature, there is a saying "nhan gia lac son, tri gia lac thuy", which means that wise people love water, moral ones love mountains. This saying by Confucius was applied to teach his students about human moral standards with deep implications. Nowadays, building houses in the mountains has an uptrend tendency of wealthy families, this trend also spreads through the community of artists and entrepreneurs. Both managing tasks actively in urban places and having tranquil moments to enjoy the fresh air, those people spend time and money to create their own relaxation.
With the mountainous and wide topography, houses in highland regions are often built based on the kind of stilt houses compared to coastal houses with low-land topography.
In the past, it was almost impossible because of economic condition, uncomfortable transport, yet it is now much easier. Although those coming from different places nationwide such as Hanoi, Ho Chi Minh City and Da Nang, all know the name "Nguyen Thanh Liem", one great motorcyclist, who traveled up hill and down dale in forests to build relaxing places for him and his companion from 20 years ago. He himself sought each of stones, each of tree trunks, and completed his house construction in Northern Europe style after many years , about 70 kilometers far from Da Lat. With seasonal flowers, pond and flower pergola, his house naturally becomes the five-star motel for motorbikers nationwide when they have to pass high and dangerous mountain passes in Lam Dong. After many years of improvement, this house is well-known as Ma Rung Lu Quan (one kind of Japanese traditional inns), which brings young people a keen interest in mountain myths with romance of wooden bridges, trees and small houses in the high and thick forest.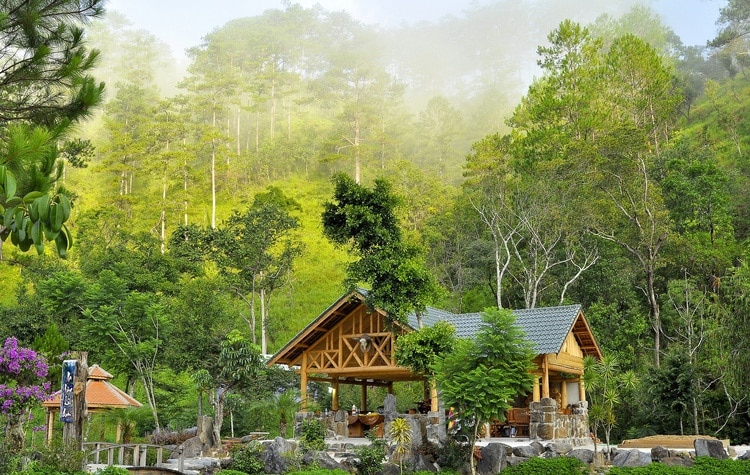 However, it is just an example among many kinds of Vietnamese travelers and artists' houses on the mountains. It is easy to catch houses on the mountain slope, the top hill or in the middle of the village. With the mountainous and wide topography, houses in highland regions are often built based on the kind of stilt houses compared to coastal houses with low-land topography due to avoiding insects and adapting to the monsoon tropical climate. In Pu Luong, Nguyen Ngoc Thanh's Thai-styled house, the origin one, led to the trend of weekend rest houses, which makes mountainous region as crowded as Mai Chau, Moc Chau. Not simply building houses on stilts, they need to improve their houses to not only keep the local style but also be equipped with all modern conveniences. Putting the firewood in the wall instead of in the middle, equipping WC, convenient bathroom, installing air-conditioning for bedroom, repairing the lower floor into the living room, putting the Barbeque stove, couches in the porch to watch the sunrise and sunset, and most of us want to enjoy life with these decorations here lasting ever.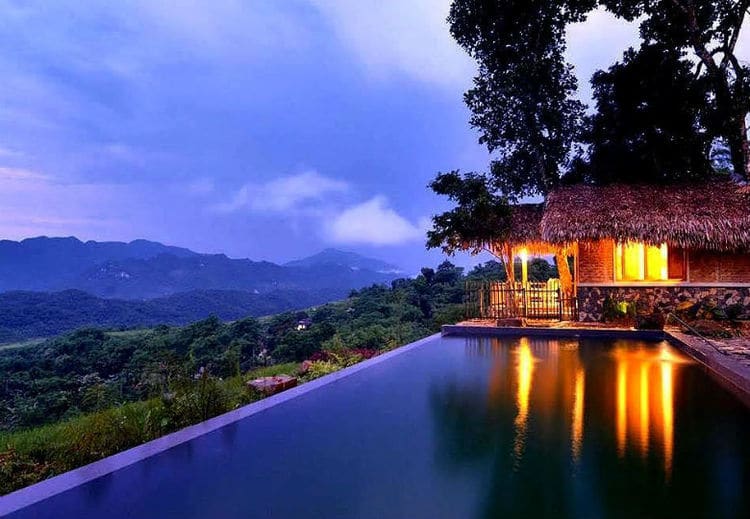 We can easily see a mixture of the aroma of mountains and forests, the afternoon smoke (from households' cooking) and a beautiful scene of bamboo tocsins calling buffalos in the early afternoon. Country life is such a great deal of simple things with the barefoot boys, and the mountain girls.  Edwin Hubbel Chapin said: "The city reveals the moral ends of being, and sets the awful problem of life. The country soothes us, refreshes us, lifts us up with religious suggestion". Living in the mountainous region with gentle and plain people, we seemingly realize that we are a portion of nature, and to us high mountains are unbound feeling, while human cities are torture. Returning to mountainous life is also interior designer Tung Le's idea. He and his friends came to Mu Cang Chai to build their own house named "House of Dreamers" so as to accomplish their promise they planned in Central coastal place. The chain of houses both avoids the noise of city life and welcomes friends. People live in the top mountain with ranges of samu pine trees and sit together in neohouzeaua stalls to watch terraced fields far away. Day by day, the trend of coming back forest life attracts more and more city people to make life more colorful.
By M. Phuong