The land of the Northwest (vùng Tây Bắc) – Mu Cang Chai (Mù Cang Chải) is one of the most attractive destinations for travel lovers, especially in September, because of the beauty of golden vast terraced fields. Mu Cang Chai brings with it the irresistible charm that will give you excellent photos beside the golden rice paddy fields. In the cool autumn, come to the following 5 locations at Mu Cang Chai to immerse yourself in the wild but peaceful scenery.
5 Best Places To Photograph Mu Cang Chai Golden Rice Fields
1. Khau Pha Pass

Source: zaitri
You cannot ignore Khau Pha Pass (Đèo Khau Phạ) when arriving at Mu Cang Chai. This is one out of the four magnificent passes of the Northwest. Being in the top of the steepest and most serpentine passes in Vietnam (Việt Nam), crossing Khau Pha Mountain (Núi Khau Phạ) – the highest mountain in Mu Cang Chai, this pass is where tourists always desire to conquer.
From Yen Bai City (Thành phố Yên Bái), back along National Highway 32 (Quốc lộ 32) for 5 hours, through Tu Le Commune (Xã Tú Lệ), Khau Pha pass appears among a plateau surrounded by mountain ranges. The starting point of Khau Pha pass is the intersection of National Highway 32 and National Highway 279, connecting Chau (Đèo Chấu) and Vach Kim (Đèo Vách Kim) passes.
The winding pass lying between pristine forests and terraced fields of the Mong (Mông) and Thai (Thái) ethnic groups has become a best-loved stopover for many travelers who love the natural beauty of the highlands.
See more: Sapa tourism – A handbook from A to Z for tourists / 4 beautiful homestays in Sapa that you don't want to leave
2. Tu Le Valley

Source: Yen Bai In September Photos By Huong Dieu Le
Situated in Van Chan District (Huyện Văn Chấn), Yen Bai Province (Tỉnh Yên Bái), Tu Le Valley (Thung lũng Tú Lệ) is the chosen destination of visitors all over the country. Tu Le during the harvest with its poetic scene is not any different from an exquisite mountainous girl in a golden silk dress. Not only does the valley captivate tourists with the September terraces, but it also engages lots of photographers since the landscape here is certainly one of a kind.
Apart from nature, Tu Le is famous for its sticky rice (xôi nếp). Sticky rice with grilled or pan-fried pork belly is the favorite dish for everyone who has been here once. Wet and dried green rice (cốm ướt và cốm khô) is also very popular owing to the special flavor that only Tu Le has.
See more: Ha Giang travel guide from A to Z
3. Mam Xoi Hill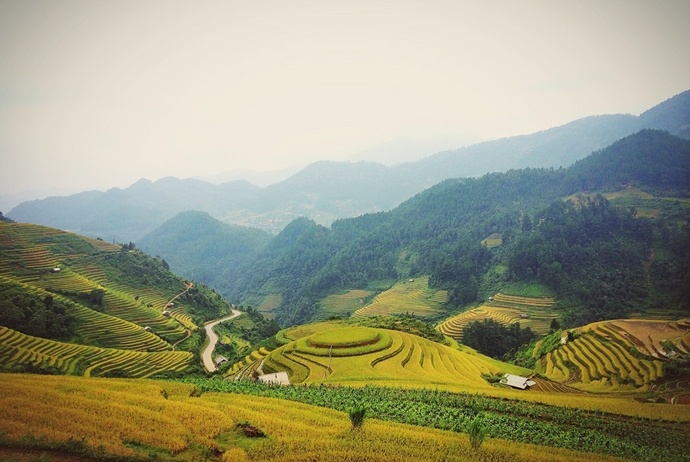 Source: flickr
"Mam xoi" means "a tray of sticky rice" in English. The name of this hill comes from its distinctive shape, which is round and rising like a tray being full of sticky rice. Mam Xoi Hill (Đồi Mâm Xôi) in La Pan Tan Commune (Xã La Pán Tẩn) is a place where both amateur and professional photographers seek for unique and lovely photos. Getting to Mam Xoi Hill – the art masterpiece of Mu Cang Chai is not easy at all since the road is very muddy and hard to move. However, you will never regret it. All the fatigue will dissolve when your senses are awakened by the ripening smell of the rice and the gold-colored of the terraced fields.
One thing to keep in mind is that you have to buy tickets to tour around the hill, the price is 20.000VND/ticket.
See more: Trekking in Vietnam – where and when to go
4. Che Cu Nha Commune

Source: Yen Bai In September Photos By Huong Dieu Le
Che Cu Nha Commune (Xã Chế Cu Nha) is 7 kilometers far from the center of Mu Cang Chai. This place possesses extensive and prosperous terraced fields. The road to Che Cu Nha is sloping and difficult to go, making it a challenge for all passionate adventurers. Even so, this is still an ideal stop for young people who are in a backpacking tourism to visit.
5. Lim Mong Village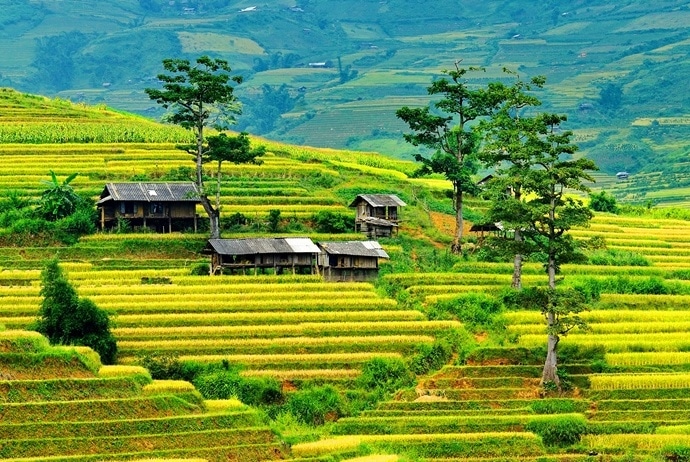 Source: thousandwonders
Lim Mong (Bản Lìm Mông) is a small secluded village of the Mong, lying halfway up the mountain. Due to the unfavorable position, the conquest of this village really does not suit people who first travel alone. Lim Mong Village with its traditional stilt houses, innocent ethnic children, and gorgeous, majestic terraces in the harvest season have successfully enticed and retained even the most demanding visitors.
Things To Note When Coming To Mu Cang Chai
The weather in Mu Cang Chai is different from the delta area, which can change constantly during the day. You should prepare a jacket as the temperature at night and in the early morning is pretty low, and a raincoat to prevent sudden rains.

The main vehicles here are motorbikes. When moving on a pass, you must go in one row, maintain the speed and keep the safe distance between your motorbike and others'.

You should not ride at night because of the limited visibility as well as other security issues.

If your health is not guaranteed to ride straight from Hanoi (Hà Nội), you can take a bus or coach to Yen Bai and then hire a motorbike to continue the journey.

About accommodation, you can either choose camping or booking homestays, hotels in Tu Le, Khau Pha, and Mu Cang Chai center.
Above are 5 best places to photograph golden rice fields in Mu Cang Chai (Mù Cang Chải, Yên Bái, Vietnam) that are worth a visit. We hope you find this article useful for your further journey to Vietnam. To get more information about other places to visit in Vietnam, go to our home page.