Source: lendang
updated: 08/26/2019
Being not far from Hoa Lu (Hoa Lư) ancient capital of Vietnam, Kenh Ga (Kênh Gà) set on the banks of the Hoang Long (Hoàng Long) River has become a remarkable place where visitors and tourists can discover the inhabitants' life on the river. The name Kenh Ga actually means Chicken Canal that is derived from a hot spring in which water is used to pluck the chicken's feather.
What To See In Kenh Ga Floating Village In Ninh Binh, Vietnam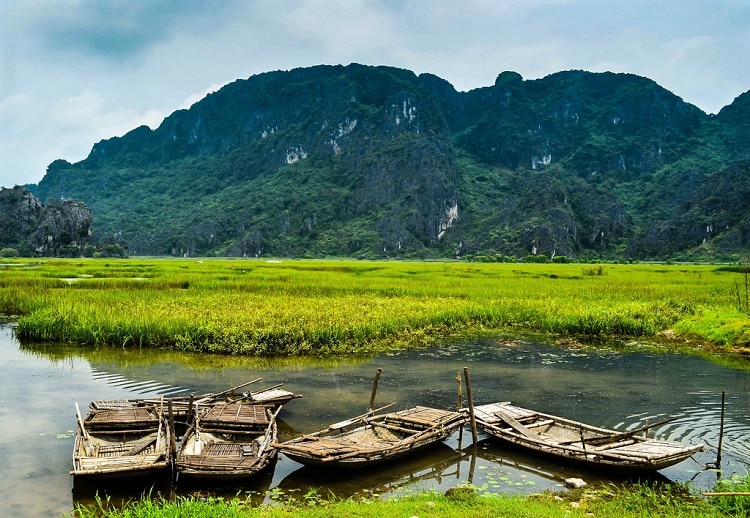 Source: tuannguyentravel
In Kenh Ga Floating Village that is surrounded by great limestone formations and massive rocks, the entire community lives on the river for the most of the year. Each year, the village welcomes relatively few visitors, compared to nearby Hoa Lu and other famous attractions of Ninh Binh (Ninh Bình). The main reason is that tourists can reach this village only by boat. But if you have the chance to come here, it will be a unique experience as you cannot find anywhere in Vietnam that combines an authentic floating market village with the stunning limestone landscape. As the most rural area in the Red River Delta, Kenh Ga is a combination of traditional rural lifestyle, beautiful countryside landscapes, and friendly local folk.
That will be fascinating and relaxing experiences when you sit in a boat while watching the scenes of people rowing boats with their feet, children going to school by boats, people fishing, and houses hanging on limestone cliffs along the canal. You cannot see these things anywhere in the Mekong Delta. The village has the unique traditional lifestyle and river folk and the trip to Kenh Ga Floating Village in Ninh Binh, Vietnam will make tourists astonished by showing the countless sights and scenes of the old Vietnam.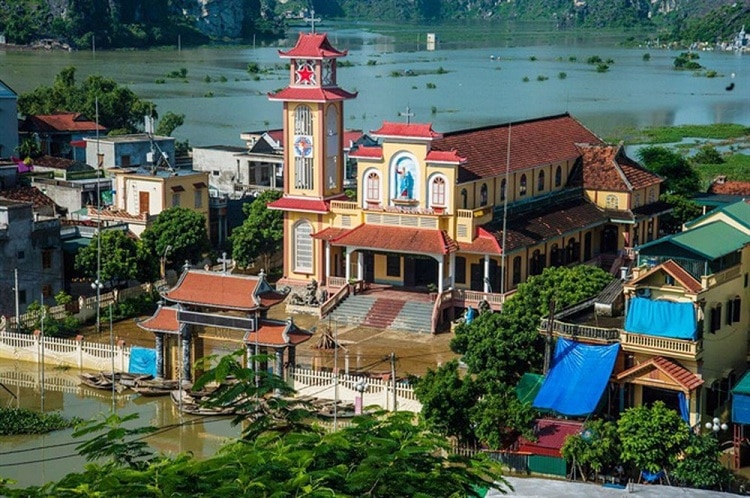 Source: baomoi
It is the lovely rural area and the best site in northern Vietnam where you learn about the river life of people in Kenh Ga. They spend most of their lives on the water.
When you want to visit Kenh Ga Floating Village in Ninh Binh, you should hire a motorboat at the pier to take the tour around the village which might take you for an hour. These boat trips are managed through the local government tourism agency and their operation is kept relatively hassle-free and low-key.
Visiting Chicken Canal Floating Village or Kenh Ga, tourists are welcomed warmly by the hospitable and friendly locals.
If you have the chance to visit Kenh Ga, you should not miss Kenh Ga hot spring that is more than 1km from a hill located on the Kenh Ga Village to Hoang Long River. It is a mineral water spring and one of the top five famous hot spring in Vietnam. Kenh Ga hot spring that people often call the god water is well-known for preventing and curing the diseases. The hot spring mineral water here is rich in calcitriol, sodium chloride, magnesium chloride, calcium and bicarbonate salts with the average temperature of 53 ° C. This water is odorless and clean. Coming here, you can admire the natural scenery of the peaceful countryside. Soaking in the hot spring is great experiences and that will make your body gentle and tender. Sure you should miss the top quality services here, like restaurant, spa bathroom, massage, hotel, karaoke, etc.
When Is The Best Time To Visit Kenh Ga Floating Village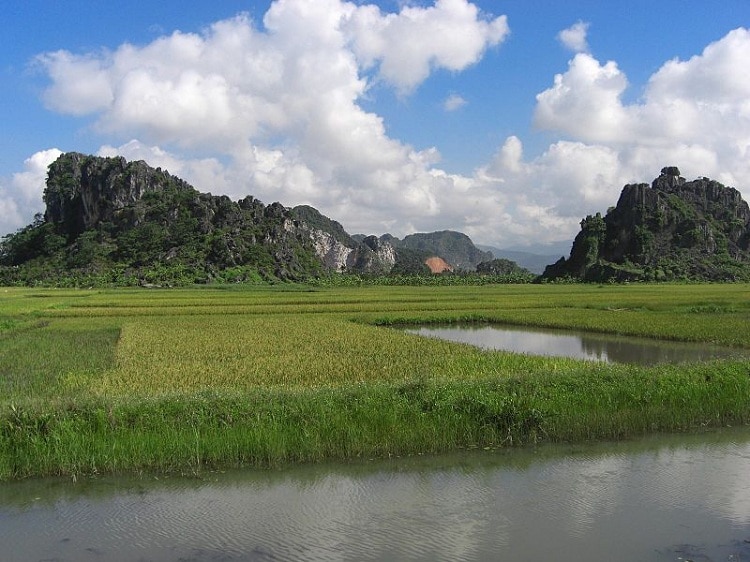 Source: lazi

Ninh Binh has high humidity between 80% – 85%, and the average temperature during the year is about 23.4 degree Celsius. Summer lasting from May to October is the rainy season in Ninh Binh with hot, humid temperature and a lot of rainfall. In September, this city is likely to have typhoons. Winter lasting from November to March is the dry season. But the most pleasant weathers are April and October.
Depending on your tour schedule and your free time, you can choose a suitable time to visit Kenh Ga Floating Village because in general, the weather throughout the year is quite enjoyable. But I would like to suggest that you should visit Kenh Ga in the wet season from June to September because of the less frequent boats, lower water levels, and fewer visitors coming here.
How To Reach Kenh Ga Floating Village
Source: vyctravel
Kenh Ga Floating Village is located in Gia Thinh (Gia Thịnh) commune, Gia Vien district (Gia Viễn) and it is about 15km far from Ninh Binh city center to the Northwest.
From Hanoi, you can follow the Highway 1A for 84km to Gian Khau (Gián Khẩu) junction of Gia Tran (Gia Trấn) commune and then turn right to No.477 province road. Continue following the road, you can see the signpost. Pass the Hoang Long River by boat that leads to the Kenh Ga Floating Village.
Where to Eat And Stay When You Visit Kenh Ga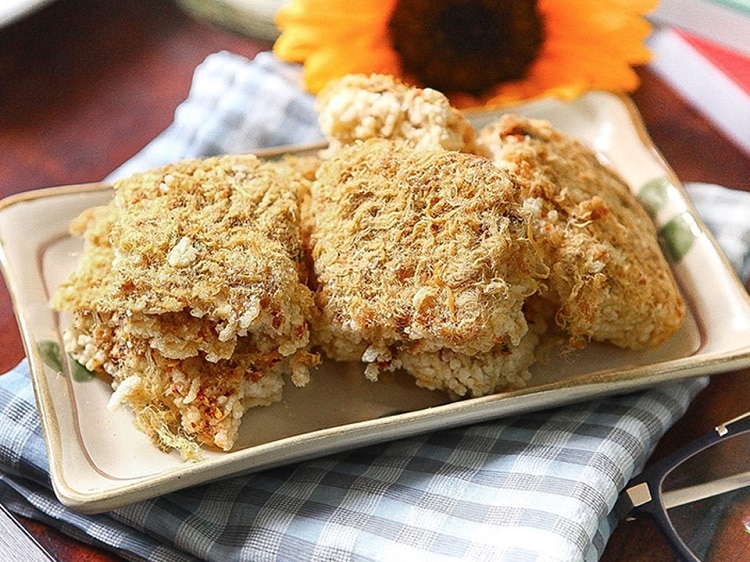 Source: juicebazar
When you take the Kenh Ga Floating Village tour, you can visit Kenh Ga hot spring and stay here. There are the top quality services here like restaurant and hotel. There are also many options for you to stay like a mini hotel, homestay or luxury resort. You should enjoy the Ninh Binh specialties like com chay (cơm cháy), goat meat, snails, and Kenh Ga fish in local restaurants.
I hope that you find the useful information and helpful advice here if you want to take a tour to Kenh Ga Floating Village, Ninh Binh, Vietnam. You should feel free to leave your questions below. We will answer as soon as we can. To know more about Vietnam travel, visit our Vina homepage.