Source: dulichtoday
Updated: 08/26/2019
Quang Ba flower market (Chợ hoa Quảng Bá) is one of the biggest flower markets which take places in the evening in Hanoi (Hà Nội). From the bottom of the heart of most Hanoi people, Quang Ba flower market is not only a great source of freshly-cut flowers for the capital but also a cultural specificity of Hanoi. It belongs to Tay Ho district (Quận Tây Hồ) and is only 5 km far from the center of Hanoi. Visiting this market is one of the places that you should not skip during your trip to Hanoi, Vietnam (Việt Nam).
What Is The Best Time To Visit?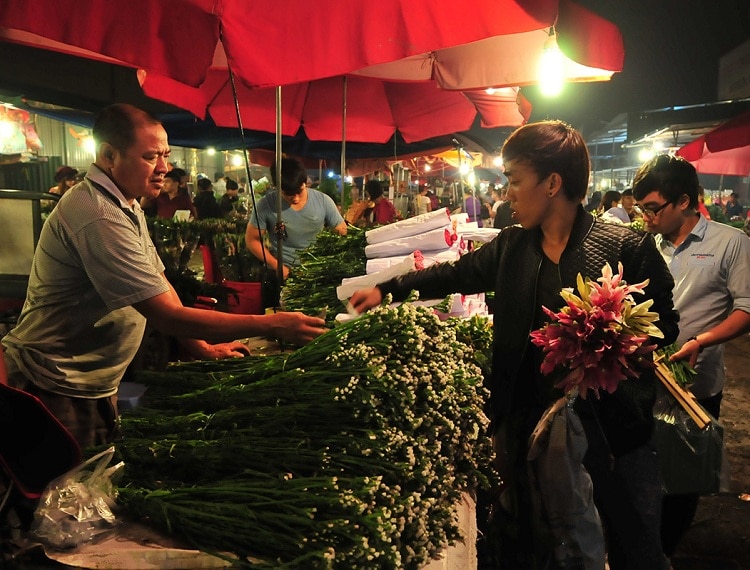 Source: dulichtoday
Quang Ba Flower Market opens all year round and only happens in the evening. Although it often opens from 12 p.m., you had better come here from 2 a.m. to 5 a.m. because the market is the noisiest during this time. In other words, if you want to visit the market, you should get up very early in the morning. More especially, some stores in the market open all day in some special occasions, including Valentine's Day, International Women's Day, Vietnamese Women's Day and Tet Holiday.
How To Get To Quang Ba Flower Market?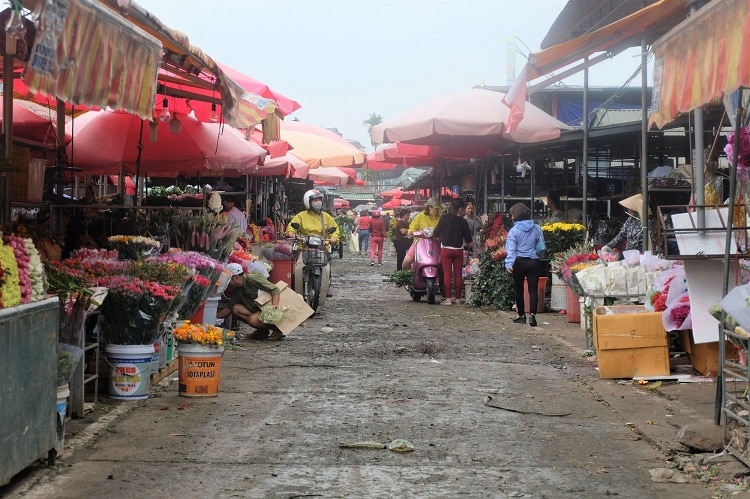 Source: soha
Quang Ba Flower Market is situated in Tay Ho district of Hanoi, which is about 7km north of the Old Quarter. This market has the major entrance sunken down off Au Co Street (Đường Âu Cơ).
There are several ways to get to Quang Ba Flower Market. If you want to take a bus, you can get on bus No. 41. More conveniently, it is a good idea to rent a motorbike to get there because it makes you easier to travel around the market to look at beautiful flowers. Another way of getting to Quang Ba Flower Market is to take a grab car which costs you about VND 100,000.
Also read: 15 Hanoi Attractions Tourists Should Not Skip
What Are Activities For Tourists To Do?
Source: soha

Indeed, this market is not the site for you to shop souvenirs, but they are worth visiting thanks to its great atmosphere. There are two major corridors via the market, and each one lined with stalls on all sides. There is a big undercover shed on the right side, which you will see covered shops housed. On the left-hand side, there are many street food stalls.
Coming Quang Ba Flower Market, you have a chance to find out and look at different kinds of flowers, such as rose, daisy, sunflower, etc. The market is like a vast flower garden where the flowers come from many surrounding areas, including Phuc Yen (Phúc Yên), Gia Lam (Gia Lâm), Dong Anh (Đông Anh), Tay Tuu (Tây Tựu), etc. However, most flower shops in the market are makeshift and generally lit the light bulbs so it is not an ideal condition to take photos. At the back of the market, there is a small car park in which the lorries congregate to unload their blooms. You should be careful of the traffic when being there.
You can also buy flowers at an inexpensive price. For instance, you only need to pay about VND 30,000 for a bunch of roses which includes 50 roses. They are valuable presents for relatives or friends. Furthermore, you are free to enjoy fragrant of various flowers and have an opportunity to see the hustle and bustle of the market where people are engaged in selling and purchasing. Taking some photos is another suggestion for you upon visiting this special atmospheric market.
However, this market is not different from other types of markets in Asia. There are hundreds of people, from truck drivers, stallholders to laborers and cleaners in the market.
Check out: 8 Vietnam's Best Markets From North To South
How Is About Market Etiquette?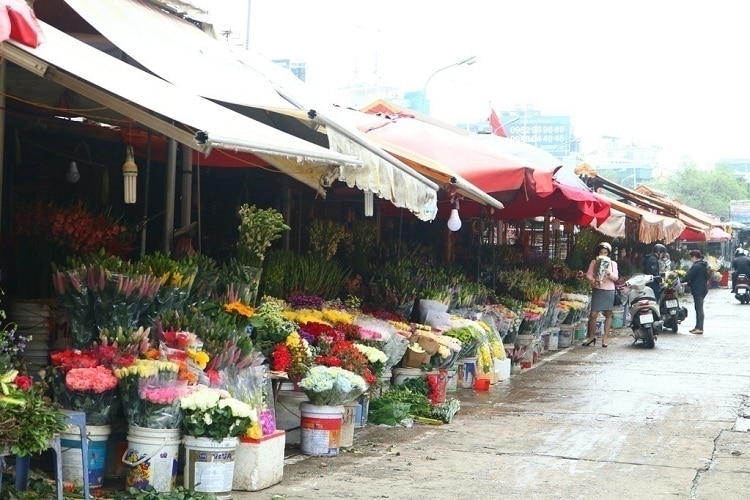 Source: tintucvietnam
Bargaining is considered a familiar rule of Vietnamese markets. A bunch of flowers could brighten up your home or becomes a thoughtful present for your friends, but purchasing it in Quang Ba Flower Market requires you to haggle with respectful attitude.
Where To Stay?
Some hotels near Quang Ba Flower Market that you can consider to stay in are:
Wild Lotus Hotel

Dragon Hotel

Diamond Westlake Suites

The Thien Thai Executive Residences – Tay Ho

Somerset West Point Hanoi

Elegant Suites Westlake

…
What To Eat?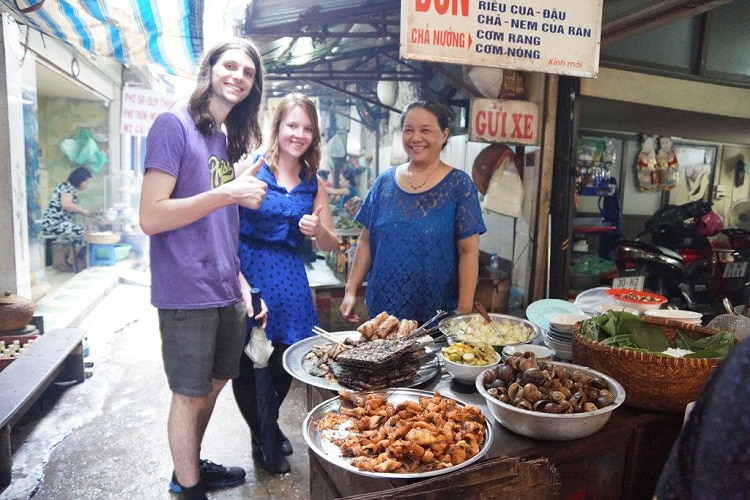 Source: kinhnghiemdulich
After visiting Quang Ba Flower Market, you are likely to eat something. There are many food stalls and restaurants that you can choose for your breakfast. If you visit Quang Ba Flower Market, and end your route at Dong Xuan Market, then you should walk several more blocks south into Hanoi Old Quarter to get to street food spots.
Other sites for you to eat something include Maison de Tet Decor, The Hanoi Social Club, Lifted, Xofa, and Chops.
Extra Tips:
You are suggested to carry a flashlight with you because the market opens in the evening.

Be cautious of traffic around this market.

If you want to take photos, be mindful of taking locals' faces. You had better ask them first prior to doing it. Also, it could be dangerous if you step into traffic to take photos.

Whip out your phone or camera to take photographs at Quang Ba flower market. Leave your passport at home (if any) and just carry some cash along with you.
There you have grasped some useful information and tips to visit Quang Ba Flower Market. If you have any comment about this topic or want to share your experience in this atmospheric market, feel free to drop your words below this post.